Backstage at Desert Trip, Roger Waters on Trump's wall and 'the biggest quadrophonic sound system'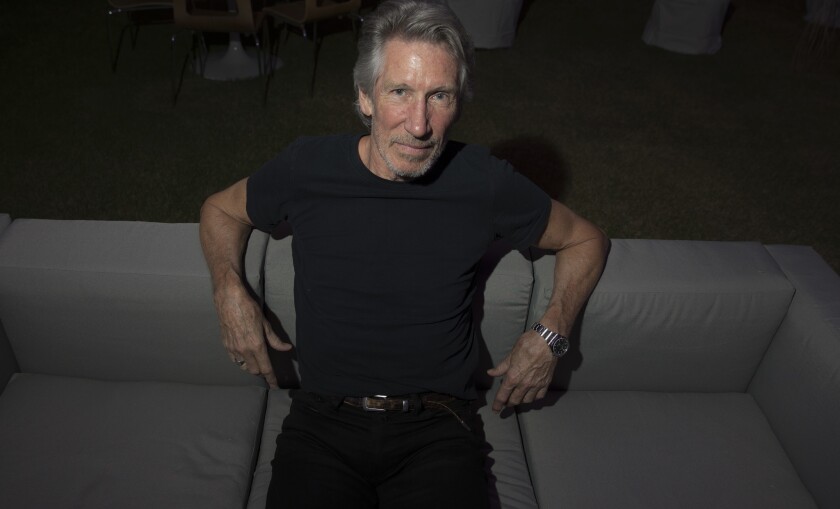 Roger Waters was in Nashville last year attending the U.S. premiere of his opera about the French Revolution, "Ca Ira," when he bumped into Goldenvoice chief Paul Tollett in an elevator.
Tollett, who had booked Waters as a headliner years earlier at the annual Coachella Valley Music and Arts Festival, talked with the Pink Floyd cofounder about a return engagement at Coachella.
"I said, Sure — when?'" recalled the soft-spoken British rocker. "He came back to me a little while later and said he had his idea for another show, in October, and asked if I'd be interested."
Waters, looking fit at 73 in a black T-shirt and close-cropped beginnings of a beard, was telling this story backstage Friday, on the opening night of that other show — the Desert Trip festival, which Waters will conclude on Sunday evening.
"What appealed to me was that for the first time I felt I was being recognized for my share in the [legacy] of Pink Floyd," said the group's lyricist and co-composer of many of its signature songs. "That was flattering, and I said yes, I'd be interested."
See the most-read stories in Entertainment this hour »
For the occasion, Waters said he has designed a show that will be exclusive to his two Desert Trip performances Sunday and on Oct. 16, having completed his last major tour in 2013 with his production of "The Wall Live."
"I wasn't doing anything else, except working on a new album," he said in a trailer set up behind the Desert Trip stage. The album project, he added, remains untitled, but he has vowed to finish it before the end of this year and release it possibly next spring.
He didn't reveal any specifics, but said his Desert.Trip performance will be fully in keeping with — or will even exceed — his previous grand-scale rock extravaganzas, and will utilize "the biggest quadrophonic sound system I've ever built."
"There's one theatrical moment in the middle," he said, "that I'm really fond of."
Asked about his penchant for large-scale rock operas and concert productions, and whether he thinks that mindset is going by the wayside in pop music, he said with a wry smile, "Well first you have to have big ideas."
He also couldn't resist taking a poke at Republican presidential nominee Donald Trump's insistence on building a wall between the U.S. and Mexico.
"Building walls is not a good idea," said Waters, renowned for Pink Floyd's concept album "The Wall" and the attendant stage production that involved the building of a wall throughout an entire concert, and then presiding over its destruction at the finale. "Believe me — I know."
Follow @RandyLewis2 on Twitter.com
For Classic Rock coverage, join us on Facebook
ALSO
Roger Waters brings 'The Wall' to the Coliseum with a new focus
Roger Waters: 'I was wrong' about Pink Floyd
Triple-digit heat and technical glitches can't stop thousands of fans from rocking out at Desert Trip
---
Your essential guide to the arts in L.A.
Get Carolina A. Miranda's weekly newsletter for what's happening, plus openings, critics' picks and more.
You may occasionally receive promotional content from the Los Angeles Times.