The Art of De-Evolution: Mark Mothersbaugh and Gerald Casale discuss two new books that celebrate punk band Devo's visual work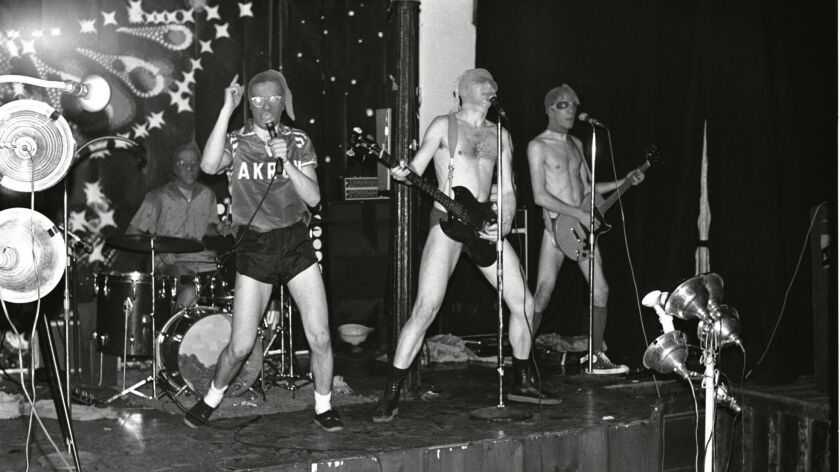 Few musical partnerships over the last four-plus decades have proved as influential as the one between Devo's Gerald Casale and Mark Mothersbaugh.
Those who just dismissively guffawed — "The geeks with the flower pot hats?!!" — might consider holding that chuckle until after studying "Devo: The Brand / Devo: Unmasked," the first retrospective art book devoted to the groundbreaking art-punk band best known for hits including "Whip It," "Freedom of Choice," "Girl U Want" and "Jocko Homo."
The book, which is available as a limited-edition, two-volume box set and a combined, expurgated third version that merges the two as a double-fronted volume, is split into complimentary themes. "The Brand" explores the band's visual art, philosophy and self-representation; "Unmasked" profiles Casale, Mothersbaugh, their respective bandmate-brothers, Bob Casale and Bob Mothersbaugh, and drummer Alan Myers.
"I've envisioned Devo books forever," Casale says. Now he's got a few, and what they reveal is a collaboration that, among other concepts, explores "how branding is the end-all-be-all of everything."
Mark Mothersbaugh and Gerald Casale first imagined Devo as undergrad art students at Kent State, where they witnessed the notorious 1970 killing of four students during an antiwar protest, Casale recently recalled in an office at Hollywood Vaults, an art and wine storage facility were he keeps bottles made by his Napa wine brand, the Fifty by Fifty.
We weren't tied down to some style. It was about an idea, about putting out missives.
Gerald Casale, Devo co-founder
"Devo was a concept from the beginning that was multiplatform, multimedia," Casale says between sips of Pinot Noir. "We weren't tied down to some style. It was about an idea. About putting out missives."
After creating a series of influential experimental films espousing their fictitious belief system, one built around a regressive theory of humanity they dubbed de-evolution, the band started playing the Northeast music circuit, including early gigs at CBGB and Max's Kansas City in New York.
Images in "Unmasked" show a young Casale and Mothersbaugh wearing various creepy masks, performing with the band in adult diapers, of a young David Bowie introducing Devo in '77 from the stage of Max's as "the band of the future." A flier from a downtown L.A. gig advertises a 1977 show featuring headliners the Weirdos and an undercard of Devo and the Dils.
Relocating to Los Angeles from its Akron, Ohio, home in 1978, Devo went on to become one of the most identifiable outfits of the so-called new wave movement. Its performance of the Rolling Stones' "(I Can't Get No) Satisfaction" that same year on "Saturday Night Live," where they jerked in unison while wearing matching yellow decontamination suits, remains a touchstone moment of '70s music culture.
At the time, they'd recently signed what turned out to be a bad deal with Warner Bros. Records in the U.S. and Virgin in Britain, the combination of which Casale says continues to limit the ways in which Devo can earn money from its own music. That corporate interests control aspects of the band's intellectual property only proves a point they warned against decades prior.
The upside of the band's first contract, Casale says, was the artistic freedom it afforded.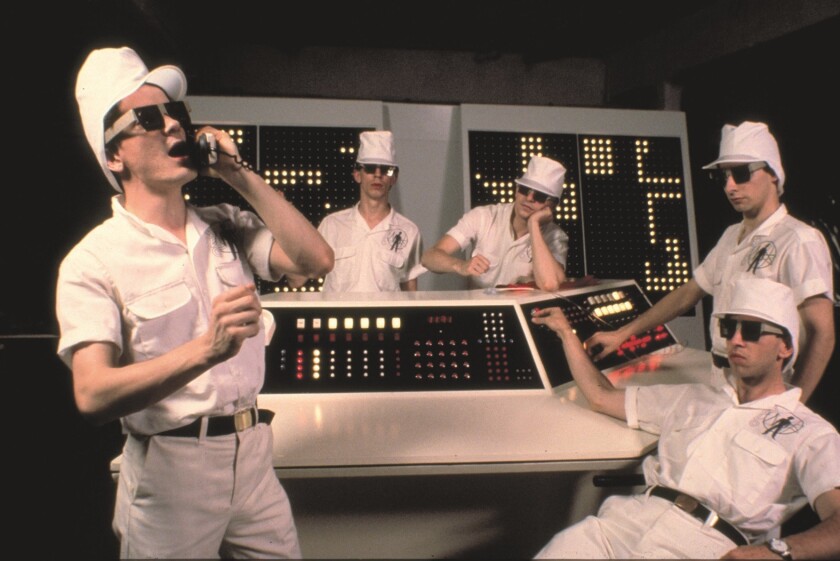 "We controlled the studio time and the price of the producer, how money would be spent on promotions. We had the power to use promotional publicity that was [budgeted] for T-shirts, in-store stand-up cardboard displays — this and that — and videos," Casale says.
The band took full advantage, and "The Brand" is teeming with examples of how Devo harnessed the weight of the major-label marketing machine in service of its formative aesthetic, which drew from postwar business communication templates that favored rhetorically dense corporate-speak instead of long-haired rock 'n' roll posturing.
A still from "Roll Out the Barrel" (a.k.a. "Rod Rooter's Big Reamer"), a short film produced to be projected during concerts, shows the quintet in matching black shorts, white business shirts, red belts, knee-length black socks, white patent-leather shoes — and creepy silver face masks. Every new album dictated a fresh visual theme.
The books confirm artists who used the various platforms to comment on commercialism, brand identity and pop music iconography. As merchandisers, Devo offered an array of weird products — a "Devo-Doo" fabricated plastic pompadour, an "action vest" with Devo's logo, synthetic yellow coveralls, red "energy dome" helmets — long before Tyler, the Creator shilled Golf Wang tube socks.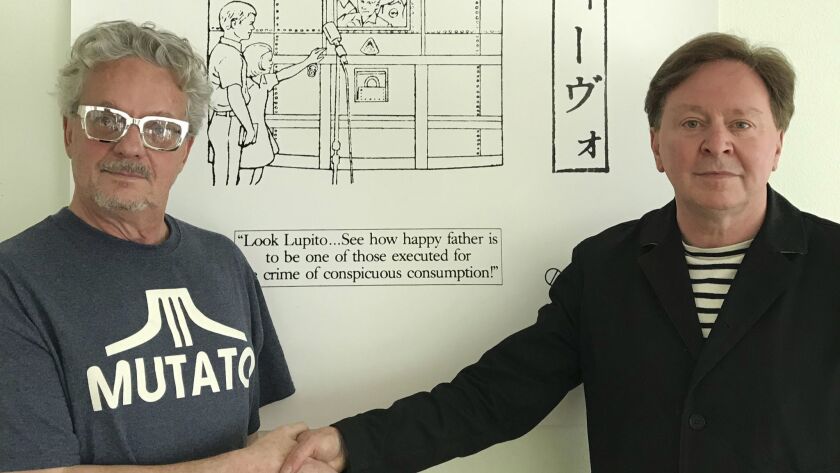 That sensation of manufacturing an object first hit Mothersbaugh after a drive to a record pressing plant in Cincinnati in 1977, he said recently in his studio at Mutato Muzika, where he and his company compose music for TV and film in a saucer-shaped green building on the Sunset Strip.
Devo had recorded two songs on a Teac four-track recorder and, after searching in vain for a local company to release it, decided to put it out themselves.
They made it to the plant to pick up 1,000 cover-less records and popped open a box in the parking lot. "I remember looking at them out in the sun and thinking, 'This feels like we made art,'" Mothersbaugh said, adding that something existential in him shifted. "It had the feeling of, 'Nobody knows who you are; you could disappear and no one would know it.' Then we had this record — 'Jocko Homo' and 'Mongoloid.' It was such a big deal."
Soon they were channeling that sensation in search of like-minded spirits who might connect with the endeavor and set about building a facade that suggested not a rock band but a visionary corporation wryly embracing a dystopian future.
Casale calls their approach "branding before there was a word for it," and it's hard to argue that the act wasn't ahead of the curve. "When we would put out this stuff that was custom merchandise, we were attacked by the classic rock press for being sellouts," he said. "But what we were doing was more like a design firm trying to create cool products, and none of the merchandisers wanted to make these products."
One 1979 press release, issued in conjunction with Devo's album "Duty Now for the Future," was written on letterhead that read, "From the desk of the General" and includes a photo of a uniformed, helmeted leader who was in fact the Mothersbaughs' dad.
"You may not be aware of this, but we are in the middle of World War III," reads the so-called directive, which then encourages readers to act: "We must fight back! We must know what we want! We must want what we need. And what we need is 'Duty Now for the Future.'"
From a visual perspective, freedom to experiment with music videos proved consequential for Devo during the early 1980s, when the fledgling cable station MTV was looking for content to populate its music video channel. As with the press releases, the band tapped Warner Bros.' wallet for videos, including the breakout clip for "Whip It," without having to pay for them out of future royalties.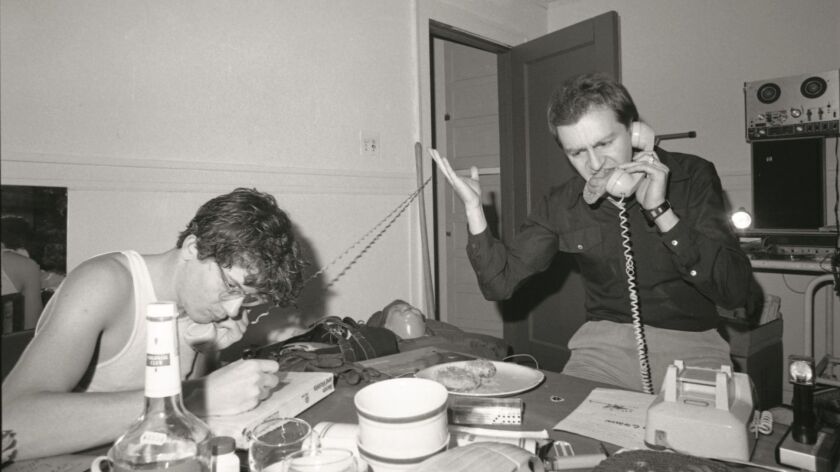 The label guys, whom they'd already alienated, left Casale alone as he and the band were making their videos. "They were like, 'Oh, man, these guys.' They had an arms-length attitude towards us," Casale says.
After Devo went on an extended hiatus in the 1990s, Casale channeled his energy by moving into commercial directing — and wine-making.
Mothersbaugh is now an in-demand composer, visual artist and designer. He's working on a number of notable projects, including his first theatrical production. A collaboration with famed skateboarder Tony Hawk, the project is an adaptation of Nick Hornby's skateboard-heavy novel, "Slam." Kyle Jarrow, who recently earned a Tony nomination for writing the book for "SpongeBob SquarePants," has committed to the project.
The band still occasionally performs, most recently last month as part of the Burger Boogaloo in Oakland. Bob Casale's 2014 death has limited the prospects of new Devo projects, which makes "The Brand / Unmasked" feel like a complete statement.
For their part, Gerald Casale and Mothersbaugh are satisfied with the result. "Anybody that has a conscious aesthetic and almost comes from outside of rock 'n roll, with influences that come from philosophy, from political science, from fashion, theater — especially if you're visual — you want a book," Casale says. "It's a form that codifies the body of work."
For tips, records, snapshots and stories on Los Angeles music culture, follow Randall Roberts on Twitter and Instagram: @liledit. Email: randall.roberts@latimes.com.
---
The complete guide to home viewing
Get Screen Gab for weekly recommendations, analysis, interviews and irreverent discussion of the TV and streaming movies everyone's talking about.
You may occasionally receive promotional content from the Los Angeles Times.