Review: Dua Lipa is polished and proficient — and a bit of a bore — at the Palladium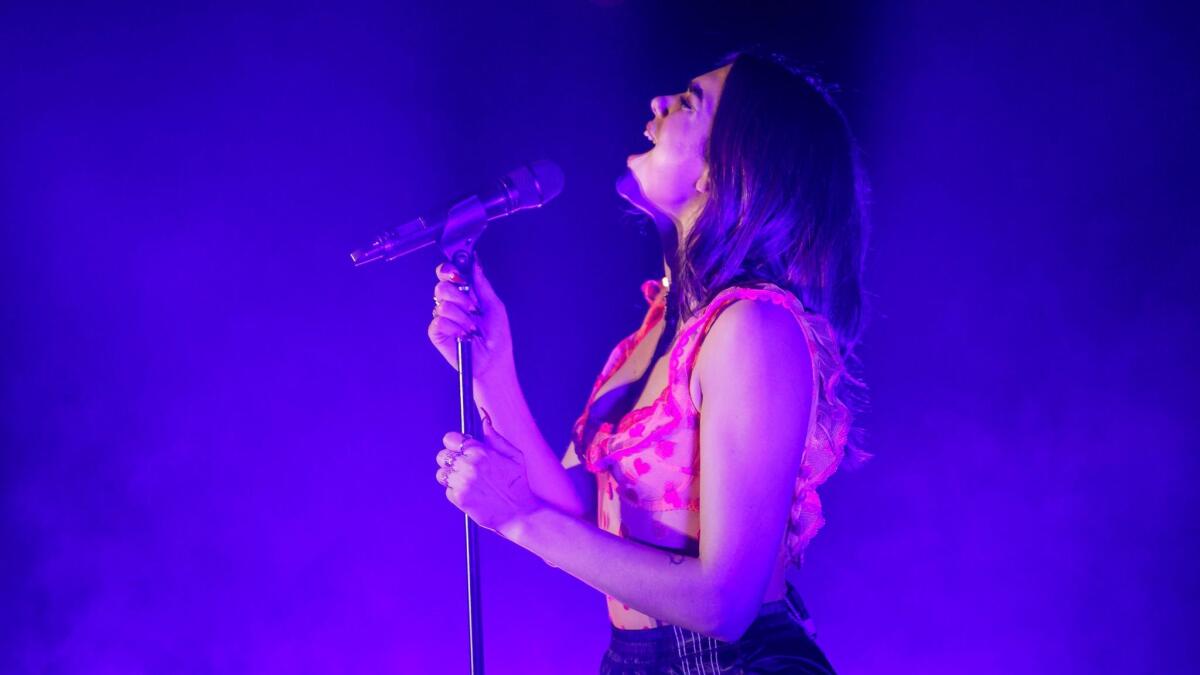 Pop Music Critic
Dua Lipa has been amply rewarded for a job well done.
Last year, the British pop singer's self-titled debut — a smart, cheeky collection of tunes about the promises and frustrations of modern romance — became a smash on streaming services like Spotify and YouTube.
At next week's Grammy-equivalent Brit Awards in London, she's up for five prizes, including album of the year. And Monday night, the 22-year-old played the second of two sold-out concerts at the Hollywood Palladium, part of a headlining tour before she spends the summer on the international festival circuit.
Cheering from the instant the lights went down, Lipa's audience at the Palladium received her no less enthusiastically than have the listeners who've streamed her single "New Rules" more than 1.5 billion times.
But in this case, the reaction wasn't earned: Unlike Lipa's album, with its sharp writing and the singer's low, throaty singing, Monday's show had a dull, by-the-numbers quality. Often, you felt like you could easily have been watching Bebe Rexha or Hailee Steinfeld or one of the many other young singers for whom streaming, and its easy adaptability to social media, has provided a quick path to stardom.
The disappointing gig was a reminder that success in one field doesn't necessarily guarantee success in another — and that the speed with which an artist can score a viral hit these days can leave her without the time (or the inclination) to develop performance skills that stars from earlier generations honed over years of practice.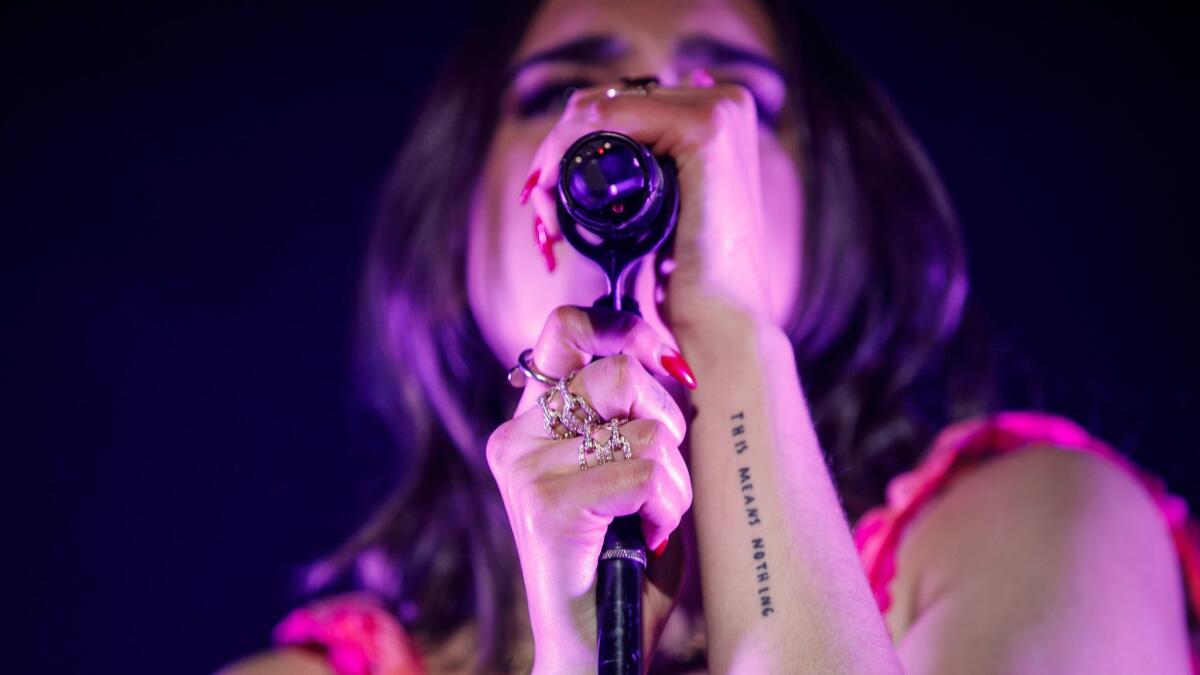 Not that Lipa hasn't been working hard. Already this month she's appeared on "Saturday Night Live" and "Ellen," and on Twitter she wrote that she was set to tape a performance for "Jimmy Kimmel Live!" on Wednesday. (That's in addition to studio sessions like one pictured recently on Instagram with Mark Ronson and Diplo.)
And, sure, Lipa's experience has led to a polished, if bloodless, presentation; here, she moved with confidence and sang with precision, never more than in "Genesis," a throbbing '80s-R&B pastiche, and "Thinking 'Bout You," which she did accompanied only by a guitarist.
But at no point was Lipa deepening or adding to the idea of herself that she presents so compellingly on her album; the songs stuck tightly to the recorded arrangements, and between songs she merely asked people if they were ready to party and so on.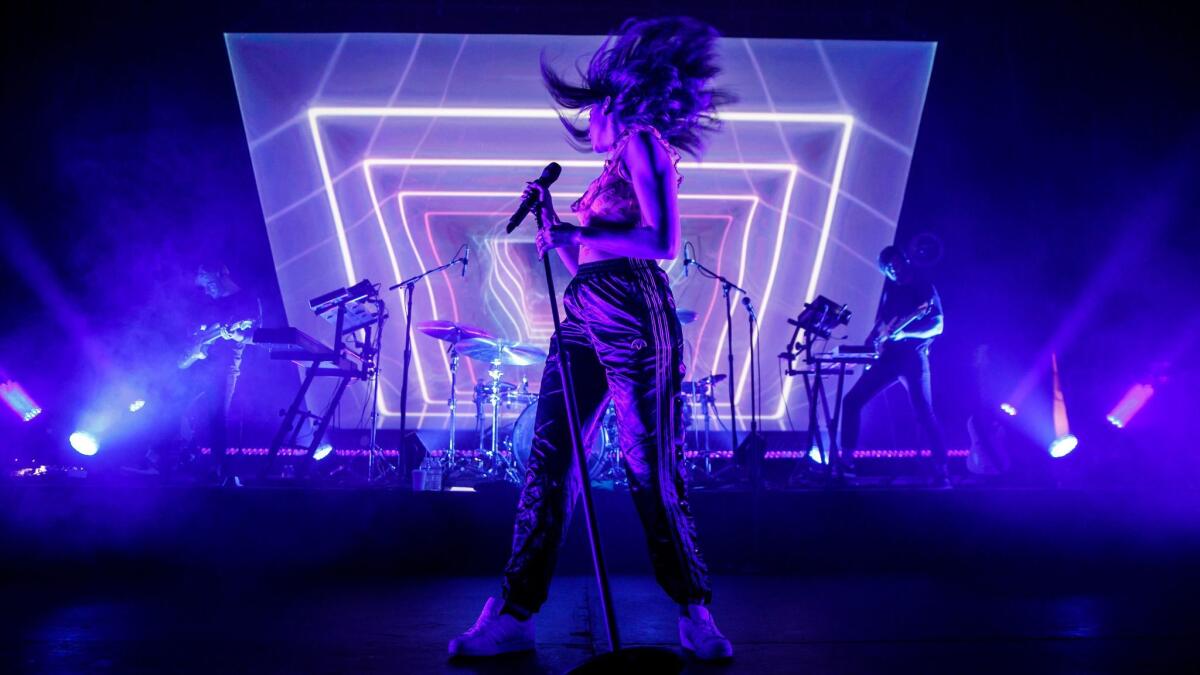 We didn't learn anything about what moved her to write "New Rules," in which she runs down a list of guidelines to avoid falling back in with an uncaring ex. Nor did we find out if the same loser inspired "IDGAF," about a guy who tells her he misses her after hearing her songs. (That title, by the way, abbreviates an unprintable phrase promising the kind of reckless attitude missing from this weirdly robotic concert.)
Throughout the evening, prerecorded close-ups of Lipa's face played on a giant video screen behind her, and that was where you had to look for some emotional variety — a sorry turn of events for anyone who's thrilled to the illusion of spontaneity that Madonna and Janet Jackson still put across onstage.
Then again, perhaps Lipa's fans weren't counting on her for that. Rather than watch the singer, many at the Palladium sang along with "New Rules" and "Hotter Than Hell" as they gazed into their smartphones, making videos to drop into the digital content stream that brought Lipa to their attention in the first place.
Knowing that was happening, as her age suggests she almost certainly did, Lipa had little incentive to disrupt a highly meme-able persona.
For her, reliability was rule No. 1.
Twitter: @mikaelwood
Get our L.A. Goes Out newsletter, with the week's best events, to help you explore and experience our city.
You may occasionally receive promotional content from the Los Angeles Times.