Beyond 'Boo'd Up': Ella Mai on life after her smash debut single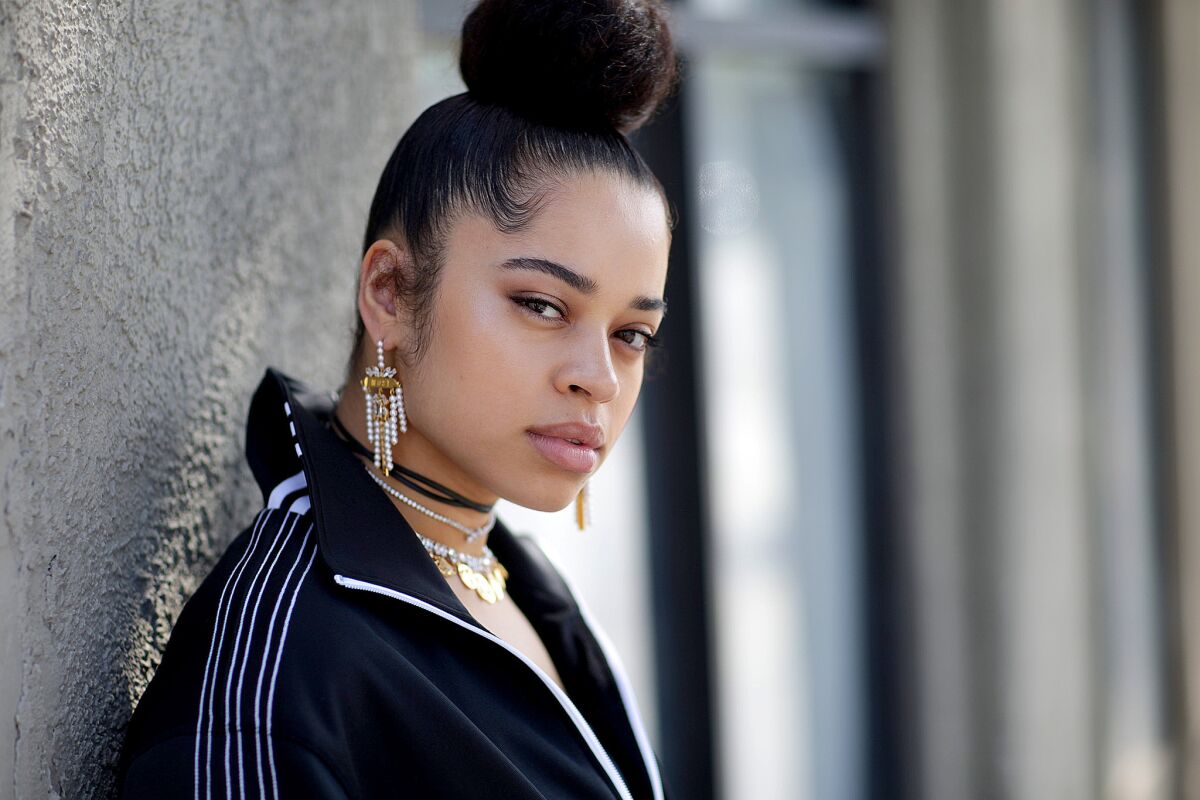 Pop Music Critic
In the space of one week this month, Ella Mai performed at the American Music Awards in Los Angeles, flew to New York to appear on "The Tonight Show," opened two concerts for Bruno Mars in Tulsa, Okla., returned to L.A. for an album-release party, went back to New York to do a pair of high-profile radio interviews, then jumped on a red-eye flight so she could be here to finish moving from her apartment into a new house.
"It's been … a lot," the young R&B singer originally from England said over a cup of tea around 10 p.m. the other night. Nestled at a corner table in a Glendale café, she wore sweats and a baggy Supreme hoodie, her hair pulled into a tight bun atop her head.
"But I think I work really well under pressure. If I know I have to nail it, I'll make sure I do."
Mai, 23, is doing all she can to capitalize on a moment. This past summer, her hit single "Boo'd Up" — a tender but funky ode to someone who makes her feel like she's "touching the ceiling" — went to No. 5 on Billboard's Hot 100, racking up hundreds of millions of streams on YouTube and Spotify (and spawning remixes by Nicki Minaj and T-Pain, among others).
Now, she's just released her excellent self-titled debut album, which comes as she's playing occasional arena dates with Mars, including a show Oct. 26 at Staples Center, and putting herself in front of members of the Recording Academy, whose votes for Grammy nominations are due by the end of the month.
Yet what's remarkable about "Ella Mai," given this breathless promotional workload, is how un-frenzied it sounds. Produced mostly by the L.A.-based Mustard (known for his collaborations with YG and Ty Dolla Sign), the album might be 2018's most assured debut, with Mai's coolly understated vocals over glistening midtempo grooves that gently modernize R&B textures from the 1980s and '90s.
Songs like "Trip," "Good Bad" and "Gut Feeling" present a calm and collected woman in touch with her desires and with her creative strengths; there's nothing overly solicitous or eager to please about the music, even when Mai is singing, as in "Boo'd Up," about the thrill of being caught up in the rapture, as one clear forebear, Anita Baker, famously put it.
After a stretch in which R&B was defined to some extent by darkness and drama — think of the Weeknd or Frank Ocean — Mai isn't the only young artist taking a softer, slightly sunnier approach. Daniel Caesar and H.E.R. are often mentioned alongside Mai, who drafted the latter to duet with her on "Gut Feeling." (John Legend, something of a scene elder at 39, also appears on the album, as does Chris Brown.)
But of these fresh talents, Mai seems best positioned for lasting success — a destiny Mustard said he could envision the first time he heard her sing "Ooh Child" by the Five Stairsteps, familiar to many as the basis for 2Pac's early-'90s rap hit "Keep Ya Head Up."
"She did this one note," the producer said, "and I was just like, 'This is fire.'"
Mustard came across Mai's rendition of "Ooh Child" on Instagram, where she'd been posting brief covers of beloved tunes between classes at a London music college. The do-it-yourself strategy followed an earlier flame-out on the U.K. edition of "The X Factor."
But as on her album, desperation plays no part in the performances she put online; to watch them now is to glimpse the natural confidence of someone born to sing.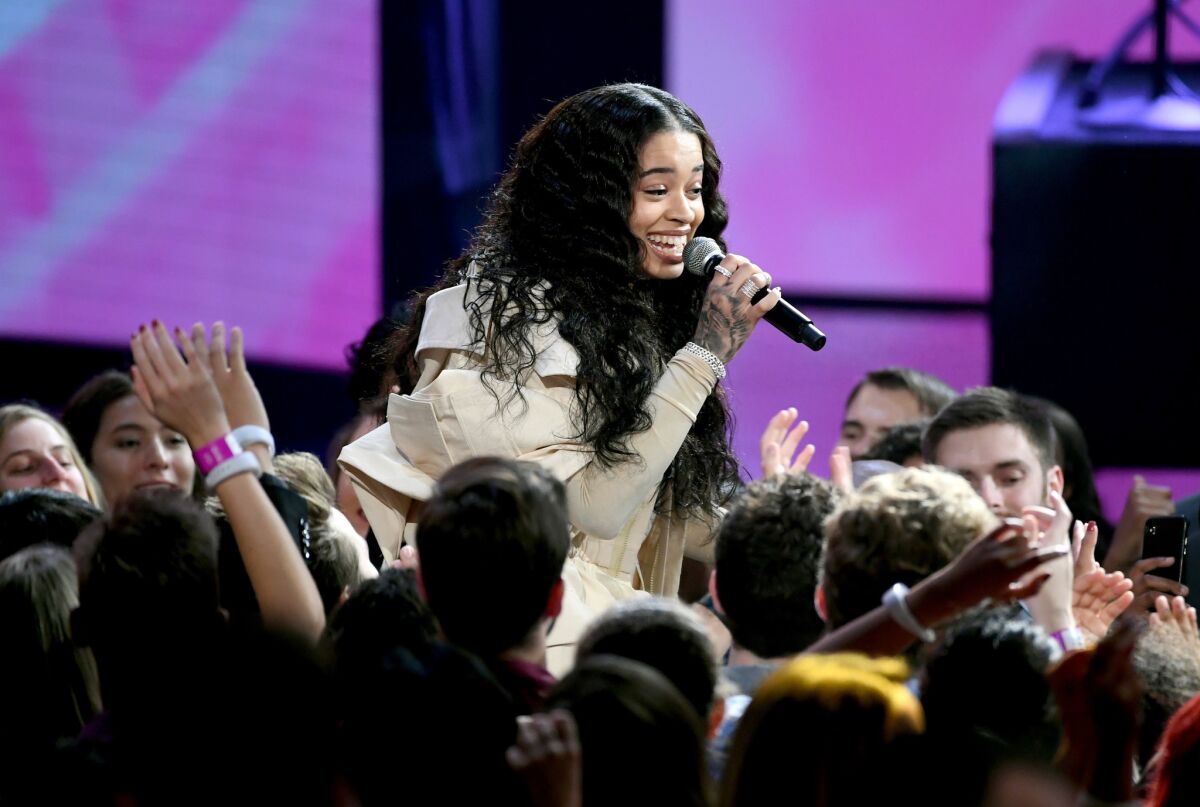 Mai signed to Mustard's 10 Summers label in 2015 and soon moved to L.A. Together, they made a string of EPs that attracted interest, though "Boo'd Up" was hardly a hit right out of the gate. Mai released the song in early 2017, then waited more than a year for it to catch on at radio.
Today, the singer says she's glad it happened that way, since she was already deep into work on her album when "Boo'd Up" took off — which meant she didn't have to scramble for more material to meet the demand for a follow-up single. ("Trip" came out in August and quickly topped Billboard's R&B chart.)
She also talks about her pride in having tailored "Ella Mai" to her own specifications rather than to the imagined demands of the marketplace. She wanted to make songs that felt specific and relatable at the same time; she wanted to channel an old-fashioned spirit — the memory of stuff she grew up listening to with her mother — while keeping up to date with current styles.
And in addition to working with Mustard, who describes Mai's sound as "skating-rink music" for its good vibes, she was determined to go into the studio with Bryan-Michael Cox, the veteran R&B producer behind hits by Usher and Mary J. Blige.
"We were there for ages because I just wanted to pick his brain about everything he's experienced," she said, with a laugh, of their session, which yielded the sensual "Dangerous." Mai remembered asking him about working with Danity Kane and with Aaliyah — just two favorites of an obsessive music lover whose flair for detail informs her vivid vocal performances.
Mai is similarly gratified to have collaborated with Brown in "Whatchamacallit," a throbbing duet about a passionate but vaguely defined relationship. ("It ain't cheating," they sing in harmony, "It's a whatchamacallit.")
Yet some have questioned Mai's choice to feature the polarizing R&B star, who pleaded guilty to assaulting Rihanna in 2009, on an album that otherwise seems to emphasize an idea of womanly self-reliance.
"I knew it would come," she said of the criticism. "But I've been a Chris Brown fan since I was 11 years old. A lot of how I sing, stylistically and melody-wise, is from him. So to me, it's about the music.
"Not that what people do outside of music isn't important — it's very important," she went on. "But people forget that everyone is human and everyone makes mistakes. There's a whole lot of people in the industry that have done stuff that…"
She trailed off, then added, "Everyone's morals and values are different. And if we really got down to the nitty-gritty, then no one would work with anyone."
Asked if the criticism bothered her, she shook her head slowly and considered a paradox it takes some artists years to grasp: that a thick skin is no less crucial in her line of work than the ability to feel.
"There's nothing anyone can catch me out on, because I'm just genuinely speaking to people," she said. "For me, the artist Ella Mai and myself as Ella Mai — it's the same."
Twitter: @mikaelwood
Get our L.A. Goes Out newsletter, with the week's best events, to help you explore and experience our city.
You may occasionally receive promotional content from the Los Angeles Times.