Fans rush to West Hollywood pop-up shop for Frank Ocean's new album, 'Blonde'
Frank Ocean announced a surprise pop-up shop in four cities to celebrate the release of his new album. 
When Frank Ocean fan Cornelius Wells heard news of a surprise, promotional pop-up shop opened by the R&B singer on Saturday afternoon, Wells was in the midst of driving to the Inland Empire to drop off a friend.
Wells saw that Ocean, who hadn't released a new record since the Grammy-winning album "Channel Orange" in 2012, had posted on his website an address in West Hollywood, along with others in London, Chicago and New York.
Could it mean that the enigmatic artist was at long last releasing a much anticipated new album?
"We made a U-turn immediately," said Wells, standing outside that address near the intersection of Fairfax and Melrose avenues, which normally houses the Centerfold International Newsstand.
His friend, Nicholas Lores, was supposed to be at a family function but peer pressure won out.
"They were like, 'Hey, we've got to go to this. You're only going to have this once-in-a-lifetime deal,'" said Lores, holding a hefty mylar package with the words "Boys Don't Cry" on it.
Inside was a physical copy of Ocean's new album, along with a magazine. The CD/zine combo was free.
The zine isn't a punk-inspired mimeographed fan sheet, but a thick, full-color book the size of the September issue of Vogue. It features contributions -- poetry, photos and essays -- by artists including Ocean, Kanye West, Wolfgang Tillmans and others. That it's labeled as "Boys Don't Cry 001" suggests the first in a series.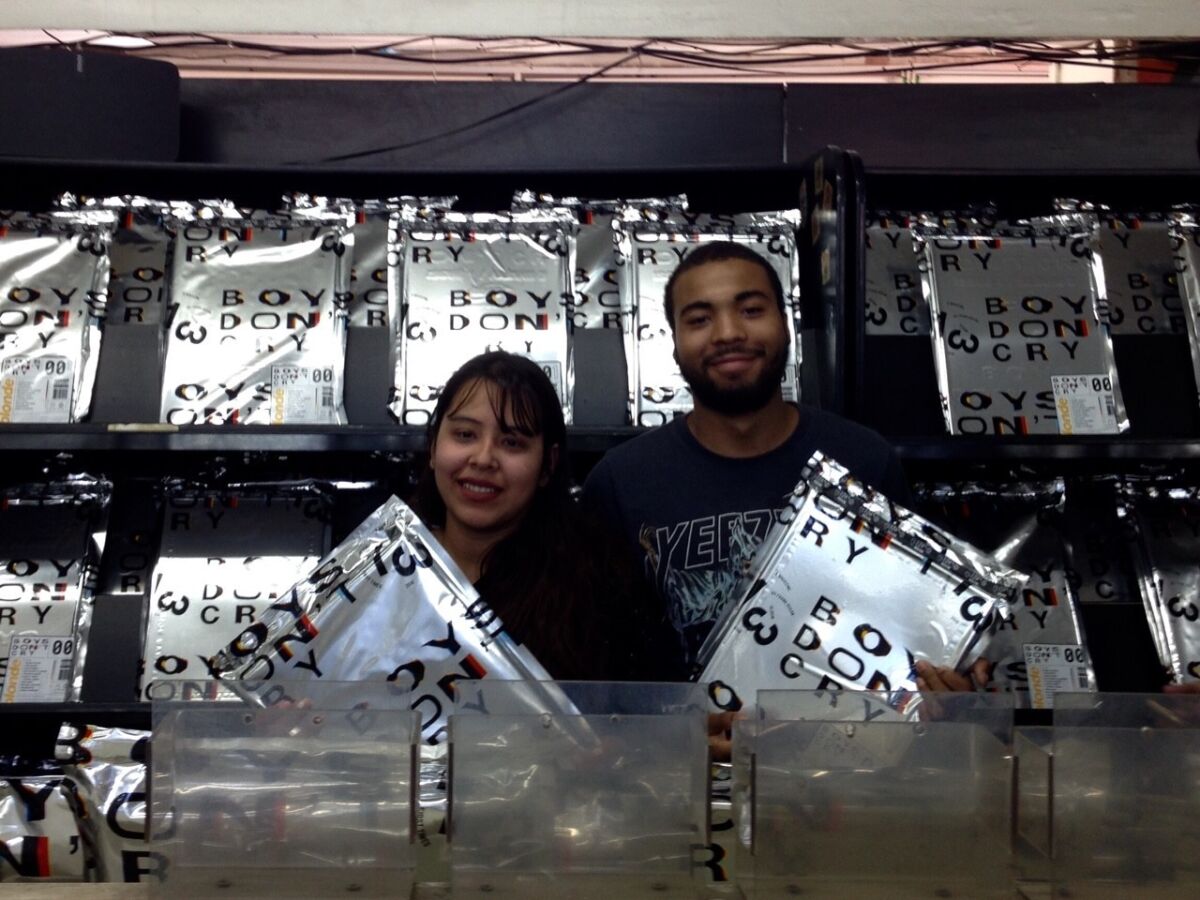 For Ocean fans, it was indeed a singular moment.
Rumors have been buzzing for months that Ocean would be issuing his highly anticipated follow-up to "Channel Orange," thought to be titled "Boys Don't Cry." Earlier in the week, Ocean had released a video album called "Endless" via Apple Music, but reports soon surfaced that "Endless" was essentially just a teaser for a proper new studio album.
Then on Saturday afternoon the notice of the pop-up shop appeared online, and soon thereafter, as fans in major cities flocked to the shops, Ocean's new album was released exclusively though Apple Music.
Outside the newsstand, hundreds of fans waited in a line that stretched down the block as, two by two, they were granted access to the shop. The white room had Ocean's name and his collaborators painted on the ceiling, and as fans entered, music from the artist's new album, called "Blonde," played over a Sonos system (the album is listed as "Blonde" on Apple Music but written as "Blond" on its cover art).
Where normally hundreds of magazines crammed shelves, only one item was available: that mylar package, which glistened in rows while security guards stood watch and fans took selfies.
Ocean's album had been expected for a while, and with each passing month his devotees started worrying that the work would be the R&B equivalent of Gun 'N Roses' decades-in-the-making album, "Chinese Democracy." The unveiling came as a relief.
"I was really frustrated at the beginning," said Lores when asked whether he appreciated the way in which Ocean unveiled the record. "It really hurt me when he'd say, 'I'm going to release it this day.' But after all this, it's really nice."
Added Lores, holding his gift: "This is free. He's not making any profit off of this."
I knew there was a zine, but I didn't know it was this big or this heavy.
— Frank Ocean fan Zachary Turner
Down the street, Ocean fan Zachary Turner carried his copy as a car , booming a track from "Blonde," drove by.
Turner was at home in the valley when he got the news of the shop from online forum Reddit. He hopped in his car and headed to Hollywood, not really sure what would happen when he arrived.
"I knew there was a zine, but I didn't know it was this big or this heavy," said Turner. "I also didn't know that the album was going to be in it — which is crazy. I didn't know it was going to be free. I didn't know the album was going to drop on Apple while I was in line."
Dejected others stood along the block, disappointed after learning that the line was too long for them to expect to get their copy.
For the diehards, though, the race continued online, where within hours sealed copies started popping up on EBay. After all, only 400 copies were given out at the Los Angeles location. On the auction website, some copies are listed for as high as $1,000.
Hollywood resident Jordan Hall was playing video games at home when he received a text about the shop. He zipped down and snagged his copy, but said that he's now dealing with a new dilemma. Asked whether he'd break the seal, which would diminish its resale value, Hall paused.
"I'm thinking about holding it for a couple of days. I don't know," he said. "I haven't listened to the album yet. We're like, 'Yo, we'll figure it out later.' But it's a collector's edition.'"
Hall added that he had already checked EBay listings.
Get our L.A. Goes Out newsletter, with the week's best events, to help you explore and experience our city.
You may occasionally receive promotional content from the Los Angeles Times.