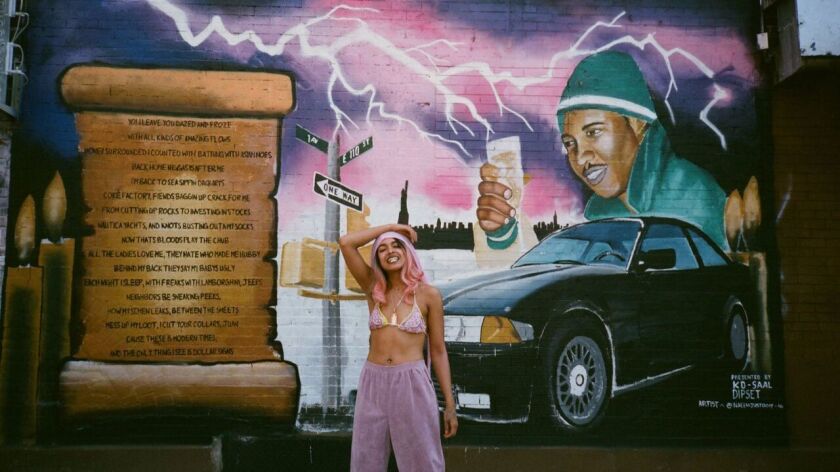 At the head of the bill, FYF Fest's lineup is plainly its most diverse yet.
Out of the four acts at the top, there are two women, two African Americans and, in Frank Ocean, one romantically ambiguous singer who makes a refusal to define himself a part of his art.
Just beneath the main headliners, you have three politically radical black hip-hop and R&B acts (A Tribe Called Quest, Erykah Badu and Solange) whose music has reflected recent events in American life.
But beneath the big fonts on the poster, that ethic continues. FYF Fest, which starts Friday at Exposition Park, has always prided itself on a progressive, underground spirit in its music. In 2017, that idea fully extends to the multiplicity of its acts.
This year, the three-day event is the rare mainstream festival living up to the expectation of fans — and obligations of a shifting musical culture — to book a lineup that looks like its audience.
"This generation of music fans, my generation, don't care about genres, they care about artists that engage them beyond the benchmark of just rapping into a mic," said Kirk Knight, the Brooklyn rapper and member of the hip-hop crew Pro Era who performs at FYF on Friday.
"They care about artists who are rebellious, innovative thinkers that can relate to them on a daily basis. Festivals have to respond to that, so FYF is smart and reflective of what their consumers want."
The concert started over a decade ago as a punk-rock showcase in Echo Park. But now more than ever, FYF Fest fans seem to want a wide slate of challenging acts that reflect a big variety of backgrounds and vantage points, from the headliners to the smallest-font names.
The poignant, ferocious messages of Solange and A Tribe Called Quest need no introduction to most fest-goers — each of their albums defined a tumultuous year in American political life while also engaging with deep, longstanding issues outside of 2016's polarizing election season.
RELATED: FYF Fest day-by-day guide: The 15 must-see acts
But move on down the bill and it's clear that there's a wave of acts using FYF to assert themselves and their identities on one of L.A.'s biggest stages.
There's the rousing, take-no-prisoners rap and R&B from Princess Nokia, a young New Yorker whose Latin, queer feminism is out in front of all her music such as the new single "G.O.A.T." Her knives-out delivery and the song's heavy, looming bass suggest she's not taking any of these ideas lightly — but her natural charisma makes the message resonate.
The returning Oakland MC Kamaiyah, who performed at FYF last year, and her rising (yet spotlight-shunning) peer Noname will be must-see sets. Noname's songs like "Diddy Bop" and "Yesterday" have an old-school glow but a very contemporary worldview that balances harsh truths with earned optimism. Each could be on a path like the ones FYF-mates Run the Jewels and Kehlani took to reach high billings at America's top festivals.
On the rock side, artists such as Mitski and Moses Sumney imbue indie guitar structures with the emotional intensity of their experiences as minorities (Mitski's "Your Best American Girl" is certainly the hardest-rocking song about coming to grips with impassable cultural differences in a relationship).
Seun Kuti & Egypt 80 draws from the Kuti family well of Afro-beat and brings it into modern contexts; Anderson .Paak is probably the best rock drummer on the FYF bill, and Cherry Glazerr's Clementine Creevy is likely its most preternaturally observant punk songwriter. "I was a lone wolf, I thought I lost my pack," she sings on her band's best-known song, "I Told You I'd Be With the Guys." "But I know better now than to be with the guys."
Additionally, of late there's been much discussion in dance-music circles about diversifying festival lineups and making nightlife scenes more welcoming for fans beyond straight white men. In that regard, FYF is leading the way.
Avalon Emerson, a California-raised, Berlin-based techno producer, makes beautiful, restless instrumentals that use and upend the rules of her genre. Same goes for Helena Hauff, whose analog synth mastery contends with headliner Trent Reznor's for heaviness and imagination.
In recent sets (and on his new album "Sirens"), producer Nicolas Jaar has been emphasizing his Chilean roots and his family's activism in ways that have made his music much more potent. And the San Francisco crew Honey Soundsystem is entrusted with, quite literally, the biggest set in FYF history: a full 10 hours of disco and generation-spanning house music whose aesthetics — and its creators — have roots in the city's gay nightlife scenes.
Other acts like Arca and Perfume Genius are riding astonishing new albums that use everything from vulnerable opera vocals to details from long-term relationships to evoke and upend the usual narrative about queer life in music.
Taken on their own, these artists are all ambitious and of the moment, and any festival booker worth their mettle should be booking them anyway. But to take a step back from the FYF Fest poster and see it as a whole, it's maybe a glimpse at a future in which acts from all identities, genres and vantage points are just matter of fact in festival life. FYF Fest is better for it.
"You can say the lineup is diverse," Knight said. "But that is because good music is diverse."
For breaking music news, follow @augustbrown on Twitter.
ALSO:
---