After My Chemical Romance, Gerard Way is learning to let go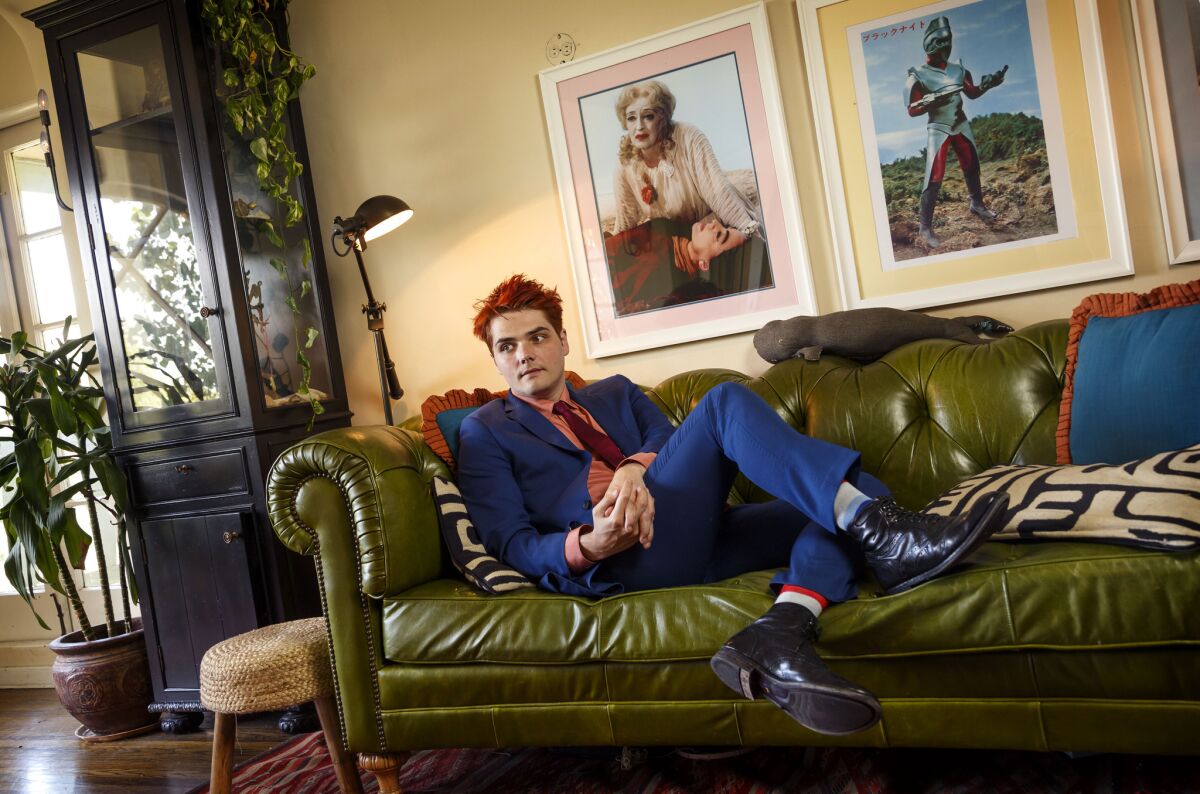 In the 12 years he spent as frontman of My Chemical Romance, Gerard Way seemed never to meet a concept he didn't like — or one he thought was too macabre.
Consider the music video for the theatrical emo band's 2005 single "Helena," in which mourners at a funeral suddenly break into a Busby Berkeley-style dance number. And take the group's 2006 album "The Black Parade," a platinum-selling rock opera (complete with cameo by Liza Minnelli) about a dying cancer patient.
Way's dramatic ambition, along with his eagerness to engage dark themes, put him among the most idolized musicians of his generation, with a devoted fan base that pored over his lyrics in search of significance. But that intense scrutiny — the expectation that the music say something profound — took a toll on the singer and his bandmates, who announced last year that they'd dissolved My Chemical Romance. And it left Way determined to take a different approach on his own.
"It was so refreshing to make a record that doesn't have a call to arms, where I didn't have to write a manifesto to accompany it," the 37-year-old said recently. "People have been asking me, 'What's the deeper meaning this time?' " He shrugged. "I don't know."
A liberating sense of freedom, of a load being lightened, suffuses Way's first solo album, "Hesitant Alien." Which isn't to say that the disc, which was released Sept. 30 on Warner Bros. Records, feels flimsy or tossed off: In "Millions," he thoughtfully ponders the connection between love and faith, while "Action Cat" offers a critique of our infotainment age ("We want television bodies that we can't keep," he sings).
It's also a deeply crafty record, with expert traces of Brit-pop melody and glam-rock stomp. Yet the pervading vibe is that of a man learning to let go.
Getting there hasn't been easy. A person "prone to imbalance," as he referred to himself, Way used music early on as a way to confront his troubles. It was this vulnerability that led fans to identify so strongly with My Chemical Romance, which formed in New Jersey before eventually relocating to Los Angeles.
But by the time the band was making what became its final album, 2010's "Danger Days: The True Lives of the Fabulous Killjoys," the pressure to live up to his reputation had helped drive Way back to familiar problems: depression, substance abuse and issues with body image.
"I'll look at pictures of myself then and see somebody that had relapsed into alcohol and was completely starving himself," the singer said. "I was just a very fractured individual."
My Chemical Romance went on to tour "Danger Days" and recorded a follow-up, though Way said he remembers focusing more during those studio sessions on his visual art — he's also a successful comic-book artist — than on his songs. Instead of releasing the album, the band broke up, plunging Way further into unhappiness.
Yet music remained a means of healing. Doug McKean, an engineer who'd worked extensively with My Chemical Romance, "would call me up and be like, 'You need to get out of bed,' " Way recalled at his home in Silver Lake, a cheerful, art- and toy-filled space he shares with his wife, Lyn-Z of the band Mindless Self Indulgence, and their 5-year-old daughter, Bandit. "He'd say, 'Don't think about what it's for — just do something.' "
So the two began writing songs and recording demos in a studio that My Chemical Romance had built as well as in the garage of Warner Bros. Records Chairman Rob Cavallo, who as a producer had overseen "The Black Parade" and "Danger Days." The music was stripped down and fuzzy, a deliberate turn from the band's elaborate, wide-screen style.
"We were doing sounds that never would've passed muster on My Chem's records," Way said. Seated in a vividly colored armchair between an ostrich sculpture and a stack of building blocks, the singer was wearing the crisp electric-blue suit he devised for "Hesitant Alien's" cover — a visual homage to "The Idiot" by Iggy Pop — and for the U.S. tour scheduled to stop at the Fonda Theatre on Tuesday. "I literally wanted the kick drum to sound like a hammer hitting cardboard."
"I think Gerard felt that some of the stuff from the past had been kind of combed over," said McKean. "On this record, we wouldn't edit something or polish it unless we really had to. He was into maintaining that rawness."
So far, that doesn't appear to have turned off Way's old audience. Xavier Ramos, who handles marketing at Warner Bros., said an appearance Way made this month at the Hot Topic store at Hollywood & Highland attracted more than 500 people, many clutching drawings and paintings they'd made for the singer.
"These kids aren't just casual fans," Ramos said. "They want to follow Gerard down whatever path he's on."
Where that path might lead, Way admitted happily, he doesn't yet know.
"I feel like I've just scratched the surface" with "Hesitant Alien," he said, adding that he intends to work faster as a solo artist. Next time, he might experiment with pop, or funk and soul.
"I've just written something that sounds like a straight-up Bobby Womack song," he said with an obvious touch of pride. "I mean, we're not gonna record that with fuzz pedals."
Twitter: @mikaelwood

------------
Gerard Way, the Eeries
Where: Fonda Theatre, 6126 Hollywood Blvd.
When: 9 p.m. Tuesday
Tickets: $35
Info: www.fondatheatre.com

Get our L.A. Goes Out newsletter, with the week's best events, to help you explore and experience our city.
You may occasionally receive promotional content from the Los Angeles Times.