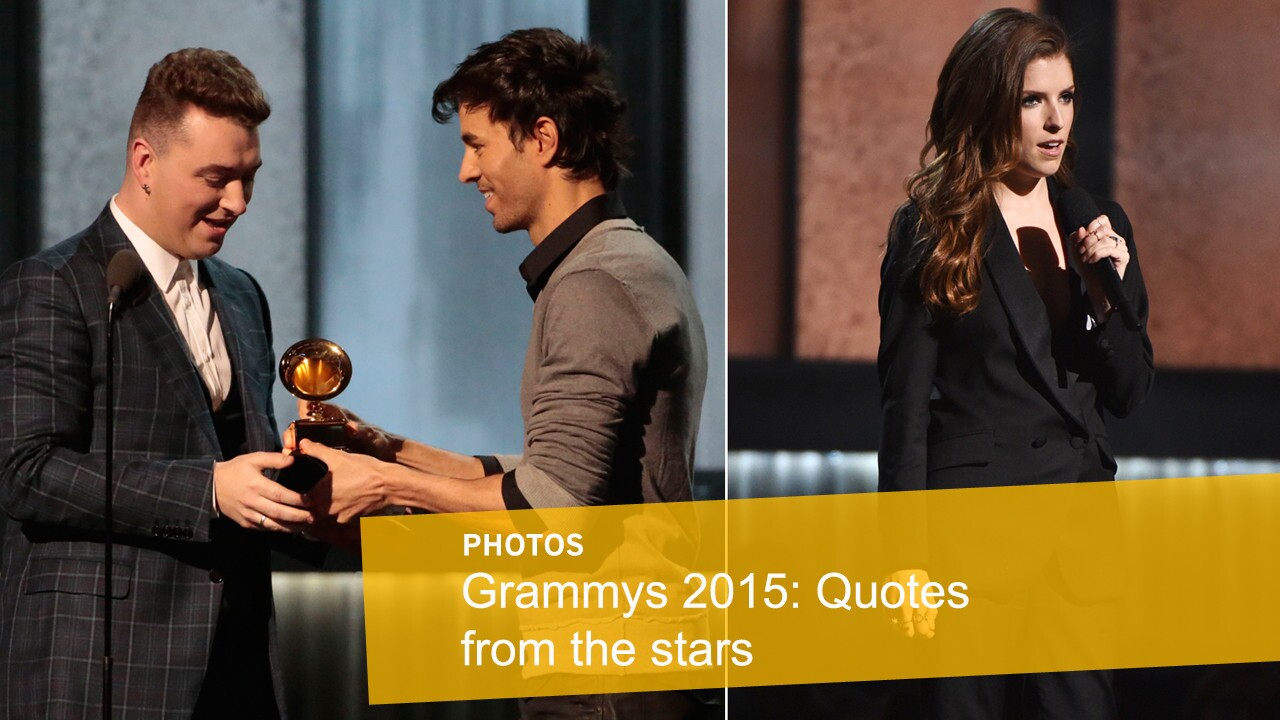 16 Images
Grammys 2015: Quotes from the stars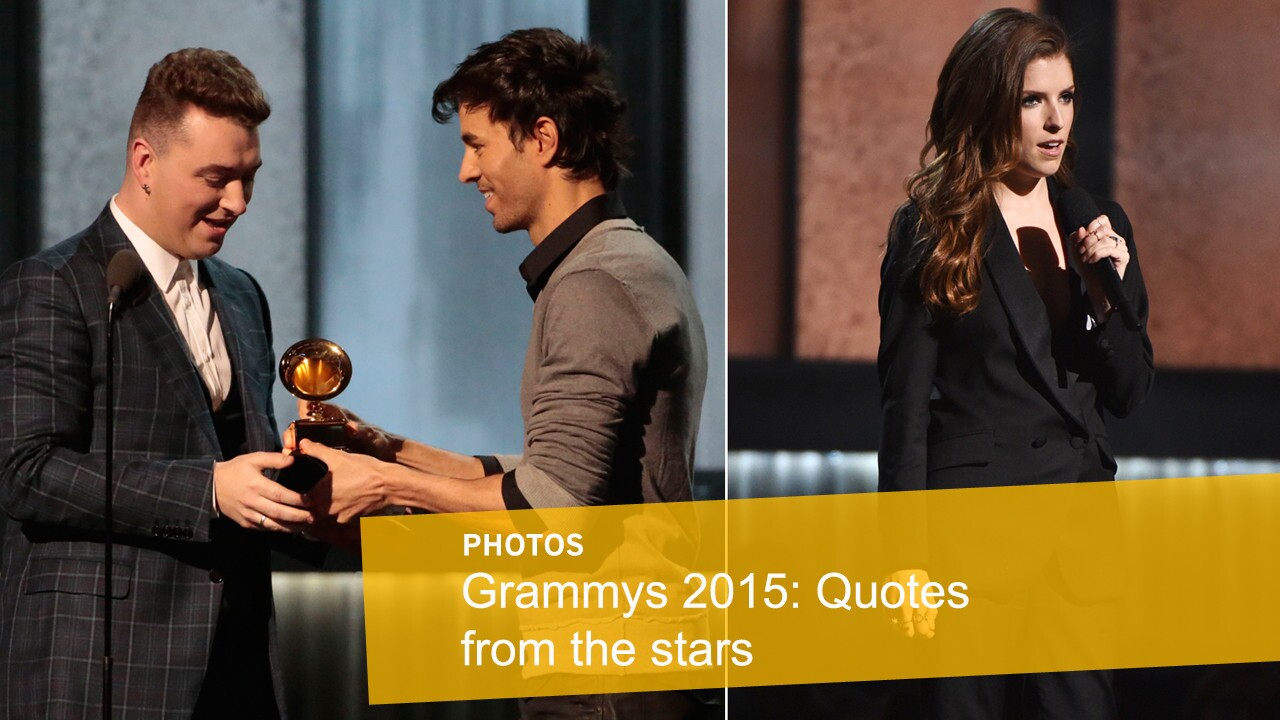 On his success hinging on self-perception: "I struggled every day to try and be myself. I had warped ideas about what I had to do to be heard and to be successful. I started losing weight, wearing crazy clothes ... [my perspective came] when I started being myself -- and eating loads of In-N-Out [laughs]."
(Lawrence K. Ho / Los Angeles Times)
On Beck, who produced several songs on his recent album: "Beck is one of the great purveyors of pure love of music. Beck approaches music with respect that allows him to be self-deprecating. I owe him a great debt of thanks and look forward to collaborating with him again."
(Robert Gauthier / Los Angeles Times)
On Glen Campbell (the band won for a cover of his single "Gentle On My Mind"): "He recorded on some of the greatest albums as a guitarist. Even in the latter days of his life, his heart for music is as prevalent as ever."
(Lawrence K. Ho / Los Angeles Times)
On working with Christina Aguilera: [Axel:] "We were really scared to meet her and work with her. She was really humble and really respectful." [Vaccarino:] "And her voice is just as amazing as you think it is."
(Lawrence K. Ho / Los Angeles Times)
On Twitter: "Sitting UNDER the stage as ACDC performs is both transcendent and terrifying. #GRAMMYs"
(Jordan Strauss / Invision / Associated Press)
On piracy: "I know a lot of musicians are discouraged and feel like they can't make a living anymore. You don't steal an apple from grocery store, why would you steal a record?"
(Robert Gauthier / Los Angeles Times)
On giving artists nominated in the preshow more mainstream coverage: "Everybody in there is substantial and important to the evolution to what anybody's doing."
(Lawrence K. Ho / Los Angeles Times)
"I love the fact that the Grammys recognizes so many [genres]. Listen, there's more kinds of music out there than just what you hear on the radio. I love that, and they couldn't possibly get it all on the televised portion. Some of us don't even like to be in TV," she joked.
(Ricardo DeAratanha / Los Angeles Times)
On a backstage moment: "Today I was in my changing room and Stevie Wonder ... asked me to come into his room and I walked in and he started playing my song to me, 'I'm not the only one' ... I just freaked out. I got on my phone and filmed a little bit. What do you do, it's just incredible."
(Allen J. Schaben / Los Angeles Times)
Fred Mollin, left, producer, with Johnny Mathis, traditional pop vocal album nominee.
(Allen J. Schaben / Los Angeles Times)
On technology's effect on music: "I don't like the new ways of listening to music. You change from song to song. That's the paradigm of this era: It's surfing instead of diving. You go on the surface."
(Robert Gauthier / Los Angeles Times)
The "Selma" actress on fan support after Beyonce was chosen over her for the "Selma" tribute at tonight's show: "I love them, but I like to focus on empowering other women and staying above the fray."
(Colin Young-Wolff / Invision for Louisiana State Office of Tour)
On Sam Smith's "Stay With Me": "I knew it was a hit when I heard it. You feel it. It's a combination of melody, lyric and music."
(Chris Pizzello / Invision / Associated Press)
On his Grammys performance: "I feel very happy. For me it was such a big honor to be performing tonight in Spanish in the Grammys and it proves that the academy gives a little respect for our culture, and we are very happy with that."
(Lawrence K. Ho / Los Angeles Times)