Grammys 2014: Live coverage of the pre-show winners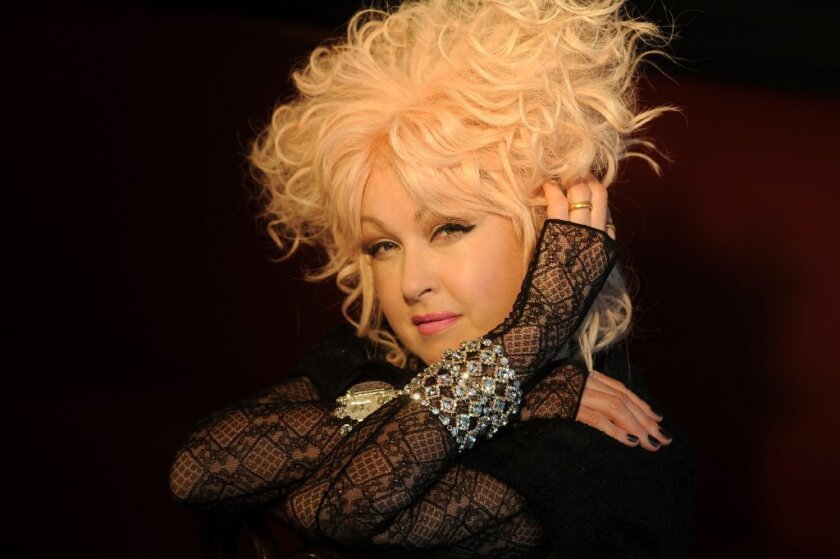 Welcome to the 2014 edition of brunch time at the Grammy Awards.
The big concert extravaganza at Staples Center isn't for a few hours yet (5 p.m. Pacific time and tape-delayed until 8 p.m. for the West Coast), but the bulk of the Grammys will be awarded in a pre-telecast. As in years past, the Grammy pre-show will take place at Nokia Theatre, and Pop & Hiss will live blog the proceedings.
Awards come fast and drama is largely absent, but the Cyndi Lauper-hosted event should provide some indication as to which way the Grammy Awards will head this evening.
FULL COVERAGE: Grammy nominations 2014
Will, for instance, Macklemore and Ryan Lewis win any love from the hip-hop community, or will fellow album of the year nominee -- and local artist -- Kendrick Lamar build toward a big night?
Can Taylor Swift dominate the country categories, or will her wholehearted embrace of mainstream pop turn off the Nashville contingent?
And will producer-of-the-moment Ariel Rechtshaid win over the likes of more established hitmakers such a Rob Cavallo or Dr. Luke?
TIMELINE: Grammy Awards through the years
The main event will provide even more questions. Heading into the 56th Grammy Awards, hip-hop superstar Jay Z leads all nominees with nine, but he's far from the biggest story today.
Some of the topics on our mind: Can Daft Punk score an album of the year win for dance music?
Will the Grammy producers carry through with their threat to allow Chicago to perform?
How many times will Dave Grohl pop up?
Can newcomers such as Lorde and Kacey Musgraves steal the spotlight from established industry artists such as Katy Perry, John Legend and Pink?
PHOTOS: Grammys 2014: Show highlights
Will the entire Grammy show feel like a teaser for the upcoming Beatles special that CBS will air on Feb. 9?
So many questions. But now, on with the show. Everything below this point will be live, so please forgive any typos. Happy Grammy Day.
1:27 p.m.: The Grammy pre-show live stream has just now rescued us from watching the Grammy.com live stream of the red carpet. Don't misunderstand us, we enjoy watching official Grammy hosts Louise Roe and Andrew Burnette introduce themselves to artists by saying, "So, tell us who you are," but we'd prefer some jazz.
And that's what we received, courtesy of Dave Koz, Mindi Abair, Gerald Albright, Richard Elliot and Verdine White. They were all fully clothed musicians, so you'll never see them on prime-time television. Pre-show host Cyndi Lauper started with a few jokes. She noted that last year's Grammy live stream was watched "by more than 100,000 people, and that's not including the NSA."
NSA joke count: 1.
Lauper then did a Cliffs Notes summary of the year in music in 2013, mentioning only Beyoncé's performance at the Super Bowl and the release of the last two members of Russian punk collective Pussy Riot from prison. The latter, said Lauper, was "not only was a great victory for artistic freedom, but we got the chance to hear all the world leaders say, 'Pussy Riot.' "
Quick aisde: If you're curious as to when some of the more "pop" categories will be unveiled -- be it folk, rap, blues, rock or alternative -- you've probably got about an hour or so to wait. First up was the Grammy for pop instrumental album, which went to Herb Albert for "Steppin' Out." Albert, according to the Grammy site, has six prior Grammy wins.
Other initial winners included Ziggy Marley's "Ziggy Marley in Concert" for reggae album, and then there was tie for world music album: The Gypsy Kings' "Savor Flamenco" and "Live: Singing for Peace Around the World" by Ladysmith Black Mambazo. The band's manager accepted the award, to say that the group wanted to dedicate the award to Nelson Mandela, but he was played off.
The children's album award went to Jennifer Gasoi, who noted she was "officially the first Canadian to win this award." She won for "Throw a Penny In the Wishing Well."
The spoken word Grammy went to Stephen Colbert for "America Again: Re-Becoming the Greatness We Never Weren't"; he was not present to accept the award.
1:30 p.m. Lauper handed the proceedings over to Tye Tribbett, who presented the award for instrumental compositions. There was an early contender for the night's most beautiful acceptance speech, courtesy of the son of Clare Fischer. He accepted on behalf of his late father and noted that the last time his father had signed his name was on a Grammy ballot. Fisher won for "Pensamientos for Solo Alto Saxophone and Chamber Orchestra."
Jay Z just got his first loss of the night. His heavily promoted mobile release "Magna Carta … Holy Grail" did not win the recording package Grammy, although it's questionable why it was even nominated, since it was largely an advertisement for a mobile carrier. Instead, the award went to Sarah Dodds & Shauna Dodds for Reckless Kelly's "Long Night Moon.
1:38 p.m. A Beatle is nominated, a Beatle wins. Paul McCartney's "Wings Over America (Deluxe Edition)" took the award for boxed/special limited edition package.
Neil Tesser than gave an impassioned speech in accepting the prize for album notes for his work on the John Coltrane reissue "Afro Blue Impressions (Remastered & Expanded)." Liner notes, in the digital era of streaming music, are increasingly a forgotten art.
"For anyone over the age of 35, liner notes have been so important," he said. "They've provided insight and commentary. So many of us learned so much of what we know about music from liner notes … So when I say that I'd like to thank the academy, it's not just for this award but for keeping this category in the awards."
1:56 p.m. French electronic duo Daft Punk gets an early award, this one in the engineered album, non-classical category. Those wondering how Thomas Bangalter and Guy-Manuel de Homem-Christo would accept their awards, considering they usually appear only with robotic masks on, weren't given any clues.
This prize was accepted by Bob Ludwig and Antoine "Chab" Chabert, with Ludwig noting that the act was getting ready for its performance this evening. There were other well-known artists in this field, including country act Pistol Annies and Grammy performers Queens of the Stone Age, but Daft Punk's "Random Access Memories" was the clear choice, as it was recorded over a number of years and with a mix of live and synthetic instrumentation. "Random Access Memories" ultimately plays out like a loving homage to the dance sounds of the '70s and '80s, but its retro-futurism feels timeless rather than dated, as it jumbles styles, genres and eras with ease.
2:09 p.m.: Tasha Cobbs won the gospel/contemporary Christian performance prize for her "Break Every Chain," and she asked the comfortable L.A. Live crowd to get on its feet to pay tribute to her father. Earlier, Latin alternative band La Santa Cecilia, nominated for its album "Treinta Días," gave a fiery performance, and Cedric Gervais won a remixed recording, non-classical, Grammy for his reworking of Lana Del Rey's "Summertime Sadness." In a way, Gervais did the unthinkable: He made the overly serious, confusingly grim Del Ray sound fun.
2:15 p.m. Local Latin alternative band La Santa Cecilia won the Grammy for Latin rock, urban alternative album for its "Treinta Días," and frontwoman Marisol Hernandez gave an impassioned speech that put the act's success into a greater context.
"We're proud to be children of immigrant parents and we dedicate this award to the more than 11 million undocumented people who live and work really hard in this country and still need to live a more dignified life in this country," she said.
On a lighter note, are you a Disneyland annual pass holder? My hand is raised. But then you likely knew that the Mariachi Divas, who perform regularly at the park, won the Grammy for regional Mexican music album for "A Mi Manera."
2:26 p.m. Tye Tribbett, his voice hoarse from performing last week, won a pair of Grammys this afternoon, one for gospel album for "Greater Than (Live)" and one for gospel song for "If He Did It Before... Same God." Few artists were as excited as Tribbett on the Grammy stage, as he declared this the year of "good things." But before the good, we must survive the bad, like Metallica performing with Lang Lang bad.
The pre-show is coming up on the jazz, dance and R&B categories, but before the rush, the a cappella group Roomful of Teeth gave a demurely enjoyable performance. Consider it the calm before the madness that will start at 5 p.m. No doubt that in a few hours, when Katy Perry does something silly (please don't let there be giant fruit or costumed animals), we will dearly miss Roomful of Teeth. Speaking of Roomful of Teeth, the act won the Grammy for chamber music/small ensemble performance.
2:43 p.m.: The pre-show got awfully serious when Dawn Upshaw accepted her trophy for classical vocal solo for "Winter Morning Walks." She began by championing crowd-funding, and then called on artists to get serious about digital piracy. She said she could, if she were so inclined, devote her time to doing nothing but "spending days filing DMCA [Digital Millennium Copyright Act] takedown notices" against websites that steal music. She didn't call out any sites, but she received the most rousing applause of the afternoon.
Laura Sullivan then won the Grammy for New Age album for her "Love's River."
2:55 p.m.: Some jazz notes for the more sophisticated people reading this blog. Terri Lyne Carrington won the Grammy for jazz instrumental album. Carrington was clearly overwhelmed from the stage, noting that she was the first ever woman to win in this category. Moments later, the large jazz ensemble Grammy went to Randy Brecker, W¿odek Pawlik Trio & Kalisz Philharmonic for "Night in Calisia." The last jazz award given out was for Latin jazz album, which went to Paquito D'Rivera and Trio Corrente for "Song for Maura." Pop & Hiss will now return to discussing more frivolous music.
2:55 p.m. Butch Vig accepted the Grammy for compilation soundtrack for visual media album for "Sound City: Real to Reel," and then "Skyfall" won a pair of awards. Adele, of course, won for "Skyfall" in the song written for visual media field, for which she had already won an Oscar a year ago, and Thomas Newman won the Grammy for score soundtrack for visual media for "Skyfal." Adele was not present.
3:06 p.m.: "Kinky Boots" won in the musical theater album field, for which host Lauper accepted by screaming, "Yes!"
Americana and folk fields were next, and Steve Martin and Edie Brickell won in the American roots song field for "Love Has Come for You." "We are truly stunned," Martin said. "I can speak for Edie, and I will… We started doing this as a sport, really, and we keep doing it."
The Americana album Grammy went to Emmylou Harris & Rodney Crowell for "Old Yellow Moon." No surprise, as Harris is one of the most celebrated Grammy artists of all time, but it was a strong field, with refined albums from Mavis Staples and Allen Toussaint also under consideration.
3:18 p.m. The folk album Grammy went to Guy Clark for "My Favorite Picture of You," winning over locals the Milk Carton Kids and celebrated newcomer Sarah Jarosz. But hard to argue awarding the veteran here, as "My Favorite Picture of You" is full of intimate, weathered narratives.
3:32 p.m.: Dance record went to Zedd's "Clarity," featuring Foxes. "I'm a little prepared for this moment," Zedd said, and then rattled off a list of friends and family. English singer Foxes was the more nervous of the two, and she had to take out her gum before speaking. Zedd then gave a shout-out to Skrillex in the audience. "You're one of my best friends. This is for you."
Daft Punk then won the Grammy for dance electronic album for "Random Access Memories." The duo, preparing for its performance during tonight's prime-time telecast, was not on hand to accept. "I am no Daft Punk," said whom I believe was Antoine "Chab" Chabert.
3:29 p.m.: Something of a surprise in the rap fields, and this may be foretelling a big night for Macklemore & Ryan Lewis.
The Seattle hip-hop duo just won three straight awards: rap album for "The Heist," rap performance for "Thrift Shop" and rap song, also for "Thrift Shop." In the latter, Macklemore & Ryan Lewis not only beat Kanye West's bracing "New Slaves" but also the feel-good tale of success "Started From the Bottom" from Drake.
The big loser, however, is local artist Kendrick Lamar. Grammy voters went with the more pop-leaning Macklemore & Ryan Lewis, an act that often delivers hip-hop as if it were arena rock, rather than the more hard-hitting street-life tales favored by Lamar.
3:57 p.m.: Before the introduction of Ben Harper and Charlie Musselwhite, Grammys were handed out for urban contemporary album (Rihanna's "Unapologetic") and R&B album (Alicia Keys' "Girl on Fire").
There were some other big awards as well, which we'll get to in a minute, but there's a state of shock right now in the office with the news that Macklemore & Ryan Lewis took the rap album Grammy, besting far superior works from Lamar and Drake. Macklemore is crowd-pleasing enough, but its social consciousness is delivered with all the insight of the "Mary Poppins" soundtrack. And this writer loves "Mary Poppins," just not in the rap album field.
Moving on … Justin Timberlake won the R&B song Grammy for "Pusher Love Girl," and the traditional R&B performance Grammy went to Gary Clark Jr.'s "Please Come Home."
3:51 p.m.: Oh, Grammys, it's only 3:51 p.m. and we're already reminded why you frustrate so. Country solo performance went to Darius Rucker's nonsense ditty "Wagon Wheel" over stronger tunes from Miranda Lambert and Blake Shelton. Granted, it was a weak field, and let's all just be glad that the song about driving your dead dad's truck didn't win.
Some good news then. The Civil Wars won the country duo group performance Grammy for "From This Valley." While the Civil Wars are essentially defunct, John Paul White accepted the award and said, "I want to apologize to Dolly Parton for depriving her of anything at all. She's one of my biggest heroes, and it's an honor to be nominated with anything in this category." Parton's "You Can't Make Old Friends" pairing with Kenny Rogers was also nominated.
Quickly moving on, the Grammy for country song went to "Merry Go 'Round," from young small town storyteller Kacey Musgraves.
4:01 p.m.: The Grammy pre-telecast went about 30 minutes longer than anticipated, finishing up with hitmaker Pharrell Williams winning producer of the year, non-classical. Williams bested Jeff Tweedy, Dr. Luke, Rob Cavallo and producer-of-the-moment Ariel Rechtshaid, the latter of whom has worked with Haim, Vampire City and others.
Before the final trophy, the Grammy pre-show ran through a bevy or rock and metal awards. Rock album went to "Celebration Day" from Led Zeppelin, a live album that documented the group's 2007 reunion. It was a scattershot rock album category, but giving the award to Led Zeppelin was simply to make up for lost time. The act, which does have a Grammy lifetime achievement to its name, had never won an individual Grammy. But David Bowie's solemn return and a rather vulnerable take on hard rock from Queens of the Stone Age were both overlooked.
The alternative music album went to Vampire Weekend for "Modern Vampires of the City," besting a lovely album from Neko Case and a trippy one from Tame Impala. Metal performance went to "God Is Dead?" from Black Sabbath.
And that…is a wrap from the pre-show. The big story thus far is three Grammy wins for Macklemore and Ryan Lewis. Does that set the act up to win album of the year? It certainly doesn't mean much for the chances of Lamar, but Daft Punk took the Grammy for dance/electronic album, so the latter is also set up for a potentially big evening.
The chances of Taylor Swift to win album of the year, however, took a slight hit. While the award for country album is yet to come, Swift lost to Musgraves in the country song field. Musgraves will compete with Macklemore and Ryan Lewis and Lamar in the best new artist field later this evening. Also worth noting is the rock performance win for Imagine Dragons' "Radioactive," which is also nominated for record of the year.
Stay tuned right here to Pop & Hiss for a live blog of tonight's Grammy show. If you want more o a news piece without my commentary (sad face), we'll have that as well. The show starts at 5 p.m. Come back. We love you.
ALSO:
FULL COVERAGE: Grammy Awards 2014
TIMELINE: Grammy Awards through years
BALLOT: Cast your Grammy Awards vote here
---
Inside the business of entertainment
The Wide Shot brings you news, analysis and insights on everything from streaming wars to production — and what it all means for the future.
You may occasionally receive promotional content from the Los Angeles Times.