Reporter's Notebook: What's it like to sing for one of your musical heroes? John Prine salute opens a window
While covering concerts saluting the music of a variety of musicians over the years, I've often wondered what goes through the minds of the participants, especially the honorees, if they're in attendance.
An answer, at least in one specific instance, came during this year's Americana Music Assn. salute to singer-songwriter John Prine.

For the record:
2:20 p.m. Feb. 13, 2019A photo caption with an earlier edition of this post misidentified John Prine's son, guitarist Tommy Prine, as another son, Jody Prine. In addition, singer-songwriter Jaimee Harris' name was misspelled as Jaime.
Having interviewed Prine on several occasions over the past 40 years, I asked whether there might be a window to stop by and say hello before or after the Feb. 9 all-star salute at the Troubadour in West Hollywood.
Upon ascending the staircase to the Troubadour balcony to attempt just that, his wife and manager, Fiona Prine, waved me over, then offered up her seat next to her husband as she headed downstairs.
What I thought might be a quick exchange turned into an utterly illuminating perspective on the tribute concert process that extended through most of the three-hour event. I decided in the moment to stay rather than beat a hasty retreat, knowing how eminently personable, uncommonly funny, unflaggingly humble and consistently quotable Prine is.
"I really like hearing women sing my songs," Prine, 72, said when Vermont singer-songwriter Caitlin Canty teamed with Punch Brothers banjo player Noam Pikelny to sing "Long Monday," one of the less-frequently covered tracks from Prine's nearly 50-year-deep song catalog.
Some of those among the two dozen participants noted from the stage that they'd never met Prine but deeply admire his music; others have worked closely with him for many years, including acclaimed singer-songwriter Mary Gauthier, who told the audience when she stepped on stage to sing "The Speed of the Sound of Loneliness": "I have no idea where my career would be if it were not for John Prine."
From his seat on a bench several feet above and away from the stage, he called down, "We love you, Mary!"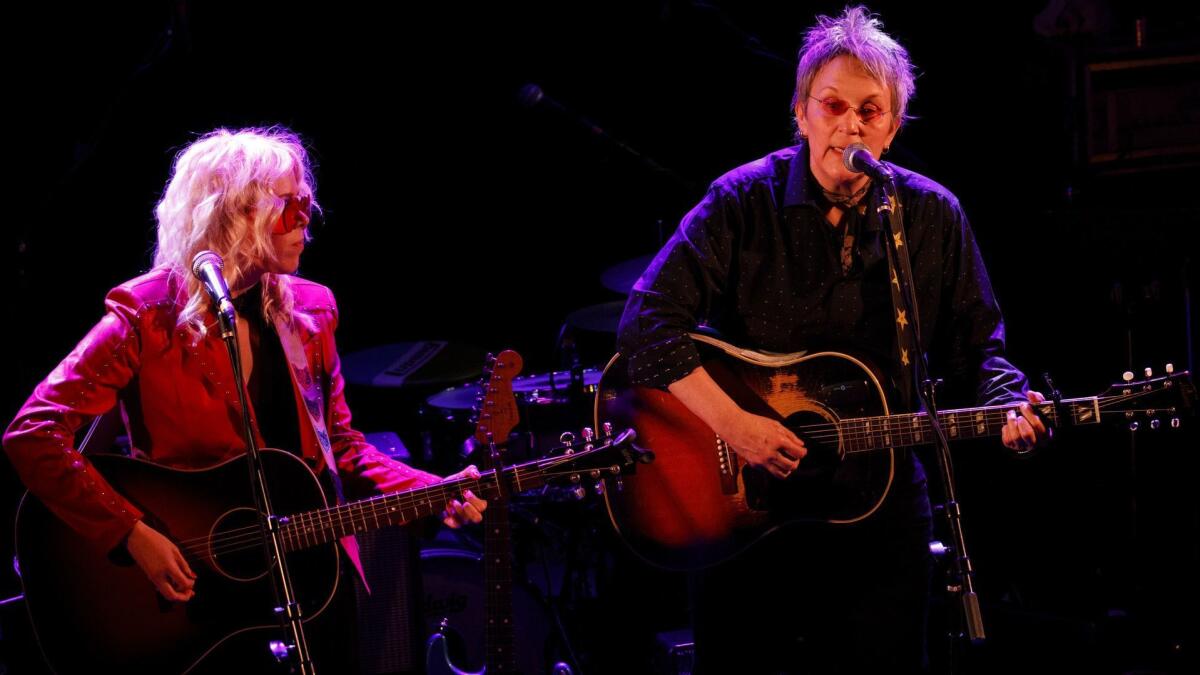 L.A.'s own Milk Carton Kids — singer-songwriters Joey Ryan and Kenneth Pattengale — tried to spot Prine in the house from their position center stage during their turn to perform. "We look up to John Prine — literally," Ryan said drolly, his eyes scanning the balcony for him. "He's right there behind that light on us," Pattengale replied.
As they applied Everly Brothers-inspired harmonies to "Storm Windows," Prine spoke of his affection for family country acts, notably the Louvin Brothers as well as Phil and Don Everly.
"There's something about that blood harmony," he said of Ryan and Pattengale, whose phrasing and vocal blend is every bit as sharp as duos who are siblings.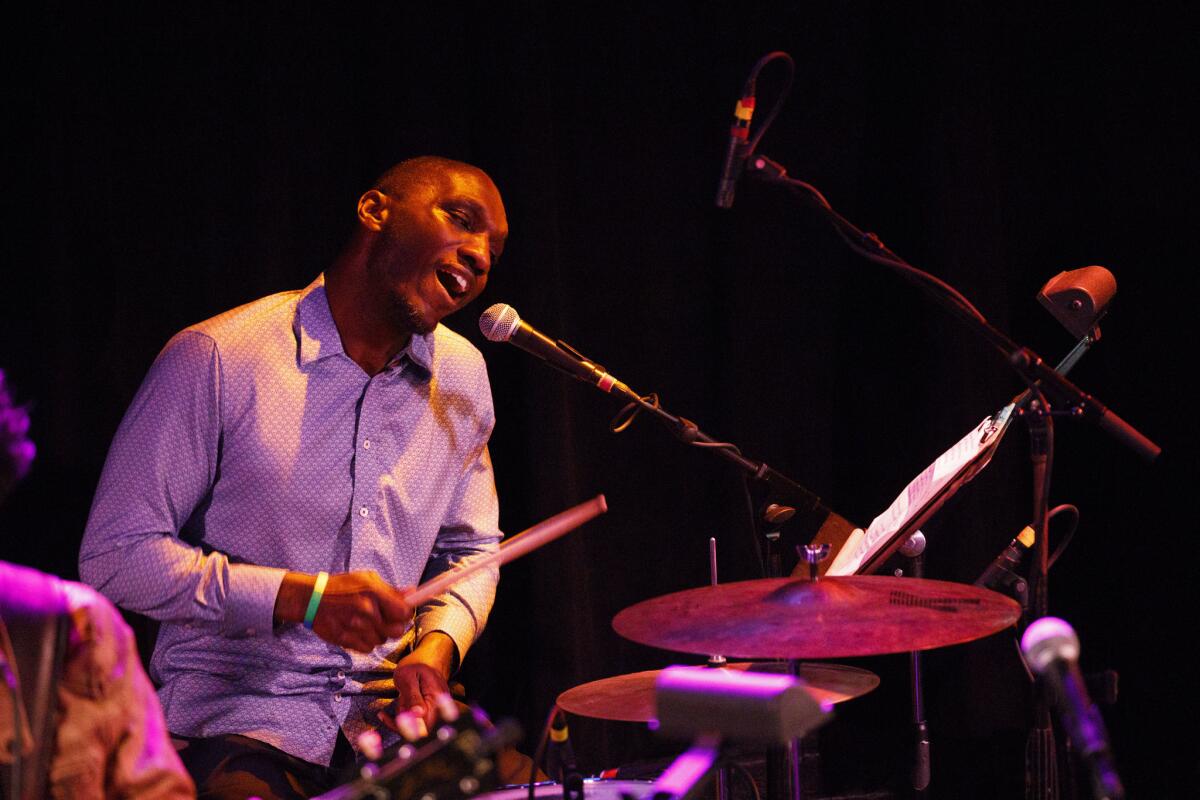 Prine originally recorded "Storm Windows" in 1980 for the album of the same title, on which he was branching out from the always artful but more direct expressions into more impressionistic lyrics: "Down on the beach, the sandman sleeps/Time don't fly, it bounds and leaps/And a country band that plays for keeps/They play it so slow."
"That one always sounds so sad to me," he said, as if rediscovering that quality in his own song.
He seemed delighted when another sibling act, the Wood Brothers, chose "That's the Way That the World Goes 'Round," an imagery-rich character study.
Its second verse finds the protaganist taking a bath when his radiator breaks and the water in the tub freezes: "I was cryin' ice cubes, hopin' I'd croak/When the sun came through the window, the ice all broke/I stood up and laughed, I thought it was a joke/That's the way that the world goes 'round."
I leaned in and told him how that song never fails to make me smile when it gets to the line about "cryin' ice cubes." He laughed. "I like the one about 'countin' my toes.' That whole song is like a cartoon."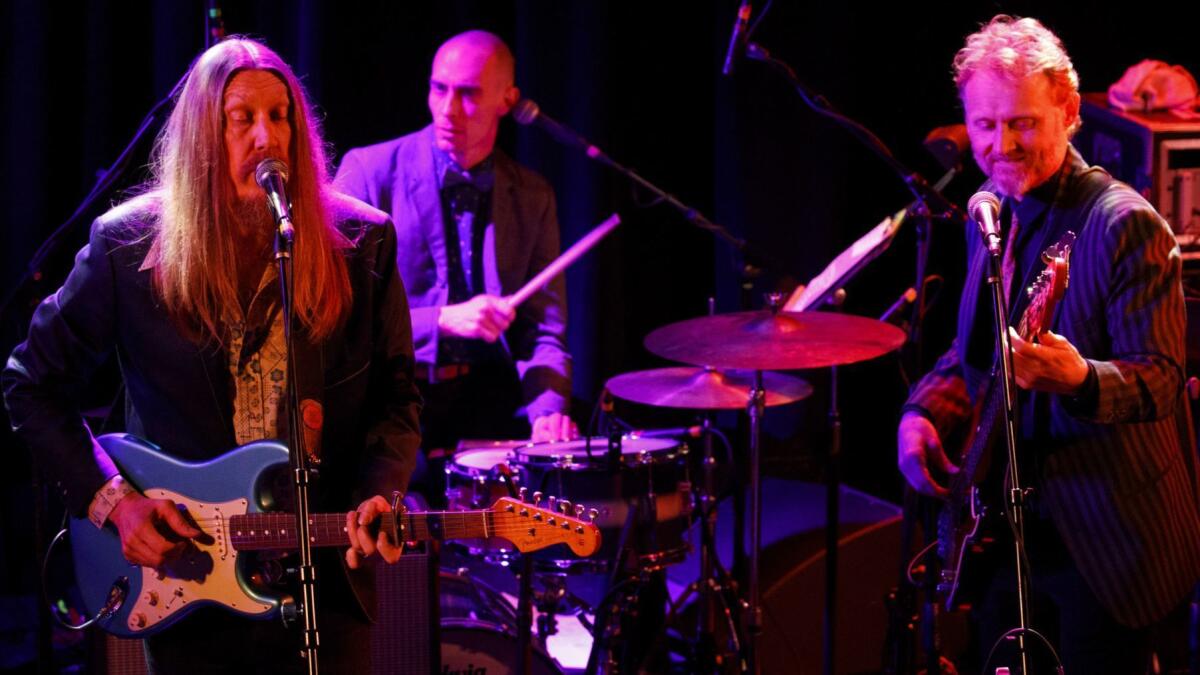 I asked whether he's experienced many shows like this, given that his music is so widely respected in the roots music community. "This is the first one," he said. "I've heard other people sing songs of mine, but not a whole night like this. It's kinda surreal."
That apparently goes double for the performers. After the show, I asked L.A.-based singer, songwriter and fiddler Sara Watkins, who was part of the house band, to describe her experience that night. (After her first solo of the evening, Prine whispered, "I'd have her play on all my songs if I could.")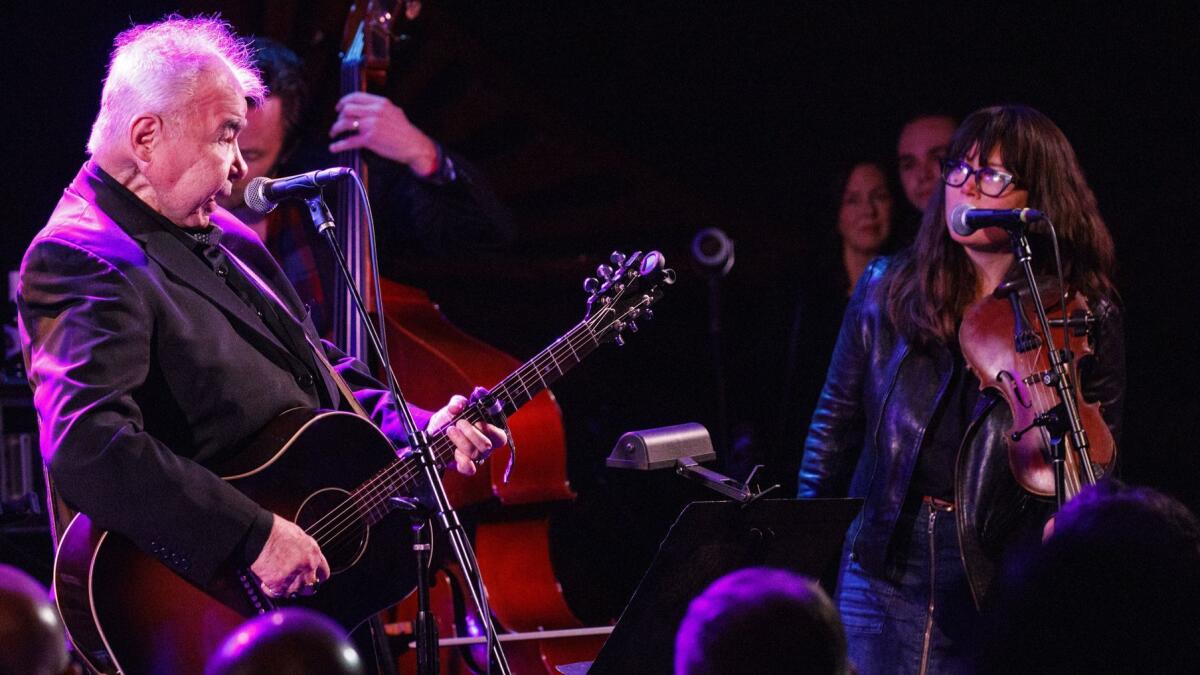 "It can be really nerve-racking," she said, "I've done a few of these now, and it's similar to playing at a friend's wedding: You're celebrating someone you really love; it's their day and you don't want to mess it up.
"The first big deal I was part of was a tribute to Emmylou Harris," Watkins said. "I couldn't speak. There were all these people saying these heartfelt things about her. It takes a lot of courage to do that, even more than singing. To say heartfelt things to someone you admire is really hard, then to have to sing a song — that's a really challenging thing to do."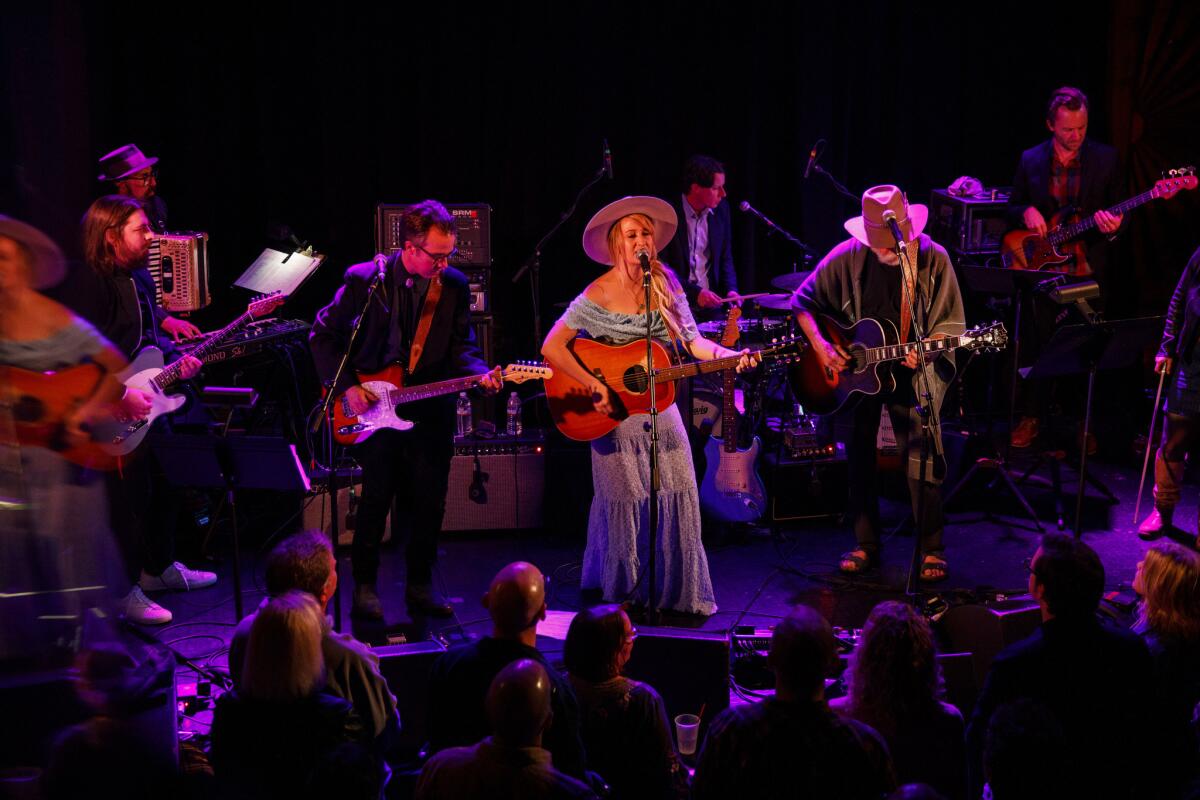 A few of the participants expressed their nervousness in public.
Country soul singer-songwriter Anderson East confessed to a sense of being a student performing for the master during his turn on stage. "I told John earlier, 'I'm gonna butcher one of your songs tonight,' and he said, 'You can't do any worse than I do.' Well, watch this, John!"
Former Civil Wars member John Paul White was even more deferential before delivering his touching version of "Sam Stone." "This is the song that inspired me to want to be a great songwriter," he said, "and which reminds me every time I sing it that I'm not."
Of all the artists involved in the Prine salute, veteran soul/R&B singer Bettye LaVette held the distinction of being the first in the room to record one of his songs — "Souvenirs," which she recorded in 1972.
The composer was as riveted as everyone in the room as LaVette put a dramatic, intensely emotional blues spin on the song of love and loss: "I hate graveyards and old pawn shops/For they always bring me tears/I can't forgive the way they rob me/Of my childhood souvenirs."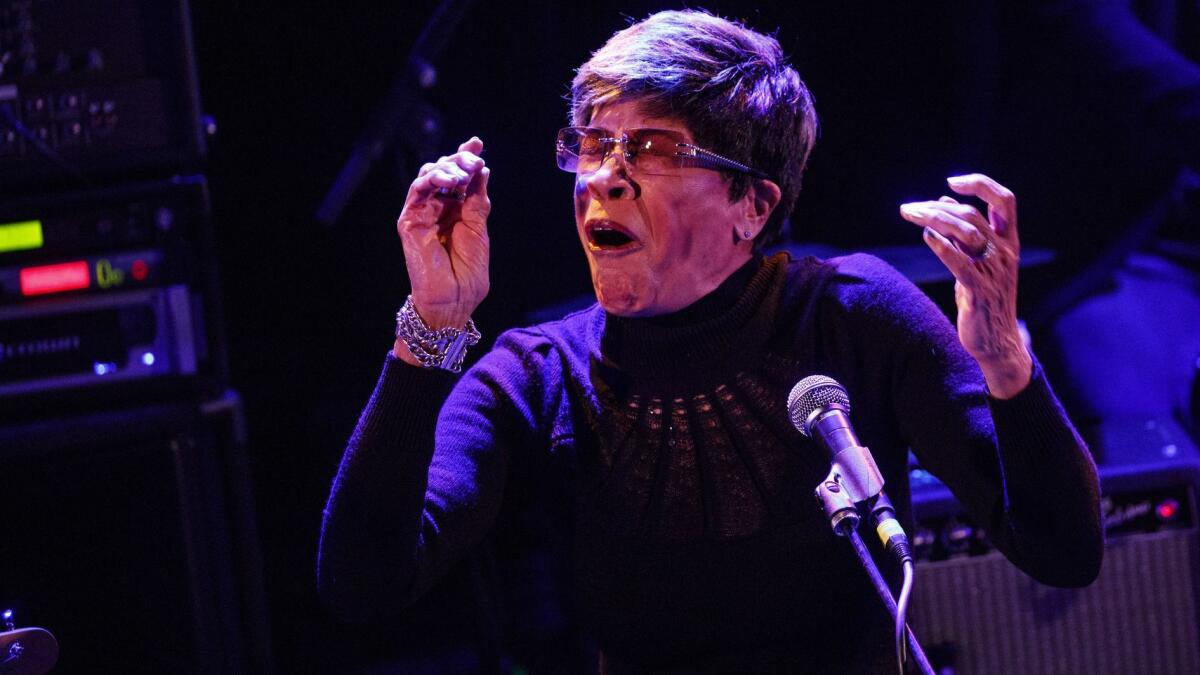 That prompted a question for Prine: "Do you remember who was the first artist to record one of your songs?"
Without hesitating, he name-checked Bob Gibson, the influential New York folk singer.
"He recorded 'Sam Stone' and put it out before my record came out," Prine said. That speaks to the buzz Prine created in the folk world early on, since that cornerstone ode to the downward spiral a Vietnam veteran takes after coming home appeared on Prine's 1971 debut album. Only someone truly in-the-know would have been aware of it before Prine's recording surfaced.
Near the end of the evening, Prine sauntered downstairs and onto the stage for the finale, quipping "It's easier to sing these songs than to sit there and listen to them all night," eliciting a laugh from Dwight Yoakam, who had preceded him with a uproarious two-step version of "Spanish Pipedream."
When a fan answered back "We like John Prine songs!" the honoree beamed a broad grin and said, "I like John Prine songs too!"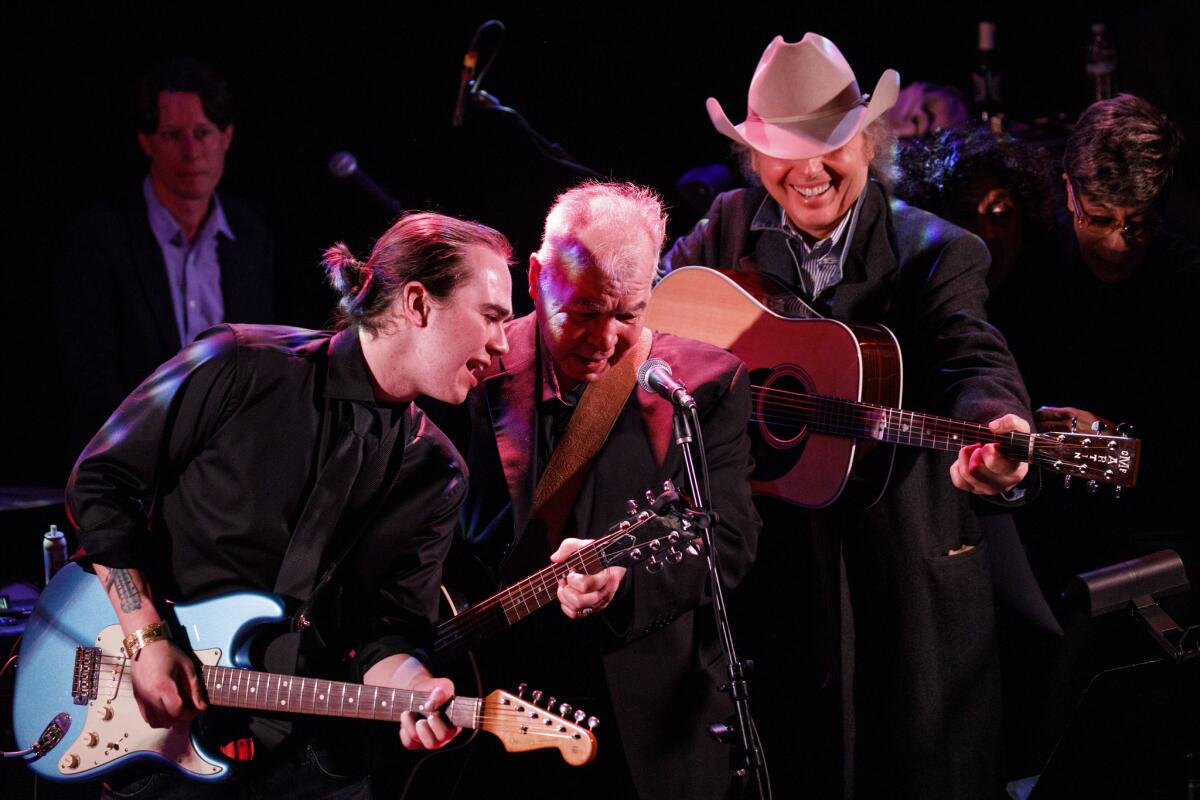 Follow @RandyLewis2 on Twitter.com
For Classic Rock coverage, join us on Facebook
Get our L.A. Goes Out newsletter, with the week's best events, to help you explore and experience our city.
You may occasionally receive promotional content from the Los Angeles Times.