'It's part of our DNA': How California shaped the music of L.A.'s Haim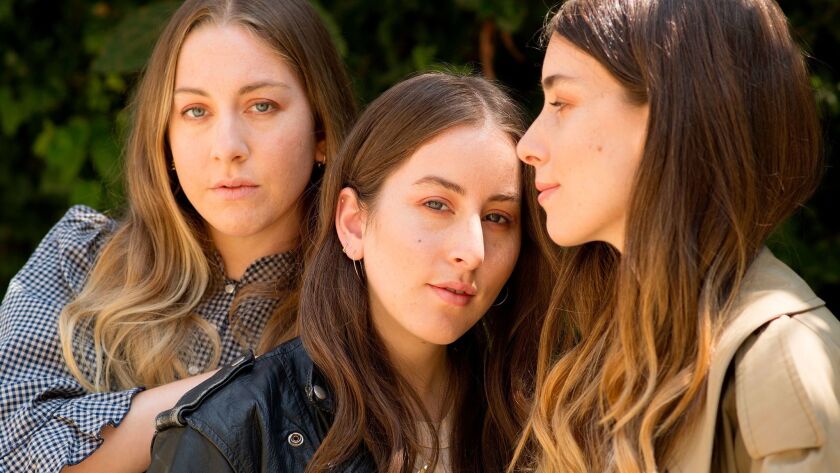 Pop Music Critic
Alana Haim couldn't believe what she was hearing.
In need of a new cellphone number, the youngest member of Haim — the Los Angeles-based trio she shares with her older sisters, Este and Danielle — recently took herself to T-Mobile, where a worker informed her that her replacement digits would start with the area code 747.
"I was literally speechless," Alana recalled the other day. "At first I couldn't even talk." Eventually she told the rep, "'I need an 818 number.' And they were like, 'There's none left.' I said, 'You're gonna need to check again.'"
So the worker did — and returned with what he said was the last available phone number with the San Fernando Valley's iconic area code.
"It's the ugliest number — none of the digits repeat, and it's super-hard to remember," Alana admitted with a laugh. "But if there's an 818 at the beginning, that's all that matters."
Alana's insistence on that signature Valley totem says a lot about how seriously Haim takes its roots. Formed a decade ago — after the siblings learned to play as kids in a family band that also included their parents — the group makes shimmering, intricately detailed pop rich with echoes of classic California acts like the Eagles and Fleetwood Mac.
And at a moment when many young artists are building their music on laptops (or smartphones), the Haim sisters work in a relatively old-fashioned manner, recording in some of the same vintage L.A. studios and with some of the same experienced session pros that their heroes used.
Yet the band has had no trouble connecting with its own generation. Its hit 2013 debut, "Days Are Gone," led to a close friendship with Taylor Swift, while one track from the group's just-released follow-up, "Something to Tell You," has already spawned a club-friendly remix by Justin Bieber's producer, BloodPop.
Now the women are taking their crafty retro-modern sound on the road, leaving behind the city they love for a North American tour that launches Saturday with a gig at Alt 98.7's Summer Camp concert in Long Beach. Even as they travel, though, home won't be far from mind.
"It's hard not to feel like we're representing California when we play other places," Alana, 25, said as she hung out with her sisters in the airy living room of Danielle's home on the Eastside.
"We never sit down to write the set list and go, 'How can we bring L.A. to Wisconsin?'" she added. "But it just happens subconsciously."
Said Este, who's 31 and plays bass: "It's part of our DNA."
For "Something to Tell You," Haim reveled in local history. The sisters — Danielle, who sings and plays guitar, is 28 — started writing the album at their parents' house in the Valley, then moved to studios including Sunset Sound (where the Doors and Tom Petty once recorded) and Valentine, a proud mid-century relic in North Hollywood.
At the latter, the band filmed a music video for one of the album's songs, "Right Now," with director Paul Thomas Anderson, a fellow Valley native who decades ago had been a student of the sisters' mother when she taught elementary school art.
They pulled even more deeply from the old days to make the video for "Want You Back," the album's funky lead single. Shot in a single long take, it follows the women as they saunter down Ventura Boulevard in Sherman Oaks, just blocks from where they grew up.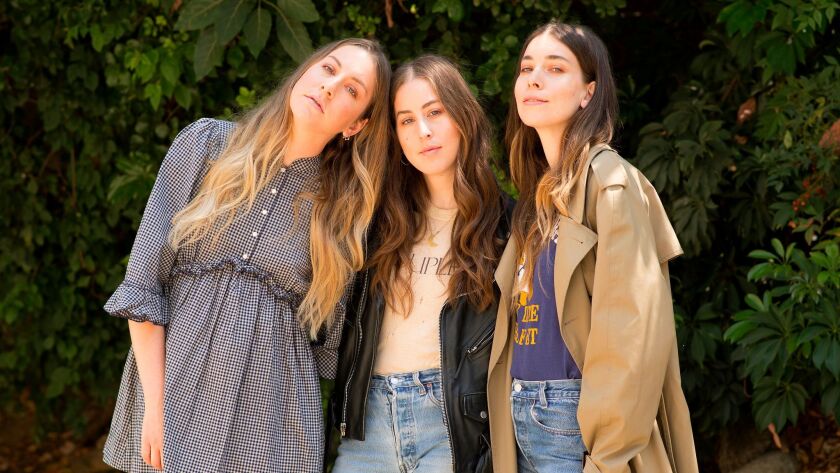 "That specific stretch holds such a large part of our childhood," Danielle said. There's the Guitar Center where they used to go look at gear, and the laser-tag place, and the bagel shop. In person, the members of Haim tend to finish one another's sentences, and here the memories kept coming in a quickening blur.
"Oh!" Este exclaimed. "We're forgetting the Sherman Oaks Street Fair, which is right there." Every year from 1999 to 2006, the bassist reckoned, the sisters played soul and classic-rock covers at the fair with their family band, Rockinhaim.
The video also nods to another L.A. forebear with a glimpse of the Casa de Cadillac dealership that's prominently featured in Petty's clip for his Valley-centric 1989 hit "Free Fallin'."
"I can't tell you how many parties I went to in high school where 'Free Fallin'' would come on and everybody would stop and sing along with the line about Ventura Boulevard," Alana said. "That's such a grounding moment for all of us."
Asked if they think of Haim as carrying on a tradition embodied by Petty and the Eagles and the rest, the women seemed reluctant to say yes.
"Those are big shoes to fill," Alana replied, while Este described the idea as "overwhelming."
"They're just like these titans," she said.
Yet older musicians have clearly taken a shine to Haim. A few years ago, Stevie Nicks dedicated "Landslide" to the band during a Fleetwood Mac concert at the Forum. And Greg Leisz, the veteran guitarist known for his collaborations with Joni Mitchell and Jackson Browne, said he could hear California in the group's lush vocal harmonies.
Working with Haim on "Something to Tell You," Leisz was struck by how inventive the sisters were in the studio — how skillfully they and their producer, Ariel Rechtshaid, used the tools of digital-age pop for songs like "Ready for You" and the throbbing title track.
"But they also want it to sound real," Leisz added. "You watch them perform live and right away you can see the talent coming off the stage. My generation looks at that with a lot of respect."
Those chops were a long time in the making, Danielle pointed out. For five years before "Days Are Gone," Haim gigged steadily around L.A., learning how to hold the attention of audiences that may have been disinclined to take the band seriously.
"Sometimes when three girls go onstage, people don't understand," the singer said. "Now when we're up there we're like warriors: 'You're gonna listen to us!'"
"I feel like Este 2.0," said her sister. "Almost the superhero version of myself."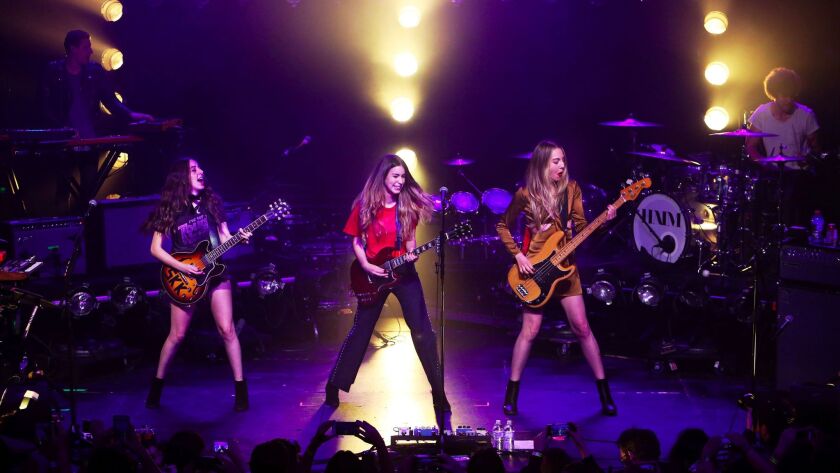 Haim toured hard behind its debut. But rather than being burned out, the women say they're eager to get back on the road with their new songs. (Beyond Saturday's show in Long Beach, the band's upcoming dates include a Sept. 9 concert at Santa Barbara's Arlington Theatre and a Sept. 10 appearance at the Ohana festival in Dana Point.)
Longtime fans will notice that Haim's drummer, Dash Hutton, has left the group to focus on his own music. In his place is Jody Giachello, whom Haim's keyboard player, Tommy King, recommended to the sisters with an enthusiastic mention of Giachello's "full head of hair," as Este recalled.
"I was like, 'That wouldn't necessarily be the first thing I led with,'" she said of the drummer whose frizzy 'do is one more reminder on an earlier era for Haim. "But then we saw him play."
Together the musicians have rehearsed most of the songs from "Something to Tell You," they said, including the doo-wop-inspired "Little of Your Love" and "You Never Knew," which Haim co-wrote with Dev Hynes of Blood Orange.
With its polished vocals and sensual tick-tock groove, the latter feels like a clever yet loving update of "Tango in the Night"; it demonstrates how closely the sisters have studied the Angelenos who came before them.
But "You Never Knew" is so beautifully constructed that it also leads you to believe it might be Haim under the microscope one day.
"That'd be cool," Este said of the idea. "Maybe when my kids go to elementary school —"
"At Dixie Canyon Elementary," Alana interrupted, referring to the sisters' old school in Sherman Oaks.
"Maybe they'll be like, 'My mom's Este Haim,'" she continued with a laugh. "Then my kids' friends could be like, 'Oh, my grandma listens to her.'"
Twitter: @mikaelwood
ALSO
The Eagles fly again at the Classic West
What Sam Hunt had to say about cultural integration at the Greek Theatre
From sex bomb to philosopher: How Neil Diamond celebrated 50 years in show business
Lindsey Buckingham and Christine McVie on their duets album: 'We kind of blew our own minds'
---
The complete guide to home viewing
Get Screen Gab for weekly recommendations, analysis, interviews and irreverent discussion of the TV and streaming movies everyone's talking about.
You may occasionally receive promotional content from the Los Angeles Times.