Review: The Eagles fly again at the Classic West
Pop Music Critic
"We are the Eagles from Los Angeles," Joe Walsh told the crowd Saturday at Dodger Stadium. "We're back — and we're back because of our family."
OK, sure.
Headlining the first night of the Classic West festival — a two-day mega-concert co-starring Fleetwood Mac, Steely Dan, Journey, the Doobie Brothers and Earth Wind & Fire — the Eagles were performing their first show since the 2016 death of one of the band's founders, Glenn Frey.
Standing in for the late singer and guitarist was Frey's 24-year-old son, Deacon, along with country star Vince Gill, both of whom split lead-vocal duties on Glenn Frey's Eagles hits, including "Take It Easy" and "Lyin' Eyes."
So, yeah: Family, which Walsh went on to say included the group's devoted fans, appeared to be the idea that had revived the Eagles.
But Deacon Frey's joining wasn't all that inspired Don Henley to reverse an earlier statement that his friend's death had closed the book on the influential country-rock band they formed in the early 1970s.
Desert Trip no doubt helped too.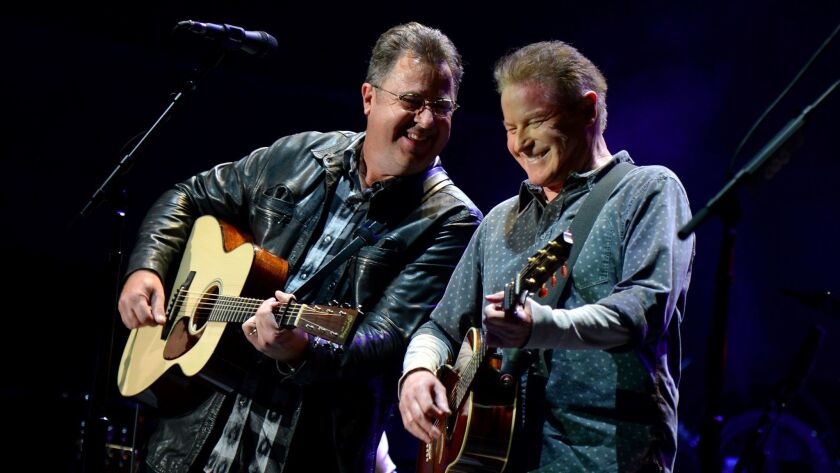 That high-profile event, held last year, brought classic-rock icons like Bob Dylan and the Rolling Stones to Indio's Empire Polo Club — and made an estimated $160 million, clearly demonstrating that baby boomers were itching to take part in the expanding music-festival market.
The Classic West — which was organized by the veteran talent manager Irving Azoff, who represents every act on the bill — provides supply to meet that growing demand. Later this month the festival will move to New York and play Citi Field as the Classic East.
As (re-)animating impulses go, money still works wonders.
At Dodger Stadium, the Eagles weren't the only outfit that led you to think about family — about who belongs in a given band (or who doesn't) and how a group's lineup can shape our perception of its music.
The Doobie Brothers opened Saturday's concert with an assured performance of the hard-riffing hits that made them one of the most reliable rock acts of the early '70s.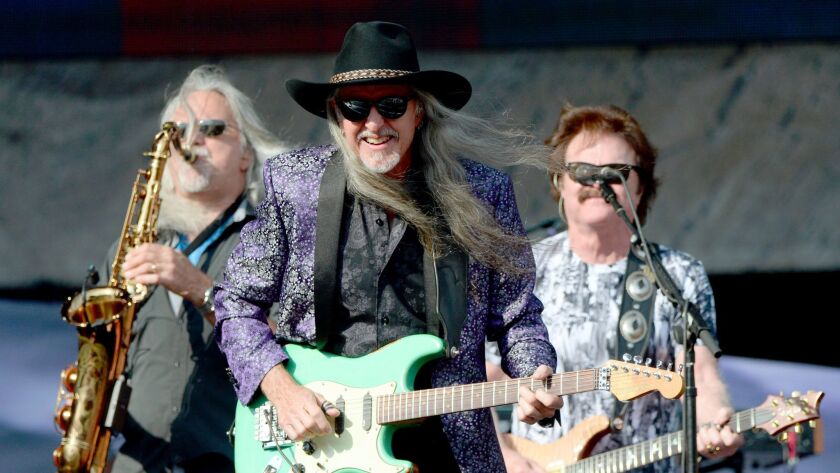 "Listen to the Music," "Jesus Is Just Alright," "China Grove," "Black Water" — each was crisp and tuneful, with strong vocals by the band's frontman, Tom Johnston, as well as guitarist Patrick Simmons and bassist John Cowan.
"We used to have wonderful festivals like this in the '60s," Simmons said at one point. "And now we are 60." Yet the band played with the verve of newcomers.
Still, the Doobies became a far more interesting band in the second half of the '70s, after Michael McDonald replaced Johnston and steered the group in a funkier, more soulful direction.
Given McDonald's recent career renaissance — and the fact that he lives in nearby Santa Barbara — I can't be the only Classic attendee who was hoping the white-haired singer would turn up Saturday to do some of his old songs with the band, such as "Minute by Minute" and the immortal "What a Fool Believes."
That didn't happen, though, and the disappointment ended up giving a solid gig the feel of a letdown — one risk of putting a new experience up against vivid memories.
Something similar took place with Steely Dan, whose Walter Becker missed Saturday's gig after having fallen ill, according to his bandmate, Donald Fagen.
You could tell Fagen knew this would upset the band's core: To offer "some compensation," he said, he'd arranged for guitarist Larry Carlton, who played on Steely Dan's classic albums, to sit in with the sly jazz-rock group at Dodger Stadium, as though the addition of one original participant might offset the absence of another.
But the members of Steely Dan's live band — some too young to have taken part in the '70s — are all first-rate players, not exactly in need of Carlton's assistance to match the sophisticated arrangements of "Aja" and "Kid Charlemagne."
Which means the guitarist's presence was serving more of a psychological purpose than a musical one, especially since it's not like he stepped up to do the absurdist monologue Becker typically delivers when the group plays "Hey Nineteen."
Did Carlton sound great in "Josie"? Of course. Yet Fagen's recruitment of him illuminated the value we put, perhaps irrationally, on Those Who Were There.
I say "irrationally" because the Eagles sounded so good Saturday that no reasonable person could argue that Glenn Frey's not being there prevented the band from putting on a sufficiently Eagles-esque performance.
Sure, Frey's passing still seems to weigh heavily on his bandmates, not least his son, who in one awkward but touching moment asked the audience, "Anybody out there miss my dad?" before he sang "Peaceful Easy Feeling."
And as with Becker, a lack of Frey resulted in a lack of good banter; the late singer was the Eagle with all the good onstage jokes, a role neither Henley nor Deacon Frey nor the very earnest Gill appears interested in filling.
But as they played the songs that made the Eagles superstars, the moneyed optimism and twisted romance that have always defined the band's music came fully to life. "Hotel California" was lush and forbidding; "One of These Nights" had a depraved sensuality. "I Can't Tell You Why," sung in delicate falsetto by bassist Timothy B. Schmit, somehow balanced vulnerability and supreme self-confidence.
For "Heartache Tonight" the band brought out Bob Seger, who co-wrote the song with Glenn Frey — another moment at the Classic to consider the importance of the original text.
Yet the Eagles weren't afraid to take liberties with their deeply ingrained music, as in a swaggering, R&B-style rendition of "Witchy Woman" complete with horn section.
In their heyday, of course, the band happily adapted to shifting tastes — from country to disco, funk to soft rock — in a way that can make the Eagles seem like an American Rolling Stones: gifted opportunists with the good sense not to box themselves in.
And maybe that's why they've weathered Frey's loss as well as they have.
The Eagles understand that getting fans to fall in love with a band — and to keep plunking down hundreds of dollars to maintain that relationship — requires more than enshrining a fixed group of four or five people. It requires songs that make listeners believe they belong too.
Twitter: @mikaelwood
ALSO
Michael McDonald has outlived all your jokes about yacht rock
Arroyo Seco Weekend highlights the power — and the problem — of good taste
Who is the Russian pop star linked to Donald Trump Jr.? His bland music offers few clues
---
The complete guide to home viewing
Get Screen Gab for weekly recommendations, analysis, interviews and irreverent discussion of the TV and streaming movies everyone's talking about.
You may occasionally receive promotional content from the Los Angeles Times.