After losing steam, the Stereotypes almost hung it up — now they are up for producer of the year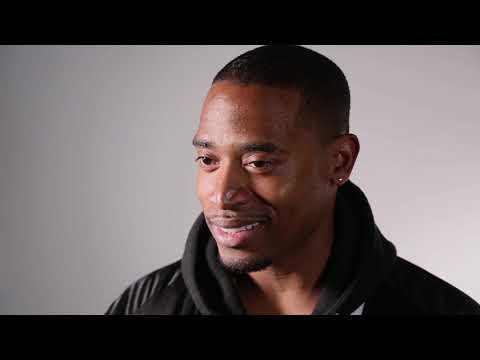 Nominated for three Grammys this year, the Stereotypes (Ray Romulus, Jonathan Yip, Jeremy Reeves and Ray Charles "Charm" McCullough II) break down their creative process.
A moment of panic came over Ray Romulus during the 2016 Grammy Awards when his phone buzzed with a notification that his checking account had gone red.
"Taylor Swift is to my left. Selena Gomez is [nearby]. I can see Bruno [Mars]. I'm sitting eight rows from the stage and I turned to my wife to tell her," Romulus remembered while looking at a screen grab of himself from the telecast — the wide smile he typically wears gone, his brow wet with sweat.
It was music's most celebrated night, and Romulus — one-quarter of the multi-platinum songwriting and producing collective the Stereotypes — was worried about how he'd take care of his family.
"[My wife] could see the defeat in my face. But she told me, 'Don't worry, in a couple of years you'll be back and it will be for producer of the year.'"
Her prediction turned out to be spot-on.
After more than a decade of crafting hip-hop, R&B and pop hits for myriad pop stars, the Stereotypes are having their biggest moment yet with a handful of Grammy nominations, including producer of the year (non-classical) for their work with Bruno Mars, Fifth Harmony, Sevyn Streeter, Lil Yachty, Iggy Azalea and Kyle.
On a recent rainy afternoon in Santa Monica, Romulus, Ray Charles McCullough II and the group's co-founders, Jonathan Yip and Jeremy Reeves, are tracing the ups and downs that have marked their time together.
A string of platinum and gold plaques from work they've done with Mary J. Blige, Chris Brown and Justin Bieber greet you inside the Stereotypes' recording studio. There are framed movie posters for the film's they have contributed to and the group's likeness as animated heroes is the focal point of one room.
Yet just two years ago, the collective was considering calling it quits after work had dried considerably.
"In this industry momentum is everything. When you don't have any, it's tough to get the ball rolling," Yip said. "We had some tough times. We were doing good stuff and didn't have money. Plenty of times we wondered if we were going to keep doing this. Like, 'Should we come back from holiday break?'"
"Can we even come back," Romulus offered.
"Like, when is the light in the tunnel," Yip continued. "But we decided to stick it out a little longer."
And stick it out they did, finding work in East Asia producing for K-pop and J-pop artists such as BoA, SHINee, EXO, Super Junior and f(x).
That they widened their reach isn't surprising considering the influence rap and R&B have had on today's music. Rap especially has woven its way into the fibers of virtually every genre of popular music, and as the genre's imprint has deepened, producers have been crucial to its growing influence — just look at how many non-hip-hop acts have called on Missy Elliott, Rick Rubin, Timbaland, the Neptunes or Rodney Jerkins to work on their albums.
Being a group of diverse backgrounds — there's Asian, Haitian, African American, Samoan and Caucasian represented between them — the Stereotypes have long prided themselves on being multi-genre, or as Romulus says "not boxing ourselves into one thing." It wasn't so much about survival as it was about "taking risks," the men said, and working in South Korea gave them renewed purpose and made them feel more appreciated for their work.
"I give a lot of credit to K-pop," Yip said. "It totally saved our lives."
"Not only did it keep the lights on, it lit more of a fire back into us of being motivated to make music," Romulus added.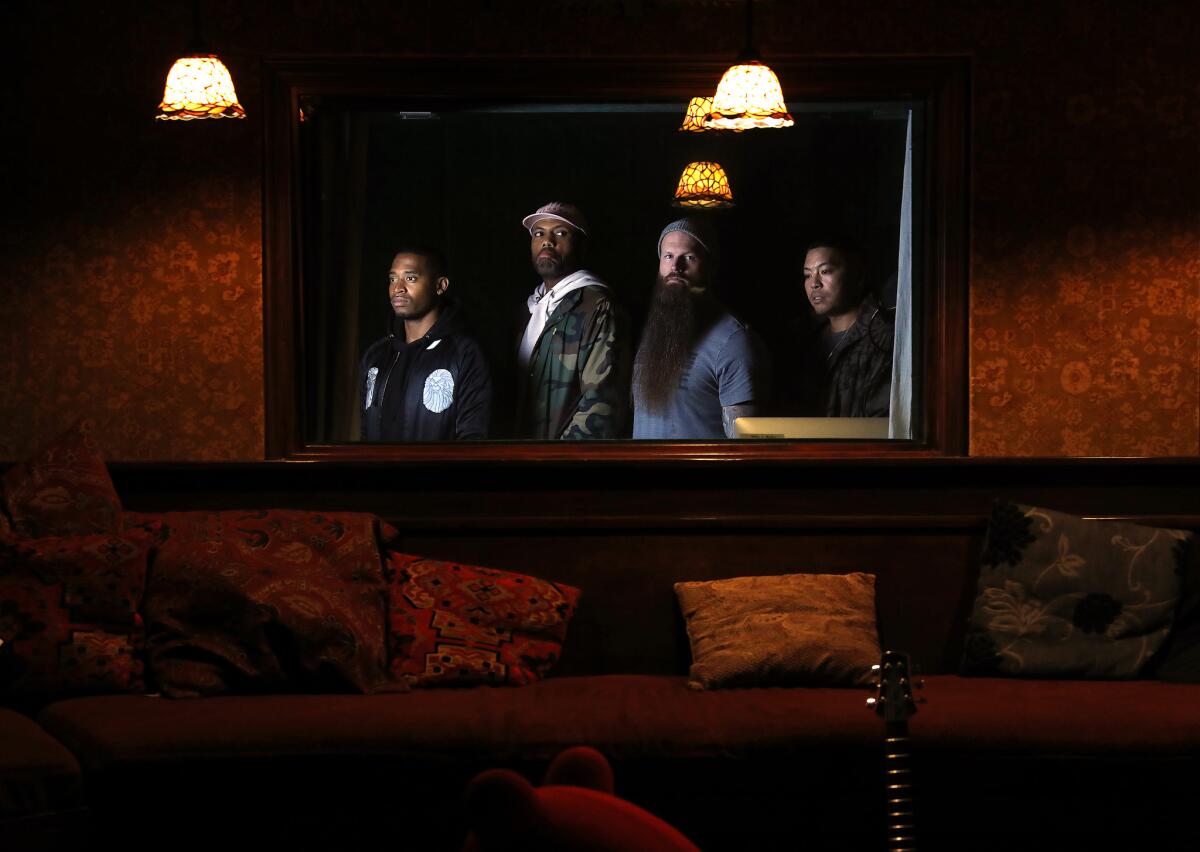 We remember what it was like when no one was calling us up. And we don't want that feeling – ever again.

— Jonathan Yip of the Stereotypes
The Stereotypes began in a Guitar Center, of all places, back in 2003.
Reeves was a sales associate at a Sacramento location of the music chain when Yip wandered in after a dentist appointment. Reeves produced hip-hop and R&B beats and played in a local band, when he wasn't selling keyboards.
After hearing Yip — then employed by Interscope Records in L.A. — inquire about the store's industry discount, Reeves approached him for advice. He also had a memory card filled with the beats he would upload into keyboards as part of his sales pitch. Yip told him to play something.
"His first reaction was this white boy has soul," Reeves laughed. "That was the start."
Yip and Reeves started collaborating over the phone, by email and during weekend studio sessions whenever Yip came to his native Sacramento. The duo took on an artist, a Houston rapper named Durtee 3, and landed a meeting with Romulus, who was just starting at Def Jam as an A&R.
"The music was incredible. It was so different," Romulus said of the first time he heard Yip and Reeves' work.
After their artist signed with Def Jam, Romulus began working closely with them on Durtee's album — a project that never saw the light of the day as it got shelved by the label's then-president, Jay-Z.
With their artist in label limbo, the Stereotypes were uncertain of their next move.
And then Romulus lost his job at Def Jam in 2007. He quickly decided to relocate to L.A., moving into Yip's spare bedroom — which doubled as a makeshift studio — a month after Reeves left Sacramento for L.A. The Stereotypes were now a trio.
The Stereotypes spent days in Yip's bedroom tinkering on songs — breaking to go a few rounds on a videogame or to nosh on the chocolate chip pancakes Yip's wife cooked.
"For six months we treated that second bedroom like a 9 to 5," Yip said. "And that discipline made it so that we had a lot of product."
By the end of 2007 the Stereotypes had gotten their first real break when a catchy electro-pop jam they produced and wrote called "Damaged" landed with Danity Kane. The song — it was originally intended for Beyoncé — was a smash, peaking at No. 10. Reeves had the misfortune of hearing the song countless times a day while on the clock at Guitar Center, where he returned when savings dried up (something the guys still rib him about).
McCullough joined in 2012 after he got tired of working for a state lobbyist and decided to focus on producing full time.
Wanting to keep the momentum going after their stint in South Korea, the Stereotypes turned to the artists they had deep ties to, including Mars. The Stereotypes and Mars' relationship goes back more than a decade. They worked together on Far East Movement — back in the group's bedroom studio days — and collaborated over the years, but never on a Mars projects.
While Mars was recording "24K Magic," he and Yip talked about working together. Yip sent over some beats and later sent more, but nothing came of it. And then Mars reached out with a specific request.
"He's like, 'I need another song. I want this key, this tempo,'" Yip said. "So we sent something over. And then he asked us to come in."
For McCullough, the session with Mars felt like it was a make-or-break moment.
"I was getting scared. Like, something's gotta happen," he admitted. "Something needed to happen."
The Stereotypes helped Mars finish the album's long-gestating title track, and then they kept going — co-writing and co-producing funky hip-hop soul jams "Finesse" and "That's What I Like."
The album was a smash, as were all three records the Stereotypes worked on. "Finesse" recently received a Cardi B-assisted remix, and "That's What I Like" spent an astonishing 24 weeks inside the top five on the Hot 100 chart.
And their phones have been ringing ever since.
"We remember what it was like when no one was calling us up. And we don't want that feeling — ever again," Yip said. "If you want to work with us, we want to work with you."
The producers are currently developing an artist named Destiny Rogers, and have logged studio time with Nicky Jam, Meghan Trainor, Backstreet Boys and they are loosely working on their own project.
For now, they are just looking forward to going to the Grammys and not having to stress over how they will keep the lights on.
"It feels like all our lives we've been going to events like this," Romulus said. "But this is the first time that we are actually going to be a part of it."
For more music news follow me on Twitter:@GerrickKennedy
Get our L.A. Goes Out newsletter, with the week's best events, to help you explore and experience our city.
You may occasionally receive promotional content from the Los Angeles Times.