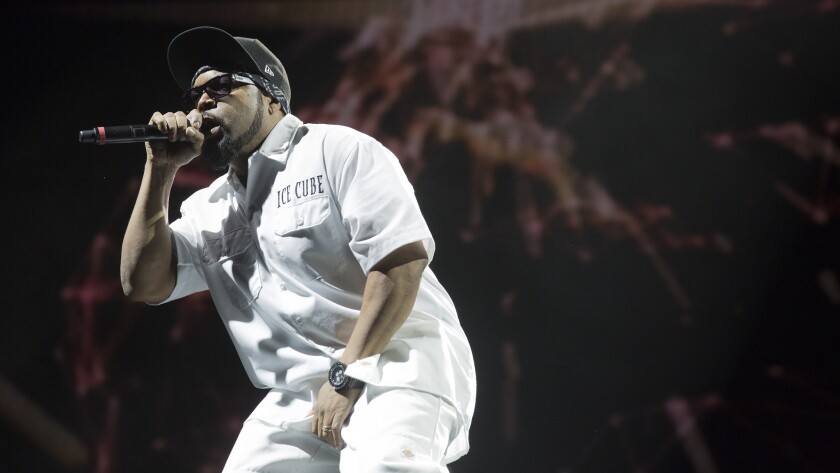 When Ice Cube stops by Bill Maher's show on Friday he doesn't plan on ignoring the host's casual usage of a racial epithet during last week's episode that ignited a firestorm.
"I'm pretty sure it's going to come up," Cube told The Times during a break from shooting one of his own projects earlier this week.
"Everybody knows the deal," he continued. "I love Bill Maher's show, but sometimes he's got more black jokes than a white trucker."
During an interview with Republican Sen. Ben Sasse of Nebraska on last week's episode, Maher told the senator he needed to visit the state more often, to which Sasse quipped the host was more than welcome: "We'd love to have you work in the fields with us."
Maher then replied, "Work in the fields? Senator, I'm a house …," to a mix of groans, laughter and applause, quickly telling the crowd the comment was just "a joke."
The backlash was immediate, with HBO calling the remark "completely inexcusable and tasteless" and saying it would not re-air the segment.
Maher immediately offered his regrets in an apology as the chorus calling for the show's cancellation grew louder — with critics pointing to previous comments and guest bookings by the comedian over the years as further proof he should be yanked off the air.
Cube's booking on "Real Time" happened well ahead of the scandal and he said he never considered pulling out, unlike Democratic Sen. Al Franken of Minnesota, who canceled his appearance shortly after last week's episode.
The rapper and actor's appearance couldn't come at a more opportune time for a discussion on race, and in particular, the usage of the epithet.
His interview with Maher coincides with the release of the 25th anniversary edition of his influential "Death Certificate," a politically and racially charged album recorded as the nation reacted to the police beating of Rodney King that was caught on camera by a bystander and served as the catalyst for the 1992 L.A. riots — themes that continue to be especially prevalent in this current political climate.
Never one to mince words — Cube was, after all, a member of the most controversial rap group of all time, N.W.A, a group that helped pioneer gangster rap to the chagrin of conservatives and law enforcement — the unapologetically brash emcee had some real talk when asked about the host's controversy.
"Liberals can be just as racist as conservatives. But everybody needs to check they self before they wreck they self," Cube said, making reference to one of his hit records.
"We can't always be the go-to joke, you know. It's like slapping the weakling in the group doesn't make you cool," he continued. "It doesn't make you funny — it makes you nothing but a bully."
Cube's group infamously used the colloquial eye dialect of the epithet in its name — and quite liberally throughout its lyrics — to incite the public while documenting the harsh realities of life in gang- and drug-plagued South-Central. N.W.A's groundbreaking debut, "Straight Outta Compton" became a flashpoint in a battle to censor hip-hop in the late 1980s.
Cube's first solo records, 1990's "AmeriKKKa's Most Wanted" and "Death Certificate," were also met with widespread controversy over their lyrics and themes.
Asked if Maher's usage of the racial epithet offended him, Cube said it didn't — though his full answer is mostly unprintable here: "You can make a joke out of everything, but everything ain't funny."
See the most-read stories in Entertainment this hour »
'Real Time With Bill Maher'
Where: HBO
When: 10 p.m. Friday
Rating: TV-MA (may be unsuitable for children under the age of 17)
For more music news follow me on Twitter:@GerrickKennedy
---