The woman behind the android: Janelle Monáe on embracing her queer identity and fans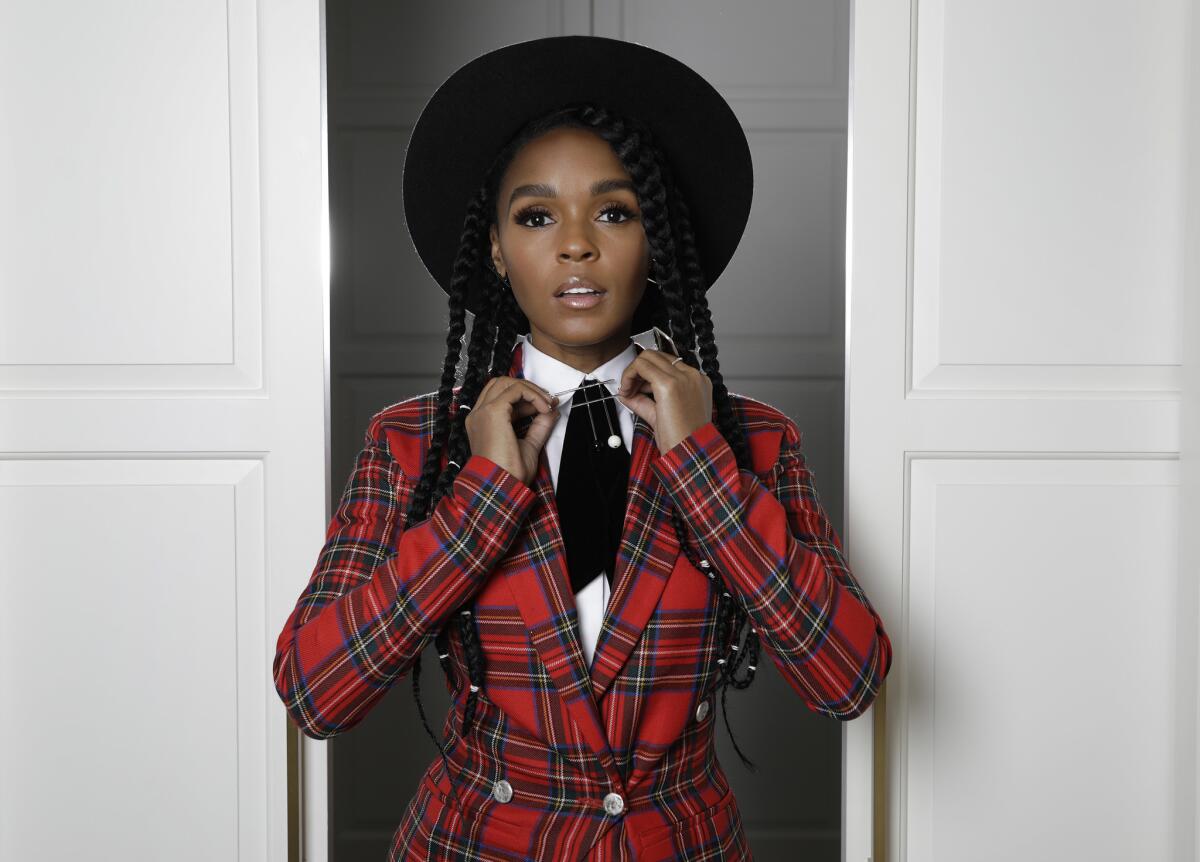 The night before Janelle Monáe revealed the first glimpse of the "emotion picture" she had commissioned to accompany her latest album, "Dirty Computer," was a restless one.
She was about to release "Make Me Feel," a slinky, Prince-esque sex jam with an accompanying visual that showed her torn between a female or male lover, part of a short film that imagined a dystopian world in which humans are wiped clean of memories and identities disfavored by society.
Kept awake by anxiety over how fans would respond to her work, Monáe wondered if dropping something as intensely personal as an album and short film illuminating the personal liberation of a queer black woman in today's America was the right decision.
Was the world ready to embrace who she was? Was she even ready?
"When I'm working on art, my responsibility is to the truth and wherever I am at that time. And maybe my truth this time around would turn some people off," she recalled from the Atlanta studios of her Wondaland Arts Society entertainment company. "There were a lot of reasons that I could find to not press the send button on the music and on the visuals.
"But I didn't allow that fear to get in the way of my freedom," she continued, "and my freedom of expressing myself."
After establishing herself as an innovative, idiosyncratic visionary who makes funky, genre-bending music that conjures glossy Afrofuturist fantasies by way of an alter-ego named Cindi Mayweather, Monáe took her biggest risk yet by pressing the send button on "Dirty Computer."
Now, the 33-year-old polymath is — to take a line from the album — living her best "crazy, classic life" with a record that has kept her on the road for much of the year, turned her into a queer icon and topped pretty much every critic's year-end list.
In just the past few weeks, Monáe was named trailblazer of the year at Billboard's Women in Music awards, her film "Welcome to Marwen" opened in theaters across the country, and she scored two Grammy nominations: "Dirty Computer" will vie for the night's biggest honor, album of the year, and the visual for "Pynk," a glorious ode to black sapphics that broke the Internet (and heated up speculation about a romance with actress Tessa Thompson), is up for video of the year.
Plus, the film division of her Wondaland imprint announced a first-look deal with Universal Pictures to produce multi-genre content with an emphasis on "highlighting marginalized voices."
"This is the year that I feel like I took the most risks as an artist — visually, sonically and personally," she says. "There's fun in feeling free, and I'm having a lot of fun in this freedom. It has been incredible to tour and meet people who have directly been impacted by me walking in my truth and them walking in their truth a little bit more as a result. It's humbling and it feels like I'm just getting started, honestly."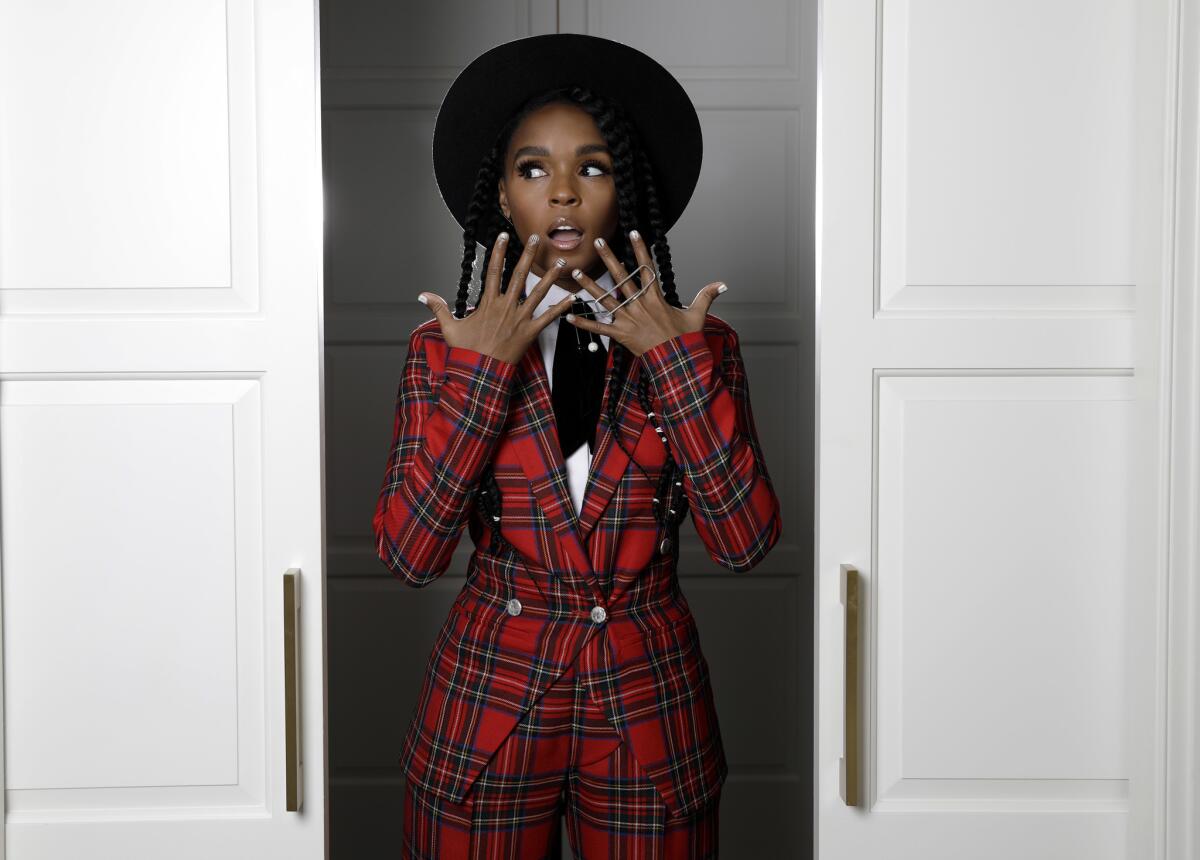 Those who were following Monáe before her sensational arrival as an actress in the Oscar-winning coming of age tale "Moonlight" and the historical space race drama "Hidden Figures," or before she declared herself "The Electric Lady" on her fantastic 2013 breakout album, and most certainly before she donned hot pink pants resembling a vagina for a video in which she proudly claimed her identity as a queer woman ("Let the rumors be true," she sings at one point on the album), know her ambitions have always been boundless.
Monáe crash-landed in Atlanta, where Southern rap icon Big Boi — one half of the groundbreaking group OutKast — helped launch her career — after the turn of the millennium. Monáe emerged as an adventurous voice long before mainstream audiences caught on to the alternative, arty sound she was perfecting.
Her experimental approach to R&B (she melds neo-soul, funk, hip-hop, disco, psychedelic rock and electronica with cool ease) was echoed in the intricately crafted legend of Cindi Mayweather — the rebellious, time-traveling messianic android character who stood at the center of her "Metropolis" series, a sprawling, seven-part epic that unfurled across her catalog beginning with her 2007 EP "Metropolis: Suite I (the Chase)."
Monáe deftly created a world in which outcasts and misfits had a voice, and she went from underground sensation in the Atlanta scene to pop anomaly.
And yet she remained an enigma — albeit a fabulously stylish one wrapped in a signature black and white uniform (which she calls a tribute to her working-class upbringing) — never breaking from the Mayweather character on stage or in public. The line where Mayweather ended and Monáe began was a blurry one, which allowed Monáe to make the music she wanted while keeping a safe distance from the public.
For years, Monáe's funky escapades as Mayweather took us on such a wild ride that it didn't matter that she was keeping listeners at arm's length. Even though she was crafting her own utopia, Monáe never shied away from channeling her real feelings through her android persona.
"I'm tryna find my peace/ I was made to believe there's something wrong with me and it hurts my heart," she sings on "Cold War," a powerful testimony of empowerment from her debut studio album, 2010's "The ArchAndroid." It was one of the countless times when she chipped away at the wall she'd erected between Mayweather and herself and gave the world a piece of her pain.
"There are so many labels that are placed on women, black women in particular, or queer folks, before we come out the womb," she says. "We're not supposed to act in a certain way, depending on what community we're in. We're always having to listen to people tell us that we need to adjust or conform. Look at the media and how we are portrayed. The lack of representation. There are so many different voices that come our way, saying we're not good enough; we're not quite good enough. And sometimes you believe that. But I learned to stop listening to those voices and realize it's a choice to choose being happy with where you are in life."
There were a lot of reasons that I could find to not press the send button on the music ... But I didn't allow that fear to get in the way of my freedom
— Janelle Monáe on her bold, Grammy-nominated "Dirty Computer"
Working on "Moonlight" and "Hidden Figures" — films explicitly centered in blackness and, in the case of the former, identity and sexuality — helped Monáe realize she needed to tell her own story and not hide behind her futuristic persona.
And that's what made "Dirty Computer" such a balm for many.
Monáe's music has always celebrated agency, but this was an album that celebrated the vibrancy of being authentically one's self in a world that has so often cut down, persecuted or killed us for being who we are.
It's an album full of potent, funky anthems that are gloriously sex-positive and beautifully queer and rooted in blackness and rife with political and societal critique as Monáe delivers her point of view as a sexually liberated black woman who has constantly seen the threats being made to her rights and those who look and love like her.
"To see someone like Janelle be able to voice her proudness of being a queer woman makes me so proud," says singer-songwriter Dawn Richard. "She's been doing this for so long and she's just now in a place where she's able to say, 'This is who I am and this is what I'm about.' Thank God we have beautiful women like her to show that there's so many different types of brown girls out there. We need to make more room for that in pop music."
To be embraced, and rewarded, at a mainstream level the way Monáe has over the past year still blows her away — especially considering her Grammy nominations conclude a year that began with her call to arms on that very stage to fight sexism and inequality in the music industry and in the world.
"I was shocked, honestly," she recalls of learning of her nominations.
"But I was also just proud that I was recognized for walking in my truth and recognized for work that has also uplifted so many people," she continues. "Not only is this an acknowledgement of who I am and how I'm growing as a young woman, but it also represents the many marginalized voices that have used this work as their soundtrack to uplift them during dark times. The coolest thing about being nominated, though, is being in the company of so many genius women."
Monáe is closing out the year in the studio. There's not a day that goes by when she's not surrounded by music, she says, and she's he midst of reading widely (James Baldwin's "The Fire Next Time" and "The Great Cosmic Mother" by Monica Sjöö and Barbara Mor currently have her attention) and sketching ideas for visuals and concepts as she plots her next move. When asked what's in store in the new year, however, Mayweather takes over for the first time in our conversation.
"Well, I'm already in 2024. So 2019 is a past and I will see everyone in the near future to go over the past that will be 2019," she says before the sounds of a funky bass line being played nearby drowned her voice out.
Get our L.A. Goes Out newsletter, with the week's best events, to help you explore and experience our city.
You may occasionally receive promotional content from the Los Angeles Times.