Review: The affair, the twins, his mother's coming out: Jay-Z's '4:44' makes news as it reveals beautiful truths
Pop Music Critic
He didn't tweet. He didn't post on Instagram. And he certainly didn't spill his guts to a dude with a camera from TMZ.
So where did Jay-Z turn when the fiercely private but closely watched rapper was finally ready to make some announcements?
Get this: his music.
On "4:44," the stunning new album he released Thursday night exclusively through his streaming service Tidal, Jay-Z breaks several pieces of celebrity news, the kind we're accustomed to getting from more fleeting sources these days.
Chief among revelations is his confession that he cheated on his wife, Beyoncé, just as she described on her blockbuster 2016 record, "Lemonade." Jay-Z also confirms that the superstar couple have become parents to a set of twins, which neither of them has spoken publicly about since the babies were born this month. And he reveals that his own mother is gay.
In one song, he even comments on a much-discussed selfie posted less than two weeks ago by the Al Sharpton — a vivid indication of this album's timeliness. (You half-expect him to mention Russia or "Morning Joe.")
As remarkably immediate as it is, though, "4:44" feels durable in a manner that few tweets do; it's a collection of songs — sly but moving, both intricate and lucid — that we'll be coming back to for years. And in that way the album puts across two larger ideas: that Jay-Z himself is still useful at the age of 47, and that hip-hop can be a form for middle-aged concerns.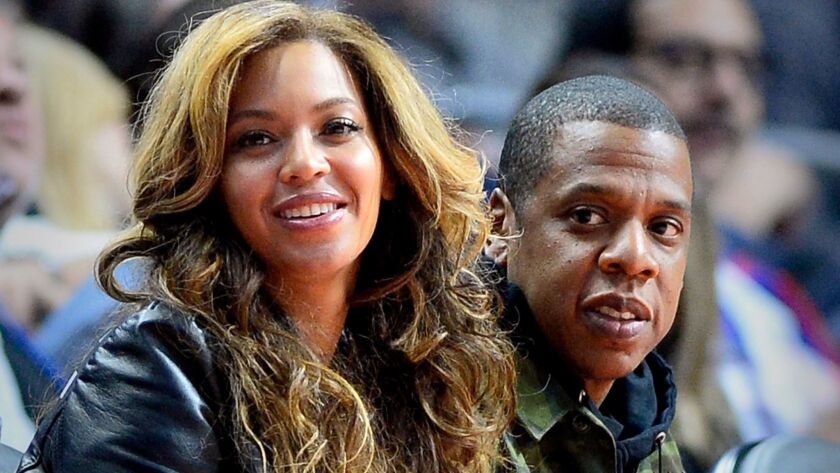 What's so affecting about the Beyoncé-related stuff...is how openly Jay-Z talks about the work he and his wife have applied...to their marriage.
Back to using the hyphen he dropped from his name in 2013, Jay-Z doesn't waste any time in addressing the recent marital troubles so widely speculated about after "Lemonade." The rapper opens "4:44" with "Kill Jay Z" — note the spelling — in which he lectures the younger version of himself who fooled around on Beyoncé.
"You almost went Eric Benét / Let the baddest girl in the world get away," he raps, referring to the soul singer once married to Halle Berry.
Jay-Z offers more detail — and more lacerating introspection — in the album's title track, as when he recalls that he told Beyoncé not to embarrass him on her 21st birthday. "That was my proposal for us to go steady," he says, his voice wobbly with regret.
He goes on to apologize "for all the stillborns / 'Cause I wasn't present, your body wouldn't accept it." It's a devastating admission from a rapper who made his name as an icon of cool imperturbability.
Indeed, what's so affecting about the Beyoncé-related stuff here is how openly Jay-Z talks about the work he and his wife have applied — are still applying — to their marriage.
"Not meant to cry and die alone in these mansions," he raps in "4:44," even as he's accompanied by the gospel singer Kim Burrell insisting, "I'm never gonna treat you like I should."
But Jay-Z, born Shawn Carter, has more on his mind than his faults as a husband. In "Smile" he describes the decades his mother spent in the closet before she came out. "Cried tears of joy when you fell in love / Don't matter to me if it's a him or her," he raps over a warm Stevie Wonder sample.
Then, in a sign of true awakening, he hands the microphone to Gloria Carter herself for a stirring spoken-word piece about living in the shadows.
Other songs take up the importance of black entrepreneurship, a theme near and dear to Jay-Z, whose arrangement with Sprint to help release "4:44" follows earlier deals with Samsung and Budweiser.
But if the MC has long rapped about his taste for business, he's rarely put it in a context of collective self-determination as clearly as he does in "The Story of O.J." and "Family Feud." In "Caught Their Eyes" he recounts an "eye-to-eye" meeting with another artist famous for handling his affairs — Prince — then blasts the late singer's estate for selling "tickets to walk through his house / I'm surprised you ain't auction off the casket."
Atypically for a modern hip-hop star, Jay-Z hired a single producer to oversee "4:44," and throughout the album No I.D. backs the rapper with inventive but classically minded beats that deepen the music's proudly grown-up vibe.
The album puts across two larger ideas: that Jay-Z himself is still useful at the age of 47, and that hip-hop can be a form for middle-aged concerns.
"The Story of O.J." and "Caught Their Eyes" feature recognizable samples of Nina Simone songs; "Family Feud" has Beyoncé embellishing a snippet of a gospel tune by the Clark Sisters. Elsewhere, Frank Ocean, The-Dream and reggae's Damian Marley — each a walking encyclopedia of his respective genre — show up for expert vocal cameos.
One more guest appears near the end of "4:44," and that's Jay-Z and Beyoncé's older daughter, Blue Ivy, who introduces "Legacy" by asking in a 5-year-old's singsong, "Daddy, what's a will?"
The song, built on a loop of Donny Hathaway's "Someday We'll All Be Free," is about Jay-Z's desire to position his children for success — and about the forces already arrayed against them.
It's an idea he might've been able to imagine as a younger man, a gifted storyteller painfully alive to the harshness of the real world.
But he's not dreaming here. He's passing along some hard — and some beautiful — truths.
Twitter: @mikaelwood
ALSO
Beyoncé and Jay Z either named their twins or went on a random trademark binge
25 years later, Ice Cube reflects on the backlash, legacy of 'Death Certificate'
How Prince's Revolution reformed — and why his legacy might be in trouble
Arroyo Seco Weekend highlights the power — and the problem — of good taste
Lindsey Buckingham and Christine McVie on their duets album: 'We kind of blew our own minds'
---
The complete guide to home viewing
Get Screen Gab for weekly recommendations, analysis, interviews and irreverent discussion of the TV and streaming movies everyone's talking about.
You may occasionally receive promotional content from the Los Angeles Times.