Review: Arroyo Seco Weekend highlights the power — and the problem — of good taste
Pop Music Critic
Ben Jaffe was all smiles for most of the hour or so he spent onstage at Arroyo Seco Weekend, a new music festival that debuted Saturday and Sunday on the leafy grounds surrounding the Rose Bowl in Pasadena.
But near the end of his set with New Orleans' boisterous Preservation Hall Jazz Band, the bassist and tuba player adopted a let-me-level-with-you look as he addressed an audience he safely assumed was full of people in show business.
Los Angeles "controls the information that goes out to the rest of the world," Jaffe said. Then he urged content creators to turn away from fluffy reality television and "start making serious TV and film."
Unsolicited advice from an outsider with a healthy sense of moral superiority? That's sure what it sounded like to me. Yet Jaffe seemed unworried by the prospect of turning anyone off. He knew he'd come to the right place to appeal to folks' good taste.
One of several local additions this year to the crowded summer-festival season, Arroyo Seco Weekend — with headliners including Tom Petty and the Heartbreakers, Mumford & Sons and Alabama Shakes — was marketed as a kind of connoisseur's idyll.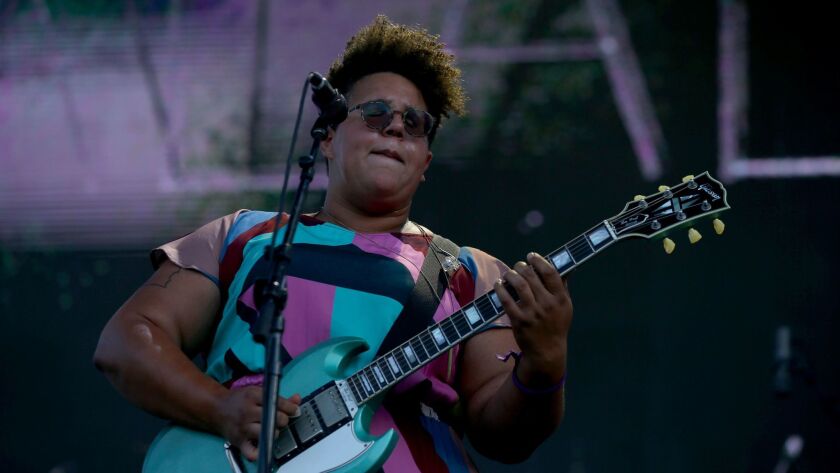 Beyond the music, which avoided the Top 40 pop and hip-hop regarded by many as the musical equivalent of "The Bachelor," the two-day event featured craft-beer stalls, custom cocktails and food from L.A. eateries such as Barrel & Ashes and Ramen Hood. Pasadena's Kidspace Children's Museum organized a tent with mind-enriching activities for the privileged showrunners of tomorrow.
There was even — let me check my notes here — an "interactive scent lab" where you could design your own perfume.
The relatively small size of the festival, which drew an estimated 25,000 people Saturday (compared to the more than 100,000 who pack Coachella), was another part of the sales pitch from Goldenvoice, the powerful L.A.-based promoter that puts on both events.
This isn't for everyone, Arroyo Seco Weekend implied, just those discriminating enough to appreciate it.
So what does being in the know get you? Some pretty unremarkable music, to begin with.
Performing as part of a 40th-anniversary tour, Petty and his veteran backup band were typically assured as they closed Saturday's lineup with what he called a "100% rock 'n' roll show" that pulled widely from their durable catalog.
They zipped through "Rockin' Around (With You)," which Petty introduced as the first song on the Heartbreakers' first album; they rode a sturdy but laid-back beat in "You Don't How It Feels," one of several tunes he played from the mid '90s. (More than "You Got Lucky" and "Refugee," those songs were the clear crowd favorites, an indication of a younger demographic than at Goldenvoice's classic-rock Desert Trip last October.)
As solid as it was, though, Petty's performance demonstrated how dulling the idea of good taste can be — how it can take the unruly edges off a musical experience so that the experience squeezes into a prescribed shape.
It's not like I wanted the Chainsmokers to jump out for a surprise collaboration. But nothing about Petty's set disrupted or even slightly expanded my sense of what he does; the show was merely congratulating festival-goers for upholding an old-fashioned — and increasingly endangered — belief in electric guitars and snare drums whacked by hand.
The same largely went for humdrum gigs by the L.A. roots-rock band Dawes and the British blues-rock guitarist John Mayall, who at 83 can be credited with blazing a trail for many of the acts at Arroyo Seco Weekend. Even so, his performance Saturday felt untouched by possibility — a kindly rehash of bygone glories.
More inspired showings came from Alabama Shakes, which remade Southern rock as beautifully murky groove music, and Jade Jackson, a young songwriter from California's Central Coast who sang with knowing precision about life in a small town.
The Meters were strong too as the venerable New Orleans funk combo chewed on "People Say," its bleak yet propulsive vision of social unrest from the mid-'70s. With lines about the FBI and the CIA — not to mention having "a right to live" — the classic tune throbbed with fresh urgency. Perhaps Mumford & Sons, the curious if painfully earnest British group due to close the festival Sunday night, is up to the challenge of reflecting our times.
And as for the promised amenities? The food I sampled, including vegan buffalo cauliflower from Sage and a king crab roll from Frankland's Crab & Co., was tasty enough — though none of it improved so dramatically on a standard festival hot dog that I'd have endured Saturday's high temperatures just for the eats.
And if Goldenvoice wants to bring back Arroyo Seco Weekend in 2018, the company will need to fix some fairly significant crowd-control issues. In front of the main stage — there were three altogether — people with blankets and chairs took up so much space that the audience ended up stretching back farther than the sound system could reach.
But hey, what do I know? Maybe volume, like reality TV, is for brutes.
Twitter: @mikaelwood
ALSO
Jade Jackson is taking her small-town country songs to the world
How Prince's Revolution reformed — and why his legacy might be in trouble
Review: Roger Waters' high-tech Us + Them spectacle soothes and galvanizes at Staples Center
Lindsey Buckingham and Christine McVie on their duets album: 'We kind of blew our own minds'
---
The complete guide to home viewing
Get Screen Gab for weekly recommendations, analysis, interviews and irreverent discussion of the TV and streaming movies everyone's talking about.
You may occasionally receive promotional content from the Los Angeles Times.