Sam First is now the city's best airport-adjacent jazz club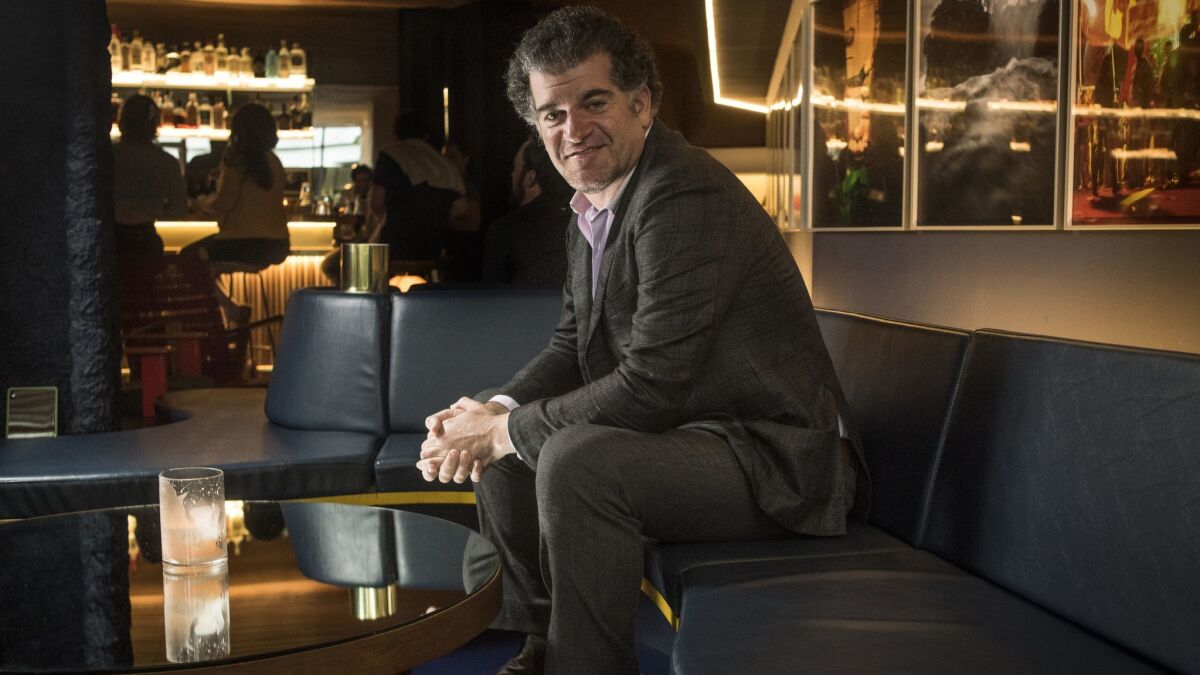 Few iconic locations appear as proud of their bureaucratic acronym as the Los Angeles International Airport. Known globally as LAX, the main entrance to the airport on Century Boulevard features those three iconic letters standing 50 feet high to greet some 85 million weary passengers annually.
Less than 100 yards in front of that trio of letters, some of the swingingest jazz trios in Southern California have been setting up shop since late last year at Sam First, a sleek new club with an emphasis on potent cocktails and the hippest jazz calendar within walking distance of Economy Public Parking Lot C.
Owner Paul Solomon first made waves in real estate with the development of the Toy Factory Loft and the Biscuit Company Loft in the Arts District in the mid-2000s. Now he is head of Liminal Space, a real estate firm reinvigorating 6171 Century Blvd., a three-story office space on one of the busiest roads in Los Angeles. Of the 92,000 square feet of real estate space he was looking to fill, Solomon opted to take a couple thousand for himself and open a bar.
"I get excited by neighborhoods that are not entirely clear what their identity is," Solomon says. "The Arts District was an industrial neighborhood. Here you can walk in to the airport. How anachronistic is that?"
Sam First was Solomon's grandfather, a Polish émigré, who was able to make ends meet as a tailor. Though a consummate provider, First was not much of a drinker. Or a jazz fan. But there are numerous nods to the patriarch, says Solomon, including the use of prune and plum on the menu's signature Old Fashioned cocktail and a supply of Budweiser tallboys at the back of the fridge.
On one Sunday evening, pianist Gerald Clayton, bassist Dave Robaire and drummer Jonathan Pinson dug into a hard-driving set of originals and a few obscure Duke Pearson tunes. The room was full of attentive ears despite the bachelorette party on the patio.
Patti Jenkins of Atlanta found the place out of necessity. She was staying at the hotel across the parking lot and they didn't have a liquor license.
Spanish design firm SelgasCano helped to craft the intimate space full of curving walls and reed-like tubing that stretches from the ceiling to the floor. The band snuggles in alongside the bar with the nearest stool serving as music stand and stick-holder for any drummer squeezed in amid the purse hooks.
Yet Solomon's secret weapon is his booker, bassist Robaire. A Los Angeles native, Robaire is a graduate of Manhattan's New School, Cal Arts and the prestigious Monk Institute. He is one of the most in-demand upright bass players in the city and is a member of Holophonor, a collective of Monk graduates whose invigorating 2017 album, "Light Magnet," was produced by Wayne Shorter.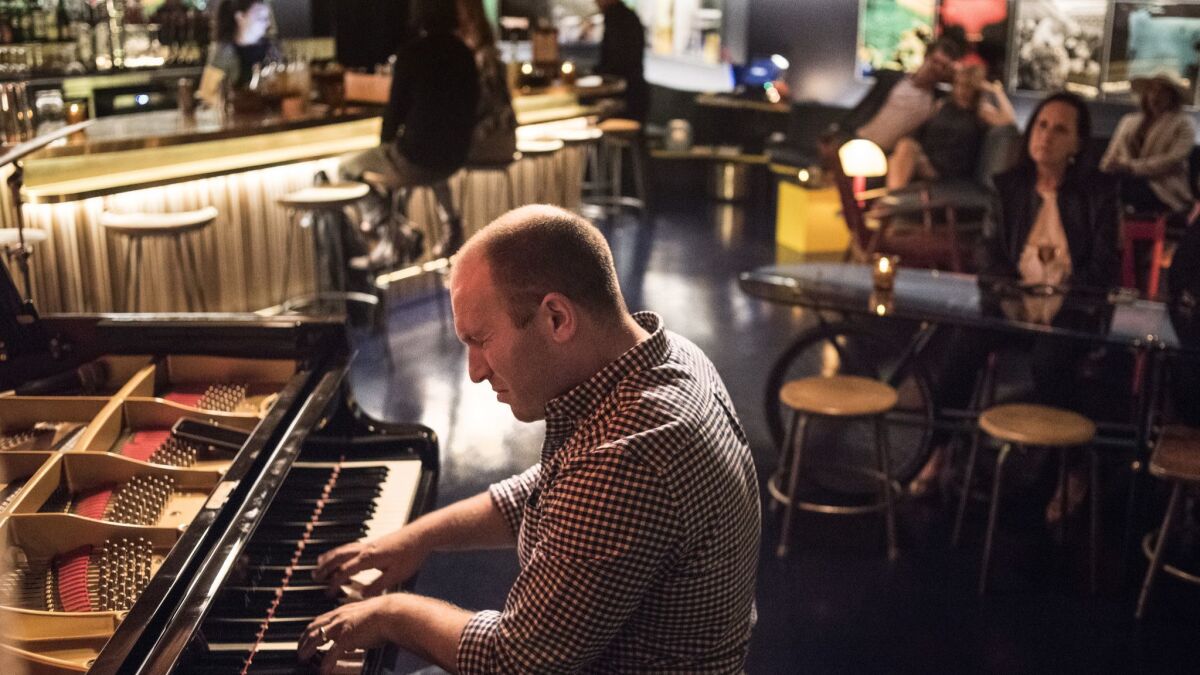 Robaire's contacts file has helped to push Sam First's jazz calendar into one of the most rewarding and affordable nights of music in town.
"The club is a place that you can go down and hear what musicians really want to show an audience," says Robaire. "It's not background music. It's not 'let's wing it.' It is a performance by musicians of only the highest caliber performing their music that they have prepared for the audience."
The cover charge is often between $10 and $25 for two sets, with usually an one-drink minimum. Clayton, one of the most frequently listed pianists on the schedule, declared the room's main piece of furniture "the best club piano in L.A."
That compliment means a lot to pianist Vardan Ovsepian who played a set of original tunes earlier this year along with cellist Artyom Manukyan and drummer Kyle Crane. The piano used to belong to him. "It's like visiting an ex-girlfriend," says Ovsepian. "It's nice to stay in touch."
Ovsepian is one of the most compelling pianists in Los Angeles, but his work — whether solo or with his chamber orchestra — requires an intimacy and attention from patrons that makes suitable venues hard to come by.
"I think this place represents some sort of hope," Ovsepian says. "Hope that there are still great rooms that people want to visit. This is a serious club. I hope it only gets bigger and bigger. When the concept is right, we don't care where it is. We will drive if the room is good. It doesn't matter how far."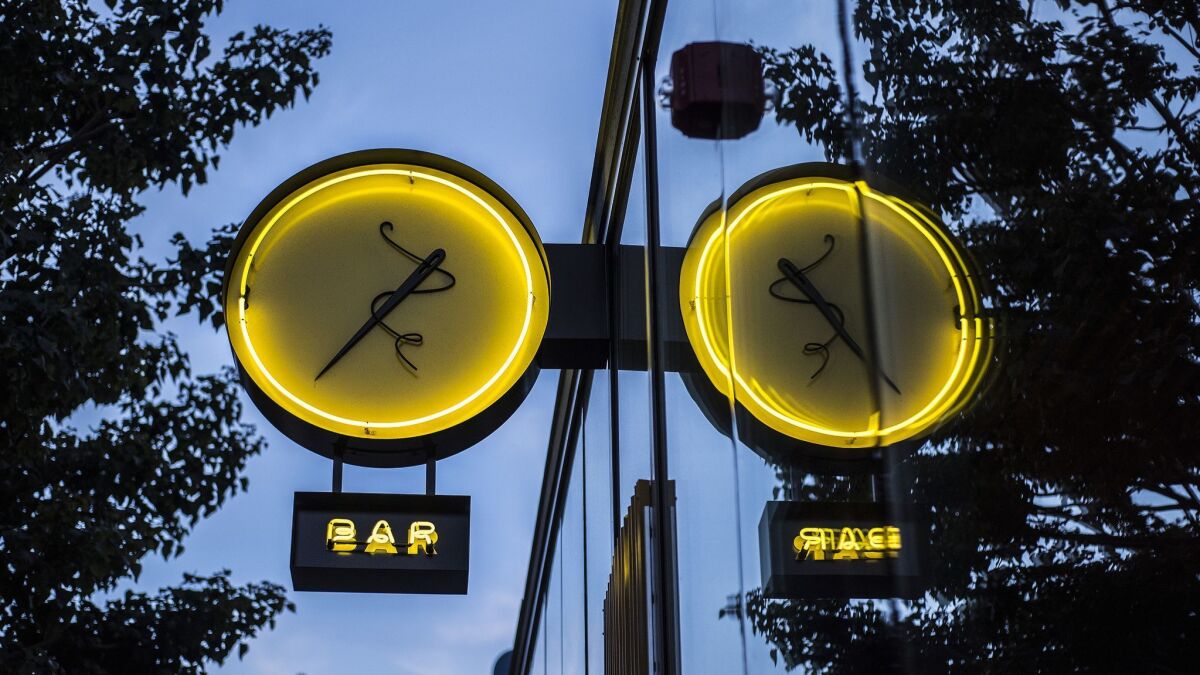 Solomon welcomes the experimentation.
He has given the bands free rein of their music choices and instrumentation. "In jazz, you hear a lot of standards, but it's hard to hear people play standards as well as the originals," Solomon says. "In the '50s, the music was still new. It was something that you hadn't heard before that was beautiful and interesting, but like a lot of art, it's not the copies that are the most interesting. It's the original work. Original music communicates more intensely to the listener's heart."
Like the Blue Whale and Vibrato, L.A. jazz clubs seem to take pride in being hard to find. Sam First, with an optimistic benefactor at the helm, appears poised to uphold that tradition, presenting some of the best young new talent in L.A. as well as an occasional legendary musician in an intimate space.
"It's fresh water here," says Solomon. "There are always people coming through from anywhere in the world. You never know who will walk in. We're a welcoming spot or a sending off place for Los Angeles. We're representing the city with a great creative space. Plus it's just a good place to have to drink."
---
Get our L.A. Goes Out newsletter, with the week's best events, to help you explore and experience our city.
You may occasionally receive promotional content from the Los Angeles Times.