Travel with L.A. musician Jim Putnam to the sonically cosmic spaces that flowed from his garage studio and into Mt. Wilson Repeater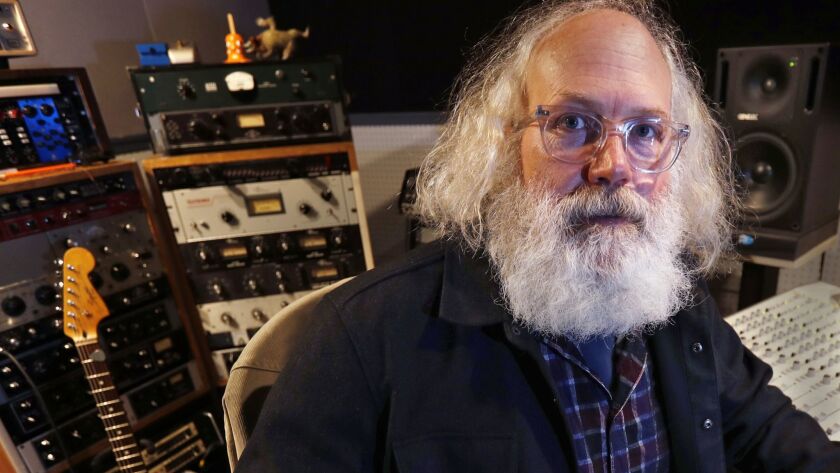 To get to Jim Putnam's workspace, you have to walk through his Atwater Village home, past his cute but yappy dog and across a rustic backyard to a garage that, over the past few decades, he's transformed into a labyrinthine studio called Phase 4 Intergalactic Recording Facility.
As with many of L.A.'s most beguiling spaces, his sound lab is invisible from the street, but inside is a gearhead's paradise. Filled with vintage technology he's accrued over a lifetime spent in recording studios, it's where Putnam recorded "V'Ger," his new album as Mt. Wilson Repeater.
His second release under the moniker, the album's title is a "Star Trek" reference and travels to some sonically cosmic spaces. Issued through respected North Carolina indie Merge Records, the label that has also issued records by Putnam's other band, the Radar Bros., it's a snapshot of an artist in his self-constructed element who, like the Voyager probe at the center of the first "Star Trek" movie, can transform roughly imagined concepts into things of beauty.
Dense with fuzzed-out, effects-filled guitars and washes of distortion, Mt. Wilson Repeater's new record is perhaps the closest thing to a shoegaze album Putnam's been involved in since the early 1990s, when he was a 21-year-old kid in the L.A. band Medicine.
As one of the only American bands signed to the taste-making imprint Creation Records, which at the time was also home to My Bloody Valentine, Ride, Teenage Fanclub and Oasis, Medicine shot forth distorted melodies that hit with wall-of-noise impact.
Along with Medicine's founder Brad Laner and multi-instrumentalist Eddie Ruscha (who now records as Secret Circuit), the band toured Europe opening for Smashing Pumpkins just prior to the release of that band's breakout album, "Siamese Dream."
Sitting down behind an analog mixing board in his studio's control room, Putnam says that his Mt. Wilson Repeater music finds him working as he did as a student at Cal Arts in the '80s and then as a San Francisco solo artist: alone.
With a bushy combo of gray hair and beard, he looks like Walt Whitman, and when he talks about process he could be discussing his "Leaves of Grass": "I'm doing the same thing I was doing when I started making music, which is holing up by myself and just really getting into the recording process."
In a sense, Putnam has been holed up in recording studios his entire life. His father was famed sound engineer and studio owner Bill Putnam, who in the late 1950s relocated to Los Angeles from Chicago at the behest of Frank Sinatra and Bing Crosby to open United Recorders on Sunset in Hollywood. Securing another compound a few doors down, the elder Putnam then added Western Recorders to his arsenal.
Within those walls and inside his renowned, custom-designed rooms, any number of pop music's most important recordings were set to tape, among them: Frank Sinatra's rendition of "My Way," the Beach Boys' album "Pet Sounds" and the Mamas & the Papas' song "California Dreamin.'"
The younger Putnam and his brother Bill Jr. worked as studio runners at United and Western as they were growing up, says Jim. In 1999, the two sons revived Universal Audio, the company their dad founded, after noting the skyrocketing prices for the company's vintage gear on the used market.
Arcade Fire, for example, tapped a rare Bill Putnam-designed UA 610 console to track its recent album, "Everything Now." The revived company now has 165 employees, a European hub in Amsterdam, offices in Los Angeles and headquarters near Silicon Valley in Scotts Valley.
The younger Putnam didn't start out on the business path. He attended Cal Arts in the late 1980s and though he and his friends were studying visual art, they were also music freaks into Sonic Youth, Butthole Surfers and the bounty of American post-punk. He and peers including musicians Brad Laner and Eddie Ruscha would get together and, as he describes it, "have these jams in random areas of the school."
"We'd set up our instruments in a hallway or something and make music," he says before clarifying, "Make noise, really."
That noise ultimately found structure as Laner's band Medicine, and Putnam's guitar and electronics can be heard on the group's early Creation singles and its debut album for Rick Rubin's American Recordings, "Shot Forth Self Living."
After a few years Putnam left the band and formed the Radar Bros., a more restrained and quieter project that has issued seven studio albums across two decades. In 2008, he released his first solo project as Mt. Wilson Repeater.
A decade later, Putnam set out to make "V'Ger" during breaks between his gig as the Flaming Lips' sound guy with the intention of checking the climate in a sonic realm where he got his start, the guitar-washed distortion of the post-punk subgenre known as shoegaze. The music has seen a revival as young artists discover and cite the sounds.
He wanted to create what he described as "a really dark, sort of shoegaze-y record — sort of experimental."
What arrived was an ethereal psychedelic guitar record that suggests Syd Barrett-era Pink Floyd, the "Eight Miles High" vibe of early Byrds, the British guitar band Slowdive and, inevitably, Putnam's work with the Radar Bros.
At the instrumental center, adds Putnam, is a baritone guitar he bought from an area musician who says he used it on Donna Summer recordings. With tones that exude bottom-end warmth, it anchors the album with a comforting analog hum.
Opening song "To Touch the Golden Sceptre" seems to reside in a wide-open space that belies the truth that it was recorded in a converted garage and not one of his dad's cathedrals of sound. "Chattering" is driven by synthetic rhythms, layers of sandpapered guitar textures and barely audible human voices that seem just out of reach.
Such moments are part of the record's essence, Putnam says, describing themes that crept in including what he calls "a lot of spiritual, afterlife stuff going on. Not so much like ghost stories, but communications between the dead and the living."
Putnam pauses. "It's just cool. I like to think so, anyway."
For tips, records, snapshots and stories on Los Angeles music culture, follow Randall Roberts on Twitter and Instagram: @liledit. Email: randall.roberts@latimes.com.
---
The complete guide to home viewing
Get Screen Gab for weekly recommendations, analysis, interviews and irreverent discussion of the TV and streaming movies everyone's talking about.
You may occasionally receive promotional content from the Los Angeles Times.