Kanye West ends Sacramento show after three songs and a tirade against Jay Z and Beyoncé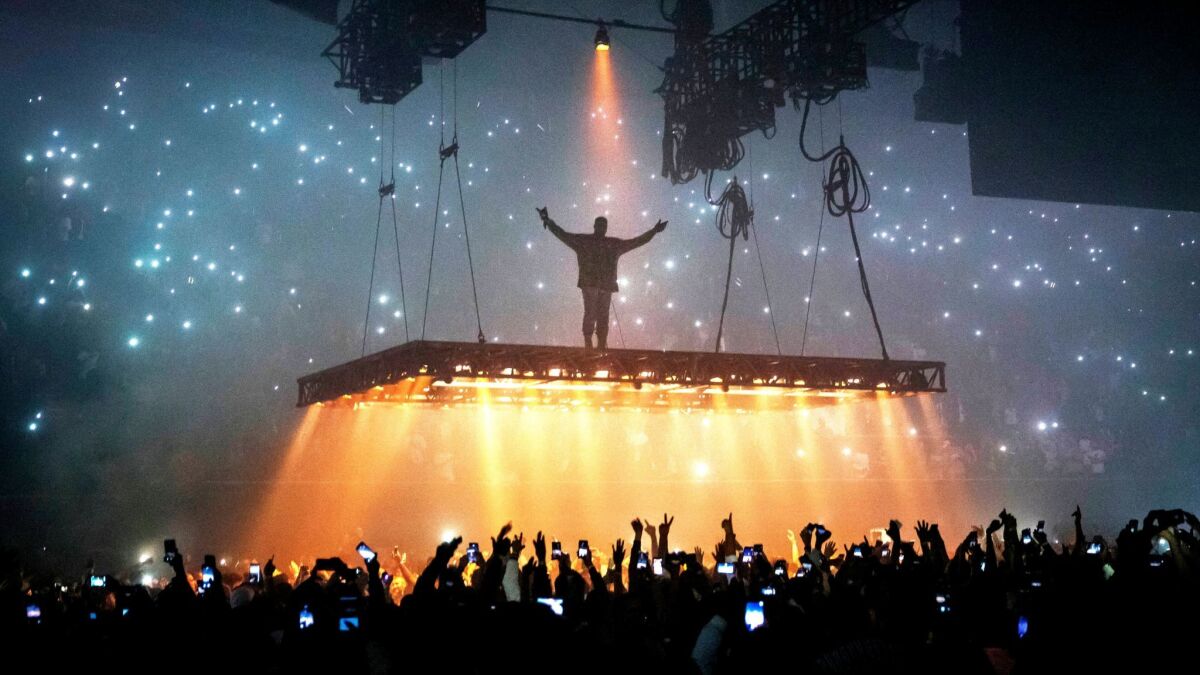 Kanye West is being Kanye West… again. He ended his Saturday night show with a mic drop after performing only three songs and going on a rant about Beyoncé and Jay Z. As expected, fans are demanding refunds.
According to reports and video posted on social media, West showed up an hour and 30 minutes late to the concert at Sacramento's Golden 1 Center, part of his Saint Pablo tour.
Though he did perform a few songs, after about 30 minutes, he abruptly pulled the plug — but not before launching into a tirade that included everyone from Hillary Clinton and Donald Trump to his BFFs Taylor Swift, Beyoncé and Jay Z.
In the rant — which can partially be seen in unedited video below, containing expletives — he appears to claim that Beyoncé won't perform at a certain show if she doesn't win video of the year. One can only assume that the show is the forthcoming Grammys ceremony where Beyoncé's "Lemonade" is expected to be a big winner.
WARNING: Videos contain profanity
"I've been sent here to give y'all my truth, even at the risk of my own life," West said. "At the risk of my own success. I'll give y'all the truth. Jay Z, call me, you still ain't called me … Jay Z, I know you got killers. Please don't send them at my head. Just call me. Talk to me like a man."
And then, in a fashion that seems to be a West signature at this point, he gave the news media a heads up to prepare their "passive aggressive Lebron James racist comments" as he ended the show with a mic drop. Fans were audibly upset, launching into chants that expressed how they felt.
But Yeezy seems to relish being confounding and confusing. He revealed Thursday night, at the San Jose stop of the tour, that if he had voted (he said he didn't), he would've chosen Trump. West's wife, Kim Kardashian West, endorsed Clinton.
According to the San Jose Mercury News, folks threw things at him — hats, shoes, T-shirts — and complained that he talked too much during the show. West reportedly orated that night for 25 minutes and included a comment "specifically to black people:"
"Stop focusing on racism," he said. "This world is racist, OK? Let's stop being distracted to focus on that so much. It's just a ... fact. We are a racist country, period. Do not allow people to make us talk about that so ... long. ... It's a racist ... country. And not one or the other candidate was going to instantly be able to change that because of their views."
While fans are is still grappling with West's latest antics, one is still calling the artist "nice," especially since he was able to snag a video selfie with West at an intersection following the Sacramento show's end. Lucky him.
Get your life! Follow me on Twitter: @TrevellAnderson.
---
Get our L.A. Goes Out newsletter, with the week's best events, to help you explore and experience our city.
You may occasionally receive promotional content from the Los Angeles Times.