Amid controversies, Kanye West debuts 'Ye' — on a ranch in Wyoming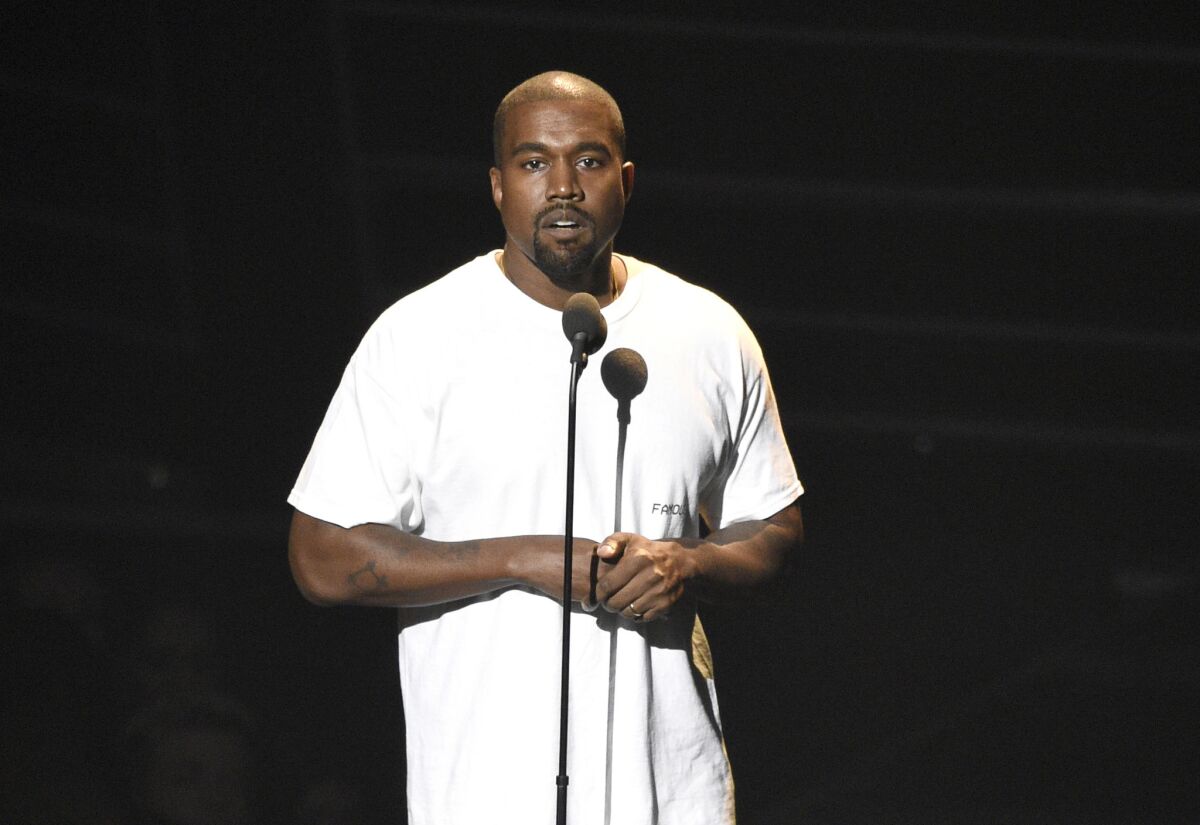 Reporting from Moran, Wyoming —
Kanye West was lost in dance.
His eyes are closed, arms stretched toward the night's sky. He wears an expressionless face, but he's swaying with so much exuberance that he is dangerously close to spilling a short tumbler of brown liquor into the roaring bonfire casting him in an orange glow.
It's a surprising sight considering he's moving wildly to music in which he's rapping about suicide, mental illness, drug use and disappointing his spouse.
"It's been a shaky year," West's voice echoed through speakers — a brief understatement about the personal and professional chaos that underscores his new album, "Ye," and, as of late, defines his brand.
The superstar rapper-producer-fashion designer is surrounded by roughly 300 guests, all of whom he invited to witness the debut of his first record since 2016 — a year that ended in tumult amid a canceled tour and hospitalization for a psychiatric emergency.
West's knack for unconventional album releases meant the first taste anyone got of "Ye" ahead of its release Friday was at the Diamond Cross Ranch in Wyoming's Jackson Hole valley, not too far from where he recorded new music for a spate of projects, including Pusha T's recently released "Daytona" and a joint release with friend Kid Cudi.
Collaborators, friends, press, radio programmers, executives and industry tastemakers from across the country all poured into Diamond Cross Ranch Thursday evening for the event, which was also shown to millions across the globe via Wav, an L.A.-based music discovery app that won a bid to livestream the event over more well known platforms such as Apple Music and YouTube.
The party was the climax of a whirlwind day where West's guests were told next to nothing before arriving to a location where chartered jets awaited, the handiwork of 72 hours of secret planning.
And the experience was surreal. Ranch hands with cowboy hats, thick belt buckles and boots gawked at the city slickers who filed into the ranch, and we, in turn, were enamored by the stable of horses that roamed freely outside a sprawling barn covered in hay and wooden stables.
Although the heartland setting was rustic, the event was anything but.
Waiters served slushed cocktails such as Hennessy and Coke, a lavish buffet of barbecue lined a table and there was a booth where guests could get their hands on merchandise that West created specifically for the album launch before it went on sale to the public. But unlike the typical stuffy industry listening event, there was no added VIP (unnecessary when you've handpicked the guest list) and everyone commingled.
"Ye" arrives at arguably the most bizarre chapter of West's chaotic career, a time when his thoughts outside of music has forced fans to question their love of a performer who has long been a disrupter unafraid to court controversy with provocative music and opinions.
No album in West's nearly two-decade career has been released amid such intense scrutiny of the performer.
Twenty-four hours before "Ye" arrived, his wife, entrepreneur and reality TV star Kim Kardashian West, made headlines for meeting with President Trump to discuss prison reform — the ink barely dry on pieces scrutinizing the summit and reigniting fury over West's recent alignment with Trump.
Just days prior, his wife faced backlash for defending West online after Rhymefest, his longtime collaborator, accused the rapper of neglecting the charity founded for West's late mother (a flap that was essentially collateral damage in an ongoing feud between Pusha T and Drake, who skewered West for employing his ghostwriting services — a major no-no for those unaware of hip-hop tradition).
And if that was enough to keep up with, there was also the fact that West paid $85,000 to license a photo of Whitney Houston's bathroom in the aftermath of a 2006 drug binge which drew the ire of the late pop titan's estate and her ex-husband Bobby Brown, who said the rapper needed to be slapped (though it's worth noting that Brown's own sister was the one who originally took the picture and sold it to a tabloid).
However, nothing infuriated his core and perplexed critics more than his recent political opinions.
The declaration of Trump as his "brother" and the picture of him wearing a Make America Great Again hat (the president signed it) via a slew of stream-of-consciousness tweets that would have been bizarre enough had he not then gone on "TMZ Live" and said that slavery was a "choice" in a rambling, belligerent appearance.
There would have been fervent interest in whatever West had to say, either on a record or on social media, without the many controversies surrounding him as of late.
He's one of the most prolific artists to break in pop music over the last 20 years — a rapper who has valued thoughtful expression over trends, a producer and songwriter whose work has transformed the framework of hip-hop and R&B and as a businessman sought to reinvent fashion and tech.
Not much was known about why West chose to hunker down in a remote part of Wyoming to work on his latest music.
Rap music is the first art form created by free black men. And no black man has taken more advantage of his freedom than Kanye.
— Comedian Chris Rock
Devoid of the concrete ribbons of busy freeways, cramped subways and towering skyscrapers, Jackson — a town with a little over 10,500 denizens — is a far cry from the urban world that spawned rap music.
Here, West can venture into town, as he often does, and get barbecue from his favorite spot (it catered Thursday's event) and retreat to his bedroom studio and find solace in the sweeping views of snowcapped mountains, babbling creeks and pine trees.
He's been coming here for months and locals who snagged invites to the party all had stories of encountering West around town, describing him as "quiet" and "kind" before mentioning that they had been asked to keep his presence in town secret.
Before he debuted "Ye," many had questioned the cultural implications of his recent actions and how that would impact a man who famously declared President George W. Bush "doesn't care about black people" in the aftermath of Hurricane Katrina and has sold out tours, notched No. 1 albums and scored nearly two dozen Grammys with music crafted explicitly for the black experience.
Throughout the day, it was easy to stumble upon a conversation discussing the Wests and their relationship with Trump. Reporters wondered if he would address them directly or even discuss what's been going on in his mind. Turns out, he didn't.
While the guest list was star-studded — Nas, Big Sean, 2 Chainz, Lil Yachty, Desiigner, Teyana Taylor, Pusha T, Kid Cudi, Luka Sabbat, Scooter Bruan, Peter Rosenberg, DJ Clue, Ty Dolla Sign, Scott Disick, Chris Rock and Jonah Hill were among the attendees — there was a massive radio presence from both L.A. and New York in attendance, which is particularly notable given West has publicly chastised programmers for not supporting his music.
"People should stop policing the music — there's millions of people in the world, not everyone will agree on everything," said Ron Mills, program director for Hip-Hop Nation and Shade 45 on Sirius XM. "Hip-hop is freedom. That's the conversation."
Mills said he's caught flack for playing West's music after the Trump and slavery comments but said he's going to continue, mostly because he doesn't think the political views of an artist should inform our support.
But it's not that simple, particularly in an era of social media explosiveness or for an artist such as West who says whatever he wants, whenever he wants.
At the ranch Thursday, the focus was squarely on "Ye," an album that despite West's many public stumbles felt immediately more cohesive than other recent work.
When West arrived to his party, wearing a neon green T-shirt that had "Following the light" and other motivational messages scrawled across it, he was far more chipper than one would expect.
He posed for countless selfies, holding a toothy grin in every shot as his wife held court. He had just finished the album an hour prior to the event — no surprise given his last album, "The Life of Pablo," was retooled even after its release.
West didn't address the crowd at all, instead letting the 24 minutes of "Ye" do the talking.
"Rap music is the first art form created by free black men," said Chris Rock, who was tasked with introducing the album. "And no black man has taken more advantage of his freedom than Kanye."
Over beats that throbbed and pulsed with an intensity that recalled the sinister vibe of "My Beautiful Dark Twisted Fantasy" and "Yeezus" and the vintage R&B flourishes he's long favored, West rapped about some of the heavier thoughts in his mind and save for the appearance of black conservative pundit Candace Owens in the crowd and a riff on that TMZ stint, there was no mention of anything that's pushed buttons over the last few months.
It's yet to be seen if any of the online backlash will actually mean anything, but early signs point to it not mattering much.
The album is currently trending online, is in the top five of iTunes and getting played on radio. People are listening, even if they don't agree.
For more music news follow me on Twitter:@GerrickKennedy
---
Your essential guide to the arts in L.A.
Get Carolina A. Miranda's weekly newsletter for what's happening, plus openings, critics' picks and more.
You may occasionally receive promotional content from the Los Angeles Times.