Could Kanye West's latest backlash put his career in the sunken place?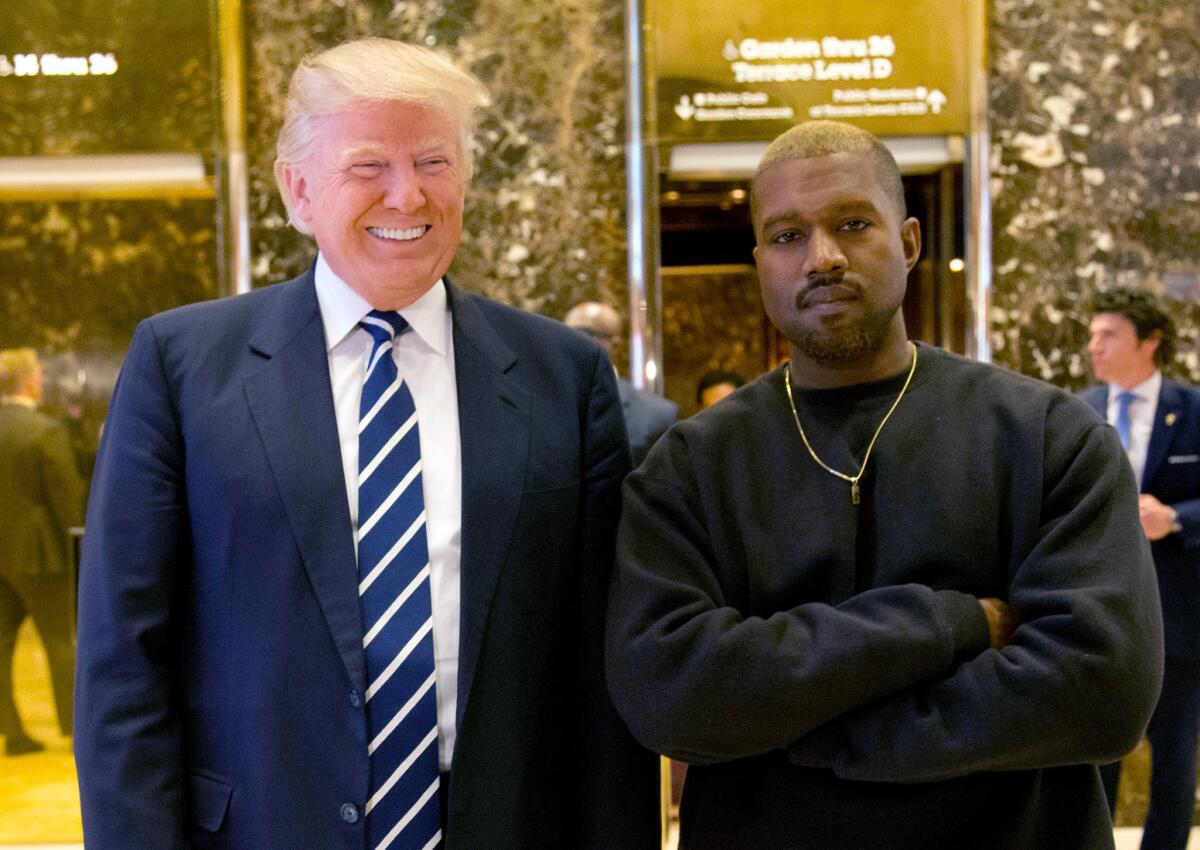 Kanye West has spent the bulk of his career as a disrupter, unafraid to court controversy with provocative music and opinions.
He famously declared that then-President George W. Bush "doesn't care about black people" following Hurricane Katrina. He interrupted Taylor Swift's acceptance speech at the MTV Video Music Awards (causing former President Obama to label him a "jackass"), criticized the music and fashion industries for their treatment of black creatives and blasted homophobia within hip-hop.
Yet West's recent moves — professing his love for President Trump, whose policies and rhetoric are often seen as divisive demagoguery, and deeming slavery a "choice" during an erratic interview with TMZ — have ignited the biggest firestorm of all.
Aside from the cultural implications of his actions (which have disheartened many of his most devoted fans), others also wonder what this will mean for West's career. His right-wing turnabout could torpedo a forthcoming album and impact future tour sales and fashion revenues, which depend on the goodwill of young, tastemaking audiences.
From Jane Fonda and the Vietnam War to the Dixie Chicks and the Iraq War, celebrities have learned that taking a strong political stand can have major consequences. That blowback has only intensified in an era of social media explosiveness.
But West — a best-selling and highly decorated artist — has weathered plenty of controversies before. Will the online furor over his politics translate into career struggles or, in this era of a nonstop news firehose, will it end up as just another Kanye-being-Kanye moment?
He surprise released a pair of singles amid the brouhaha: "Lift Yourself," where he raps gibberish like "poopy di-scoop" over a lush '70s soul sample, and "Ye vs. the People," a track in which he debates his Trump endorsement with T.I., who takes on the role of the people on the opposing side.
"His first two songs are quite provocative and politically charged. I applaud him for bringing the conversations happening in America to light using hip-hop as the medium," said music strategist Jesse Kirshbaum in his Beats and Bytes newsletter. "This is a bold move for a pop star to do, but as Jay-Z says, to reveal is to heal and this is a fresh spin on that strategy ... in my opinion, it's also the type of risks the game needs right now."
But in a week when Donald Glover's Childish Gambino video "This Is America" is attracting widespread acclaim and record-breaking views, both singles by West appear off to a shaky start. Largely maligned by critics, neither is in the top 50 of iTunes singles sales chart or among the top 40 most listened to songs on streaming services on Tidal and Spotify – lists that are dominated by rappers whose artistry have been greatly informed by West's influence.
The declaration of Trump as his "brother," the picture of him wearing a Make America Great Again hat (the president signed it), gushing over black conservative pundit Candace Owens and that erratic appearance on "TMZ Live" — where West rattled off about slavery to a stunned TMZ staff — has infuriated fans and peers and perplexed critics.
Over a nearly two-decade career, West has shaped our ideas about pop music, fashion and celebrity. But perhaps, some say, his penchant for antagonism has finally eclipsed his ability to bring fans along with him.
"There is an undeniable logic here," wrote Ta-Nehisi Coates in the Atlantic this week. "Like Trump, West is a persistent bearer of slights large and small — but mostly small. Like Trump, West is a narcissist ... And, like Trump, West is shockingly ignorant."
When West reactivated his Twitter account last month — a platform that has long been the sole place he's addressed the public — the superstar rapper-producer-fashion designer announced his first new music since 2016, a year that ended in tumult amid a canceled tour and hospitalization for a psychiatric emergency.
He promised a wealth of material, including two forthcoming albums — a solo album due June 1 and a joint project with friend Kid Cudi the following week — and records from Teyana Taylor, Pusha T and Nas that he produced. But it was his political views that got the most reaction.
"So many people who love you feel so betrayed right now because they know the hard that Trump's policies cause, especially to people of color. Don't let this be part of your legacy," John Legend said over text messages to his friend and collaborator, which West then posted on Twitter.
In the days after West's TMZ appearance, Detroit's 105.1 The Bounce banished his music from its airwaves — "We feel like Kanye has gone too far … We don't want to hear [his] music," said the station's on-air personalities BIGG and Shay Shay.
Some of his most ardent fans are also denouncing him.
"The second he put on that MAGA hat, I was through being a fan and done giving him any of my money …. He's supporting and condoning the actions of a racist, hateful, misogynistic, ignorant bully for record promo and there is no part of me that is okay with that," one wrote on Facebook in a post placing a collection of West paraphernalia up for sale.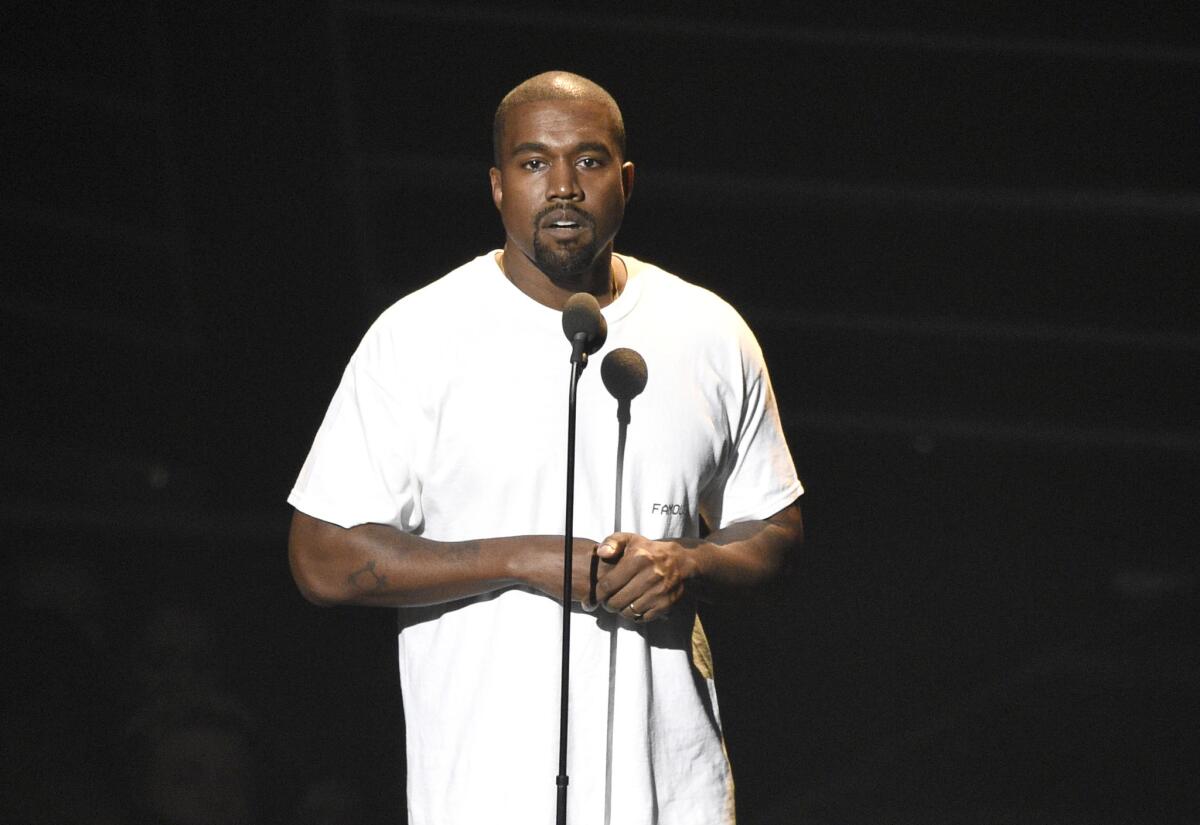 So many people who love you feel so betrayed right now because they know the hard that Trump's policies cause, especially to people of color.
— John Legend wrote in a text to Kanye West, which the rapper made public
The only recent precedent for major artists politically alienating much of their fanbase came after the Dixie Chicks said, in the buildup to the 2003 Iraq war, that "we're ashamed that the President of the United States is from Texas." The backlash was immediate, with the group's music dropped from country stations across America.
West, however, has yet to face such industry reprisals. He has even posed with a grinning Universal Music Group head Lucian Grainge and influential hip-hop executive Lyor Cohen while wearing his MAGA hat. As an established artist with a huge multi-platinum back catalog, extensive production credits and his own GOOD Music label, West is perhaps less sensitive to fiscal concerns than other artists.
Adidas, the company that distributes his incredibly popular Yeezy apparel line, is standing behind him but made it clear that there are "some comments [the company] doesn't support."
And when it came time to record her first new music in six years, pop diva Christina Aguilera called West. He produced a handful of records on her upcoming album, including new single "Accelerate," which was released amid the furor.
"I've always been a huge fan of Kanye … Outside of, you know, his controversial aspects," she told Billboard in a recent interview. "I just think he's a great artist and musicmaker and beatmaker. The artists that he chooses to pluck from different walks of life are so interesting."
The recent backlash has been driven by fans who took his statements as a personal affront.
"This is a person who has spoken a lot about race over the years and in some very eloquent ways. The dramatic reversal of it all feels like it's more about power or … something else," said Justin Simien, creator of "Dear White People," a Netflix series adapted from his 2014 film of the same name that explores race and identity among a group of black college students.
At 34, Simien is part of a generation of West's core following — those entering adulthood when the Chicago rapper debuted with 2004's "The College Dropout," a potent offering that veered away from gangster posturing in favor of thoughtful observations on family, sexuality, religion, education, prejudice and wealth.
Disappointed fans have a few ways to voice their opinions. One, of course, is on West's own favored platform. The day he voiced his latest support of Trump, Rihanna, Nicki Minaj, Kendrick Lamar and Drake were among those who hit 'unfollow' on Twitter.
West is one of the most successful touring acts today. More than 97,000 fans attended his sold-out six-night 2016 stint at the Forum for his "Saint Pablo" tour.
That tour, however, was derailed in San Jose after West said: "I didn't vote, but if I did, I would have voted for Trump," prompting fans to boo and hurl expletives at him. He later nixed over 20 dates and was reportedly in treatment for mental health and addiction issues.
Similarly, his Adidas clout is considerable. The company's Adidas Originals division (which releases West's popular Yeezy sneakers) touted revenues up 45% for the period when he released "Life of Pablo" in conjunction with a new season of apparel.
The controversy, at least, has proven beneficial to West's "dragon brother," the president.
According to the latest Reuters poll, Trump's approval rating among black men doubled within the week of West's public embrace, a fact that very much pleased the president (despite Reuters noting the "credibility interval" among respondents was nine percentage points).
"Kanye West must have some power," Trump said during an address at the National Rifle Assn. last week. "When I saw the number, I said there must be a mistake. How can that happen? Even the pollsters thought there must be a mistake … But now the numbers are much higher than they ever were with African American [sic], and we're happy."
Yvonne Villarreal contributed to this report.
ALSO
Kanye West and Rudy Giuliani: The mouths that recklessly roared
What started out as Kanye West's return to Twitter has become far stranger and more unsettling
Kanye West's ill-informed rants on slavery align alarmingly well with popular views of American history
See the most-read stories in Entertainment this hour »
Get our L.A. Goes Out newsletter, with the week's best events, to help you explore and experience our city.
You may occasionally receive promotional content from the Los Angeles Times.