Kehlani just wants to be happy after grappling with darkness. New album 'SweetSexySavage' leads the way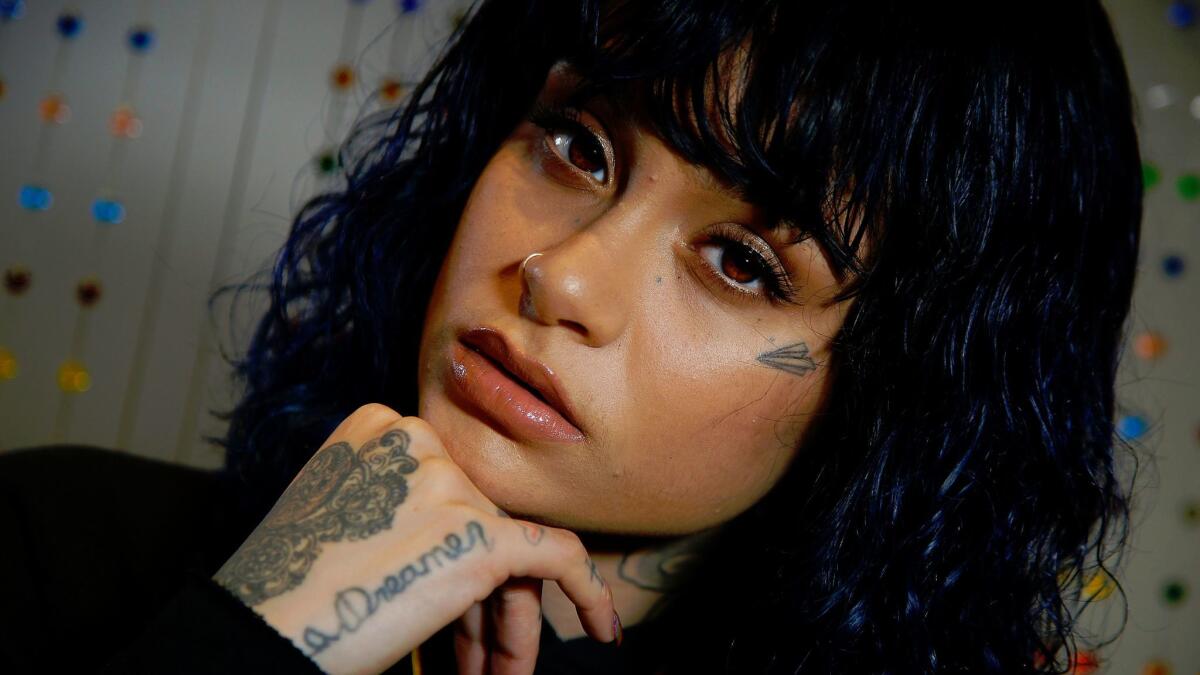 The celebratory mood was short-lived.
Last week Kehlani was in the midst of prepping her first world tour, a 60-city trek that will also include a stop at the Coachella Valley Music and Arts Festival. The fast-rising R&B-pop songwriter born Kehlani Parrish was days before the release of her long-awaited major-label debut, "SweetSexySavage," an album out today on Atlantic Records.
Yet the following morning, reality set in.
Her album was dropping just as the country was transitioning from President Barack Obama to Donald Trump, the latter arguably one of the most polarizing candidates in American history.
"I woke up and thought, 'Oh, seven days until my album' and then I got the CNN notification saying Trump had been officially sworn in and it sunk in," the 21-year-old said, curled up on a couch inside the Atlantic Records offices on Inauguration Day.
"I'm a young black, Spanish, Native American, queer [woman] … all things that have been attacked."
After her last few years, Kehlani doesn't need any more drama.
"SweetSexySavage" is supposed to close that era of her life as it's a feel-good work of positivity and independent self-discovery. Parrish embraces shortcomings on the bouncy "Keep On," warns a suitor she may cause heartbreak on "Do U Dirty," courts no-strings-attached affection on the '90s-inspired throwback "Distraction" and flexes a defiant swagger on "CRZY."
The work follows her acclaimed early offerings, 2014's "Cloud 19" and 2015's "You Should Be Here," which delivered unguarded, self-assured tales of earnest romantic yearning and heartbreak. In a brief span, the Oakland native has amassed a body of work that recalls early 2000s neo-soul and "TRL"-era pop.
"You Should Be Here" landed on numerous best-of lists and earned her a Grammy nomination. The collection peaked at No. 5 on Billboard's R&B chart and has been streamed on Soundcloud more than 80 million times. Once apartment-less and living couch-to-couch, Parrish appeared on her way.
But as her star rose, Parrish got a glimpse of the pitfalls of modern fame as her personal life became a trending social media topic and she found herself at the center of online attacks. It all cast an uncomfortable spotlight that almost derailed her career, and resulted in an attempt on her own life.
The firestorm was too much for Parrish, who has dealt with anxiety and depression for years.
"It was much bigger than me dealing with heartbreak or dark thoughts on my own," she said. "I was a person that genuinely only wanted to be known for my music … [and] the entire world is coming at you and it's viral."
The cause of the social media backlash? Rumors of who the artist was romantically involved with.
Publications that never covered her music posted the gossip about her relationships with Cleveland Cavaliers player Kyrie Irving and rapper-singer PartyNextDoor, and a loud chorus of Twitter and Instagram users — and a few celebrities — spent a day denigrating her.
After the online brouhaha, she found herself hooked up to an IV in a hospital bed. She made a heartbreaking disclosure on social media: "Today I wanted to leave this earth."
"When you Googled my name that's all you saw for months. I was terrified to go outside. I was having panic attacks in restaurants because I thought the waiters were looking at me about it," she confesses. "The PTSD that I was dealing with — that I just got over, thank God — was insane."
"SweetSexySavage," then, is about creating from a place of happiness.
"I didn't want to be sad every time I go onstage … and I didn't want to sink back into depression or relive these things over and over again," she said. "I wanted to make myself happy and when I get on stage everything is so happy. I'm having the time of my life, and that's what this album is about."
I wanted to make myself happy and when I get on stage everything is so happy … that's what this album is about.
— Kehlani on "SweetSexySavage"
Parrish retreated to Hawaii following her March 2016 hospitalization. She cut off her hair — "I felt like I was carrying [that] past week of trauma ... and I needed to restart" — and focused on healing.
In Hawaii she figured out the album's direction and its title — a nod to identity inspired by TLC's "CrazySexyCool." ("They separated themselves with 'CrazySexyCool,' but what was so dope was they were all crazy, sexy and cool," Parrish said.)
"At the time I had been one person. Then I went through a situation and I was another person and I had to patch myself up from that and so I was another person," she continued. "What I realized was that I've been all of those people at the same time over and over again."
She wanted an album that she could enjoy with her girlfriends and not have the so-called "preachy" vibe she felt punctuated her earlier work. And so "SweetSexySavage," which she began recording in 2015, is fueled by a brightness that chronicles a complex young woman stepping into herself.
The singer's close friends, including L.A. poet Reyna Biddy, provide narration. Parrish's grandmother even offers frank talk about the singer's grandfather.
"In order for women to grasp this album as a whole it couldn't just be me," she said.
Yet releasing an album under the purview of a major label comes with an inherent set of challenges, even in this digital-first era. Hits, after all, still matter.
Team Kehlani isn't worried.
"We had done so much on our own, putting out two projects," her manager David Ali said. "[The label] has always allowed us to do our thing. The process has been organic. It's still very grass roots, but now we have stuff like radio behind us and we've built a large touring base."
Asked how she's navigating the hype, Parrish, as one may expect, admits it hasn't been easy.
"When I started making music it was as a form of therapy and release. Then you start making a little money off of it and it becomes a career," she said. "The hardest thing for me was understanding that at some point I have to keep making money and start compromising to do radio and opening up more and doing bigger interviews."
After rebuffing opportunities to perform on late-night TV or awards shows out of fear and anxiety, she's working to get comfortable. She performed on "Jimmy Kimmel Live!" on the eve of her album's release, for instance, but she's still wary about red-carpet appearances (at the Grammys last year an anxiety attack forced her to leave the ceremony).
"Public things really freak me out. I don't know if I'm ready, I'll be honest with myself," Parrish said. "I still get flustered when I have too many interviews in one day. It's a challenge that comes with it so I might as well try to step myself out of my comfort zone."
Her upbringing was rough.
Both parents dealt with addiction (her father died shortly after her birth and mom was often in jail) and she was raised by her aunt. Dancing was her outlet, though an injury caused her to concentrate on singing at Oakland's School for the Arts.
At 14, she landed in the cover band PopLyfe, which found its way to NBC's "America's Got Talent" and placed fourth. Afterward she struggled to make music until reconnecting with the show's host, Nick Cannon. He became a mentor, placing her in a rap group before setting her up with an apartment and studio time.
Without the aid, things could have quickly turned extremely dire. There were times when she was essentially homeless and couch-surfing.
"I literally remember having to wash my underwear in the shower and blow-drying them ... and I'm banned from [a few] grocery stores from stealing stupid groceries just to eat," she said.
Some of her many tattoos, a constant source of intrigue in interviews, came out of turbulence. The singer looks at the art, which she started getting because she hated her body, with a slight tinge of regret. Eventually she'd like to get some removed — starting with the word "Woke" inked on her hand in tribute to Erykah Badu, which she had digitally cut from her new album art.
"I really thought I was the smartest, most aware. And then I went through a situation that exposed me to the fact that I didn't," she admitted. "For me to have this self-proclaimed thing on my hand, it makes me uncomfortable."
Today, Parrish is focused on regaining confidence and staying healthy. The Toltec wisdom teachings of "The Four Agreements" have provided guidance and she travels with essential oils and smelling salts to ease her anxiety.
Mostly, though, she just wants to get on stage.
"Ultimately I want to be happy and healthy and be in a space where I'm comfortable with myself," she said. "Because I've been in too many situations where I wasn't down to be here."
See the most-read stories in Entertainment this hour »
For more music news follow me on Twitter:@GerrickKennedy
Get our L.A. Goes Out newsletter, with the week's best events, to help you explore and experience our city.
You may occasionally receive promotional content from the Los Angeles Times.