Kendrick Lamar just won a Pulitzer Prize. Here are five songs that show why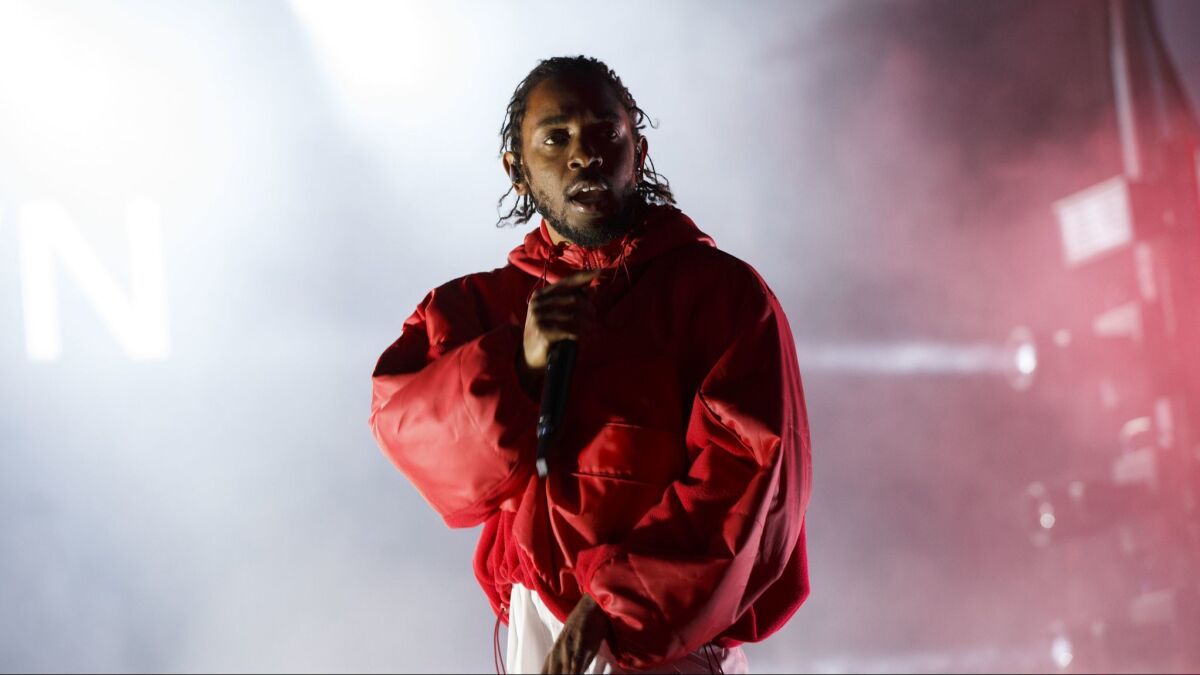 Pop Music Critic
Much of the reaction to Monday's announcement that the Compton rapper Kendrick Lamar had won a Pulitzer Prize for music with his album "Damn" amounted to something like: Finally.
A steadily strengthening force since its birth in the 1970s, aspects of hip-hop have unquestionably dominated pop culture for years now — look at "Black Panther," look at "Atlanta," look at Beyoncé last weekend at Coachella — which makes this recognition of one of its prime movers feel overdue at best.
Yet by selecting the 30-year-old Lamar, it's not as though the Pulitzer committee was merely throwing an award to any prime mover it picked out of a hat.
Indeed, the backlash already seen online from some in the classical-music world — composers who believe that a famous rapper isn't the one in need of more attention — suggests the jurors might have saved themselves the grief if they'd felt they could avoid it. (Perhaps they consulted the Nobel Prize people for reassurance after the latter were criticized by novelists and poets for giving Bob Dylan the prize for literature in 2016.)
Clearly, though, the Pulitzer committee encountered a musician in Lamar whose work demands honor in the particular. Here are five of his songs, from "Damn" and elsewhere, that demonstrate what the jurors heard — along with a word of warning that the majority of videos that are linked contain profanity.
In singling out Lamar's album, the Pulitzer organization praised "Damn" for its "affecting vignettes capturing the complexity of modern African-American life," and nowhere is that complexity more palpable than in this cut about "the power, poison, pain and joy inside my DNA." One of Lamar's signatures on "Damn" is jumping among different perspectives, but here he inhabits each with so much detail — from the 9-year-old living in a motel to the budding superstar "sipping from a Grammy" — that you understand the words not as role-play (though he can do that too) but as lived experience.
Of course, words are only one component of Lamar's music. The committee also drew attention to the "rhythmic dynamism" of "Damn," which might be best exemplified by this funky yet hard-knocking single that hit No. 1 on Billboard's Hot 100. On tour last year, Lamar sometimes presented "Humble" as an a cappella rap-along moment for his fans, who seemed to recite every word in perfect time — proof of a beat so strong that you can hear it even when it's not playing.
Lamar on "Damn" isn't always taking a wide view. For this disarming love song, the rapper zooms in on the day-to-day reality of a committed relationship with an intimacy that can be startling: "Bad attitude from your nanny / Curves and your hips from your mammy," he raps, his tone as tender and playful as it is take-no-guff in "Humble."
Lamar's Pulitzer isn't a lifetime-achievement award; it's tied specifically to "Damn." Yet prizes like this always signal the consideration of an artist's entire body of work, and for Lamar it seems likely that the jurors were impressed by his use of jazz textures and players — familiar terrain for the Pulitzers — in songs like this one from 2015's "To Pimp a Butterfly" album. Don't miss the gorgeous electric-piano excursion about five minutes in.
One of several breakout tracks from Lamar's 2012 major-label debut, "good kid, m.A.A.d city," this woozy slow jam finds the rapper contemplating the risks of alcoholism for a young man who "grew up 'round some people living their life in bottles." What distinguishes the song, beyond the way it makes unsteadiness into a kind of musical device, is how clear-eyed Lamar can be about someone's failings even as he rejects the temptation to ridicule.
Twitter: @mikaelwood
---
Your essential guide to the arts in L.A.
Get Carolina A. Miranda's weekly newsletter for what's happening, plus openings, critics' picks and more.
You may occasionally receive promotional content from the Los Angeles Times.