Beatles' 'Revolver' album cover artist Klaus Voormann's work celebrated in 80th birthday exhibition in L.A.
Veteran musician, graphic artist and lifelong Beatles pal Klaus Voormann returned to Los Angeles this week for the opening of a relatively short-term career-spanning exhibition of his artwork at the downtown-adjacent NAVEL art gallery, where Voormann mixed Tuesday night with an assortment of music and art-world friends and admirers.
Titled "It Started in Hamburg," the show is billed as the first major exhibition of artwork by Voormann, best known to music fans for his Grammy-winning design for the Beatles' 1966 album "Revolver."
The show at NAVEL spans more than 50 years' worth of Voormann's work and includes cover art he created for numerous other artists' recordings, including Van Dyke Parks, who attended Tuesday's opening to offer introductory remarks, Ringo Starr, the Bee Gees, Spooky Tooth, Stan Getz, Turbonegro and Jackie Lomax.
The exhibition was created in recognition of Voormann's 80th birthday in April.
"You will laugh when I tell you how the pieces were chosen," Voormann told The Times in an interview before the formal opening of the show. "My daughter Ruscha, my son Maximilian and my wife, Christina, chose them for my 80th birthday without my knowledge. There are some things I never would have chosen, but since they picked them, I said OK."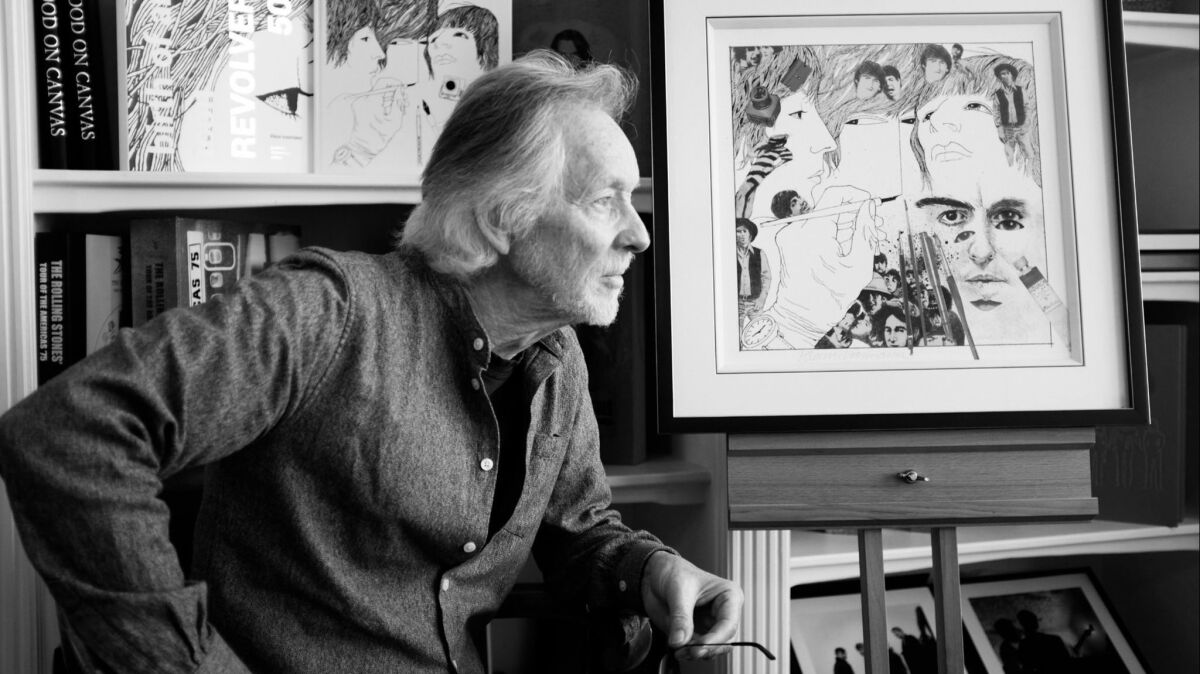 Many of the pieces on display through Saturday capture facets of his long friendship with the Beatles, whom he met in the early 1960s when they were playing extended runs in Hamburg, Germany.
Voormann pointed to a square piece hanging in one small room off the main NAVEL exhibition space with a cover for a German musician's version of the Ventures' 1960 instrumental hit "Walk Don't Run."
"That's the first album cover I ever did, and that was my introduction to John [Lennon]," Voormann recalled. "I showed it to him the first time we met." Legend has it that Lennon more or less brushed him off at that initial meeting and told him to talk to then-bandmate Stuart Sutcliffe, whom Lennon considered more of an art aficionado.
Around the time that the Beatles' scuffling days in Hamburg were coming to an end as Beatlemania began to erupt in 1963 that Voormann also got the bug to play music. Subsequently, he largely gave up the pursuit of visual art in favor of playing rock 'n' roll in various bands, usually playing bass, but also occasionally picking up a saxophone.
When the Beatles suggested he come up with art work for "Revolver," which represented a quantum leap forward for the group musically, thematically and technically, Voormann said, "It was difficult to switch back" from music to graphic art.
"For me, I can only focus on one at a time, so when I was doing music, I did not do art," he said. Still, the line drawing he created, a pastiche incorporating bits and pieces of photos and other visuals, was considered the perfect counterpart to the Beatles great stylistic leap forward.
"When someone asks me to do a cover, first I listen to the music," he told a crowd of several dozen onlookers after Parks' erudite and loving introduction. "If I don't like the music, I don't do the project."
Of the commissions he did accept, "If they were good, they let you know what was inside without batting an eye."
He also said every piece of art on display was created for a specific project, perhaps the only exception being three square album cover-like pieces highlighting jazz musicians Jimmy Giuffre, Sonny Rollins and Sonny Stitt that he did while still in art school in Germany.
"Some artists, like Edward Hopper, start as commercial artists and then get to the point where they say, 'People seem to like my work; I will become a painter,'" without a specific client or patron.
"I never got to that point," he said. "I think I would have become a better graphic artist if I had not spent time playing music," a part of his life that in the 1960s included a stint as a member of Manfred Mann's Earth Band and then joining Lennon in the Plastic Ono Band lineup he assembled as the Beatles' career was coming to an end.
Voormann subsequently played on Lennon's first two post-Beatles solo albums, Yoko Ono's first "Plastic Ono Band" album, as well as for Ringo Starr, George Harrison (with whom Voormann lived for a while in Harrison's Friar Park Estate in England) and another Beatle pal, Harry Nilsson, among others. In the late-'70s he put the bass aside and turned his attention fully back to art.
"It Started in Hamburg" is the U.S. launch event for a broad-based effort called the Sequencer Tour organized by two groups, Germany's Reeperbahn Festival, the annual music gathering in Hamburg that recently hosted the world premiere of the Voormann exhibition, and re:publica, also based in Germany and described as "Europe's biggest conference on Internet and digital strategy."
The Sequencer Tour will continue with different events in five other U.S. cities after the L.A. stop: at the South By Southwest Festival in Austin next spring; Nashville; New York; Portland, Ore.; and Detroit. The goal is to foster dialogue between artists and others in the U.S. and Germany and, in turn, strengthen relations between the two countries, organizers said.
Voormann was chosen for the kickoff event, they said, because his career bridges the worlds of music and visual art and because he has lived and worked in Hamburg, London and Los Angeles.
Follow @RandyLewis2 on Twitter.com
For Classic Rock coverage, join us on Facebook
---
Your essential guide to the arts in L.A.
Get Carolina A. Miranda's weekly newsletter for what's happening, plus openings, critics' picks and more.
You may occasionally receive promotional content from the Los Angeles Times.