The flamenco-inspired hip-hop of Rosalía has the artist on the verge of international stardom
When Rosalía Vila Tobella was 8 years old, something happened at a family luncheon in her native Catalonia that made her contemplate visions of future pop stardom.
"We were spending time with a bunch of relatives who happened to be not that close to us," she says. "And my father asked me to sing something. It was nothing special, probably a song I had heard on television. I closed my eyes and sang. When I opened them, everyone at the table was moved to tears. It was an early sign that music could become a vehicle of expression."
Now 25, Rosalía has done more than just express herself. She is one of the most original and visionary artists to come out of Spain and Latin America this year, and her recently released second album, "El Mal Querer," has been praised as a masterpiece of flamenco pathos and hip-hop sensibility that chronicles a love affair gone sour.
The Latin Grammys have reacted accordingly.
The album's lead single, "Malamente," a cinematic mood piece anchored on hand clapping, staccato beats and the singer's husky vocalizing, is currently nominated for five awards, including record and song of the year. Around the globe, music journalists are predicting a sweeping victory in a year where the creativity of women is taking center stage at the Latin Grammys — six out of the 10 record of the year contenders star female singers, mostly from the Latin Alternative arena.
"I saw Rosalía at an awards show in Bilbao two years ago," recalls Tomás Cookman, chief executive of the prestigious Latin Alternative label Nacional Records. "This was a loud industry event, but when she sat down and started singing, the entire hall stood still. When I heard Rosalía was working on a new album with Spanish producer El Guincho, I knew that something special would come out of it. It did."
Many no doubt discovered Rosalía via the video for "Malamente," which boasts more than 30 million YouTube views. What they witnessed was an artist who blended with ease a musical piece anchored on venerable flamenco idioms with the slick production values and intriguing samples of somebody who grew up listening to hip-hop. The visuals flirt with flamenco iconography, but also include images of Rosalía surrounded by an entourage of urban female dancers, like a Spanish rap star.
"Growing up, my parents played Anglo stuff like [Bob] Dylan and Janis Joplin," she recalls. "I discovered hip-hop at 11, and it has accompanied me for the rest of my life. Hip-hop is to me the equivalent of what pop music is to other people."
Blending flamenco and hip-hop is, of course, nothing new. The Barcelona collective Ojos de Brujo did it in 2002 with the album "Barí," and Andalusian rapper La Mala Rodríguez was a successful pioneer of the hybrid.
But "El Mal Querer" goes much deeper than a carefully balanced combination of styles. Rosalía's influences include a wide array of genres, from African pop to electronica, and the obsessive care with which she layers the record's 11 tracks lend the project a solemn feeling, like we're listening to the love affair crumbling right in front of our ears.
At times — like the stately intro to "Lamento" or the sparse chanting of "Concepción" — the sonics suggest that the evolution of classical music is also part of Rosalía's palette.
"The album is permeated by minimalism," she agrees. "I love Ligeti [the Hungarian-Austrian avant-garde composer]. I'm crazy about Wagner, Chopin, Albéniz. There are many different genres breathing together on this record, and I think it's beautiful that they all come together to elevate the final product. I've always been free. I don't believe one music genre is better than the other, as long as you continue investigating and experimenting."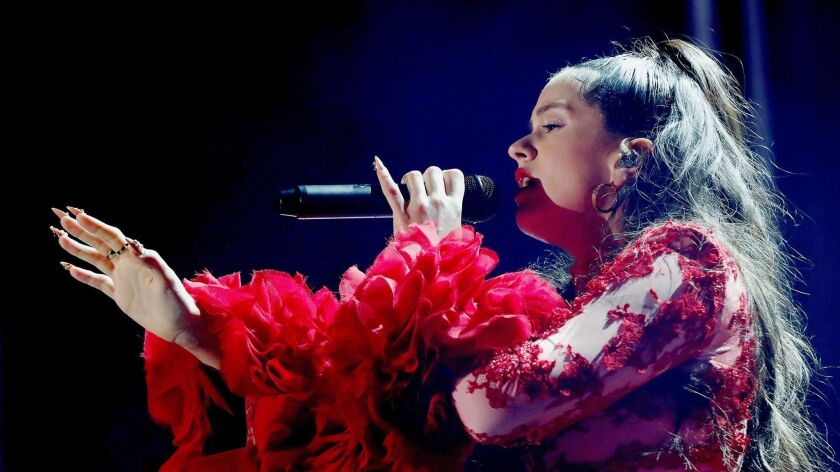 Latin Grammy Preview: The young Ángela Aguilar leads a bold new wave of female acts »
Lyrically, "El Mal Querer" is divided into 11 chapters chronicling the inevitable descent into romantic breakdown, beginning with "Malamente's" augurio, the bad omen that presages the promise of decay. Further passages carry titles like "Jealousy," "Dispute," "Lament" and "Ecstasy." In the acknowledgments, Rosalía goes as far as to thank "the person who broke her heart" and provided inspiration.
"You can't really compose music without life experiences," she emphasizes. "I believe a good song relies on a balance between reality and fantasy. If a song lacks reality, it's missing on the truth. If fantasy is not present, then it's missing wings, the allure of mystery. In the end, when you experience heartbreak, the only sense of rising from all that pain is using it as a catalyst for creating something like this record."
After attending the Latin Grammys, Rosalía will be busy collaborating with mainstream artists and attempting to further a crossover. An upcoming tour evokes the ambitions of a young Kate Bush, as Rosalía will attempt to blend sounds with dance and visuals in her performances.
"I'm trying to device a concert experience unlike my previous tour," she says. "It will go beyond music to present a spectacle with dancers and plenty of movement. I am currently training, because I plan to sing and dance to the limit of my physical possibilities."
In the meantime, even though she is experiencing a backlash in Spain by musicians who accuse her of appropriating flamenco elements without an authentic connection to the genre, Rosalía is trying to enjoy the year when she became a critical darling with taste-makers across the globe.
"I believe in destiny," she says. "I've always been grateful to God for giving me the clarity and vision to realize I could do nothing in life except music. I never had a plan B. I always wondered: will I be able to achieve my artistic goals? But with a deep dedication, amazing things can start to happen."
---
Your essential guide to the arts in L.A.
Get Carolina A. Miranda's weekly newsletter for what's happening, plus openings, critics' picks and more.
You may occasionally receive promotional content from the Los Angeles Times.