Latin Grammy Preview: The young Ángela Aguilar leads a bold new wave of female acts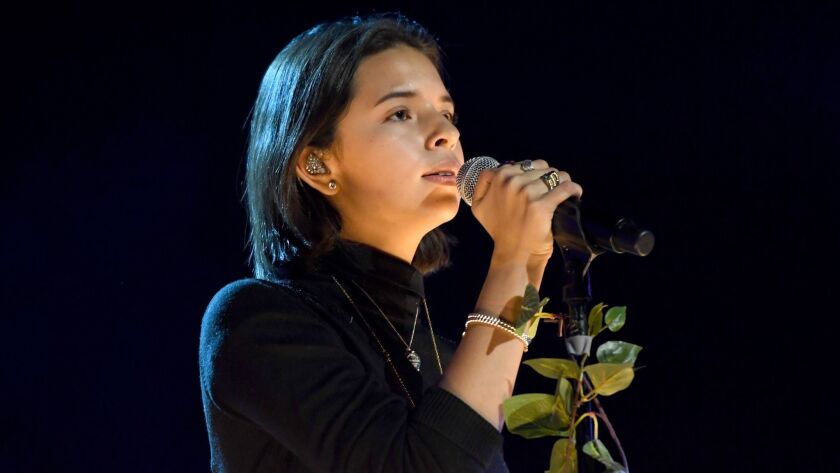 Forty-nine Latin Grammy categories are to be awarded in Las Vegas on Thursday, and this year's telecast should bring two trends to the forefront. One will celebrate the increasingly dominant crossover artists who appeal to an audience that doesn't need to understand Spanish to get down. The other is the emergence of a bold new wave of leading female acts.
"I think I'm going to walk the green carpet by myself because I'm a proud and independent woman," said Ángela Aguilar, 15, a first-time nominee and contender for best new artist and regional Mexican/mariachi album.
She adds, "I don't need a man to walk the carpet."
Such a spirited, self-asserting demeanor is becoming more loudly embraced across pop culture. "I think it's a great year for women because girls can do anything and can often do more than boys," said Aguilar, who is the youngest nominee for both her categories. "I think it's a true honor to be a representative of women, children and the Mexican community."
Aguilar is doing so at a time when Latin music is expanding its global reach. Check J Balvin, the Medillín-born reggaeton singer who this year leads the Latin Grammys with eight nominations, including two for record of the year for "X" and "Mi Gente."
RELATED: The flamenco-inspired hip-hop of Rosalía has the artist on the verge of international stardom »
If he wins urban fusion/performance for the catchy "Mi Gente," that means Beyoncé will have her first Latin Grammy, much in the same way Justin Bieber did last year for his work on the remix of "Despacito" alongside Luis Fonsi and Daddy Yankee.
The rise of streaming is credited with expanding the reach of the music to a more youthful and commanding demographic. The Balvin and Willy Williams version of "Mi Gente" was already a substantial hit before Beyoncé recorded the remix, doing so at the urging of her daughter Blue Ivy, who fell in love with the original song.
"The 'Mi Gente' collaboration was definitely one of the major songs that helped reshape the landscape of the music industry worldwide," said Jean Rodriguez, who was a vocal producer on the 'Mi Gente' remix and is nominated along with Danny Flores as Coastcity for urban music album. "It's one of those songs that breaks down the language barrier."
A number of other artists are breaking down some of their own.
Colombian native Diana Burco, an independent recording artist, is now a cumbia/vallenato album nominee for her self-titled project. In the 19-year history of the Latin Grammys, she'll be the first female nominated in the category and "it was a total surprise, but beautiful because it points at the work and that's encouraging so early in my career."
Additionally, Aguilar happens to be the only female in her regional Mexican field. Her album, "Primero Soy Mexicana (First I'm Mexican)," is competing with 48-year-old Luis Miguel's "¡Mexico Por Siempre!" and 19-year-old Christian Nodal's "Me Dejé Llevar," among others.
Nodal, credited as a new generation male act leading the resurgence of mariachi music, is touring with Aguilar on a rodeo-style show featuring music, horses, bulls and other livestock dubbed Pepe Aguilar & Family Presents: Jaripeo Sin Fronteras.
"Angela is an example of what regional Mexican music can be and she made the song 'La Llorona' all her own," said Nodal, who'll be performing on the telecast. "It makes me happy that more women today can choose to call their own shots and that's evident in urban music. My hope is that we continue seeing that in all genres, especially regional Mexican."
Through the years, the Latin Recording Academy has had its share of criticism, but it does not share those currently plaguing its English-language counterpart. The Recording Academy has been met with harsh critiques of late for what's been seen as a high volume of gender disparity issues.
The less-than-favorable appraisal stems in part from comments made by the organization's outgoing president, Neil Portnow, who came under fire after this year's show for suggesting it was the responsibility of women to "step up."
"The Latin Grammys have done a good job especially when it comes to the inclusion of women," says Chilean singer-songwriter Mon Laferte, whose "Antes de ti" is in competition for song of the year. "We just want the same opportunities as our male counterparts."
Colombian reggaeton artist Karol G, also competing for best new artist in addition to best urban song, struggled for years to catch the ear of male music executives to break through. Eventually, one of her songs found its way to Latin urban superstar Nicky Jam and a career was born.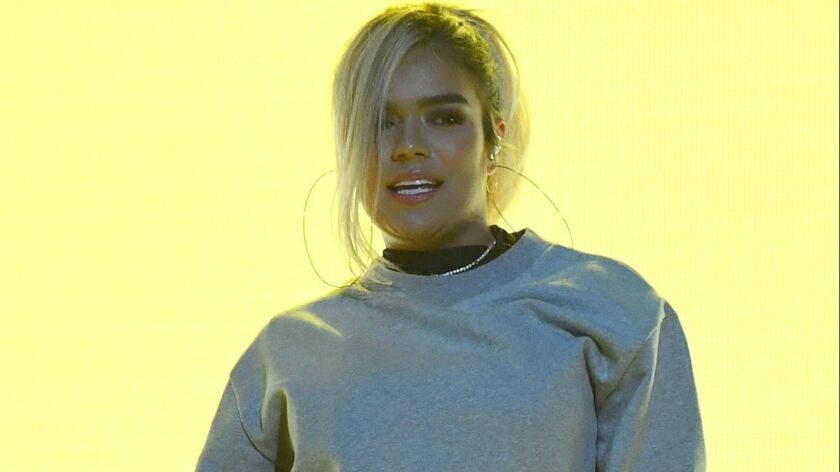 "I think it's important to look past the victimization narrative and instead focus on the doors that are opening," said Karol G, whose prolific profile has her collaborating with other urban stars such as Maluma, Anuel AA and J Balvin. "We are having an equality moment in music right now through big songs, remixes, nominations, conversations and projects that will continue into 2019.
"Instead of speaking of men versus women, we should speak about artists rising at a worldwide level," she adds.
Just as J Balvin is inspiring a new generation of fans navigating music trends, Brazilian singer Anitta, who boasts more than 31 million Instagram followers and has two Latin Grammy nominations, is also branching out and looking to expand her audience. The Warner Music Brasil artist recently released "Solo," a 3-track EP that includes the Pharrell Williams produced "Goals" in English.
Spain's flamenco-trap singer-songwriter-actress Rosalia, who has five Latin Grammy nominations for "Malamente," including song and record of the year, is also widening her reach with an arsenal of fresh musical themes co-produced with Pablo "El Guincho" Díaz-Reixa, another Latin Grammy nominee and Björk collaborator.
Get used to seeing her. The Spanish artist is due to appear in the next Pedro Almodovar film along with Penelope Cruz.
This year's Latin Grammys will also recognize Mexican singer Yuri with a lifetime achievement honor. The singer, who also acts, hosts, tours and who once trained with the Bolshoi ballet, cautions against what she describes as "extreme feminism," but stresses that "as women we should be valued and respected."
Carla Morrison, nominated for traditional pop vocal album of Amor Supremo Desnudo, said she feels more empowered than ever knowing that women are uniting and being taken more seriously.
"This only makes me feel more at peace, like I have a family everywhere I go, where women have my back," Morrison said.
Male nominees, such as regional Mexican singer-songwriter Jerry Demara, are also starting to speak up over long-held gender imbalances.
"I got to know [the late] Jenni Rivera on Mexico's version of 'The Voice' a few years ago and wondered why there weren't more women in [regional Mexican] music," Demara said. "That needs to change and it's important for men to step up."
'Latin Grammy Awards 2018'
Where: KMEX (Univision)
When: 8 p.m. Thursday
---
Inside the business of entertainment
The Wide Shot brings you news, analysis and insights on everything from streaming wars to production — and what it all means for the future.
You may occasionally receive promotional content from the Los Angeles Times.