Review: What does Lauryn Hill still hear in her 'Miseducation'?
Pop Music Critic
Lauryn Hill picked the right year to celebrate the 20th anniversary of her debut solo album.
It's been precisely two decades since the release in 1998 of "The Miseducation of Lauryn Hill," an assured and deeply felt synthesis of hip-hop, R&B, reggae and gospel that introduced the Fugees singer and rapper as a major star in her own right.
Propelled by hit singles like the bouncy "Doo Wop (That Thing)" and the anguished "Ex-Factor," the record topped the Billboard chart and won five Grammy Awards, including album of the year — evidence of a broad cultural impact that's still helping Hill sell out venues like the Hollywood Bowl, where she performed Tuesday night as part of a tour commemorating "Miseducation."
But we also happen to be living in something of a Lauryn Hill moment.
This year both Drake and Cardi B have scored huge hits of their own with songs — his "Nice for What," her "Be Careful" — built on recognizable samples from "Ex-Factor."
And though she hasn't given an interview in ages, Hill posted a lengthy essay online last month in which she addressed what she views as long-held misunderstandings about her mind-set during the making of "Miseducation" and why she has yet to release a follow-up.
The result is that Hill, who's performed regularly but in a weirdly under-the-radar fashion since serving a jail sentence in 2013 for tax evasion, seems eager at last to reclaim (or at least not to avoid) a place near the center of pop.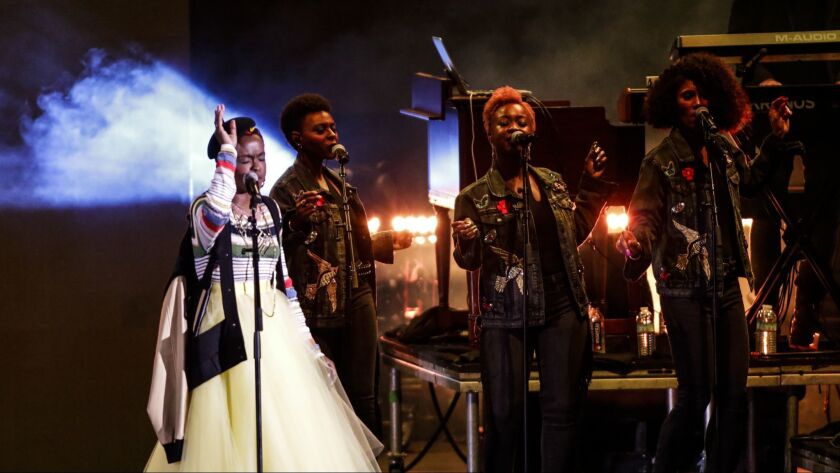 "This world right now needs character — people of integrity to stand up and present themselves and create an example and a standard for other people who perhaps weren't taught that way," she said at one point Tuesday, and you understood that one of the people she meant was Lauryn Hill.
Which isn't to say that she sees herself or her work uncomplicatedly, as her sometimes-radical renovation of her old hits suggested.
She clearly wanted to provide a sense of occasion. This concert opened with a rowdy set by De La Soul and featured an unannounced appearance by Michael Che of "Saturday Night Live," fresh from his gig hosting Monday's Emmy Awards.
Dave Chappelle performed too, doing about 45 minutes of stand-up for which he required everyone in the audience to put their phones inside locked bags that made them unusable while he was onstage. ("Violators will be ejected!," warned signs that further prohibited talking, heckling and "yelling out anything.")
As usual, the comedian's cheerfully profane set touched on plenty of hot-button topics, including school shootings and the opioid crisis. He also did a bit on Mo'Nique's battle with Netflix that led to a larger discussion of the #MeToo movement — specifically how women need to differentiate between dangerous predators and mere "riff-raff" like Louis C.K. and Jamie Foxx.
This stuff drew laughs, for sure; it's hard to think of someone more capable than Chappelle of drawing 18,000 or so folks into his hands using only a microphone. But you could also detect a current of uneasiness in a crowd peppered with show-business players. (Among them, though I can't say I caught her reaction to Chappelle's jokes, was Adele, flanked by two muscular guys wearing earpieces.)
It certainly made you wonder what was going through Hill's mind if she were listening backstage. In her recent essay she described the way women's concerns are minimized as a matter of course in the entertainment industry, and here — well, here arguably was the proof.
Then again, what doesn't make you wonder what's going through Hill's mind?
Although this tour appears to demonstrate her renewed appetite for the spotlight — and of course her well-founded pride in her achievements — Hill's actual performance left you unsure what she thinks of her songs, which many of her fans would no doubt love to hear as she recorded them.
But that's not Hill's way. Instead, backed by a 10-piece band, she remade once-lush tunes like "Everything Is Everything" and "When It Hurts So Bad" as percussive funk jams, long on rhythm but short on melody.
Her voice is raspier than it used to be, which is probably why she rapped more than she sang. And much of her rapping was ferocious, particularly in "Final Hour," about the false promises of celebrity.
But even when the music softened — as in "To Zion," which recounts the birth of the first of her six children — Hill seemed distrustful of the song's long lyrical lines; she organized her phrasing into clenched rat-a-tat bursts that put across a combative quality you don't hear on "Miseducation."
Similarly, "Doo Wop (That Thing)," which closed the show, was almost punk-like in its speedy intensity.
By that time it was just a few minutes before the Bowl's hard 11 p.m. curfew; maybe Hill told her band to pick up the pace because she knew her power would soon be cut.
Or perhaps this was the effect of all those years of being perceived through the prism of a single landmark album.
She's more than "Miseducation," Hill seemed to be saying even as she was calling attention to it. To make room for new things to grow, some old things have to die.
Twitter: @mikaelwood
---
The complete guide to home viewing
Get Screen Gab for weekly recommendations, analysis, interviews and irreverent discussion of the TV and streaming movies everyone's talking about.
You may occasionally receive promotional content from the Los Angeles Times.