N.W.A's 'Straight Outta Compton,' Eagles 'Greatest Hits' make Library of Congress' 2016 picks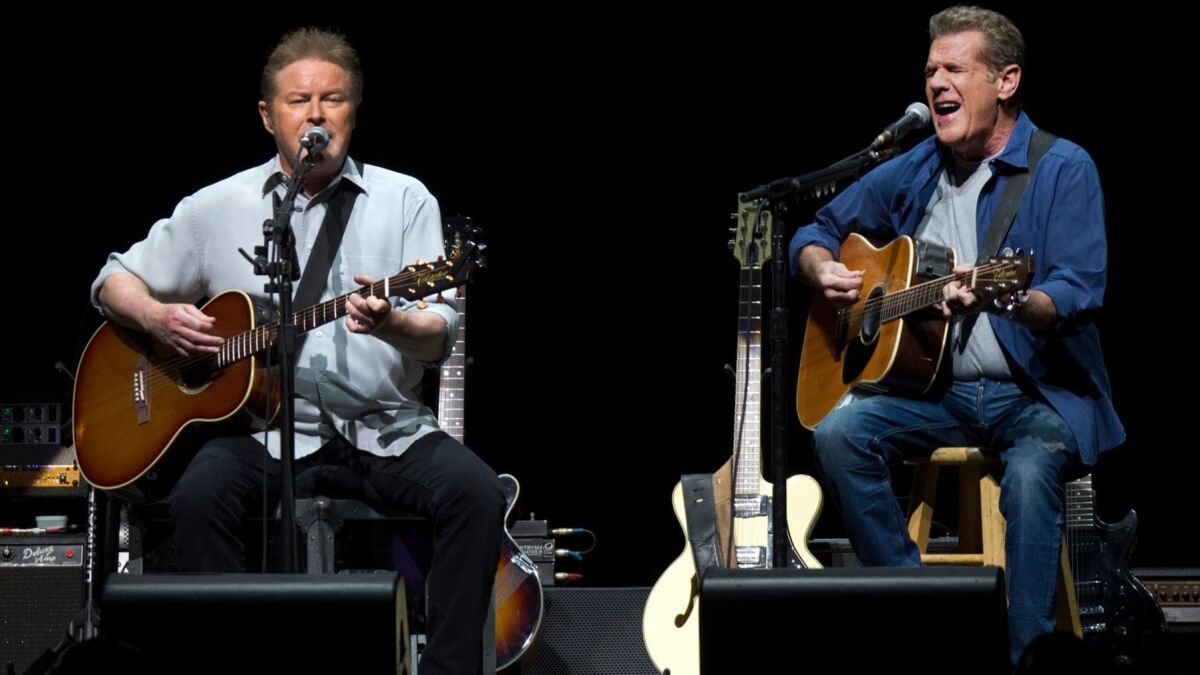 Judy Garland's 1939 recording of "Over the Rainbow," the Eagles' "Their Greatest Hits" album, N.W.A's "Straight Outta Compton" and David Bowie's "The Rise and Fall of Ziggy Stardust and the Spiders From Mars" are among the latest batch of sound recordings headed for the Library of Congress' National Recording Registry, library officials announced Wednesday.
Also included: a Vin Scully broadcast from 1957 of the Brooklyn Dodgers and the New York Giants, as well as two versions of "Lift Every Voice and Sing," often referred to as the black national anthem.
The library is tasked annually with identifying 25 historical sound recordings — music, spoken word, TV or radio broadcasts — that are deemed "culturally, historically, or aesthetically significant" for preservation in the Library of Congress.
See the most-read stories in Entertainment this hour »
"Popular music is one of this country's finest exports," Eagles founding member Don Henley told The Times on Wednesday via email.
"We excel at it. Popular music and radio programming created and recorded in the USA have been a global force that crosses geographical, cultural and political boundaries."
Others among the 2016 class are Big Mama Thornton's 1955 original version of "Hound Dog," which influenced a young Elvis Presley; Sister Sledge's effervescent 1979 plea for unity "We Are Family"; country singer Marty Robbins' 1959 effort "Gunfighter Ballads and Trails Songs"; and a batch of 1888 cylinder recordings made by Civil War hero Col. George Gourad, who was sent a phonograph by his friend Thomas Edison.
"Some anthropologists," Henley said, "say that humankind has about 1,000 more years of existence on this planet. So, one might logically ask, 'What's the point of archiving these recordings?' We do it for the same reason ancient cave dwellers made drawings on the walls of their caves – to say, 'We were here and this is what our life was like.'"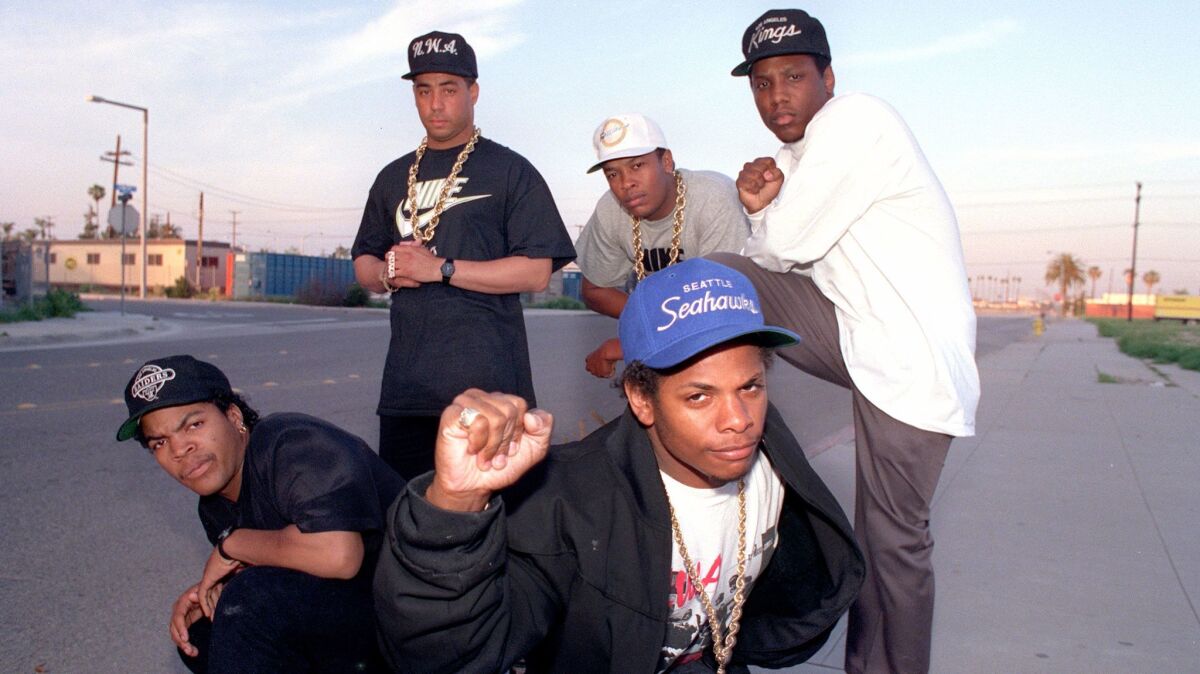 "This year's exciting list gives us a full range of sound experiences," Librarian of Congress Carla Hayden said in a statement. "These sounds of the past enrich our understanding of the nation's cultural history and our history in general."
"Lift Every Voice and Sing," written in 1900 by James Weldon Johnson and set to music in 1905 by his brother, John Rosamond Johnson, is going into the registry twice: in recordings from 1923 by the Manhattan Harmony Four gospel quartet and a 1990 all-star version led by Melba Moore that also featured Stevie Wonder, Anita Baker, Dionne Warwick and Bobby Brown.
"I feel and felt so honored to have been asked by Melba Moore and Dionne Warwick to be a part of such a historical song as is the black national anthem, 'Lift Every Voice and Sing,'" Wonder told The Times. "America has always been a country great enough to sing for, to fight for and to bring unity and peace — for everyone."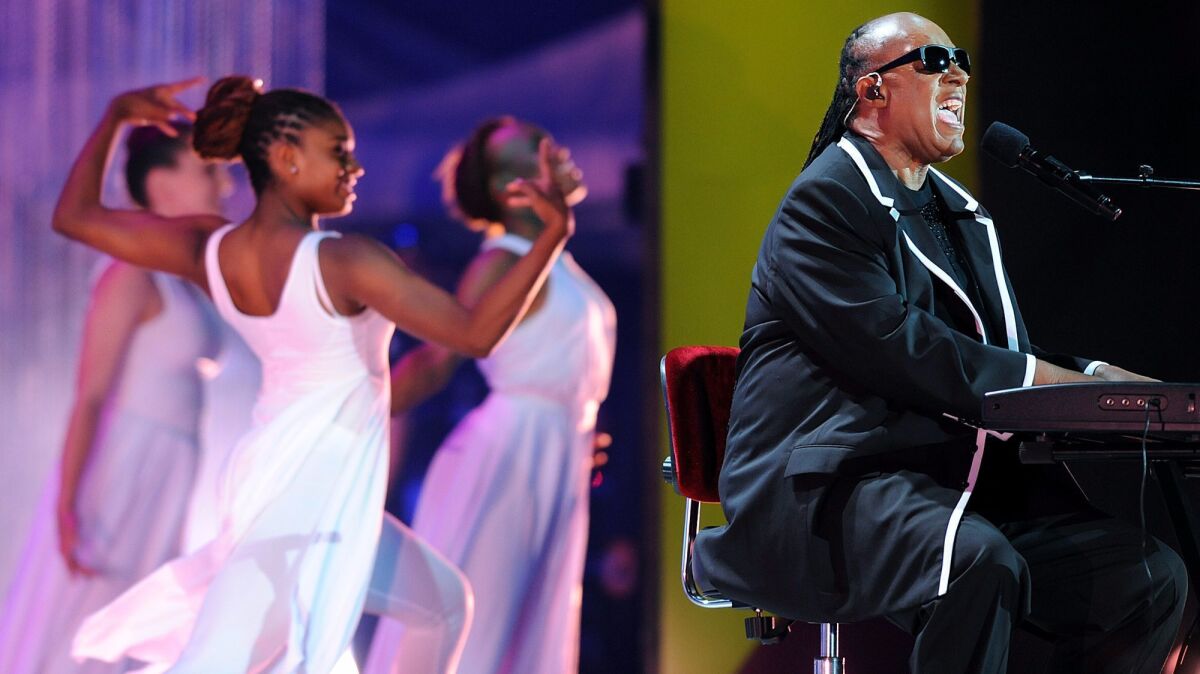 The Edison/Gourad cylinders are the oldest recordings among the 2016 inductees. The most recent, under the registry's requirements that recordings be at least 10 years old, is American soprano Renée Fleming's 1997 album, "Signatures."
In between are the first broadcast of National Public Radio's "All Things Considered" program and Don McLean's thumbnail history of American pop music, "American Pie" — both from 1971 — as well as soul singer Wilson Pickett's 1965 hit "In the Midnight Hour," Barbra Streisand's breakthrough 1964 single "People" and jazz great Sonny Rollins' 1956 album, "Saxophone Colossus."
In addition to works from the Eagles and N.W.A., comedian Richard Pryor's 1978 double album "Wanted: Live in Concert," which was recorded in Long Beach, adds to the Southern California connection of recordings going into the registry.
Others chosen from more than a century of sound recordings are Harry Richman's 1929 hit "Puttin' on the Ritz," "The Incredible Jazz Guitar of Wes Montgomery" album from 1960 and pianist Gunther Schuller's 1976 recording of ragtime composer Scott Joplin's opera "Treemonisha."
The 1975 original cast album from "The Wiz," folk singer Judy Collins' 1970 version of "Amazing Grace," the Chuck Wagon Gang's first recorded version of the gospel classic "I'll Fly Away" from 1948, art-rock quartet Talking Heads' 1980 album "Remain in Light" and the Robert Shaw Festival Singers' 1990 recording of Rachmaninoff's "Vespers (All Night Vigil)" round out the roster of elections to the registry.
"Each of the other selected songs you mentioned," Henley wrote, "has a special resonance in my life: Judy Garland's 'Over the Rainbow,' one of the greatest ballads ever written, is part of the childhood of every baby boomer (and pre-boomer, back to 1939). 'Hound Dog' (Elvis Presley's version) was the first rock & roll record I ever owned. 'I'll Fly Away' (Dillards' version on 'Wheatstraw Suite' LP) has always been a favorite and was sung at my mother's funeral. 'Amazing Grace' was one of my grandmother's most beloved hymns."
Referring to his Eagles bandmate Glenn Frey, who died last year, Henley added, "Glenn, being the avid sports fan that he was, would have been so pleased to know that our album went into the archives alongside Vin Scully's historic 1957 broadcast of the Brooklyn Dodgers-New York Giants game at the Polo Grounds, the last Dodgers-Giants game ever played there."
The registry was established under the National Recording Preservation Act of 2000, which charged the Librarian of Congress to single out 25 recordings each year to go into the registry, which represents a small part of the 3 million recordings archived in the library.
Nominations from the public help determine each year's list of inductees, and library officials said they are accepting ideas for next year's honorees at the registry's website.
Follow @RandyLewis2 on Twitter.com
For Classic Rock coverage, join us on Facebook
---
Your essential guide to the arts in L.A.
Get Carolina A. Miranda's weekly newsletter for what's happening, plus openings, critics' picks and more.
You may occasionally receive promotional content from the Los Angeles Times.