Appreciation: Linkin Park's Chester Bennington was a voice of reassurance from the dark
Bennington was close friends with Soundgarden frontman Chris Cornell, who took his own life in May. (July 21, 2017)
Pop Music Critic
Plenty of expected voices joined the online chorus lamenting the death of Linkin Park's Chester Bennington, who died Thursday at 41 of an apparent suicide.
There were tweets from some of the many bands, such as Imagine Dragons and You Me at Six, that drew inspiration from Linkin Park's blend of crunching heavy-metal guitars and sleek hip-hop rhythms. On Instagram, Fred Durst of the rap-rock group Limp Bizkit posted a picture of himself with Bennington captioned "Gonna miss you."
But Bennington's death also led to tributes from more surprising sources.
Director Joss Whedon said Linkin Park's album "A Thousand Suns" "got me through a horribly dark time." And Gabourey Sidibe, the actor known for her roles in "Empire" and "Precious," compared the news to "a kick in the chest."
"'My December' has pulled me through many times," she wrote on Twitter. "Depression is a real monster."
The outpouring suggested that, perhaps more than Linkin Park's influential sound, Bennington's real artistic legacy will be the message he put across — the reassurance he offered from the dark.
Linkin Park singer Chester Bennington photographed in North Hollywood, where they were rehearsing for an upcomng tour.
(Genaro Molina / Los Angeles Times )
Chester Bennington performs with Linkin Park at the Pond in Anaheim on Nov. 10, 2001.
(Christine Cotter / Los Angeles Times)
Chester Bennington, right, and the rest of Linkin Park -- Brad Delson, Joe Hahn, Mike Shinoda, Dave "Phoenix" Farrell and Rob Bourdon -- arrive at the MTV Video Music Awards in New York on Sept. 6, 2001.
(Suzanne Plunkett / Associated Press)
Linkin Park pauses for a photo at its rehearsal space in North Hollywood on May 27, 2004. From left: Mr. Hahn, Rob Bourdon, Brad Delson, Mike Shinoda, Phoenix and Chester Bennington.
(Damon Winter / Los Angeles Times)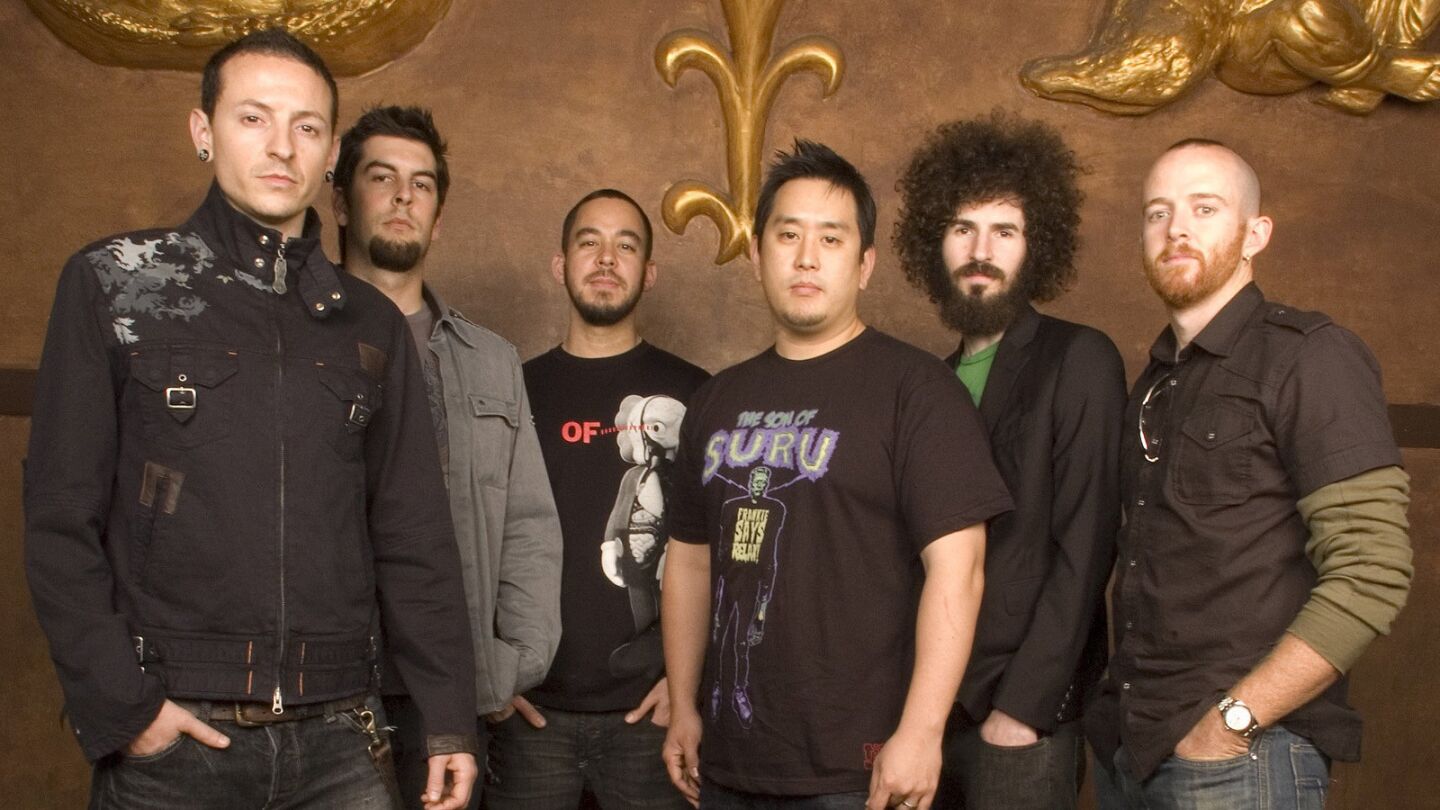 Linkin Park, from left, Chester Bennington, Ron Bourdon, Mike Shinoda, Joe Hahn, Brad Delson and Dave "Phoenix" Farrell, in New York on May 11, 2007.
(Jim Cooper / Associated Press)
Chester Bennington of Linkin Park performs at the Hallenstadion in Zurich, Switzerland, on June 11, 2007.
(Walter Bieri / Associated Press)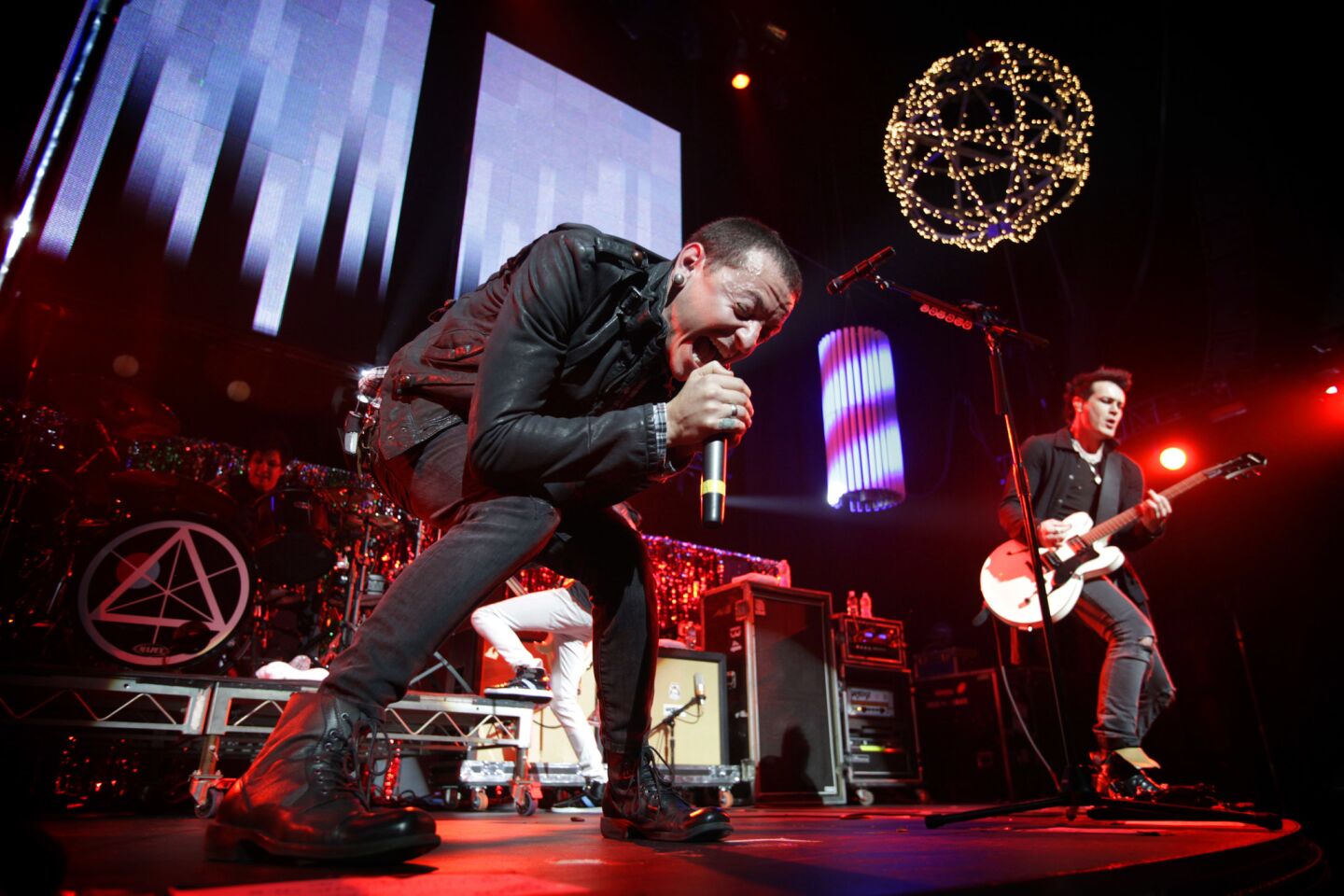 Chester Bennington, left, with his side project band Dead by Sunrise at KROQ's Almost Acoustic Christmas on Dec. 12, 2009.
(Barbara Davidson / Los Angeles Times)
Bennington fronts Linkin Park at Rock in Rio in Las Vegas on May 9, 2015.
(Luis Sinco / Los Angeles Times)
Chester Bennington, left, with Dean DeLeo of Stone Temple Pilots at KROQ's annual Weenie Roast at the Verizon Wireless Amphitheatre in Irvine on May 18, 2013.
(Lawrence K. Ho / Los Angeles Times)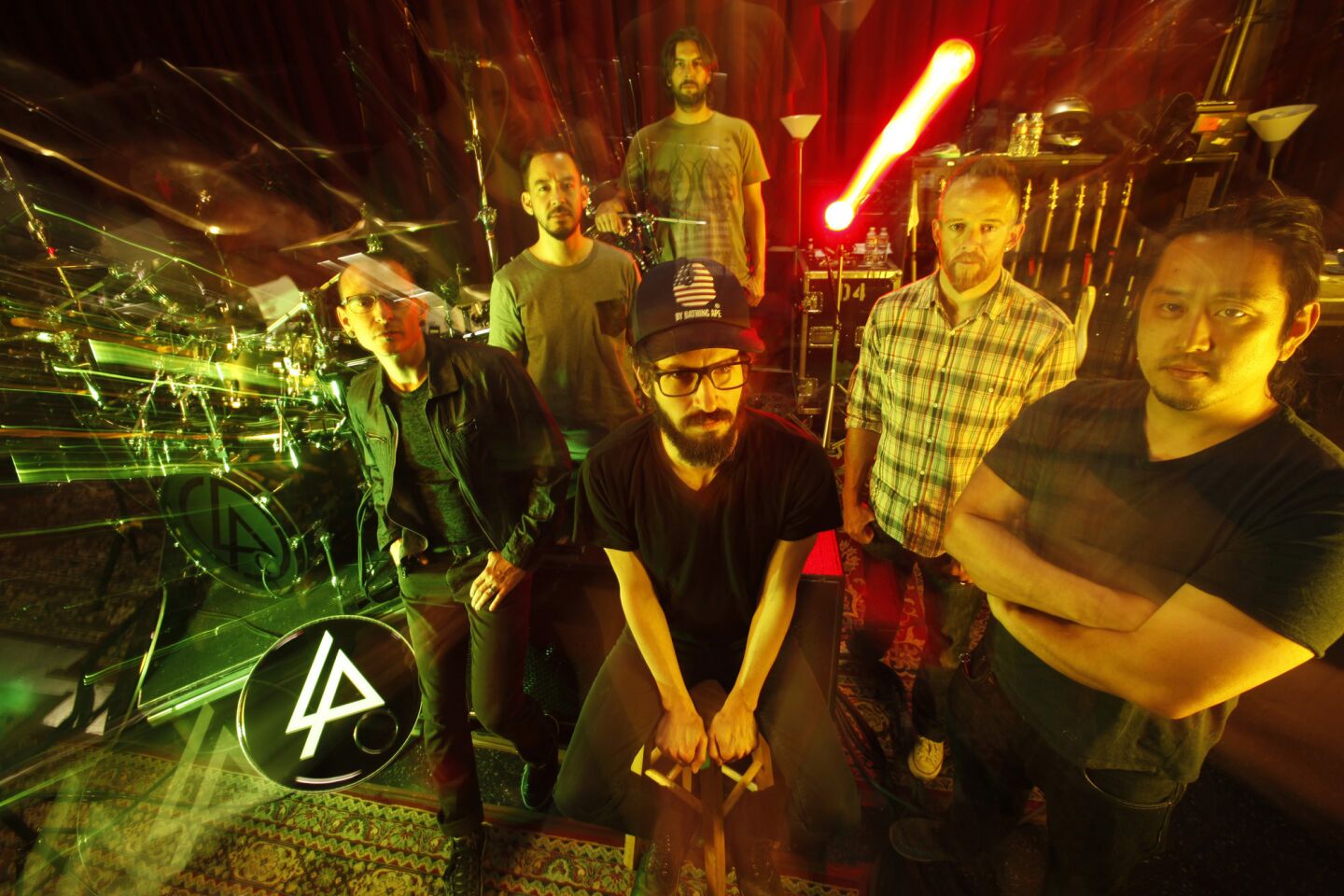 Linkin Park band members Chester Bennington, from left, Mike Shinoda, Rob Bourdon, in background, Brad Delson, in hat, Dave "Phoenix" Farrell and Joe Hahn in North Hollywood on May 15, 2014.
(Genaro Molina / Los Angeles Times)
Chester Bennington of Linkin Park onstage at the iHeartRadio Theater in Burbank on May 22, 2017.
(Rich Fury / Getty Images for iHeartMedia)
Chester Bennington, right, performs "Hallelujah" at the funeral for Chris Cornell at the Hollywood Forever cemetery on May 26, 2017, in Los Angeles.
(Chris Pizzello / Associated Press)
Chester Bennington performs with Linkin Park at the VOLT Festival in Sopron, Hungary, on June 27, 2017.
(Balazs Mohai / EPA)
Chester Bennington performs at the first edition of the Download Festival in Madrid on June 22, 2017.
(Kiko Huesca / EPA)
After all, the singer was a proud musical chameleon, setting his tormented lyrics — "There's something inside me that pulls beneath the surface," he sang in the band's hit "Crawling" — against a variety of styles and textures over the course of his career.
In addition to his work with Linkin Park — which blasted out of Southern California in 2000 with its smash debut, "Hybrid Theory" — Bennington fronted Dead by Sunrise, a grungier side project, and joined Stone Temple Pilots after that hard-rock band split with its original singer, Scott Weiland.
Even within his primary group, Bennington was always finding new ways to frame the anguish that for him (and his fans) seemed cleansing to express.
In the late 2000s and early 2010s, Linkin Park's music grew dreamier and more expansive, only to toughen up again with "The Hunting Party" from 2014. On the band's latest album, "One More Light" (which came out in May), Bennington shared songs with rappers Pusha T and Stormzy and the electro-pop singer Kiiara — yet another shift from an outfit that made a habit of them.
To some degree, of course, those stylistic moves reflected a keen commercial sense. Along with his Linkin Park bandmate Mike Shinoda, Bennington paid close attention to pop; the two were eager to adapt in order to stay in the conversation.
In 2004 the group collaborated with Jay-Z on a set of mash-ups, and it regularly recruited stars from the EDM world to remix its songs.
But that's no knock on the band's integrity: If Bennington's true mission as an artist was to shine a light on depression, what made people pay attention was his ability to craft a gripping piece of music. To listen now to much of the so-called nu-metal that Linkin Park helped birth is to hear too many bands that lacked Bennington's pop know-how (not to mention his tortured wail).
When I sat down with the singer a few years ago to discuss "The Hunting Party," he told me that Linkin Park had made such an aggressive record because it saw "a void" in the marketplace.
Listeners, he went on, were being "inundated with safety rock sold as edgy alternative music."
For all Linkin Park's success — and for all its determination to maintain it — the rawness of Bennington's vision never felt like a pose.
His death leaves behind a new void.
Twitter: @mikaelwood
ALSO
Dodgers organist pays tribute to Chester Bennington with pregame performance of Linkin Park's 'Numb'
---
Get our L.A. Goes Out newsletter, with the week's best events, to help you explore and experience our city.
You may occasionally receive promotional content from the Los Angeles Times.