Lukas Nelson, on his way to Stagecoach with Promise of the Real, talks Gaga, Neil Young and serendipity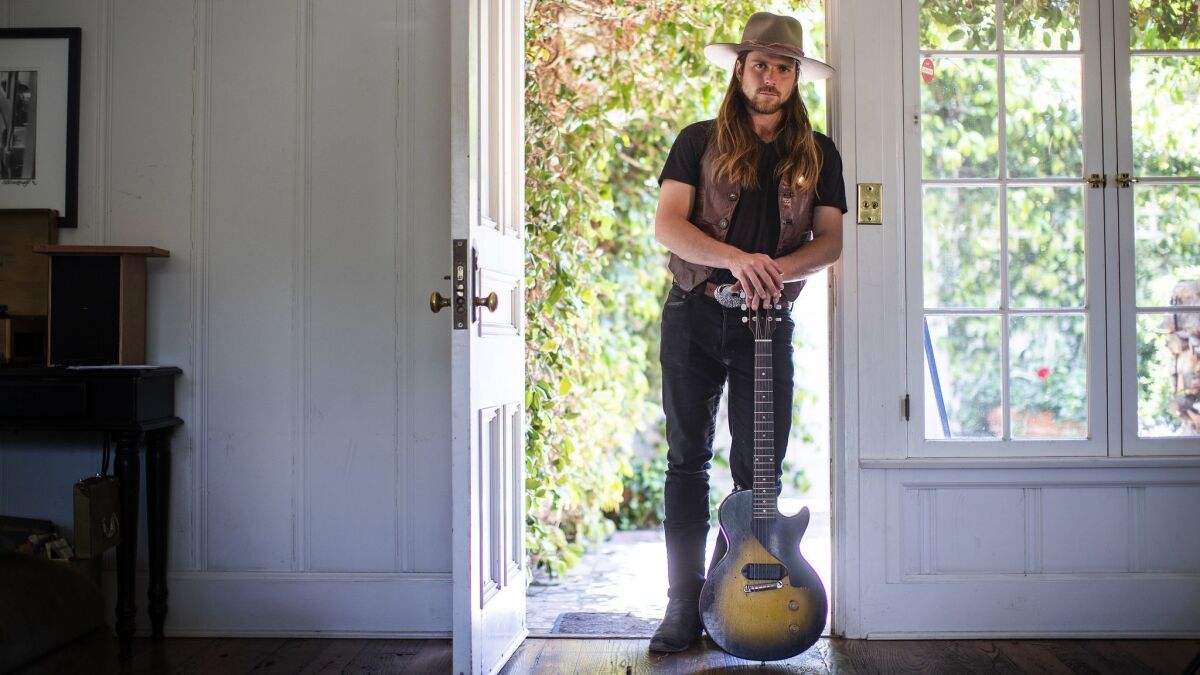 A young musician has to have a lot on his plate when he takes several minutes to run down his latest endeavors and forgets to mention that he and his group also just happen to be the latest backing band for one of rock music's biggest and most enduring stars.
"Oh, of course — Neil!" said 29-year-old guitarist, songwriter and singer Lukas Nelson.
That would be Neil Young, who drafted Nelson and his band, Promise of the Real, as his chief musical collaborators over the last few years.
They've toured with him, recorded his latest album, "The Visitor," and stepped up to the plate with him for one of the highlight performances of Desert Trip, the 2016 rock royalty blowout in Indio where Young was on the bill with Bob Dylan, the Rolling Stones, Paul McCartney, the Who and Roger Waters.
"There's so many things, it's hard to keep them straight," Nelson said sheepishly during a rare moment when he wasn't writing, performing or recording.
That moment wouldn't last long: After about 45 minutes talking with a visitor inside a West L.A. recording studio, he had to rush off to meet up with yet another high-profile musician, Lady Gaga.
They've become fast friends since working together in actor-director Bradley Cooper's new version of the oft-told entertainment world tale, "A Star Is Born," due later this year.
"Lukas has gone from an artist I respected and enjoyed to a dear friend and incredible collaborator and teacher," Cooper told The Times by email.
In addition, Nelson and Promise of the Real — which also includes multi-instrumentalist Jesse Siebenberg, bassist Corey McCormick, drummer Anthony LoGerfo and percussionist Tato Melgar — have a big show this weekend, performing Sunday at the Stagecoach Country Music Festival in Indio shortly ahead of the weekend's concluding set from Garth Brooks.
A few weeks later they'll be back onstage with Young headlining the Arroyo Seco Festival in Pasadena on June 23.
Nelson also is in the midst of working on a Promise of the Real EP he hopes to release in the coming weeks with some of the songs he didn't use on the album "Lukas Nelson & Promise of the Real," which was released in August.
It covered an impressively broad emotional and musical range, from the rock-gospel tone of the opening track "Set Me on a Cloud" and the rolling retro-folk of "Just Outside of Austin," to the rolling New Orleans stride of "Fool Me Once" and the sultry rock-funk of "Find Yourself" for which Lady Gaga supplied harmonies.
There's also buzz swirling around "Let Go of Your Plans," a duet he wrote and sang with Madison Ryann Ward on "My Next Guest Needs No Introduction With David Letterman," part of the same episode that featured rapper-mogul Jay-Z.
The Times is premiering the recording of their vocal collaboration:
Pegged for stardom
The spreadsheet-like intensity of his schedule sits just fine with this scion of country music titan Willie Nelson. For years, he has been pegged for stardom by those who have seen him, either sitting in with his famous dad's Family band; guesting (at age 20) with Dylan no less back in 2009 on tour with his father and John Mellencamp; and supporting Young or playing his own gigs.
If it weren't enough that he has echoes of his father's uniquely expressive, idiosyncratic vocal style (just listen to his version of his dad's song "Funny [How Time Slips Away]") and his gift for writing evocative portraits of real-life situations in song, Nelson also is blessed with movie-star looks and a facility with a guitar that has caught the ear of many of pop music's most respected figures.
"He's terrific," said Robbie Robertson, lead guitarist and chief songwriter for the Band, who was working the same day down the hall at the recording studio where Nelson paused briefly to talk. "And what a great guitar player."
Asked whether he's had a moment to breathe given all the activity, Nelson let loose a high-pitched, "Wellllll … that's a good question. " After a long pause, he continued, "You know, I have to be honest: No. But I don't want one.
"I meditate every morning," he said. "I do 20 minutes of meditation and I try to meditate in the evenings as well. That's my quiet time. I don't feel like I need much more than that.
"I've been spending my whole life trying to do this, and now that it's happening I don't want it to stop," he said. "I don't know if I ever will. I'm kinda like Dad. I've never spent three months without flying somewhere, driving somewhere or traveling in some way. I'm really used to moving, I don't need to stop. My life is set up for what I do."
The only surprise about the momentum that appears to be snowballing around him is why it took this long, especially for one with such heavy-hitter connections.
On that subject, he's as unruffled as his famously laid-back patriarch.
"I wasn't quite ready before," he said even-handedly. "It's the combination of the right team: the right management, the right label, the right agents, the right everything. It seems like at some point Malcolm Gladwell's 'Tipping Point' [principle] comes to mind.
"With the right persistence, with the right perseverance, and the right combination and foundation, eventually something's going to happen," Nelson said. "It's started to happen with that record [last year]. ...They were largely the same songs we put out before, it just has to be the right combination."
In fact, he and Promise of the Real have released three previous studio albums: "Promise of the Real" in 2010, "Wasted" in 2012 and "Something Real" two years ago, as well as two live recordings that exploited the band's passion for making music in the moment in front of an audience.
That's something he absorbed organically, both from his father and from Young, whom he has been around since his childhood, thanks to Young's long relationship with Willie Nelson (and Mellencamp) staging the annual Farm Aid benefit concerts. (In fact, Nelson said the Promise of the Real band name was inspired by a verse in Young's song "Walk On.")
"Out of everybody in the world that came from that era, Neil is the one who still has, to me, the greatest spark," Nelson said, reflecting on the surreal aspect of sharing a bill with a half-dozen of the most revered figures in rock music history at Desert Trip.
"He rocks harder than any of those guys — and those guys are rockers," Nelson said. "Roger Waters blew my mind, and Paul McCartney, with those songs, he blew my mind too. But we were the only band that jammed. Every other band had their parts that they had to do. And we were probably the only other band besides Dylan that doesn't use in-ear monitors.
"There's something to be said for that," he said. "That's the way Neil did it back in 1970 and that's the way he does it now. That's why, out of every artist [I knew], I told myself, 'This is who I want to emulate.' Because he's rock 'n' roll, he's a little country, he's got the songs — like Dad — but he also rocks super hard like Hendrix or the Stones or punk. He's not bound by anything. And that's what I want for myself as an artist."
'Trip' to screen
More people are likely to discover Nelson and POTR through their featured spot in "A Star Is Born," a role they landed after Cooper caught their Desert Trip performance with Young.
Cooper even arranged to shoot their scene with him onstage at the same Empire Polo Field site in Indio the following spring just before Willie Nelson performed last year at Stagecoach. It was an odd moment for festival-goers because it was all done strictly for film, and the fans on hand waiting for Nelson couldn't hear the music they were performing.
"Bradley is a musician," Nelson said. "In fact, that vocal take that he did into the microphone that we recorded, and that the audience couldn't hear, was the take that he used, I think, in the movie. It's fantastic. It was just a little weird for the [Stagecoach] audience."
In addition to the film forging his friendship with Lady Gaga — whom Nelson always refers to by her given name Stefani [Germanotta] — a musical relationship developed. She performed a guest vocal on "Find Yourself" and also collaborated on writing the song "The Cure," which Gaga released as a single following her latest album, "Joanne."
"There's a lot of serendipity that happens," he said. "Meeting Lady Gaga and having her sing background vocals on [our album] was just a natural occurrence. The last thing I want to do is to exploit that. I wasn't trying to make it a Lady Gaga-featured thing, I just wanted her voice on it because I think she's fantastic."
"A Star Is Born" isn't Nelson's only film experience slated for this year: Young brought them along to perform and appear in "Paradox," a new experimental film he stars in with his girlfriend, actress-director Daryl Hannah.
"It's Daryl's movie, but it's very Neil too," he said. "It's Shakey Pictures all the way," a reference to Young's film production company.
"It's not meant to blow anybody's minds in terms of cinematic quality," he said of the film, which is now streaming on Netflix. "We filmed it in two days. It's like an extended visual poem."
There's an inter-connective thread among many of his ventures, and Nelson knows it.
"It's almost like this cosmic wave that we've been riding," he said. "It's like a domino effect of beautiful things that happen when you prepare yourself the right way and take care of the opportunities that come your way. Opportunity knocks, but you have to open the door.
"And you have to be prepared for when those opportunities come. You have to be aware enough, focused enough to recognize the opportunities when they come and make the right decisions when they come.
"I feel like every minute of my life now I'm grateful for, and I have to work super hard in appreciation," he continued. "I have to take advantage of where I'm at right now. I'm young, I'm healthy, I can move. I have a lot of friends and I have a lot of people who want to hear the music. As long as that's the case, I'm going to keep going no matter what happens."
Follow @RandyLewis2 on Twitter.com
For Classic Rock coverage, join us on Facebook
---
Get our L.A. Goes Out newsletter, with the week's best events, to help you explore and experience our city.
You may occasionally receive promotional content from the Los Angeles Times.