Producer and DJ Matt Dike defined rap and underground in the 1980s. Then he walked away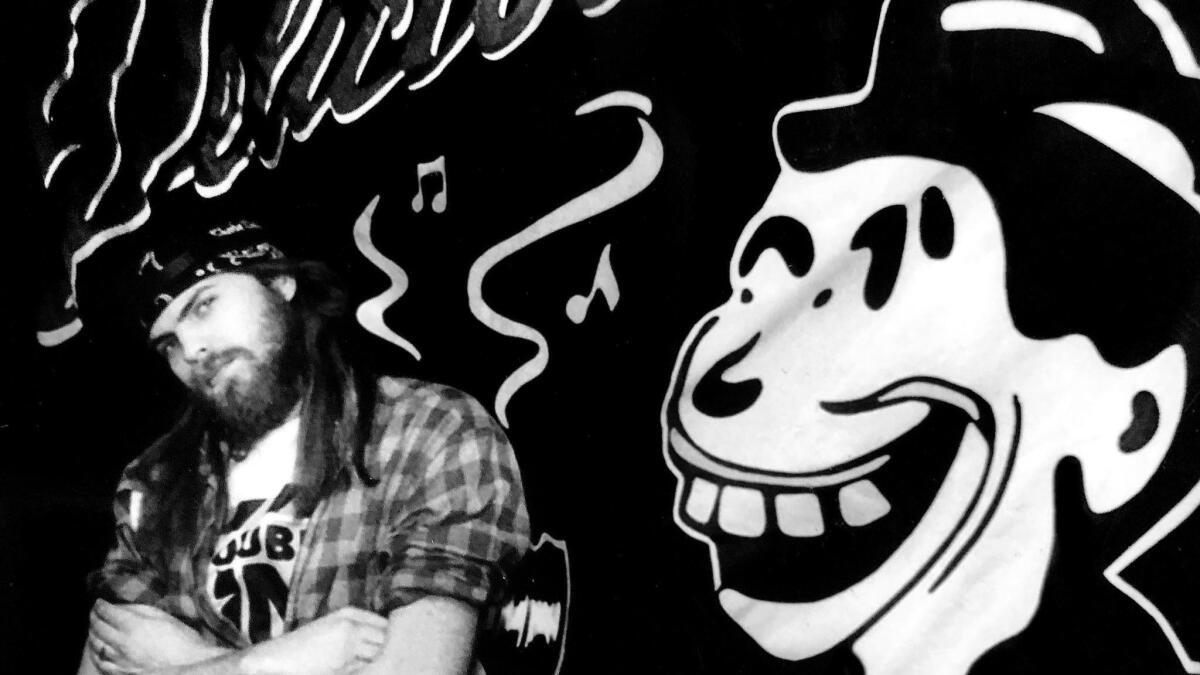 Though he was deliberately not a household name, the music that producer and DJ Matt Dike created, sampled and spun helped define both underground Los Angeles club culture and commercial rap music in the 1980s.
Dike, whose death in mid-January at 55 was announced last week through the label he co-founded, Delicious Vinyl, co-produced some of the biggest rap hits to come out of the West Coast in the late 1980s, including Tone Loc's "Wild Thing" and "Funky Cold Medina," and Young MC's "Bust a Move." His death was due to complications from salivary cancer.
Dike was a key figure in the creation of the Beastie Boys' seminal 1989 album, "Paul's Boutique," and helped create the sample-heavy mash-up style that connected rap, punk, arena rock, pop and disco.
The versatile, charismatic Dike at various points in his life was artist Jean-Michel Basquiat's roommate, L.A. club-land's hottest DJ, a record mogul and a music collector with a taste for art, hip-hop, rock and post-disco music.
Then, at the peak of his success after earning millions from Delicious Vinyl, Dike bought a mansion atop a hill in Echo Park and retreated completely from public life. For the next quarter-century, he led a nearly hermitic existence, surrounded by his collections, taking drugs, reaching out to friends via text message and telephone, cruising down the hill in his VW Beetle to Trader Joe's for supplies and returning home.
After his death, more than one of his friends compared Dike's long goodbye to a more famous recluse. "Matt was like the Howard Hughes of hip-hop," said Bob Forrest, formerly of L.A. post-punk band Thelonious Monster. "Where did he go? This guy invented something that is now a mainstream part of entertainment."
Dike packed a lot of action into his years on the L.A. scene.
Across a whirlwind decade that began when he moved from New York to Los Angeles in 1980, Dike's contributions were as diverse as remixing Aerosmith and collaborating with former Public Image Limited guitarist Keith Levene. He co-produced the first-ever track to diss N.W.A (Romeo and Master Rhyme's "Crackerjack") and served as a club DJ to Ice-T as the rapper-turned-actor was trying to bust into the scene.
"He was a guy who really immersed himself in whatever he was interested in," said writer Dan LeRoy, who wrote a book about "Paul's Boutique."
Dike's older brother, Lane, added: "Any time I got into something, he would go way deep into it — whether it was comic books or slot cars. And then he dove head-first into music, big-time."
In L.A., Dike and a few other promoters helped define the underground club scene in the 1980s. "Matt was at the center, and Matt was the coolest guy," Jon Sidel, his friend and former business partner, said. The two had befriended each other at an early '80s weekly club called the Rhythm Lounge on Melrose Avenue near Vine. The event counted as its master of ceremonies Ice-T.
When the late photographer Brad Branson, who had a mid-Wilshire studio in a former power tools shop, suggested a one-off party at his spot, Sidel and Dike said yes, and the Power Tools club night was born.
Power Tools was forced to move after the police shut down the illegal dance party, but after a period of rootlessness, it went legit at the Park Plaza Hotel in Westlake.
There, he and a friend, future Delicious Vinyl partner Mike Ross, and others deejayed massive gatherings, mixing disco, rock, R&B and rap records. In his sets, Dike would mix in his own rhythms, samples and personality into the tracks, in the process becoming a king of L.A. nightlife.
Said Delicious Vinyl's Ross: "Power Tools was Matt's musical palette, and Power Tools was also the place where Matt really started mixing it up."
At its peak in 1986, the event took over the Park Plaza on Saturdays and became a hub that connected A-list revelers such as David Bowie, Andy Warhol, Annie Lennox, David Geffen and members of bands including the Red Hot Chili Peppers and Jane's Addiction.
"He was the first stop on the vibe line when I touched down in L.A. back in the day," wrote Dante Ross, senior vice president of A&R for Asylum Records, who earned his early reputation at Tommy Boy Records, in an Instagram post.
Sidel said of Dike's skills as a DJ: "I've seen him drop 'God Save the Queen' by the Sex Pistols into a heated dance floor at midnight and 2,000 people go completely nuts. The guy was uncanny." One friend estimated that Dike's collection contained at least 40,000 records.
It wasn't just music: "We'd have projections and go-go dancers and bands and theme nights," Sidel said. They had a party for visual artist Keith Haring and another for the director John Waters, all through resources that Sidel describes as "a $500 budget and duct tape."
Dike was also an assistant at art dealer Larry Gogosian's famed Los Angeles gallery, where Dike forged a friendship with artist Basquiat after an early interaction in New York.
Matt Dike, mercurial co-founder of rap label Delicious Vinyl and collaborator on Beastie Boys' 'Paul's Boutique' »
Sound engineer and producer Mario Caldato Jr. recalled both Basquiat and "Yo! MTV Raps" host and graffiti artist Fab 5 Freddy crashing at Dike's place whenever in town. Dike ended up with a number of Basquiat paintings through that friendship, works that were among the mess of his Echo Park belongings after he died.
Caldato, who went on to be a frequent collaborator and touring member of the Beastie Boys, met Dike and Sidel at Power Tools on the night in 1986 that the Beastie Boys first performed in L.A. He didn't know of the group, but as they were going into their second song, the sound system crashed.
"I'm a sound guy, so I'm in the audience and I'm like, 'Whoa, that's lame.' These guys are onstage throwing mikes around, cursing," Caldato said.
Caldato pitched his services to Sidel and Dike and came on as the Power Tools sound guy, eventually joining Dike on his next adventure.
Dike and friend and business partner Mike Ross formed Delicious Vinyl in 1987. Originally based out of Dike's apartment, the two teamed with engineer Caldato to build a studio.
Then, recalled Ross, "we just started experimenting. Matt would be up in there sampling his records. We'd lay down tracks and then start recording vocals over it, just layering it. We learned, really, by trial and error."
Within about a year they'd earned their first national hit through a collaboration with rapper Tone Loc. Called "Wild Thing," it sold 2 million copies and set the stage for the label's quick rise. Dike, Ross and a young production team consisting of John King and Michael Simpson, who shared a radio show at Claremont McKenna College, produced the tracks on the album.
Through those hits, Dike, King and Simpson hooked up with the Beastie Boys, who were trying to figure out how to follow up their smash debut album, "Licensed to Ill." Accounts differ on the genesis of the "Paul's Boutique" collaboration.
Caldato Jr. recalled sending the band some demos in the mail, the Beastie Boys loving them and heading west.
In an email, the Dust Brothers' King cites a moment when he, Dike and fellow Brother Simpson ensnared visiting Beastie Boy Mike Diamond.
"Mike D stopped by, I presumed because of Power Tools, and because everyone seemed to get in touch with Matt to find out what was going down in town," King writes. "Matt had a tape of songs Mike Simpson and I (and sometimes Matt) had been working on to be a 'Dust Brothers Album,' which he slyly started playing as background music on a ghetto blaster."
Diamond noticed the music and asked what it was. According to King, they told him "it was just something we were working on, [and] Mike D asked 'Can I buy this?'"
The Beastie Boys holed up with Dike, Caldato and the Dust Brothers, mostly in Dike's studio, and came out with "Paul's Boutique."
The smooth opening sample on the album, of jazz drummer Idris Muhammad's "Loran's Dance," came from Dike's collection, and the humming tones suggested a new direction forward.
"It was the perfect point of departure for hip-hop at that juncture — a moment where sampling styles were changing, and the bombast of Public Enemy's production team the Bomb Squad was giving way to something more minimal," said music historian, collector and Madlib's manager Eothen Alapatt of Now-Again Records. "Matt was part of that mission statement, and for that alone he'll always be an important member of the hip-hop canon."
Dike, however, was uninterested in chasing mainstream success. Friends say his alienation with the music business was peaking as he started experimenting with drugs.
We achieved this thing that we wanted to do, and we were doing it. And then, all of the sudden, it was over, as far as having his energy and his partnership.
— Mike Ross
In his frustration, Dike developed a heroin addiction that would tether him for the rest of his life. Ross experienced Dike's gradual decline firsthand: "It was tough for me, because he was my best friend, he was my partner, we built this thing together. We achieved this thing that we wanted to do, and we were doing it. And then, all of the sudden, it was over, as far as having his energy and his partnership with me."
It didn't help, adds his brother, that Dike lived with pain caused by scoliosis.
At one point Sidel, who was also experimenting with drugs, confronted Dike about his choices. "I was like, 'Dude, what are you doing? You've got all these hit records and you've got this house you don't even live in' — he had bought this killer house, he never fixed it up and he was still in his apartment."
Eventually Dike moved in and stayed. Over the years, Dike's family and friends repeatedly tried to get him into rehab. According to Forrest, who in addition to singing for Thelonious Monster has been an addiction advocate on the series "Celebrity Rehab," Dike's desire for isolation fueled his addiction.
Forrest notes that even during these efforts, "anything he put his mind on he would have an interesting take on."
Those rare few whose calls or texts Dike returned describe a striking conversationalist even during his years of solitude. Like the Jorge Luis Borges character in "Funes the Memorious," Dike served as a kind of "solitary and lucid spectator of a multi-form world" who could recall in vivid detail his experiences.
The drugs, said Ross, seemed to encase his memories in amber. Still, Dike was circumspect about his lot. At one point late in life he asked Forrest a rhetorical question: "Do you know what's the worst thing for a drug addict?"
Forrest said he could think of a few, and asked for Dike's answer.
Replied Dike: "Unlimited resources."
For tips, records, snapshots and stories on Los Angeles music culture, follow Randall Roberts on Twitter and Instagram: @liledit. Email: randall.roberts@latimes.com.
Get our L.A. Goes Out newsletter, with the week's best events, to help you explore and experience our city.
You may occasionally receive promotional content from the Los Angeles Times.