Michael Jackson biopic coming to Lifetime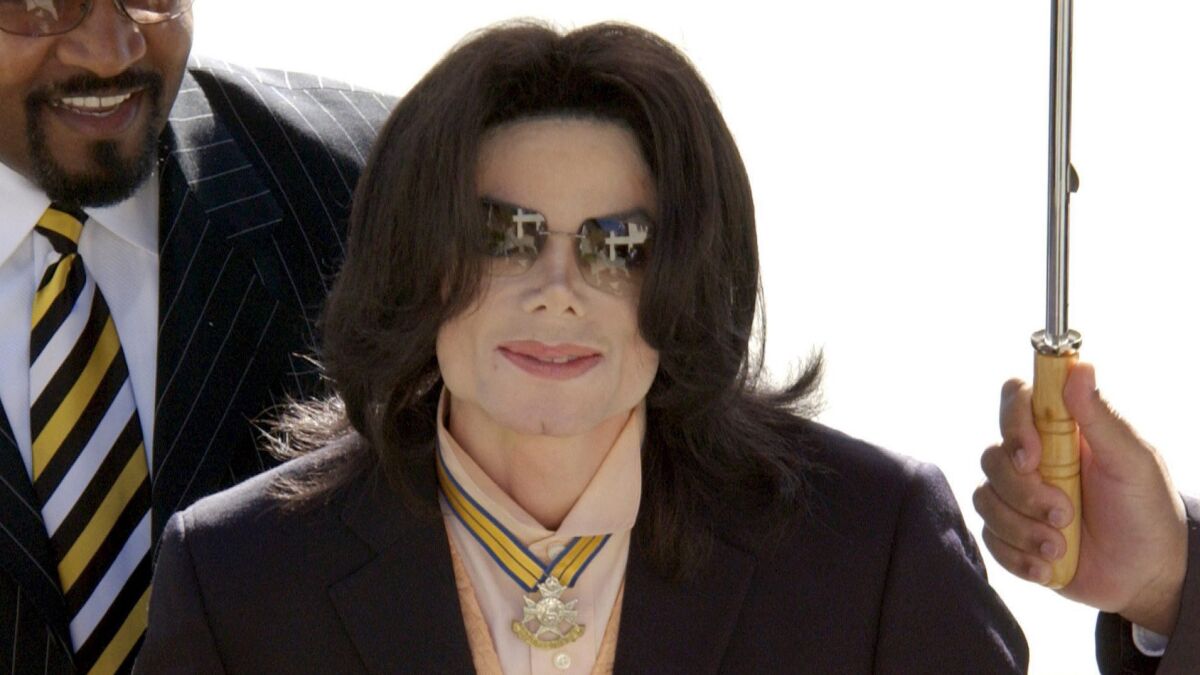 The same day a British television network nixed plans to air a dramatized depiction of a wild urban legend about Michael Jackson following a backlash, Lifetime announced it is prepping a biopic on the late King of Pop.
Based on a 2014 book from two of Jackson's personal security guards, "Michael Jackson: Searching for Neverland" (the film's working title) will trace the singer's final years.
Currently in pre-production, the film will begin shooting in Los Angeles in February.
"Searching for Neverland" is told through the lens of Bill Whitfield and Javon Beard, who worked as Jackson's bodyguards.
Whitfield, a former cop and veteran of the security profession, and Beard, a rookie to the world of personal security, coauthored "Remember the Time: Protecting Michael Jackson in His Final Days." The book is about Jackson's years moving from city to city with his three children in order to find refuge from the public eye following an acquittal of child sexual abuse in 2005.
See the most-read stories in Entertainment this hour >> »
Whitfield and Beard's firsthand account detailed the extreme measures they took to protect Jackson and his family, their times of solace and the singer's ill-fated "This Is It" London residency (the superstar was rehearsing for the comeback shows when he died at age 50 in 2009).
Navi, who bills himself as the "World's No. 1" Michael Jackson tribute artist, will make his acting debut in the film alongside Chad L. Coleman ("The Walking Dead") as Whitfield.
Lifetime has had a complicated history with celebrity biopics.
A film based on the life of beloved R&B ingenue Aaliyah was marred with controversy, and the network was derided over films based on tragic Hollywood stars Anna Nicole Smith and Brittany Murphy. However, biopics on Toni Braxton and Whitney Houston debuted with less controversy and were far better received. In February, the network will debut "Britney Ever After," which will tackle the highs and lows of Britney Spears.
News of the Jackson biopic comes as British television channel Sky Arts announced its decision not to air an episode of its "Urban Myths" series following widespread outrage.
The series planned to air a comedic take on the legend of Jackson, Elizabeth Taylor and Marlon Brando driving from New York to Ohio in the aftermath of the 9/11 terrorist attacks. The three took turns driving a modest rental car, with Brando supposedly annoying Jackson and Taylor because he forced them to stop at every KFC and Burger King they passed along the highway.
When the half-hour road trip comedy was announced last year, there was immediate backlash over the casting of white British actor Joseph Fiennes as Jackson. Sky Arts defended the decision, and Fiennes responded to the outcry by cheekily remarking that Jackson "was probably closer to my color than his original color."
Fan reaction to the episode's first trailer, released earlier this week, was quite unkind. Jackson's daughter, Paris, stated that the project was "shameful" and made her sick to her stomach, and the derision on social media was unwavering.
This wasn't the first time a Jackson biopic was met with mockery over casting. To wit: 2004's spiritual sequel to ABC's landmark 1992 miniseries on the Jackson family, "Man in the Mirror: The Michael Jackson Story," which debuted on VH1 with Flex Alexander in the starring role. Alexander's portrayal and unflattering makeup were met with backlash, and a dozen years after its release it has become the source of social media memes.
"Michael Jackson: Searching for Neverland" will be produced by Suzanne de Passe, who worked on the '92 ABC miniseries, with Madison Jones and Robert Teitel. Dianne Houston is directing a script from Elizabeth Hunter ("Beauty Shop").
Jackson's life, specifically his final weeks, is also slated to be the subject of a television series in development with Warner Bros. That project is based on Tavis Smiley's 2016 book, "Before You Judge Me: The Triumph and Tragedy of Michael Jackson's Last Days," which recounted the final 16 weeks of the entertainer's life.
For more music news follow me on Twitter:@GerrickKennedy
ALSO
Prince Michael Jackson can't sing or dance. How he's still following in his father's footsteps
New anti-Trump compilation enlists indie-rock luminaries
Fleetwood Mac's Christine McVie and Lindsey Buckingham talk about making their first duet album
---
Your essential guide to the arts in L.A.
Get Carolina A. Miranda's weekly newsletter for what's happening, plus openings, critics' picks and more.
You may occasionally receive promotional content from the Los Angeles Times.