The Monkees celebrate 50th anniversary by teaming with modern pop luminaries for a new album
When the TV series "The Monkees" premiered on Sept. 12, 1966, by all rights it should have been nothing more than a effervescent bubble on the face of pop culture —something to be enjoyed now, because surely it would burst and quickly vanish.
Half a century later, many key players in that strictly-of-the-moment enterprise are as amazed as anyone that the Monkees, once derisively nicknamed "The Pre-Fab Four," live on in 2016.
On May 27, the first Monkees album with new material in 20 years will be released by Rhino Records. Called "Good Times!," the album bridges the group's five-decade lifespan with newly completed tracks from the Monkees' original heyday along with songs recently written and recorded expressly for the 50th anniversary.
Two of the group's three surviving members — Micky Dolenz and Peter Tork — launched a still-expanding world tour on Wednesday in Fort Myers, Fla., and the band returns to Los Angeles for a homecoming show Sept. 16 at the Pantages Theatre.
"It's stunning to be part of a project that 50 years later is having a significant resurgence," Tork, 74, recently said from his home in Connecticut.
"I don't know how significant it will turn out to be, but it's certainly the biggest tour we've been on in the last 10 years, including the times Davy [Jones] was still with us."
Although Jones died in 2012 at age 66 of coronary artery disease, he is represented on the new album in "Love to Love," a song written by Neil Diamond. Period recordings from 1966 and '67 were recently updated with "a little color here and there," Tork said.
In a demonstration of the Monkees' influence on subsequent generations, the album also includes songs written for them by a number of modern rock favorites, including Weezer's Rivers Cuomo, Oasis' Noel Gallagher, Death Cab for Cutie's Benjamin Gibbard and the album's producer, Fountains of Wayne bassist-songwriter Adam Schlesinger.
"Everyone knows at this point that the Monkees had some of the greatest songwriters in the world writing for them," said Schlesinger, 48, who was born the year the TV show began its second and final season. "Personally, it's an honor to be on that list.
"We got amazing submissions from a lot of great writers. It was hard to even choose which ones to go with. I think everybody likes the idea of writing for the Monkees. It's a very freeing assignment in a way, because it's just about writing something catchy and fun."
The then-and-now idea for the new album came from conversations between Dolenz and their manager and tour producer of recent years, Andrew Sandoval.
Having looked together through unfinished material in the vaults — "not a few, but literally dozens of tracks," Sandoval said — they chose several they thought represented the best unreleased songs to finish.
When Schlesinger came aboard to produce, "fortunately he pretty much agreed with the ones we liked."
For all the fun the participants had working on the new album ("It was a blast," Schlesinger said, "probably the most fun I've ever had making a record"), Dolenz, 71, conceded to being emotionally overwhelmed while working on the title track, which was written by Harry Nilsson, the songwriter whose own career was launched by the Monkees' decision to record his song "Cuddly Toy."
Working on a newly created duet that includes the voice of his friend, who died at age 52 in 1994, "I had to stop and take a break a couple of times," said Dolenz at a West Los Angeles television studio where he'd just taped a morning show appearance. "Hearing his voice in the headphones and singing with him all these years later, it really got to me."
The new version is built on the original demo recording that Nilsson made in 1967.
Later, he and Dolenz became particularly close, and were notorious Hollywood partygoers. In the 2010 documentary "Who Is Harry Nilsson (And Why is Everybody Talkin' About Him)?," Dolenz recalls Nilsson showing up at his house, inviting him to lunch, "and three days later I'd wake up and we would be in some massage parlor in Phoenix."
To further commemorate the band's anniversary, a newly remastered edition of the Monkees' two-season prime-time run will be released on Blu-ray in June.
For a network situation comedy, "The Monkees" generated a lot of ripples through pop culture.
Show creators Bert Schneider and Bob Rafelson also cooked up unconventional techniques for shooting the show's obligatory musical numbers. They were invigorated with quick cuts, off-kilter camera angles and general absurdity, which proved influential when music videos began to flood the airwaves with the birth of MTV.
Part of the ongoing appeal of the show, from Dolenz's perspective, is that "We were never an American version of the Beatles," as the Monkees were often described at the time. "We were four guys who wanted to be the Beatles."
Rafelson, who went on to direct and produce such counterculture classics as "Easy Rider" and "Five Easy Pieces," bristled over the years at suggestions that "The Monkees" was inspired by the Beatles and "A Hard Day's Night."
"This was a show I had written six years before the Beatles existed, and the pilot was based on my own life as an itinerant musician when I was 17 years old," Rafelson told The Times in 2012, shortly after Jones' death.
"What the Beatles did was to create a kind of permission for any rock 'n' roll to be a popular subject for television."
Likewise, Dolenz pointed out that in 1965, when screen tests were underway to find cast members for the show that would become "The Monkees," "I shot four pilots that year, all music projects. One was about a folk trio modeled on Peter, Paul and Mary, one was about a surf band like the Beach Boys, the other was about a big folk group like the New Christy Minstrels."
But when the Beatles arrived, "They just swamped pop culture," Tork said, and thus the pilot hewing closest to the Beatles blueprint was the one green-lighted for production.
The show — and its songs — were hits almost immediately. The Monkees' debut single, "Last Train to Clarksville," shot to No.1 on the Billboard Hot 100 and was quickly followed by another chart-topper, "I'm a Believer." The group scored seven more top 20 hits over the next 18 months and sold more albums and singles in 1967 than the Beatles or the Rolling Stones.
But the Monkees felt wrath from some quarters of the rock music world that treated the whole enterprise as some sort of con game, a subterfuge that undermined notions of musical integrity.
"Some people are very serious about their rock music," Dolenz said, adopting an Eastern European accent. "There vill be no joking around!"
Band member Michael Nesmith led a rebellion against music impresario Don Kirshner, who oversaw their early recordings and kept his hand on the pipeline of pop songs flowing to the Monkees from then-little-known writers including Nilsson, Diamond and, most frequently, Tommy Boyce and Bobby Hart.
Over the years, "the smart Monkee" has emphasized that he wasn't objecting to either the quality of songs or the level of musical support they got from the studio pros, but to the illusion the show's creators tried to maintain by crediting only Jones, Dolenz, Tork and himself on the album covers.
His showdown with Kirshner — during which he put his fist through a wall in the office building they were in — led to the quartet's being granted autonomy, and their third album, "Headquarters," was the product of just the four Monkees.
It was a virtually unprecedented display of artistic independence, yet one that still hasn't earned the Monkees sufficient respect, in the eyes of some, to win them a spot in the Rock and Roll Hall of Fame.
And to the members of the group, it seemed a strange, and unnecessarily divisive, subject.
"People would ask us about the band, and I always said, 'What band?' It's a TV show!" Dolenz said. "I was an actor, and I was hired to play a role, and that's what I did. Now I'm getting ready to play that role again, and I'm delighted to do it — like a revival of 'Fiddler on the Roof' or 'Oklahoma!'"
Nesmith, who carved out a successful solo career in the 1970s and '80s and became a pioneering video producer and entrepreneur, won't be joining his old bandmates, at least not on a regular basis.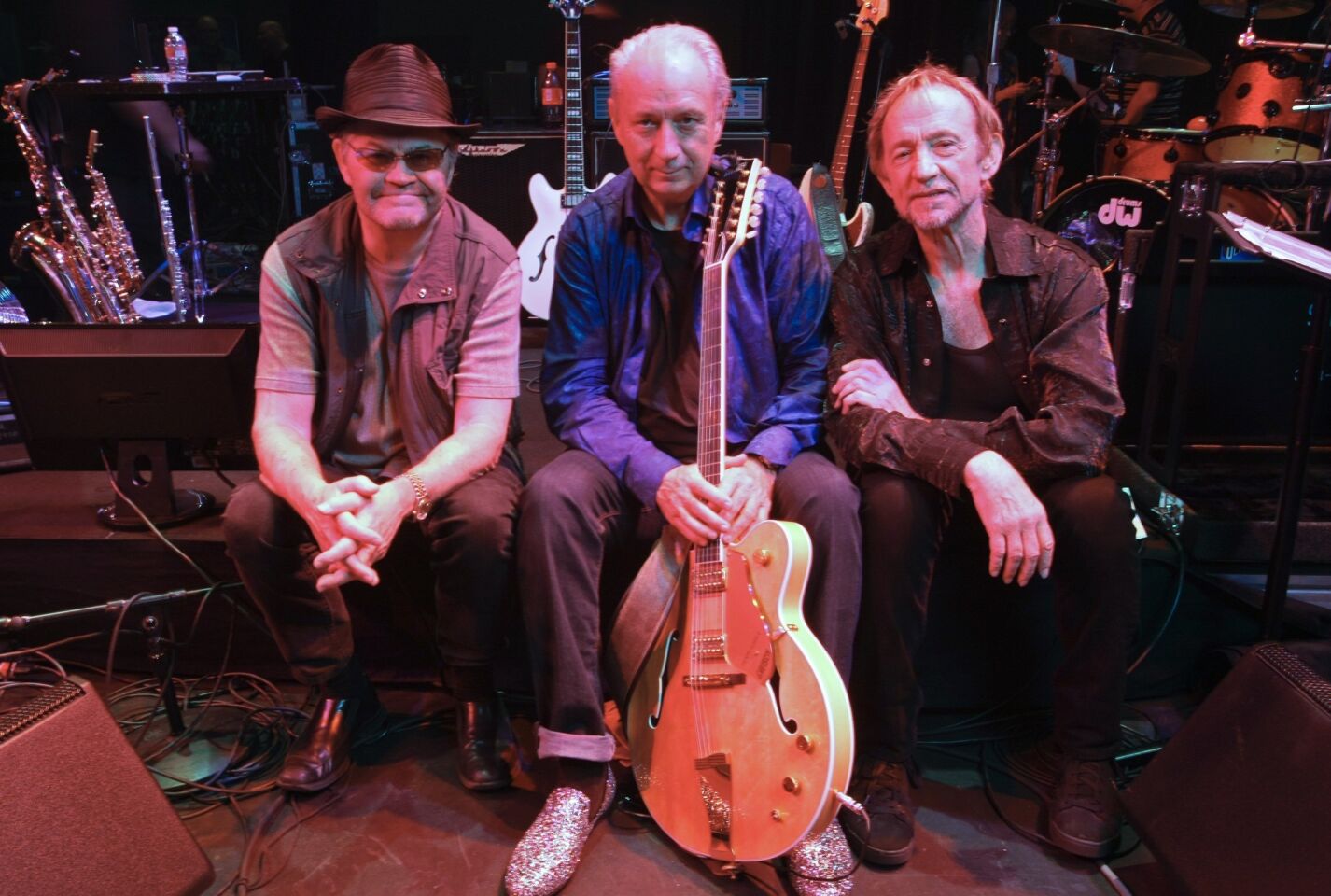 Micky Dolenz, Mike Nesmith and Peter Tork after a rehearsal concert kicking off their 2012 reunion tour.
(Don Bartletti / Los Angeles Times)
Mike Nesmith and Micky Dolenz.
(Don Bartletti / Los Angeles Times)
Peter Tork of the Monkees during a rehearsal concert.
(Don Bartletti / Los Angeles Times)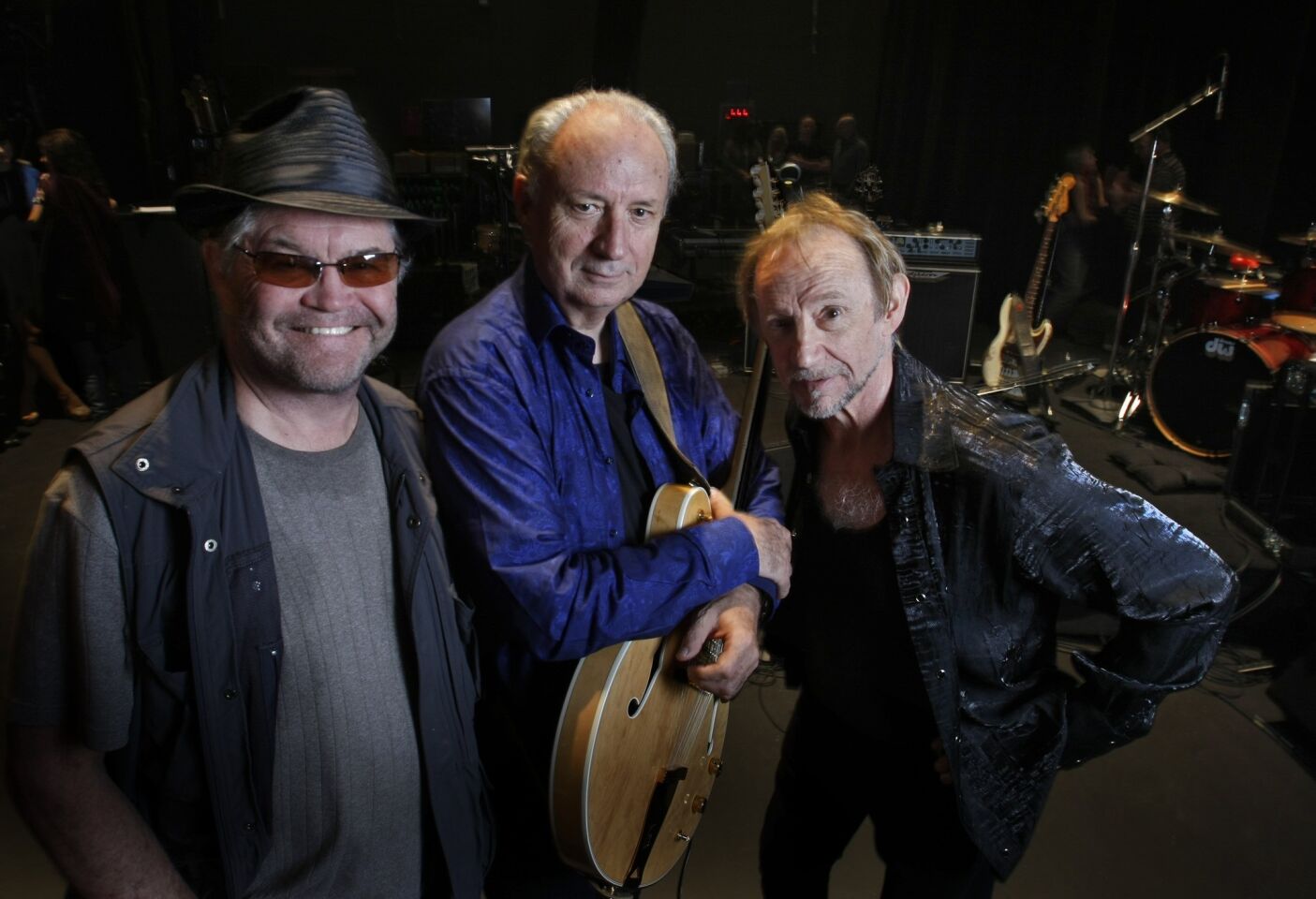 Monkees band members Micky Dolenz, Mike Nesmith and Peter Tork after a rehearsal concert at the California Center for the Arts in Escondido
(Don Bartletti / Los Angeles Times)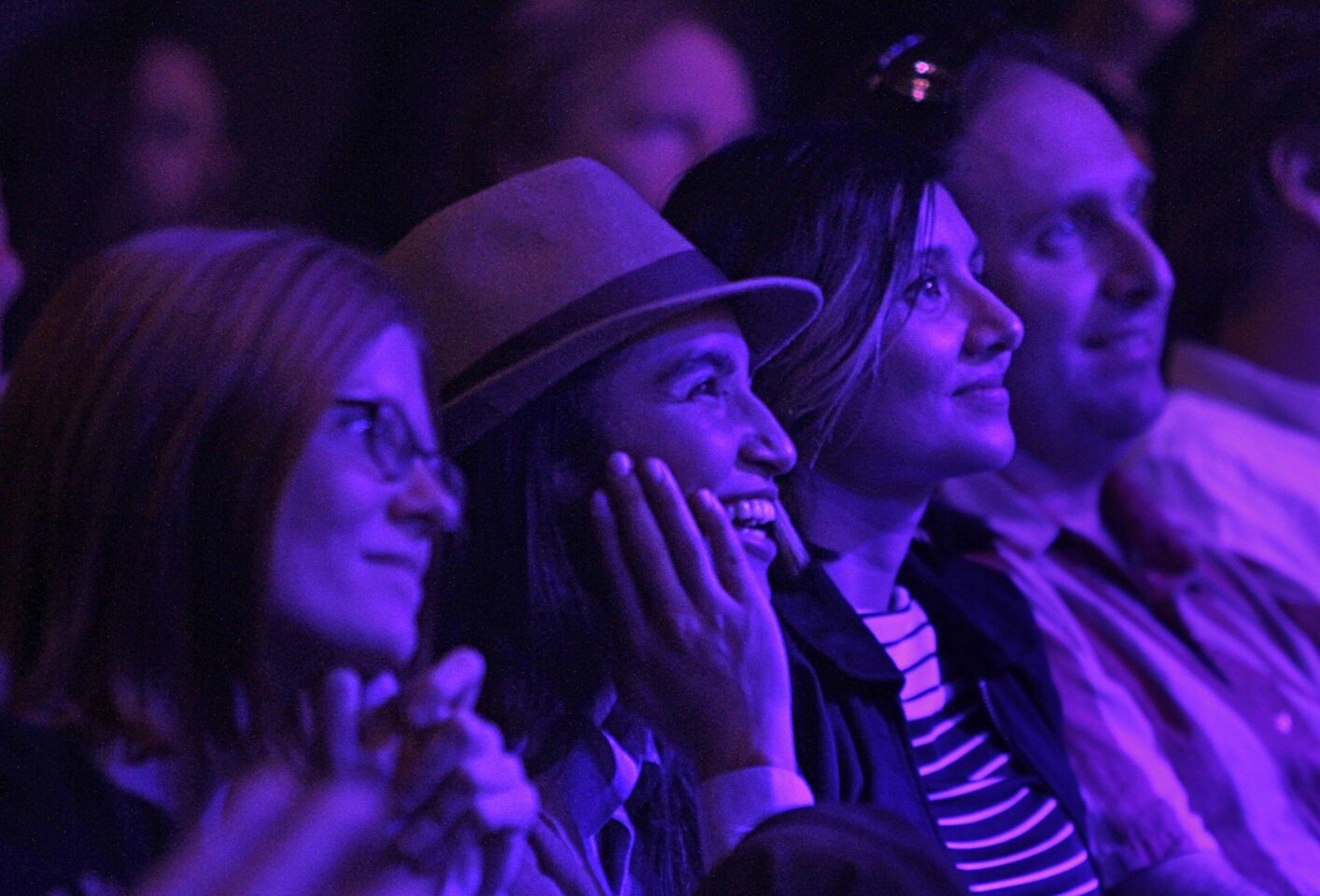 Fans watch the 1960s-era Monkees rock band during a rehearsal concert.
(Don Bartletti / Los Angeles Times)
Mike Nesmith, Micky Dolenz and Peter Tork perform a rehearsal concert
(Don Bartletti / Los Angeles Times)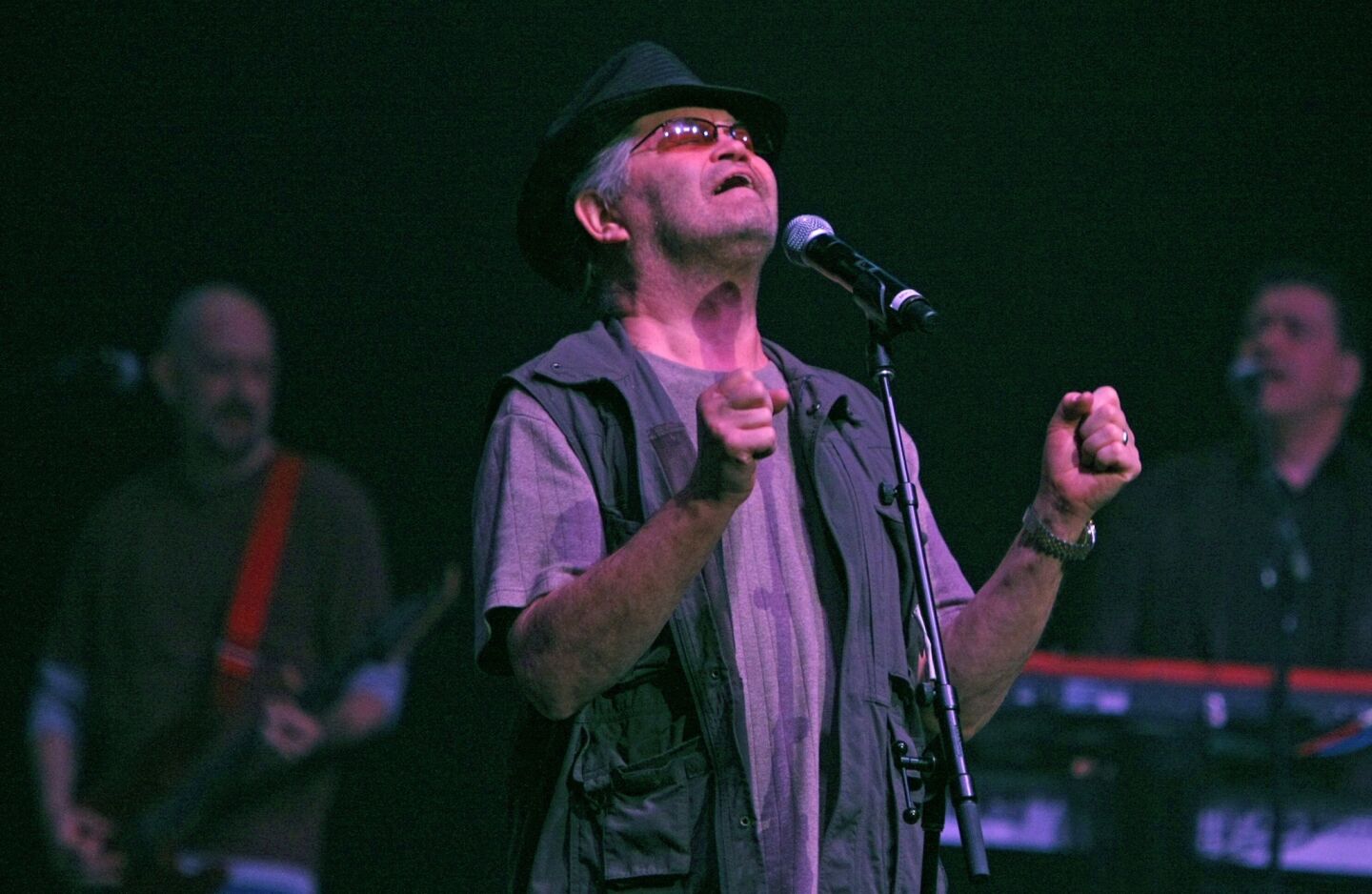 Micky Dolenz of the Monkees during a rehearsal.
(Don Bartletti / Los Angeles Times)
Mike Nesmith during rehearsal.
(Don Bartletti / Los Angeles Times)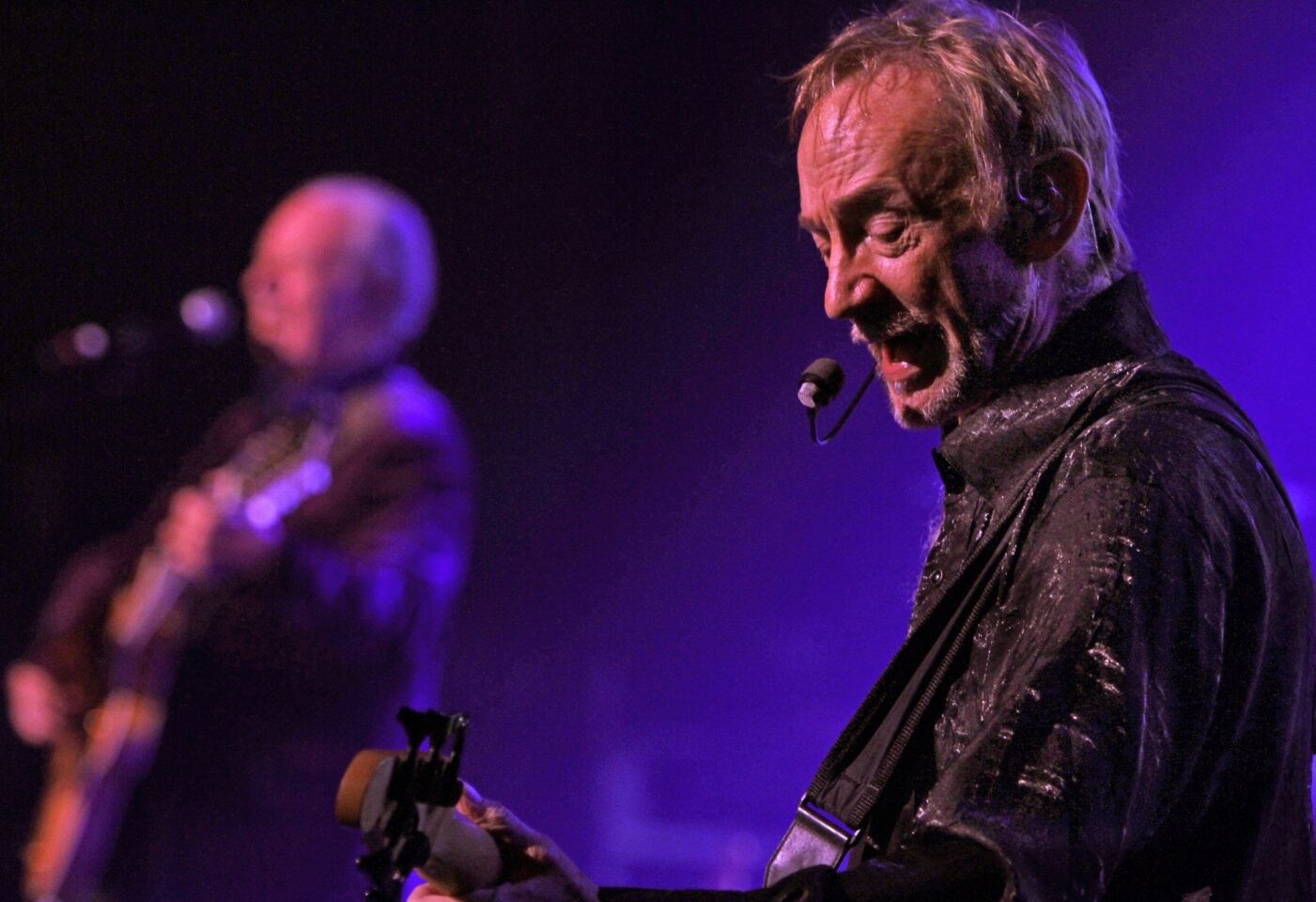 "Of course we miss Davy," Tork, 68, said, "and it's sad to be playing without him. But when Davy, Micky and I were touring, it was sad to play without Mike."
(Don Bartletti / Los Angeles Times)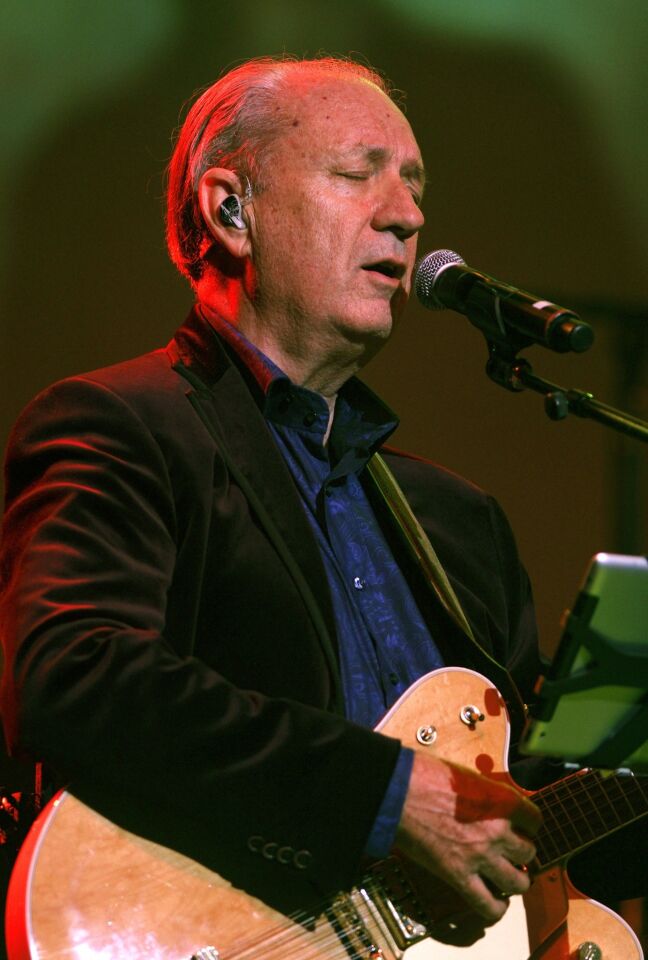 Mike Nesmith of the Monkees rehearses.
(Don Bartletti / Los Angeles Times)
He last toured with them in 2014 but currently iswrapped up writing a book. On his Facebook page, he has wished his on-and-off bandmates well, suggesting he might join them on selected tour stops.
Said Dolenz with a smile, "We'll see what happens. It's kind of like waiting on our Neil Young. We'll have him represented in the show because of all the film footage we use. And that lets us have Davy in it as well."
And what do the Monkees represent long after they proudly sang "We're the young generation, and we've got something to say"?
"I think everybody has a soft spot for the Monkees," said Schlesinger. "They're not specific to one generation, which is why this record had a nice aura around it from the beginning. For me, it's really the music. Not that the show doesn't hold up, but the music really holds up. It's a cliché, but it really is a band for all ages."
Twitter: @RandyLewis2
ALSO:
Weezer's Rivers Cuomo is getting 'comeback' fatigue
Tom Petty and Mudcrutch will play Midnight Mission benefit shows May 23 and 24
Review: Bob Dylan returns to the Great American Songbook in 'Fallen Angels'
Passionate response to cracks that music legends are too old to rock Desert Trip mega-concert
---
Get our L.A. Goes Out newsletter, with the week's best events, to help you explore and experience our city.
You may occasionally receive promotional content from the Los Angeles Times.