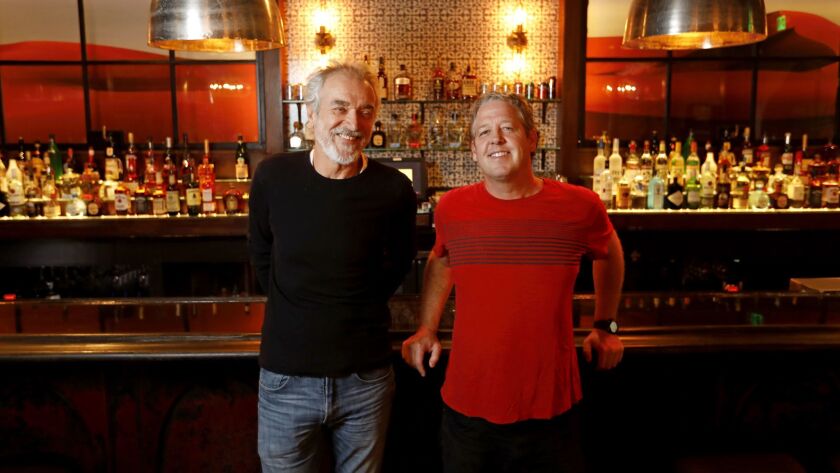 A lot of bars have passed through 901 E. 1st St., now home to the Moroccan Lounge at the edge of Little Tokyo and the Arts District.
Old-guard downtown music fans will recall the rowdy Little Pedro's, with sets from the beloved octogenarian blues singer Mickey Champion.
Afterward came the crimson-hued Bordello, then One Eyed Gypsy, then the relatively swank restaurant Osso. (Before all that, it was a Bukowski-ish cop bar with an allegedly tawdry brothel past).
But the Moroccan Lounge may finally be the venue that sticks.
The new indie music club, which opens this month, is the second L.A. outpost from the team behind the Teragram Ballroom, the popular midsize concert venue just over the 110 freeway in Westlake.
The Moroccan Lounge is half the size of the Teragram — a 275-person capacity puts it just under the Echo. But it helps to lay the groundwork for an ecosystem of local and independent music venues that could have a sizable impact on L.A. music.
"It was always important to have a 300-cap venue where the newest of new bands could grow," said Moroccan Lounge co-owner Michael Swier. (Swier also runs two popular New York venues, the Bowery Ballroom and the Mercury Lounge.)
Swier, with partner Joe Baxley, had his eye on a second, smaller downtown venue for a year, as a complement to the Teragram. The goal was to find a space in which they could cultivate talent in a neighborhood-level setting. With the Moroccan Lounge, they might have found it.
On its soft-opening night Sept. 12, local rock-scene luminaries filled the venue's dual rooms to capacity. The Moorish features of the renovated building were subtle — delicate wrought iron windows, arched entrances and moody tile work.
While the Teragram is more of a big-occasion venue, the Moroccan Lounge was pitched for locals unwinding on a weeknight — the crowd looked the part of young TV writers, talent managers and downtowners trading war stories from older incarnations of the venue.
Jaws of Love, the new solo project from Local Natives co-founder Kelcey Ayer, headlined the venue kickoff, with heavy shoegazers Tennis System opening. Ayer's primary band is one of the L.A.'s major indie successes of the last decade, and for him, the coincidence of debuting his new solo material at a brand-new venue was more than serendipitous.
"It really was pretty amazing," Ayer said. "There was definitely a nervous and excited, magic feeling floating in the air, knowing that it was as important of a night for the venue as well as for me.
"Also, it was cool to hang out in a green room before it inevitably becomes insanely gross with sweat, spilled beer and vomit," he joked.
Ayer came of age in L.A.'s local rock-residency culture, where band members cut their teeth with small Eastside promoters and developed over time into national acts. The Moroccan Lounge could be welcome ballast for that local scene, which has been largely dominated by one vertically integrated promoter (Spaceland Presents) for years.
The Satellite, the Bootleg and the nearby Resident are beloved neighborhood venues (the Moroccan Lounge's talent buyer, Duncan Smith, came over from the Resident). But now that Swier has multiple venues to nurture acts at different stages of their careers, it may be the start of a new scene entirely.
And perhaps at exactly the right time — Swier recently parted ways with his longtime New York promoters Bowery Presents after its acquisition by AEG, which upended New York's indie promoter scene.
"I feel comfortable in L.A.," Swier said, of his long-term goals for even more new spaces to cultivate the city's local rock scene. "Though I'm focused on Moroccan and Teragram, it is possible" that more venues could come.
The space also looks to be a popular underplay spot — upcoming headliners include experimental folk-rockers Grizzly Bear, electronic pop act Børns and blues-revivalists the Dead Ships (tickets for the former two are sold-out).
While the Arts District and downtown at large have gone through a thorough yupsterfication over the last decade, it's heartening that neighborhood music venues have been able to lock in and find an audience in the crowded DTLA nightlife scene.
"It's important to have that stepping stone, and I always liked to have relationships with bands where they can advance through rooms," Swier said.
Swier's venues were a major part of New York's '00s rock boom (as seen in the recent oral history "Meet Me In the Bathroom"). Downtown L.A. isn't near that fever pitch of a scene, but a collection of well-curated, quality rooms for bands to grow could help keep music at the forefront as the neighborhood changes.
"I can think of so many instances where Local Natives has grown with people, and us and them helping each other out throughout the years," Ayer said. "These guys have ties going back to the Bowery Ballroom, which Local Natives grew with. It felt like a really nice, full-circle thing."
For breaking music news, follow @augustbrown on Twitter.
ALSO:
---