Music picks: Sharon Van Etten, Ladytron and more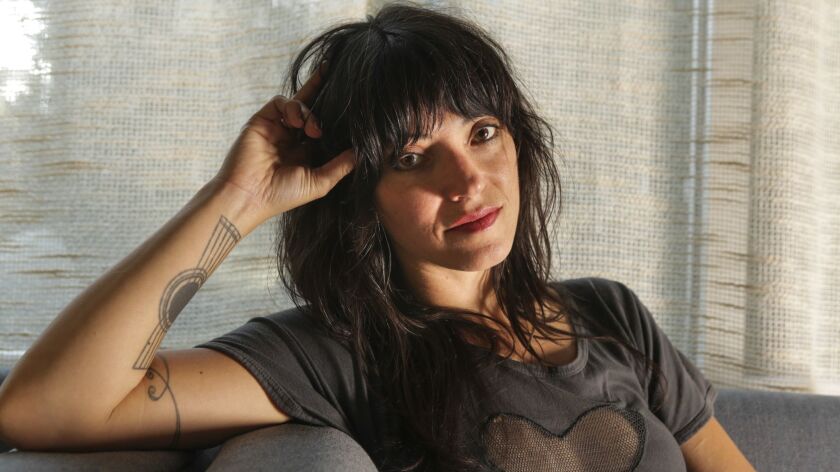 This week in L.A. live music leans towards the cerebral — and oh so visceral.
From jazz to electronic to experimental, there's plenty going on to make you think, weep, and definitely dance.
Ladytron
No artist has merged narrative heart with electronic id quite like Ladytron. After a long hiatus, the Liverpool quartet is back with a new self-titled album and a reminder of its creative sway over electro-pop. The group's Krautrock- and French electronica-infused sounds have influenced more than a decade of artists, from Goldfrapp to Beach House to Lady Gaga. Now, with more than a decade since Ladytron's last release, the group makes a welcome return to pushing the soul of electronic music — and dance floors — forward. Tickets start at $35. The Fonda Theater, 6126 Hollywood, 8 p.m., Thursday and Friday.
Roy Ayers
American jazz-funk pioneer Roy Ayers rounds out the Black History Month concert series presented by Jazz Is Dead. Join the "Godfather of Neo-Soul" brings decades of his genre-forging career — from his tenures at Atlantic and Polydor, to acid jazz, to his sampled works that have defined the sound of hip-hop—to Highland Park's Lodge Room for a pair of can't-miss intimate shows reaffirming that jazz is indeed alive and thriving. Tickets cost $30. Lodge Room, 104 North Ave. 56, 8 p.m. and 11 p.m., Thursday.
Sharon Van Etten
It's been four years since we last heard from one of Americana's boldest voices, but Sharon Van Etten has kept plenty busy. She went back to school, had a kid, appeared in Netflix's "The OA," and collaborated with David Lynch on his "Twin Peaks" revival. Somehow — or maybe because of it all — she found time to write a new album. "Remind Me Tomorrow" skips reflecting on the past in favor of exploring presence, delving head-on into the dark spirit and tender recklessness the artist has previously relegated to the fringes of her music. Van Etten's show at the Ace will also feature an opening set from rising U.K. songstress Nilüfer Yanya. Tickets are sold out but can be found starting around $60 on secondary sites. The Theater at the Ace Hotel, 929 S. Broadway, 8 p.m., Friday.
Waxahatchee
There seems to be no stopping the indie tour-de-force that is Katie Crutchfield. The Alabama native's rock grit and stirring songwriting has amassed a devoted fanbase in recent years that shows no signs of waning as Crutchfield ventures to explore her folk and country roots, as on her recent "Great Thunder" EP. Come for the Masonic Lodge's ethereal setting, stay for Waxahatchee's catharsis. Tickets are sold out but can be found starting at $40 on secondary sites. If you can't make it, you can still catch Waxahatchee on the decks at Gold Diggers for a Saturday night DJ set. The Masonic Lodge at Hollywood Forever, 5970 Santa Monica Blvd., 8 p.m., Friday.
Bryce Dessner's "Triptych (Eyes on One Another)"
Join composer-guitarist Bryce Dessner for an evening that blurs and questions the lines between mediums, honoring artist Robert Mapplethorpe 30 years after his death. Merging music, photography and poetry, Dessner asks the audience to collectively experience the dualities — male/female, black/white, classical/contemporary — that anchored Mapplethorpe's work and continues to reframe our perceptions of human nature today. Dessner will be joined by a slate of collaborators including the L.A. Phil New Group and vocal firebrands Roomful of Teeth, alongside projections of Mapplethorpe's photography and the poetry of Patti Smith, Essex Hemphill and Tuttle. The production will include sexually explicit images and may not be appropriate for those under 18. Tickets start at $32. Walt Disney Concert Hall, 111 S. Grand Ave., 8 p.m., Tuesday.
Follow me on Twitter: @toddmartens
---
Inside the business of entertainment
The Wide Shot brings you news, analysis and insights on everything from streaming wars to production — and what it all means for the future.
You may occasionally receive promotional content from the Los Angeles Times.