Sharon Van Etten changes the psychology of her songwriting on 'Remind Me Tomorrow'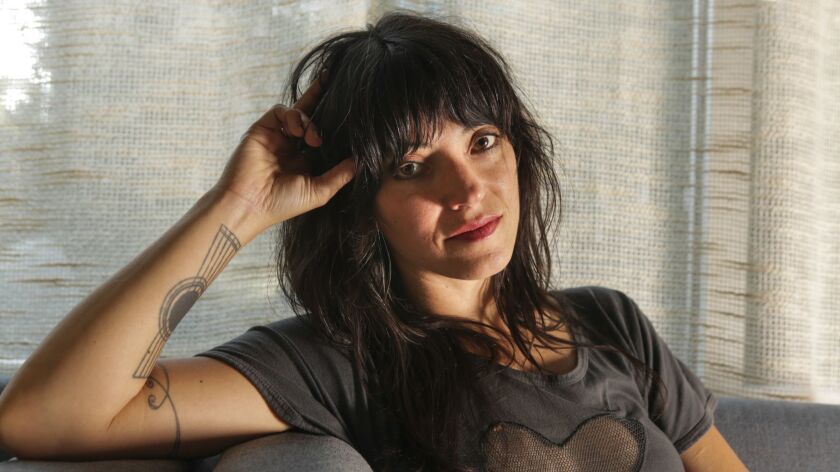 There are a few things fans might not expect to learn about Sharon Van Etten, who this Friday released her fourth full-length, "Remind Me Tomorrow."
Given the occasionally folk-leaning sound of her past work, the first may be her deep love for the dark, foreboding sounds of Portishead and minimalist no-wave punks Suicide, both of which were touchstones for a surprising, eclectic album that swaps the familiar organic framework behind her swerving vocal melodies for growling synth textures and hard-hitting percussion.
The second is she might be as committed a fan of comedy as music. Referencing a few of her favorites in Margaret Cho, Todd Barry, Nate Bargatze and Amy Sedaris' twisted Comedy Central series "Strangers With Candy," she notes she was a regular visitor to the Comedy Cellar, which was around the corner from her apartment in Manhattan. Perhaps as a result, shortly after sitting for a recent lunch at a greenhouse-like restaurant atop her hotel in Koreatown, Van Etten quickly changes the subject to the waiter.
"I feel like he could be Bob Saget's kid," she says, leaning across the table with a mischievous whisper just after he left the table. "Should I ask him?"
After some discussion of whether it's weirder to pose the question or search Google for details on the "Full House" star, a grinning Van Etten asks him a short time later, taking care not to somehow imply any offense. "Otherwise it would be on my mind every time he came over," she says. (There was no relation, but the waiter said he gets the comparison a lot.)
The genial exchange points to a few more truths about Van Etten, whose disarming, open manner fueled a conversation that easily veered into shared anxieties over home ownership as well as inevitable (if probably unnecessary) tips for navigating Northeast L.A., where she will be moving with her partner and 2-year-old son from New York City later this year.
But that now-or-never approach also speaks to Van Etten's creative life. In 2016 she portrayed an angelic-voiced captive on Netflix's sci-fi drama "The OA," and the following year turned up in David Lynch's rebooted "Twin Peaks," where she performed at the show's noirish roadhouse to close the sixth episode. Somewhere in the midst of making her most dynamic album yet in "Remind Me Tomorrow," she is also pursuing a psychology degree and, yes, tried out comedy.
"I'm not about to turn into a comedian or anything," Van Etten clarifies, adding that the effort was at the encouragement of her son's babysitter, who is rooted in the L.A. comedy scene and took an improv class with her at the Groundlings. "I don't know if it's because I'm stepping outside of comfort level, but for some reason in L.A. I felt more wide open. My friends in New York know that I'm into comedy, but never were like 'You should try that,'" Van Etten says.
Discovering a sense of community inspired her move to L.A., which is where she recorded "Remind Me Tomorrow" with the help of producer John Congleton.
While working on the score of Katherine Dieckmann's 2017 film "Strange Weather," Van Etten found herself growing sick of playing guitar, and started experimenting with odd drum patterns and electronic drones in her off time. "I didn't even know what I was doing, but it let me clear my head and make crazy sounds," she says.
The results became the building blocks for "Remind Me Tomorrow," but after her self-produced 2014 album "Are We There," she was hoping to avoid retracing her steps. "I wanted to give it to somebody else that understood my influences and heard where I was coming from, but also trusting another artist to take it to a different place," she says. "I wanted to expose the darkness of the songs, and I didn't really know how to do that on my own."
After trying a few producers, who briefly included L.A. pop alchemist Jon Brion, she met with Congleton after a referral from Van Etten's manager Zeke Hutchins, who is also her romantic partner and father to their son.
Congleton has worked with a wide range of indie artists such as St. Vincent and Explosions in the Sky, and he and Van Etten talked about Suicide, Silver Apples and Nick Cave's brooding "Skeleton Tree" as reference points for where she wanted to take her music. Surprising choices, maybe, given Van Etten's previous output, but not for Congleton.
"If I was surprised it was more eclipsed by excitement because those are bold, weird artists and weird records," he said. "I felt like that was the best thing she could do for her career is to do something completely expressive and out of the norm."
On the first day, the two worked on "Memorial Day," a slow-burning track built around a haunted vocal chirp from Van Etten's original demo, and "Jupiter 4," a yearning ballad that, for all the heartache and hints of trauma in her previous work, strikes a romantic note with echoed refrains of "I've been waiting my whole life for someone like you." Their second run through that song is what landed on the album.
"After that one day I just looked at him and went 'you understand me,'" Van Etten remembers.
Part of Van Etten's shift comes from recognizing that the unsettled, even harrowing subject matter of her earlier work no longer squares with this more stable, content time in her life. After her tour for "Are We There" ended in 2015, she took a break from music. "I was feeling the songs too deeply for a time that I have gotten over," she says. "I felt like I kind of had been writing the same song in a lot of ways."
Those more "adult" concerns that come with parenthood and stability were a frequent topic of conversation, like navigating restaurants that don't allow strollers and learning from new friends like the couple who co-created the Netflix series "Big Mouth" on how to balance creativity with family. It's led her to consider what life might look like once piling into a van to the next gig seems less appealing, which is part of what led her to study psychology.
Also citing the impact therapy made in her life, she felt drawn toward the field after seeing the effect of her songs in conversations with fans over the merch table. "Hearing their stories about how they connect to my music and how sometimes intensely the stories are told ... I started feeling a sense of responsibility," she says. "Even though I know music is healing for anyone on your own terms, it just made me realize I had an interest in figuring out why that stirred something in me, those exchanges." She hopes to have her license by age 50.
When told those intimate, fearlessly raw details in her music helped foster that connection with fans, she cites that as motivation to change her approach. "I'm trying to separate the personal story out of [my work] where people can relate to it in a more universal way," she says. It's a desire you can hear in new singles like "Comeback Kid" and "Seventeen," which remain drawn from her personal experience but carry an immediate, anthemic charge that sounds determined to reach for greater distances.
"I don't want people to listen to my music and think about me," Van Etten explains. "I want people to listen to my music and think about themselves."
Follow me over here @chrisbarton.
---
The complete guide to home viewing
Get Screen Gab for weekly recommendations, analysis, interviews and irreverent discussion of the TV and streaming movies everyone's talking about.
You may occasionally receive promotional content from the Los Angeles Times.