Review: Ween fans rule Music Tastes Good festival on a day with pointed messages from Slaves and Protomartyr
Mark Gardener with Ride on stage at the Music Tastes Good festival in Long Beach on Saturday.
(Francine Orr / Los Angeles Times)
A fan dances as Joyce Manor performs at the Music Tastes Good festival on Saturday.
(Francine Orr / Los Angeles Times)
Scott Davidson with Protomartyr performs at the indie festival.
(Francine Orr / Los Angeles Times)
Aaron Freeman aka Gene Ween performs on Saturday.
(Francine Orr / Los Angeles Times)
Barry Johnson of the band Joyce Manor performs.
(Francine Orr / Los Angeles Times)
Members of the Garage Theatre team up with the Sea Funk Band during a parade at the Music Tastes Good festival in Long Beach on Saturday.
(Francine Orr / Los Angeles Times)
Members of the Garage Theatre team up with the Sea Funk Band for a parade.
(Francine Orr / Los Angeles Times)
Members of the Garage Theatre perform in Long Beach.
(Francine Orr / Los Angeles Times)
Wearing a dark suit jacket and mismatched pants, holding a cigarette in one hand and a cup of beer in the other, lead barker and could-be middle-manager Joe Casey of Detroit band Protomartyr wasn't about to let the Pacific breeze soften his message on the first day of the Music Tastes Good food and music festival in Long Beach.
As seagulls shot past a drone humming overhead, Protomartyr, performing in support of its excellent new record, "Relatives in Descent," triggered hardened post-punk frequencies that seemed to penetrate the wind like bullets through feathers. Casey sang of "vomit and rage spewing forth in the drive-thru," of "fussing and fighting eternally and of "false news beamed right in — male plague!"
With the deadpan misanthropy of "American Splendor" writer Harvey Pekar or Charles Bukowski, Protomartyr's Casey looked at the modest crowd during this second installment of Music Tastes Good and uttered, "False happiness is piled high" as the band — distorted guitar, looping bass and minimalist, snare-heavy drum patterns — crafted punk tones that echoed with jagged remnants of Joy Division and Interpol. (Across town, Interpol was stirring turn-of-the-century nostalgia with a full-album live set of 2002's "Turn on the Bright Lights.")
It was indeed a lovely day for tunes near the ocean, where Long Beach- and Torrance- born punk band Joyce Manor, joke rock iconoclasts Ween, Cameroonian expat Laetitia Tamko (who records as Vagabon), Argentine experimental pop artist and actress Juana Molina and glam-fueled L.A. outfit Diane Coffee performed Saturday. (Sunday's roster included Sleater-Kinney, Dr. Octagon, Los Lobos, Peaches and Rhye.)
This year's Music Tastes Good was a tribute to the festival's fallen — and Ween-loving — co-founder, Josh Fischel, who envisioned a tiny-but-mighty two-day event that celebrated the art of noise.
Fischel died unexpectedly in 2016, mere days after the inaugural installment.
A symbol of his efforts was apparent in one particular sculpture on the grounds: a cassette tape the size of a queen bed upon which was written, "Josh's Mix."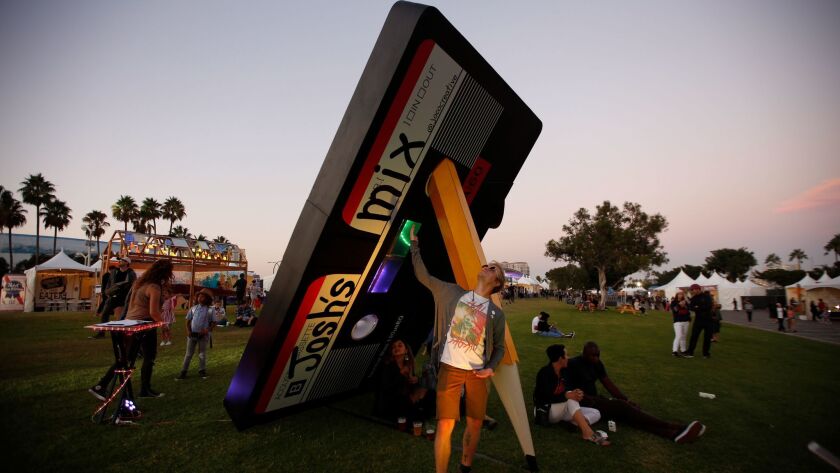 The most memorable moments on that would-be tape were indeed forward looking, but what artists spied often belied the picturesque view along the Long Beach oceanfront.
Saturday's draw was hardly massive. Lines at food trucks and stalls were minimal, and a center tent booked with successful area chefs drew solid if not overwhelming attendance.
Which is to say, the people who were there seemed giddy at both the spot and the vibe, to say nothing of being so close to bands like Ween, Ride and Slaves.
Like Casey — except shirtless, with six-pack abs and a thick British accent — Slaves' drumming screamer Isaac Holman wasn't about to let ocean mist dilute his message.
Neck veins popping as he stood and pounded on his kit during "The Hunter," Holman railed against world leaders.
"The feeling is mutual / You don't like what we do / Because we say what we are thinking / And that shocks and frightens you," he bellowed, echoing the spirit of outrage of British anarchist punk band Crass.
Heaven 17, which in its hit-making prime helped carry synthesizer-driven pop music to the masses alongside the Human League and Depeche Mode, was sonically the polar opposite of Slaves. But it too focused on a society addled with issues.
"The streets, deserted and cold, they're not paved in gold," sang Heaven 17 co-founder Glenn Gregory in "We Live So Fast," which 35 years ago bemoaned the relentless pace of contemporary life. "We live so fast / No time to waste."
Electric guitar fans standing equidistant from the opposing stages while bands Ride and Built to Spill were competing for ears might have found salvation in that sweet spot.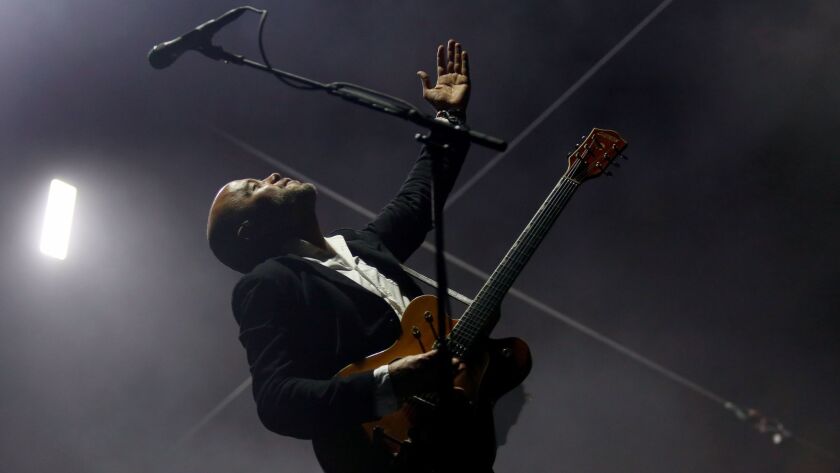 Ride, the reunited 1990s British guitar band aligned with the so-called shoegaze movement, harnessed jangled electric guitars to create sheets of distorted riffs that suggested the Byrds on steroids.
Later, hometown heroes Joyce Manor performed its first Long Beach set in six years. The band, which is signed to the storied L.A. punk label Epitaph, presented catchy, hardened songs from its most recent album, "Cody," including the slice-of-life song "Fake I.D.," about a tryst with a stranger that references Kanye West, Phil Hartman and John Steinbeck.
Then there was Ween, whose presence at the festival seemed both incongruous and ingenious. With a devoted fan base that came out in full force, the formerly drug-crazed duo from Pennsylvania recently reunited. The band appeared at the festival as a symbol of Fischel's legacy.
Expert parodists able to mimic 1970s funk, '60s country and '80s rock with equal skill, Ween presented songs from throughout its career.
On "Don't Sweat It," Gene Ween (a.k.a. Aaron Freeman) offered a gentle and incredibly creepy song that suggested British glam king Marc Bolan.
"Voodoo Lady" harnessed cheesy 1970s boogie rock in an ode to a woman "shakin' that stick and driving me crazy."
Fan favorite "… Up a Rope" used Nashville country music as a means to parody twangy kiss-off songs. Filled with expletives, its lyrics are too vulgar to reprint, but rest assured the song was filled with invective.
That shouldn't have come as a surprise, given some of the themes coming from the vocalists.
Not that the fans seemed bothered. It was a beautiful day — not too hot or too crowded — filled with pleasantly behaved music and food devotees.
Or, as Protomartyr's Casey observed as he was thanking the crowd for the applause: "You stood around in the field very nice."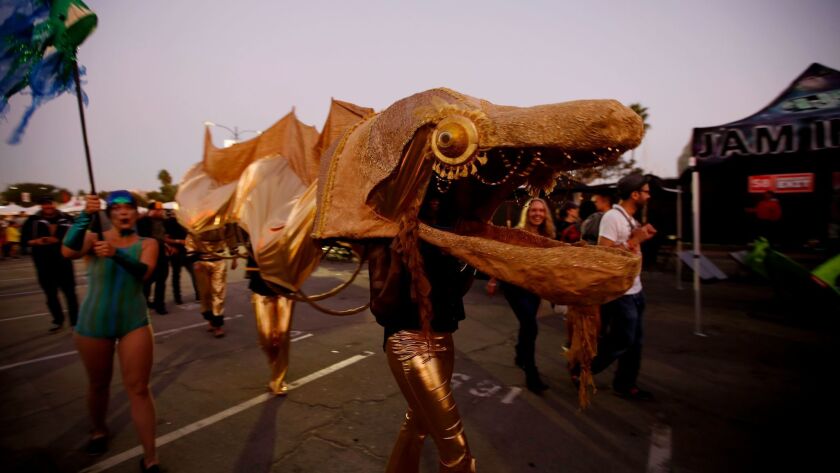 ALSO
Interpol makes an emotional return to 'Bright Lights' and 9/11-era anxiety
Josh Fischel, founder of Music Tastes Good, dies at 47
With gourmet food and adventurous music, Long Beach's Music Tastes Good survives after a personal tragedy
---
From the Emmys to the Oscars.
Get our revamped Envelope newsletter, sent twice a week, for exclusive awards season coverage, behind-the-scenes insights and columnist Glenn Whipp's commentary.
You may occasionally receive promotional content from the Los Angeles Times.