NCT 127 is leading the next generation of K-Pop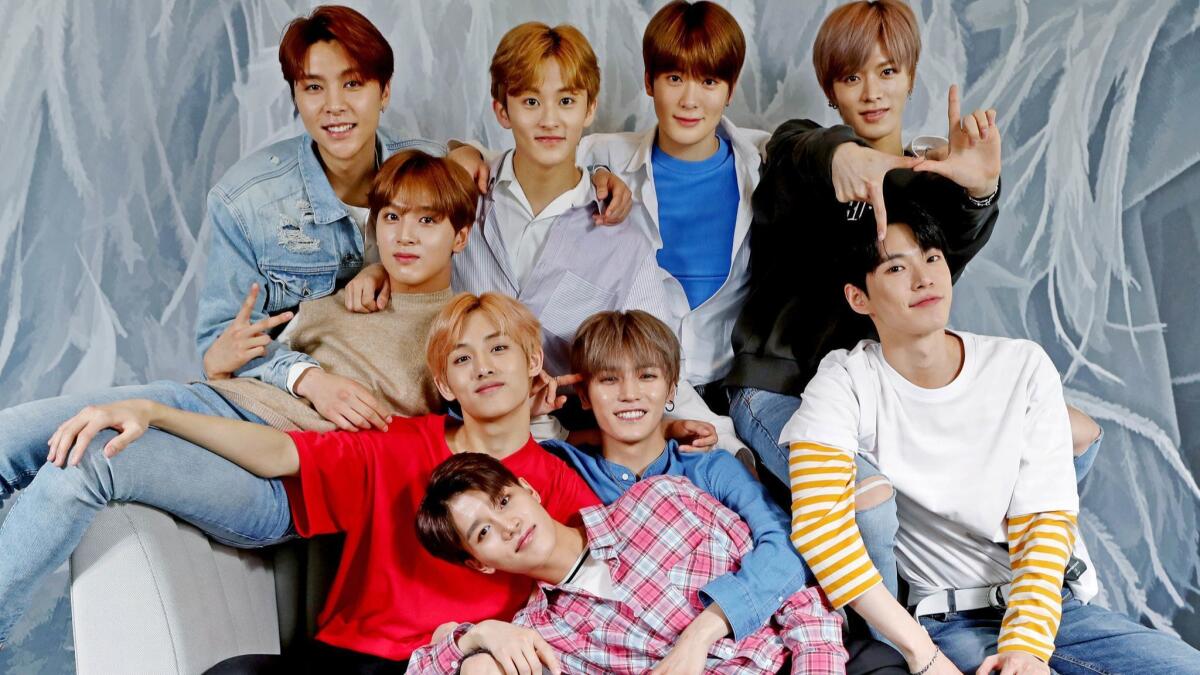 Last month at the Hollywood Bowl, a sold-out crowd at the Korea Times Music Festival screamed its devotion to the legends of Korean pop music.
The visionary K-Pop idol Rain, balladeer Baek Ji-young and fast-rising girl group Red Velvet each had their full-throated partisans in the audience, one heavily Korean but also notably diverse. LED wands sparkled, merchandise flew off shelves, and artists — more than a dozen in all — played short, hit-packed sets for their fervent faithful.
But earlier in the evening, one boy band made its case for the next generation of K-Pop. NCT 127, a nine-member Seoul-based unit of the sprawling 18-member pop concept act NCT (short for Neo Culture Technology), took the stage a little after 6 p.m. The group, like many contemporary K-Pop acts, is a diverse mix of talents from late teens to mid-20s: some singers, some rappers, some fluent English speakers, some gifted dancers and dreamy pinups.
The group's music and stage presence hits an interesting spot in the genre, one just shy of the truly transgressive hip-hop of Kris Wu (a former member of the Korean-Chinese boy band EXO, who has worked with Travis Scott), but with their own spin on the glossy futurism of stratospherically popular K-Pop groups like BTS.
"We've always looked up to [those artists] and grew up watching KCON," said Mark, one of the core members in NCT 127 (there are nine, including Winwin, Taeil, Yuta, Haechan, Johnny, Taeyong, Jaehyn, Doyoung and Mark). "But it's such a different thing to be actually involved now. We think of them as proud senior artists. But we also want to be proud newcomers with a new way."
NCT are already stars in South Korea and across Asia, but they're just getting started in the U.S.
A decade into the "hallyu" wave of South Korean pop culture in the U.S., NCT is an embodiment of where K-Pop is right now, in all its optimism and complexity. Dipping freely from pop on both sides of the Pacific, and with the backing of SM Entertainment, a South Korean media conglomerate arguably as influential as much of the South Korean government, they're all but certain to become stars amid the K-Pop superfans here.
But recent turns in the genre — the growing hegemony of boy bands on the stateside touring circuit, the uncertain dance between K-Pop superstars and the mainstream U.S. music industry, and the heartbreaking suicide of K-Pop band SHINee's Jonghyun — make the pressures of a new band's ascent in K-Pop today more complicated than ever.
The morning of the show, NCT 127 met up in a conference room at the Hotel Indigo, brand-new luxury digs just east of the 110 freeway in downtown. It's busy press day, but the nine members are — like many K-Pop acts — unfailingly kind and earnest about all the attention (they even persuaded a usually surly L.A. Times reporter to hop into a group selfie).
"It's our first time showing NCT 127 to America, and we're very nervous," said NCT's Doyoung. (several of the group's members speak English fluently and they translated for the others). "We want to show all our colors. Our performances are very different."
"We may be starting back at the foundation in America, so its important to have a good first impression," Taeyong said. "We're working on having a good opening, and we want to [get to] a size for American people to like us."
They don't have much to worry about in that regard. Earlier this month, they hit the top spot on Billboard's Emerging Artists chart, the first K-Pop group to do so in the tally's history. Much of that was driven by social media influence (they hit fourth on the magazine's "Social 50" chart), but also musical, with three recent NCT-affiliated records on the World Albums chart .
In the wake of their recent peers BTS, who swept the U.S.with a social-media blitz and heavy tour itinerary, one that includes a four-night run at Staples Center in September, they've positioned themselves at the forefront of a contemporary K-Pop wave that's steeped in American hip-hop.
Songs like "Cherry Bomb" and "Chain" fluently use the tropes of trap music, run through a filter of K-Pop catchiness. Their album "NCT 2018 Empathy," released in March, broadened the palette with R&B sensitivity and compiled their biggest hits into a worthy introductory package.
One suspects that, given so many members with such varying talents, it's tough to simply divvy up the parts accordingly. But NCT runs a tight ship and are hyper-attuned to their group's dynamic, even when spread out across so many formats.
"We're on trend of U.S. hip-hop, I listen to Post Malone and Amine," said Taeyong. "We're all pretty on the new [styles]. We get pieces inspired by other artists, and we use those inspirations to turn them into our own ways, we're making it into our own style."
"The mission is to keep on improving and growing with our fans as well, make best use of talent," said Johnny. "We have rappers and singers so it comes out naturally, who should do what part."
However natural it may come, the pressures of their hyper-scrutinized stardom isn't without costs. The K-Pop scene was shaken to its core recently when Jonghyun, star of the longtime K-Pop group SHINee, committed suicide in December of last year. His suicide note spoke to the pressures groups like NCT 127 are under, and the particular stress of life at the receiving end of K-Pop fandom.
It can be a hard, strange life on tour in this world. Even as dewy and optimistic as NCT is person and on screen, they're grateful for their peers who can understand the particularities and challenges of their kind of fame.
"I think it's more of a relief because we have other people we can relate to," Mark said. "If it was only us, it would have been much more tough. It's good to have other artists and other people on the same boat."
"We have a lot of members, there's a lot of people to lean on," Haechan added. "[People] we can talk to and we can relate to. Having a lot of conversations is important."
At the end of the hour, all the members pile onto a couch in the Hotel Indigo lobby for a group photo. They're deeply at ease with each other, playfully mussing one another's hair and sprawling over the sofa like university roommates. Whatever formula SM Entertainment uses to find and craft their chemistry, it's still a real one between them.
K-Pop didn't overtake America — it seeped up in the cultural spaces that Top 40 ignores but that still commands one of the most devoted audiences in pop music. It's a crazy place to be in for a young band, both incalculably famous and yet starting from the ground anew in America.
Will NCT 127 be superstars here? To judge by the scene in front of them at the Bowl, its as clear that in some big ways, they already are.
For breaking music news, follow @augustbrown on Twitter.
Get our L.A. Goes Out newsletter, with the week's best events, to help you explore and experience our city.
You may occasionally receive promotional content from the Los Angeles Times.