Neil Finn on his new album with son Liam, and joining Fleetwood Mac
It's often said that belonging to a band is akin to being in a family. It's an analogy that New Zealand popmeister Neil Finn has taken to heart over the years.
For every venerated collaborative project such as Split Enz, Crowded House or 7 Worlds Collide, he's alternately brought members of his biological and matrimonial families together to record and tour.

For the record:
3:15 p.m. Aug. 9, 2018An earlier edition of this post misidentified the name of Neil Finn's band with his wife Sharon as Pajama Game. It is Pajama Club.
He's now adding one more musical family to his artistic resume in joining Fleetwood Mac. Finn, along with Tom Petty's longtime lead guitarist and frequent co-songwriter Mike Campbell, will be a part of the first major realignment of that group's lineup since the '70s, a shift that's occurred in the wake of the departure of Lindsey Buckingham.
"It's starting to add up to a pretty strange track history," Finn, 60, said over lunch on a shady covered concrete slab in Griffith Park recently, where he was joined by his son Liam, who also has been part of an impressive panoply of musical ensembles during his 34 years.
"I've said it on a few occasions," Neil continued, "that I probably confuse the general public anyway from having been in so many different incarnations."
Now add "Lightsleeper," the first Neil & Liam Finn album, scheduled for release on Aug. 24. It's an outing that skillfully marries Neil's insinuatingly catchy and melodic pop-rock with the more expansive and experimental jam-rooted music Liam has specialized in on several solo albums he's released over the last decade.
It's simply the latest project in a career that's often put his family in the spotlight. Split Enz, the first group that introduced him to audiences beyond his native country, was formed in 1973 by his older brother, Tim.
He also worked with Tim in the Finn Brothers (as well as in Crowded House, from time to time), and with his singer-bassist wife Sharon in Pajama Club. In addition to Liam, he's also played with his other son, Elroy.
On this day, the choice of Griffith Park's Trails End outdoor cafe as a meeting spot was at the behest of Liam, who has been living nearby in Echo Park in recent years with his wife and their now almost 2-year-old son, Buddy — Neil and Sharon's first grandchild. That's made the elder Finns all the more motivated to spend as much time in Southern California as is practical.
"I think it's exciting that we get to embrace the uniqueness of our situation," added Liam, outwardly the more free-spirited of the two, "that we are father and son, making a record together. People have done it — obviously we're not the first, but the fact that we play with my brother and mum in the band and it's a full family band quite a lot of the time, it's pretty unique and it feels special onstage, so it's quite nice that we get to embrace that. We've never shied away from it."
The process of recording "Lightsleeper" also had a hand in Neil's surprising (to many) move to join Fleetwood Mac. Ultimately, the pairing evolved from the same spirit that has guided most of Finn's other collaborations: not from jockeying for rock star cache, but out of musical camaraderie.
"I'd got to know Mick a little bit," Neil said. "I'd met him a few times over the years and we'd always got on well. He's a very charming, easy-to-get-on-with kind of guy. Then we went out to dinner with them when they came to Auckland and I probably just dropped it in the hat, 'We're going to do some recording — Liam and I — would you … ?'"
At this point, Liam jumps in to pick up the tale.
"He said, 'If you ever need a drummer, I love playing music. Keep me in mind.' When I got back to New Zealand to start writing, dad just said 'Should we ask Mick Fleetwood if he wants to play drums?' I was like, 'What?' Then he did it, and Mick said, 'Yep, I'll be there,' and it was like within a week or two, it was organized and he was down there. It was surreal. I'd never met him, and I'm a big Fleetwood Mac fan. So it was pretty crazy."
Fleetwood appears on three of the 11 tracks that make up "Lightsleeper," an album that's been in the making for two years. But the invitation to throw in with Fleetwood Mac came up fairly recently, after Fleetwood, John McVie, Christine McVie and Stevie Nicks parted ways with Buckingham, with whom they'd reached an impasse over touring and recording priorities.
"It was like a friend ringing up, rather than getting a cold call from a professional manager or something to say, 'Hey would you like to join?' It felt significantly different as an invitation, although there was nothing certain at that point," Neil said of the initial conversations. "Part of my enthusiasm for giving it a shot was knowing that Mick's a good guy and that we got on well and he's also the keeper of the fame there."
Finn recognizes that some Buckingham enthusiasts may not take kindly to the new lineup.
"Some people will be resistant and I don't blame them," he said. "You fall in love with a band. I thought about it when the invitation came along. I had a nice note of encouragement through a friend of a friend, somebody saying, 'Remember, you're not replacing Lindsay Buckingham; you're joining Fleetwood Mac.' And I think that's a nice way to look at it."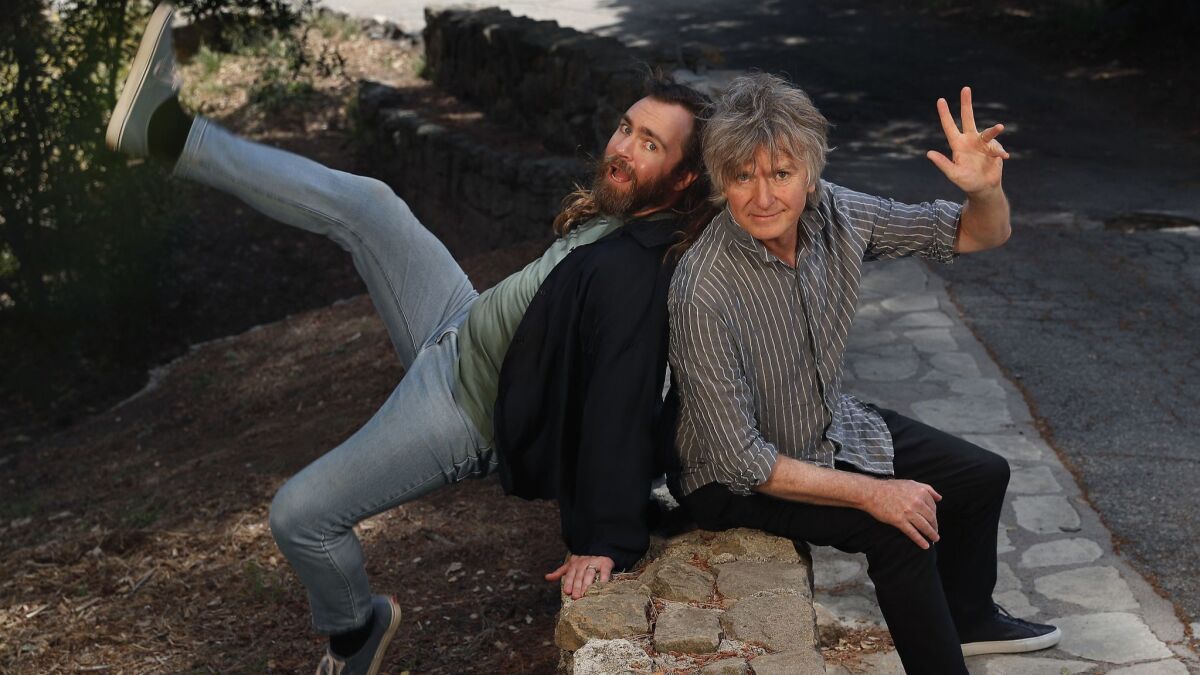 The new family spirit has already begun kicking in. In early May, when Neil and Liam played another of the shows they've been doing together and separately for two decades at Largo, Nicks looked on, often with a broad smile, from her seat in the audience, and Campbell joined for some engaging back-and-forth guitar exchanges with his new Mac band mate.
It was a musical trial by fire for Campbell as he was invited to join in on a song he barely knew — an impromptu moment that is typical of Finn shows large and small.
"He's a guitarist of amazing ability, and instinctive ability too," Neil said the next morning. "That's what we saw last night. We were talking about it in the car: It's not like Mike is a seamless, flash player. He's very capable, but he approaches everything with soul and flair, and so he misses a few things here and there, and that's right up our alley." The Fleetwood Mac tour gets underway Oct. 3 in Tulsa and reaches the Forum in Inglewood for shows Dec. 11 and 13.
Meanwhile, Neil and Liam are tackling the challenge of promoting "Lightsleeper" while working around Neil's new extra-familial commitment.
"These guys were really great," Neil said. "Liam and Elroy both said: 'You have to go and stand in a room with Fleetwood Mac and have a sing, wouldn't you?" You have to.'"
Added Liam, "How could you not? Even if it means we can't tour our record. You've gotta do it."
As a result, they're exploring various alternatives to the traditional method of performing. "It's tricky for various reasons anyway, [including] Liam's new addition," Neil said.
"We were trying to figure out how to get 'round that if possible, maybe by doing residencies in different places," he added. "So it may turn out that this world I've just entered might dovetail quite well with some different approaches to promoting the ['Lightsleeper'] record and getting to play [with Fleetwood Mac] still."
Recent events, especially in the music world, have also informed the Finns' thinking about spending more time together as a family, and Neil's attitude toward hooking up with Nicks, Fleetwood and the McVies. Not least among them Tom Petty's death last fall, which shook many.
"It was a shock," Neil said. "It was a really big shock for Stevie as well. She commented on it, and that's all had a part to play in their decision-making process. I didn't know anyone [in the group] other than Mick, so hearing him talk about it, and hearing Stevie say stuff like, 'We just want to have fun' [was comforting].
"Tom's gone — out of nowhere," he said.
Added Liam: "Life's too short."
So when the call comes to join Fleetwood Mac, one probably shouldn't overthink it.
"They're making decisions based on the idea that they want to enjoy these years of touring," Neil said. "That was comforting to me, from a musician's point of view, that people are doing it for the right reasons. We've got a sense of fun that has been commented on before. We always bring to our touring, live shows or even rehearsing — that sense that it's not worth it if it's not fun."
Follow @RandyLewis2 on Twitter.com
For Classic Rock coverage, join us on Facebook
Get our L.A. Goes Out newsletter, with the week's best events, to help you explore and experience our city.
You may occasionally receive promotional content from the Los Angeles Times.