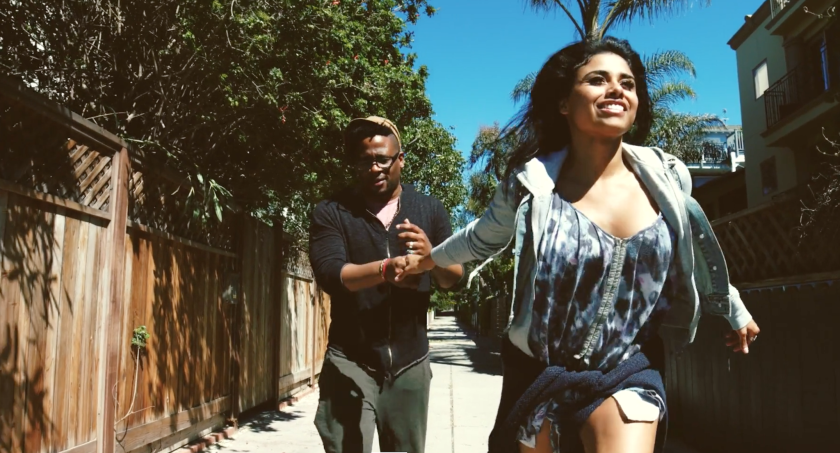 Rapper and lyricist Open Mike Eagle first encounters the woman who will lead him through the video for his new single, "Admitting the Endorphin Addiction," while walking along Venice Beach. He's taking a stroll on a sunny day when she starts circling him, a dancing siren diverting his attention, drawing him astray.
Light washes down on the boardwalk as she spins, and Open Mike Eagle proceeds to unfurl the opening lines of a focused pair of verses and a memorable hook that ponders addiction — the allure, the struggle, the obsession of forbidden fruit.
The lyrics open with a gust of metered precision as the scene cuts to Mike rapping in near darkness, black hoodie covering his head, snow swirling around him.
"I chase my poison tail
And get so high that voices fail
I heard that when you in a … space
No one can hear you signal help
I tried to set them straight
Tell them I self-medicate
All they saw's a glitchy video."
Soon, the dancer has led the rapper though a threshold and on to the beach, where the intermingling continues as he expands his internal monologue on the perils and pitfalls of craving. (Be forewarned: The clip contains language.)
The track opens his new album with producer Paul White, "Hella Personal Film Festival." A densely packed collection of experimental rap, the album features guest spots from Aesop Rock and a back-from-the-grave Lenny Bruce, among others.
That Open Mike Eagle introduces the record with an internal monologue about addiction is an illustration of the album's inward bent and the rapper's willingness to visit the darkness to bring in some light.
That shouldn't come as a surprise. The Chicago-born, Los Angeles-based artist has carved a singular career since his first release in 2010. Long connected to the comedian Hannibal Buress — they met as students at Southern Illinois University-Carbondale — the artist born Mike Eagle II is a rapper's rapper, one who lays out his obsessions and observations with both wit and intellect.
Which is to say he's more interested in exploring his habits and reflexes than boasting about his bank account.
That's one reason why the clip for "Admitting the Endorphin Addiction" is so magnetic. Directed by Ryan Calvano, the video dwells on the spark of temptation that comes with seduction, the way that desire can sneak up on you when you least expect it. The craving arrives in the form of the dancing woman, Isis Avalos, as Mike makes a confession.
"Pretend I didn't know
Who smoked up all the mistletoe
You'd really be surprised
How innovative I can get when left alone
And once them cravings strike
I knew I should say goodnight
Want for them endorphins"
A lot of rappers rhyme about getting high. Open Mike Eagle, as always, just gets way more altitude. Watch the video here.
Follow Randall Roberts on Twitter and Instagram: @liledit
---