The party's over, as hip-hop lifers People Under the Stairs talk calling it quits
"It's our exit interview," says Thes One as he sits in his Rolling Hills Estates backyard, looking out on a swimming pool and the treehouse he built for his two kids.
On the couch next to him is his friend and longtime collaborator Double K. For more than 20 years the pair have put out music together as People Under the Stairs. On Feb. 1 they released their 12th and final album, "Sincerely, The P."
The hip-hop duo already played what they say will be their last-ever show back in October at London's Jazz Cafe, but they didn't announce its significance until tickets sold out. There will be no farewell tour or official goodbye Los Angeles performance. Don't hold your breath waiting on any reunion projects.
PUTS have been a consistent presence in the city since 1998, when the hybrid producer-MCs self-released their debut album, "The Next Step." Even then they were considered a throwback act. They still sampled obscure loops for their beats and embraced a back-and-forth dynamic on the microphone while rap was gravitating towards tracks composed on synthesizers and minting solo superstars.
They were, and have remained, two jokesters who espoused an outlook where life's difficulties and drudgeries could be healed with a barbecue and/or a bag of weed.
When they began recording what became "Sincerely, The P" they didn't think it would be their last album, but they soon felt like they had made enough party records to last a lifetime of parties and didn't think they could outdo any of the trans-cultural tributes to L.A. they'd already created. The prospect of rapping about the realities of their current lives as two 41-year-old married guys didn't intrigue them.
"There is no blueprint for hip-hop musicians to get older gracefully," says Thes One, whose real name is Christopher Portugal.
As to why they wouldn't try to be the group to create that blueprint, Double K, born Michael Turner, responds, "I think a lot of the people who grew up with us, they still want us to rap about partying, road trips and buying records, and we're just like, 'Man, how many times can I say it?'"
The fact that PUTS' discography made it to the double digits is miraculous in and of itself. For many, a long-term rap career often means transitioning into acting or entrepreneurship, with the music turning into a side hustle at best. As Double K says, "Most of my favorite rap groups only made it to three [albums], and the third one sucked."
An often melancholy album, "Sincerely, The P" does show signs of maturity.
They're most notable on "Letter to My Son," where Thes One offers life advice to his 10-year-old child, who also plays saxophone on the track. It's also most likely the only rap album this year that will include references to director Werner Herzog and Philippe's turkey French dip sandwich.
Thes One and Double K first met when they were 16 years old. Thes grew up in San Pedro and went to Loyola High School, while Double K came from West L.A. and attended Hamilton. Both were already producing their own tracks, a rarity for kids their age since accessible computer recording programs like FruityLoops and GarageBand didn't yet exist.
The two knew of each other, but they weren't looking to link up. Each thought they were the best teenage beatmaker in the city. When they crossed paths at the now long-gone Martin's Records on Pico Boulevard, they went to their mutual friend's Toyota Corolla to play their beats on the tape deck to decide who was superior. After both of them had played a track, they realized they'd make better teammates than rivals.
I think a lot of the people who grew up with us, they still want us to rap about partying.
— Double K (Michael Turner)
While the other kids they knew only cared about new releases, they could play each other old jazz cuts or weird records they found. "Where I grew up, there was the negative, and I had the positive, which was my music," says Double K. "I was surrounded by the negativity, the things going on in the streets, the stuff that I thought that I wanted to be a part of. I decided that this was more important. I just holed up in my room, listening to music, and then I met this dude and I had somebody else to listen to music with."
Soon they were in the front row of every hip-hop concert they could get into and checked out open-mic nights together, but they didn't socialize or make connections with the other aspiring acts. They kept to themselves, smoking beedis and staying quiet. "We didn't come with a crew," says Thes One. "Our crew were the kids who paid full price to get into the show. We represented all those people."
When they finally did start releasing music, they say L.A.'s independent music support structure wasn't interested. Fat Beats Records didn't want to stock them, KCRW DJs ignored them. Other local artists shunned them.
Instead they first found an audience in the United Kingdom and they realized they could make good money touring through Europe by train.
The pair learned to treat being in a hip-hop group as a job, not an extended vacation. After 2002's "O.S.T.," which is now considered PUTS' most beloved album, they realized they needed to cultivate a national following if they were going to make the group a career. (The fact that only 30 people came to the albums's hometown release party was also a swift kick in the ego.)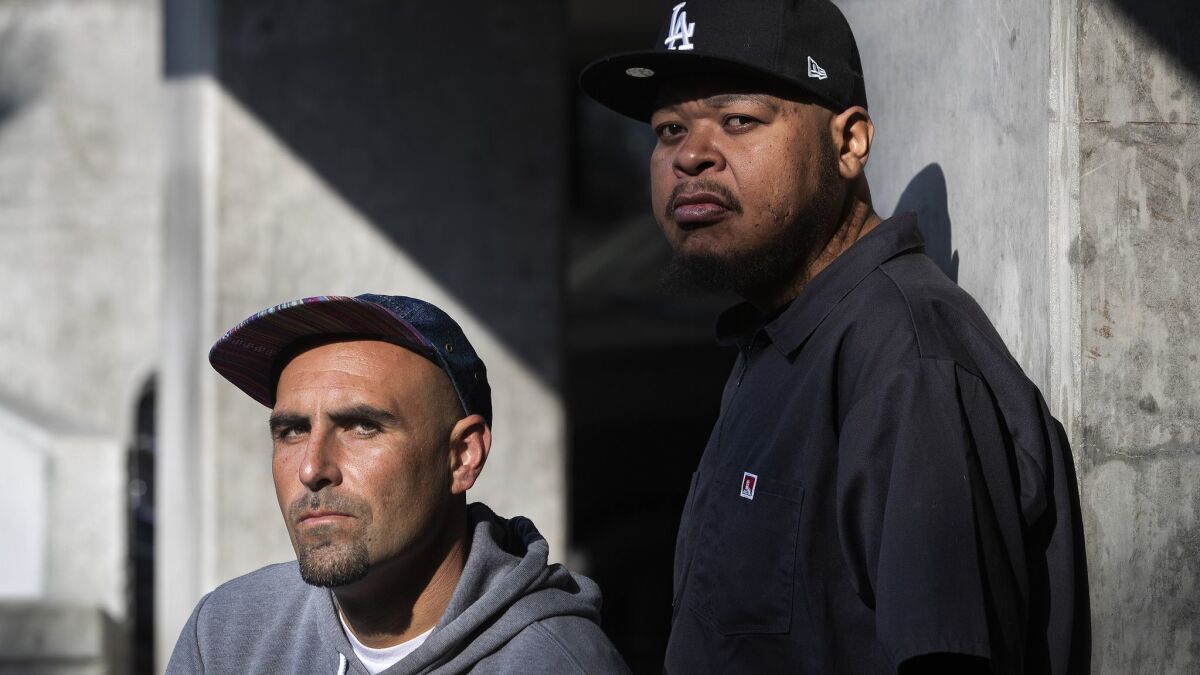 They took a pay cut for their show fees and hit the road hard, doing 50- or 60-date stretches. Word spread about them and their fees started climbing. When the economic downturn of the late aughts ended the financial viability of other indie artists, they cut their expenses. A People Under the Stairs tour was now just the two of them, two bags of records and a drum machine driving around the country in an Enterprise rental sedan.
When an ascendent Mac Miller brought them on as tour openers in 2011, they found a new generation of young supporters. But in recent years they've started feeling creepy about being the oldest guys in the club. They started turning down fans who wanted to smoke a joint with them and would invite them to house parties.
"When you get to the point where you'd rather be back at your hotel room after the show watching Discovery Channel than at the after-party, it's probably time to consider the reason you're there," says Thes One.
Many rappers have promised to walk away from the music before. Jay-Z most famously did so with 2003's "The Black Album," while just last month young star Lil Uzi Vert claimed in an Instagram post that he was done and had deleted all the tracks he'd been working on. These claims usually come from artists who know longer want to deal with the demands of success, and they usually don't last. For PUTS, they're ready to put the struggle behind them
Then there are the personal health issues. Once a towering figure, Double K now looks much frailer and his hands shake as he talks. Those thousands of shows around the world gave Thes One tinnitus in both ears and damaged his vocal chords.
Compound those physical problems with the emotional toll of being away from their families for extended periods and the idea of risking another overnight drive from Pittsburgh to Chicago in white-out conditions seems less and less worth it.
The '90s may be in fashion in hip-hop these days, but that extends more to the thrifted clothing the artists wear and which cartoons they reference in their lyrics, not the actual sonics of the music. In 2019, PUTS find themselves as out of place as always.
They had to hire a company to populate "Sincerely, The P" on all the different streaming services, but they can tell that the guy who's responsible for trying to get them placed on the increasingly important curated playlists has no idea what to do with them.
"We used to fit into the hip-hop category as the left of center, but now we're so far left we're like an Americana group at this point," says Thes One. "Which is fine with me."
Get our L.A. Goes Out newsletter, with the week's best events, to help you explore and experience our city.
You may occasionally receive promotional content from the Los Angeles Times.