Review: Phil Collins is back on the road. But does he know why?
Pop Music Critic
"Take a look at me now," Phil Collins pleaded to open his concert at the Forum, and that's precisely what we'd come to do.
The English singer's first tour in more than a decade, Not Dead Yet (as he's calling the production that stopped here Sunday for its final North American date) is part of a surprising burst of activity for Collins, who in 2011 had announced he was retiring.
Two years ago, he reissued his '80s-era solo albums — including blockbusters like "Face Value" and "No Jacket Required" — then released a frank autobiography, also titled "Not Dead Yet," before hitting the road.
Of course, comebacks are commonplace in pop; we're almost certain to see Paul Simon or Elton John, to name two of the many veterans who've recently mounted so-called farewell tours, slink back onstage in the not-too-distant future.
And yet there's been something unusual about Collins' return — something that made you want to check in on him. For starters, he didn't go out in the first place with the usual niceties about wanting to spend more time with his family. Instead, he told Rolling Stone that, having put up for years with jokes about his milquetoast appeal, he longed to "write this Phil Collins character out of the story."
Then he suffered injuries to his back and foot that have left him unable to stand for long periods of time — periods, for example, like the two-hour concerts he's been playing around the world.
So the draw of Sunday's sold-out gig was the opportunity it presented to understand why, beyond the financial rewards, this 67-year-old artist has set aside physical pain and creative frustration to un-retire.
Spoiler alert: I didn't quite sort it out.
A real possibility, though, is his desire to show off one of his children.
As longtime fans know, Collins initially found fame as the drummer of Genesis, the prog-rock band in which he backed Peter Gabriel before Gabriel left and Collins took over as frontman. But gone evidently are the days when Collins could comfortably play. At the Forum, he used a cane to shuffle over to a revolving office chair, where he plopped down with a remarkable lack of vanity and proceeded to perform nearly the entire show.
On the drums was his 17-year-old son, Nicholas, who was, simply put, a beast — thwacking powerfully in "Easy Lover" and "In the Air Tonight" (with its immortal drum fill) yet nimble and swinging in "Sussudio" and "I Missed Again."
If Collins put this tour together to give Nicholas the chance to shine in a super-accomplished band — one that also featured bassist Leland Sklar, backing vocalist Arnold McCuller and former Genesis guitarist Daryl Stuermer — then he must be pleased to find that the kid is earning his keep.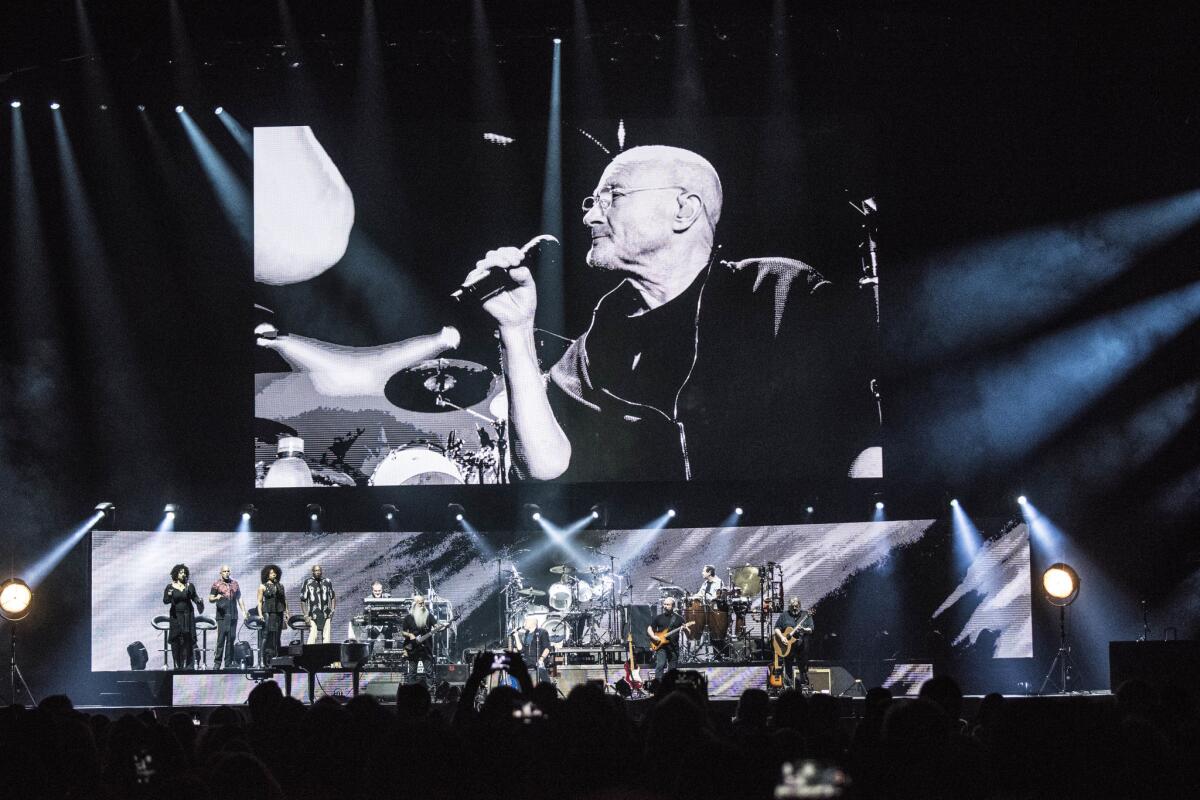 Yet you also got the impression that Collins doth protest too much when he talks of withdrawing from the pop-cultural conversation. He clearly still cares about how he and his music are perceived — and that he feels the time may finally be right to help along his critical rehabilitation.
Like everything else from the '80s, some of Collins' tunes, with their slick textures and clean melodic lines, seem to be echoing in modern pop. Listen hard enough here — pretty easy to do given that there was nothing in the way of movement to distract you — and you could hear what Bruno Mars and the Weeknd have borrowed from "Who Said I Would" and "In the Air Tonight."
Even "You'll Be In My Heart," Collins' drippy ballad from Disney's late-'90s "Tarzan," elicited cheers from a crowd peppered with more twenty- and thirtysomethings than you might've expected.
As eager as he may have been to appear in touch, though, Collins at times made you wonder how deeply he'd thought through the story he was telling — whether he'd found a reason for being in 2018 or was merely onstage again because he hadn't figured out how not to be.
He prefaced the emotionally ravaged "Against All Odds" by promising the audience, "We're gonna have some fun." And he followed the sublimely menacing "In the Air Tonight" with his bouncy rendition of the Supremes' "You Can't Hurry Love" — right up there with the most incoherent transitions of all time.
And then there were the retrograde sexual politics.
While introducing the members of his band, Collins doled out various compliments to the men regarding their instrumental abilities. Eventually, he got to one of his excellent backing vocalists, Bridgette Bryant, whose mother was in the house, Collins noted.
"I do hope she approves of what you have on," he said. "Not too risqué." He waited a beat. "That's a shame."
A harmless come-on from an admiring geezer? Sure, maybe. But the belittling of Bryant's talent suggested how hard old reflexes die.
Twitter: @mikaelwood
Get our L.A. Goes Out newsletter, with the week's best events, to help you explore and experience our city.
You may occasionally receive promotional content from the Los Angeles Times.