Review: Robert Plant and Sensational Space Shifters celebrate the now at Orpheum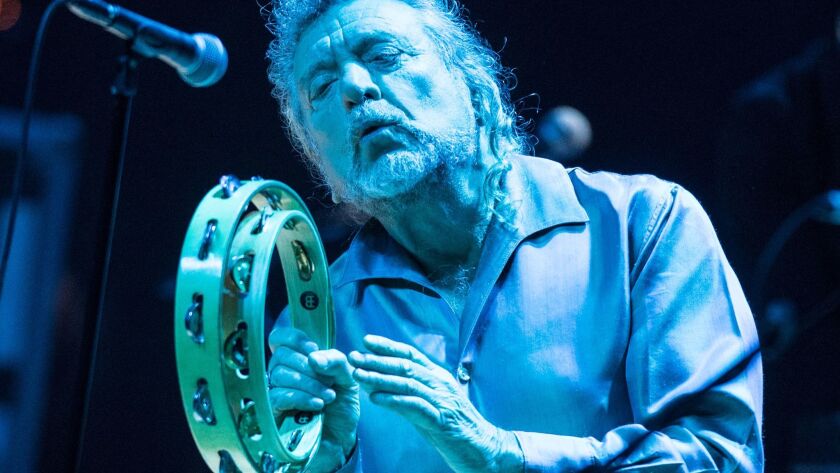 "C'mon, y'all!" the singer exhorted, as several of his bandmates circled around him with a fiddle, mandolin and banjo and ripped into a bluegrass-inspired breakdown during a rendition of Lead Belly's dark meditation on capital punishment, "Gallows Pole."
It was the kind of call to action you might expect from a good old boy musician at any concert down South, except the singer here was English rock god Robert Plant, the "down" was downtown (Los Angeles) and it was only as far south as South Broadway.
For nearly two hours, the musical collective — he tellingly remarked at one point that "we're the Sensational Space Shifters," not Rock Superstar & His Band — was mining one of the many strains of rootsy country music that happily isn't restricted to any one country.
Over two sterling albums and a series of tours over the last five years, the Space Shifters have proffered a richly rewarding excursion through sounds of the American blues, English folk, and African and Arabic traditions. The music touches on most facets of Plant's 50-year career, nodding to the Led Zeppelin in the room just often enough to keep the die-hards from taking up an armed revolt.
It was the final stop of their latest tour, and Plant confessed, "It's a little sad to be going home … so we'll be coming back again in about six weeks." Indeed, their next go-round will include a headlining stop at the second Arroyo Seco Festival in June, although who knows yet whether they'll be afforded the time to stretch out the way they did Friday night.
The wide-ranging set began with "New World," one of the tracks from their recent "Carry Fire" album, and one that departs from the realm of mythological matters that occupy much of Plant's time as a songwriter, zeroing in instead on the world around him.
"In songs we praise a happy landing / On yet another virgin shore / Escape the booming world / Embrace the new world / Out here the immigrant takes hold," Plant sang in an earnest salute to the spirit of exploration and expanding horizons.
But he's not blind to the price at which those processes often come: "Across the plains and over mountains / Put flight to all who came before / They're barely human / It's time to move them / And let them kneel before the sword … Oh, oh, oh."
The wordless invocation at the end of the thought is a device he employs often, as he did during Zeppelin's heyday, letting sound and tone say as much or more than words might. There were repeated "oohs," "ahhs," "ohs" and other vocalizings that reminded us just how remarkable an instrument the pliant Plant voice remains, even as he approaches turning 70 in August.
Soon, however, it was back to the mists of time and eternal matters of the heart. In "The May Queen," the opening track from "Carry Fire," he applied layers of nuanced color as he sang of "A heart that never falters / A love that never dies / I linger in the shadow / The dimming of my light."
The Space Shifters are an impressively flexible lot, capable of bracing hard-rock, which they unleashed in a final encore number that blended a couple of generous sections of the Willie Dixon-inspired "Whole Lotta Love" with "Bring It on Home," the latter a Dixon song popularized by Sonny Boy Williamson II before Zeppelin put its chugging spin on both tunes on "Led Zeppelin II."
Guitarists Liam "Skin" Tyson and Justin Adams took turns on the leads and solos, shifting between acoustic and electric instruments, with Adams also occasionally bringing a mandolin into the mix while Tyson broke out his six-string "ganjo," the banjo-guitar hybrid.
Bassist Billy Fuller also moved effortlessly between electric and upright instruments, keyboardist John Baggot drew upon a small arsenal of instruments for varied effects, and drummer David Smith exhibited a mastery of irresistible rhythms that ran from the Bo Diddley-ish beat of the title track from "Carry Fire" to a simple bass drum-gospel-tambourine accompaniment for "The Gallows Pole." He also brought the mighty rock drive of the Zeppelin songbook with "That's the Way," Misty Mountain Hop," "Whole Lotta Love" and "Bring It on Home."
English fiddler Seth Lakeman contributed prominently to several numbers, following his own well-received solo opening set. He appeared equally at home with Celtic-rooted stylings as well as the country-bluegrass numbers, as evidenced by the distinctive Creole-fiddle flavor he brought to "Gallows Pole" and the Arabic modalities required for "Little Maggie" from the Shifters' 2014 "Lullaby … and the Ceaseless Roar" album.
Plant teased those in the audience earnestly committed to hearing him play anything Zeppelin-related. There were hearty cheers when at one point he announced, "I was in a band with a different name" before he quickly added "but not that name."
Likewise near the end, the band also ventured into an atmospheric, ballad-like instrumental intro employing a gently descending chromatic chord progression — but not that descending chromatic chord progression.
As they did during the rest of the show, Plant and his cohorts were chasing what was available to them now, in the moment, not what they could re-create from a day, a week, a year or a half-century ago.
Follow @RandyLewis2 on Twitter.com
For Classic Rock coverage, join us on Facebook
---
The complete guide to home viewing
Get Screen Gab for weekly recommendations, analysis, interviews and irreverent discussion of the TV and streaming movies everyone's talking about.
You may occasionally receive promotional content from the Los Angeles Times.