Review: Roger Waters takes on President Trump with 'Is This the Life We Really Want?'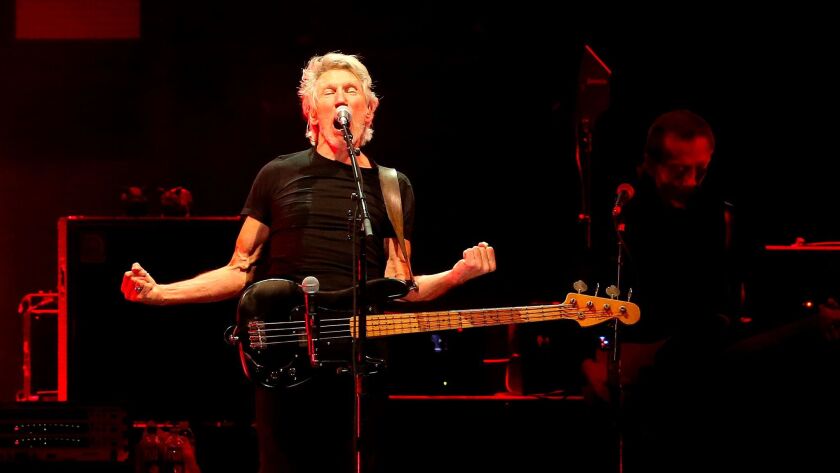 Pop Music Critic
"Picture yourself…," Roger Waters sings on his new album, and given the record's arrival on Friday — nearly 50 years to the day after the Beatles released "Sgt. Pepper's Lonely Hearts Club Band" — you can't help but think of a boat on a river.
But Waters isn't imagining tangerine trees and marmalade skies.
On "Is This the Life We Really Want?," his first solo rock release since 1992, Pink Floyd's mastermind offers far darker visions of drone warfare, terrorism, the refugee crisis and, most vividly, what he views as President Trump's reckless endangerment of everything good in the world.
It's not precisely quotable — lots of F-bombs here — but his best line in "Picture That" asks the listener to conjure an outhouse with no drains, then a leader with no brains.
Clearly, he read the news today, oh boy.
Waters' gloomy state of mind will hardly shock longtime followers, who've been booing and hissing along with him since Pink Floyd's acerbic late-'70s "Animals" and through his many return visits to "The Wall."
Nor is his specific hostility toward the president any great surprise: During his performance at last fall's Desert Trip festival — where he made fellow classic-rock icons like the Rolling Stones and Paul McCartney look like party boys — a giant inflatable pig floated over the crowd emblazoned with Trump's face and words such as "ignorant," "racist" and "sexist." (Expect similar theatrics when Waters' Us + Them tour stops at Staples Center for three nights beginning June 20.)
Still, it's quite a kick to hear the 73-year-old singer unload the way he does in "Broken Bones," about our preference for abundance over liberty, and the title track, in which he links the election of a "nincompoop" to Greenland's projected slide into the sea.
There's bleak humor too, as in "Déjà Vu," which starts out with Waters playing God. His first order of lordly business? Rearranging "the veins in the face to make them more resistant to alcohol."
Later, in "Picture That," he winks at Floyd's audience as he sketches dystopia: "Wish you were here in Guantanamo Bay."
Waters is reaching for more than lyrical currency. To make the album, he recruited producer Nigel Godrich, best known for his work with Radiohead and Beck, and a crew of mostly Los Angeles-based players including guitarist Jonathan Wilson, bassist Gus Seyffert and drummer Joey Waronker.
Beck's father, David Campbell, did the lush but haunting string arrangements, while the women of Lucius provide deadpan-soul backing vocals, as they're doing with Waters this summer on the road.
Their approach doesn't diverge dramatically from Waters' established aesthetic — these are slow, intricately detailed dirges overlaid with the singer's talky delivery and snippets of sampled sound (including Trump's assurance that he's running a fine-tuned machine).
Occasionally the music wells up into something noisier and more rhythmically intense; "Bird in a Gale," with Waters' image of a loon howling at the sea, openly echoes the trippy deep-space psychedelia of "The Dark Side of the Moon."
Yet by bringing in fresh blood Waters is signaling his hopes of connecting with a young art-rock cohort he helped inspire. And not only those artists but their fans — the folks, in other words, who will decide what happens in 2020 and beyond.
Twitter: @mikaelwood
ALSO
The Beatles' best album is really its worst. 'Sgt. Pepper,' we need to talk
What worked and what didn't at U2's 'The Joshua Tree' revival at the Rose Bowl
The Eagles call on family — and Vince Gill — to carry on without Glenn Frey for Classic West-East shows
---
The complete guide to home viewing
Get Screen Gab for weekly recommendations, analysis, interviews and irreverent discussion of the TV and streaming movies everyone's talking about.
You may occasionally receive promotional content from the Los Angeles Times.