What worked and what didn't at U2's 'The Joshua Tree' revival at the Rose Bowl
"The Joshua Tree" won the Grammy Award for Album of the Year in 1988. (May 22, 2017) (Sign up for our free video newsletter here)
Pop Music Critic
The members of U2 had much more than nostalgia on their minds when they performed their landmark 1987 album, "The Joshua Tree," from beginning to end Saturday night at the Rose Bowl.
Part of a world tour timed to commemorate the album's 30th anniversary, the concert was explicitly looking back at songs inspired by the beauty — and the ugliness — of America in the 1980s. But the Dublin band didn't present "The Joshua Tree" as a museum piece; it wanted to connect the music to right now — to global anxieties about labor and immigration and the environment.
"Thanks for allowing us Irish into the country," Bono said after "In God's Country," and it was clear the lead singer was referring both to U2 in 2017 and to the innumerable seekers who helped build the United States centuries ago. Later, before "Exit," an enormous video screen showed clips from a real late-'50s television western depicting a shady character named Trump who tries to frighten the residents of a small town into building a protective wall.
Bono and his mates — guitarist the Edge, bassist Adam Clayton and drummer Larry Mullen Jr., all on board since the late '70s — were also trying to prove they're still worthy of the stadiums they started playing thanks to the success of "The Joshua Tree," which won a Grammy Award for album of the year and is said to have sold more than 25 million copies worldwide. (Next month, the album will be reissued in a variety of deluxe packages — one way to make it to 26 million.)
Since then, U2 has used its superstar status to chart a zigzag course through pop, alternating left-field experiments with projects designed to please. The band's most recent studio album, 2014's "Songs of Innocence," sparked a widespread backlash after Apple put digital files of the album in customers' iTunes libraries without asking permission first.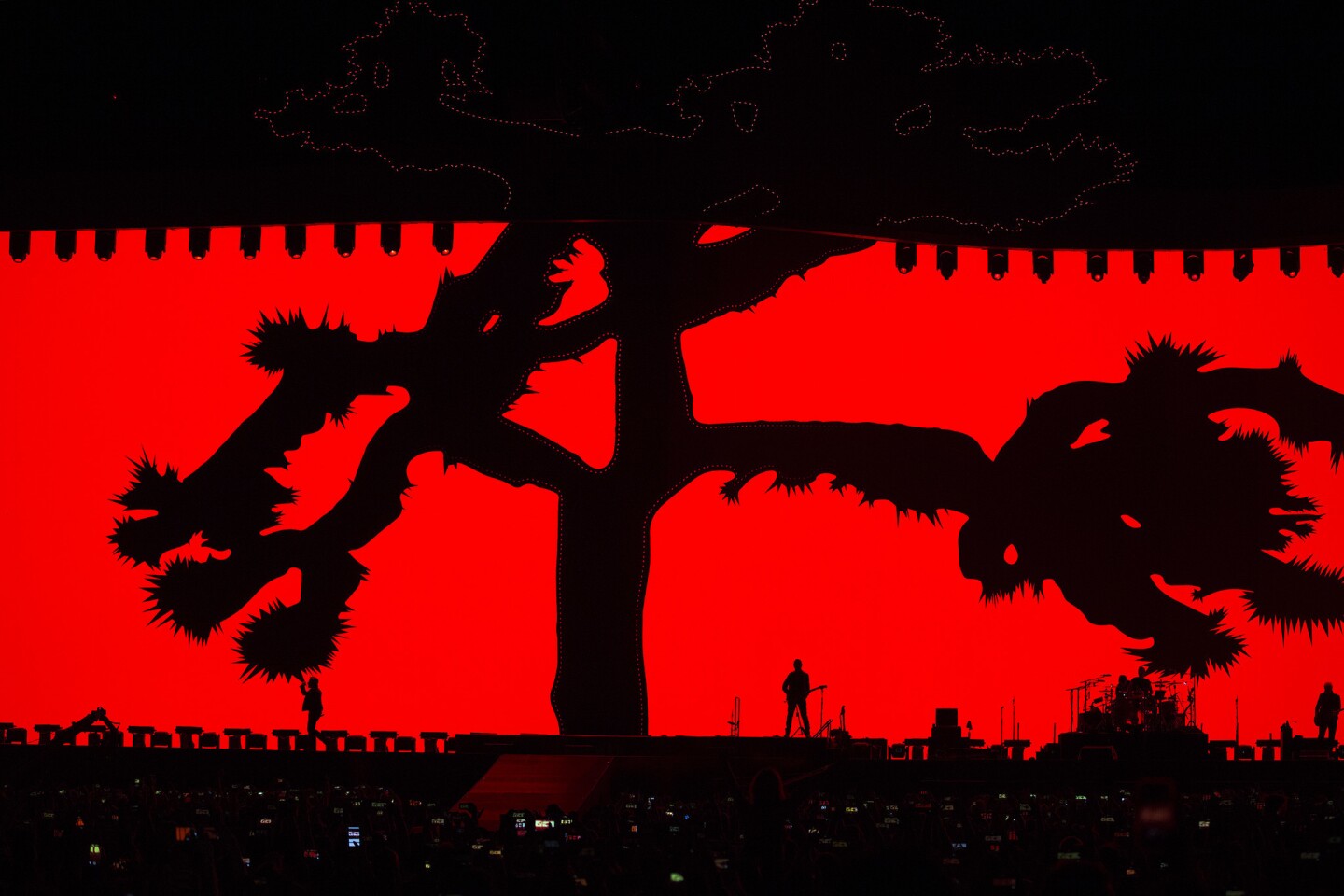 Silhouetted against a giant backdrop, U2 performs its "Joshua Tree" anniversary tour at the Rose Bowl on Saturday.
(Gina Ferazzi / Los Angeles Times)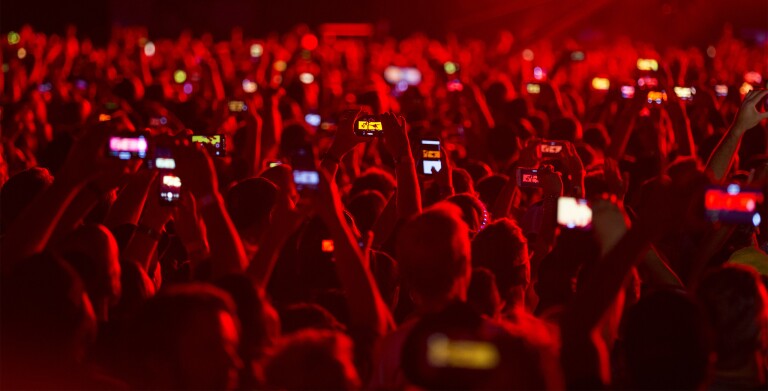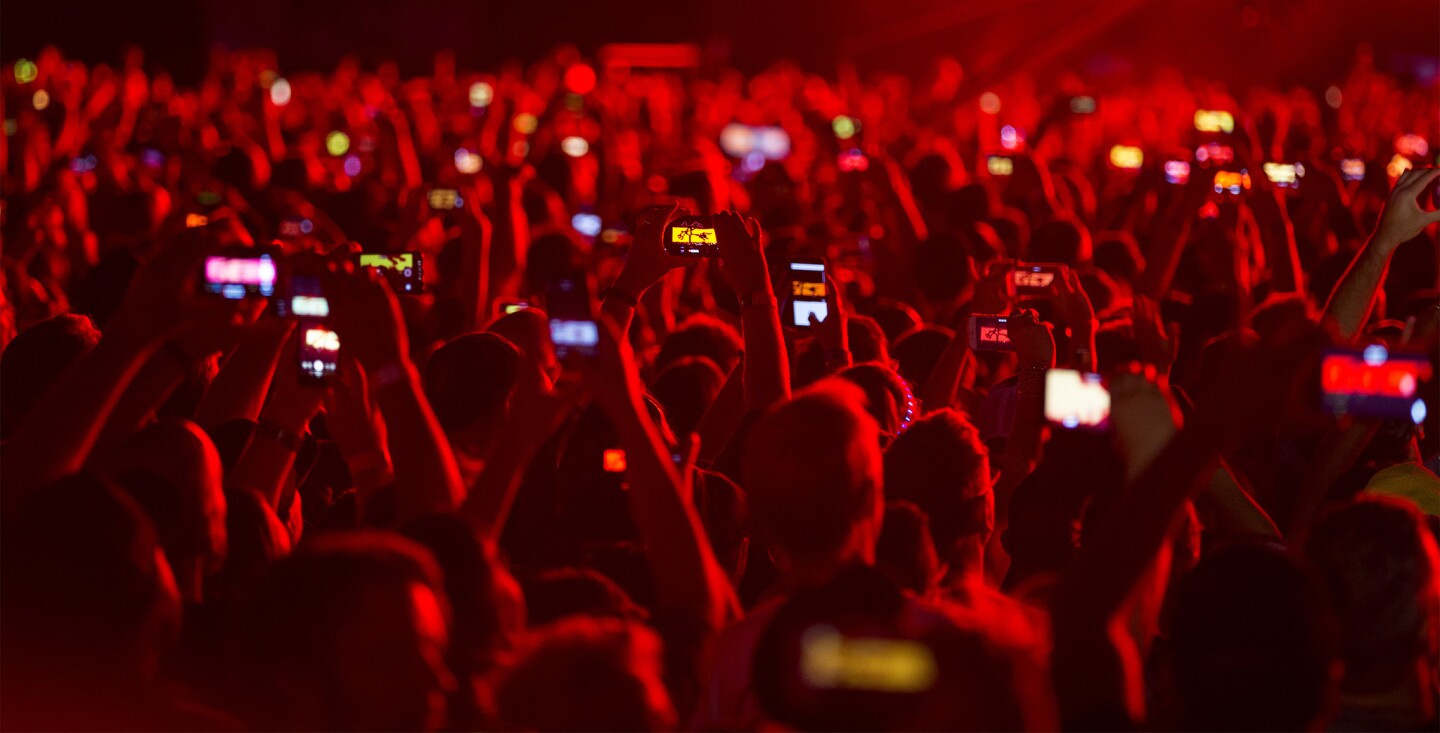 Smartphones light the night as audience members interact with U2's "Joshua Tree" anniversary tour.
(Gina Ferazzi / Los Angeles Times)
The silhouetted U2 performs at the Rose Bowl in Pasadena.
(Gina Ferazzi / Los Angeles Times)
Audience members cheer and dance to U2.
(Gina Ferazzi / Los Angeles Times)
U2 performs its "Joshua Tree" anniversary tour.
(Gina Ferazzi / Los Angeles Times)
Bono lunges into his performance at the Rose Bowl. Larry Mullen Jr. plays drums.
(Gina Ferazzi / Los Angeles Times)
Bono sings and Larry Mullen Jr. keeps things percussive at U2's "Joshua Tree" anniversary tour.
(Gina Ferazzi / Los Angeles Times)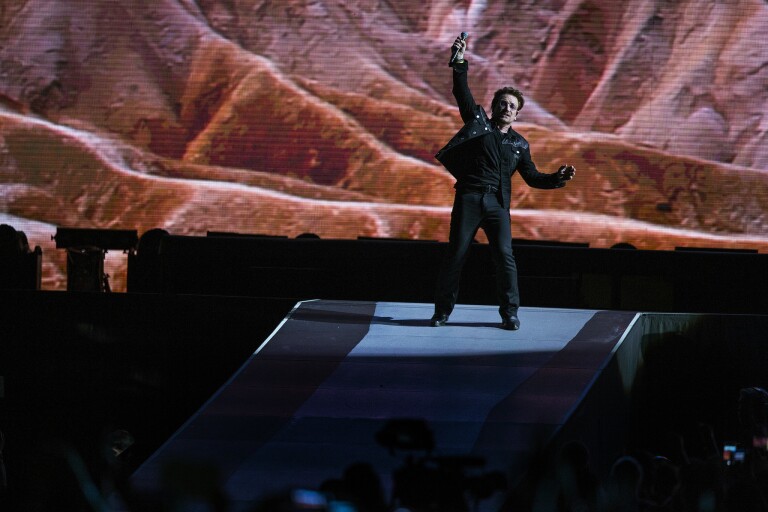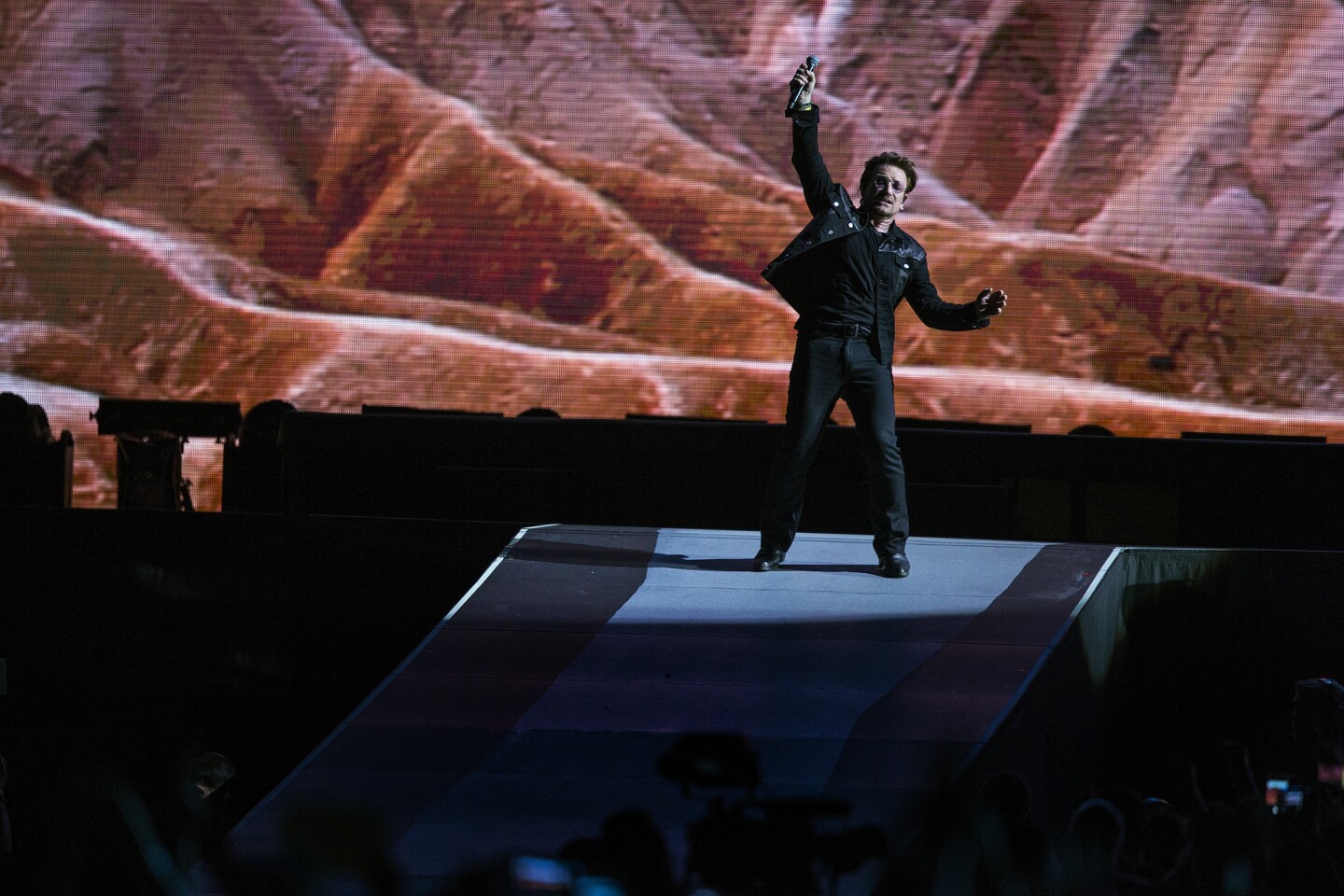 Bono performs with U2 at the Rose Bowl.
(Gina Ferazzi / Los Angeles Times)
Bono, right, and the Edge perform with U2.
(Gina Ferazzi / Los Angeles Times)
But U2 survived. "Here we still are," Bono said Saturday to roars of approval from an audience numbering in the tens of thousands. The group was set to return to the Rose Bowl on Sunday for a second sold-out show before traveling to gigantic venues in nearly two dozen other cities around the world.
Concerts on this scale require more material than a single album can provide, of course. So the show began with U2 on a small secondary stage on the stadium's floor, where it warmed up the crowd with songs from before "The Joshua Tree."
"Sunday Bloody Sunday" and "New Year's Day," both from 1983's "War," were raw and slashing, as though the band was back in a club (albeit one with a very expensive sound system). The presentation grew more ambitious for a pair of tunes from "The Unforgettable Fire," from 1984: "A Sort of Homecoming" had programmed elements accompanying the band's real-time attack, and the video screen scrolled with excerpts from the Rev. Martin Luther King Jr.'s "I Have a Dream" speech during "Pride (In the Name of Love)," U2's song about King's assassination.
As the Edge's guitar rang out to finish "Pride," Bono did a bit of preaching himself, insisting that America's current troubles aren't insurmountable.
"Maybe the dream is just telling us to wake up," he said, and that was the band's cue to rev up "Where the Streets Have No Name," the reliably spine-tingling anthem that opens "The Joshua Tree" with thoughts of tearing down walls and reaching out to touch a flame.
For the concert's centerpiece, U2 moved to a much larger main stage; behind the band, the screen displayed striking high-definition landscape scenes by the photographer Anton Corbijn, who's managed U2's visual approach for decades. Sight and sound worked together effectively to fill the space, especially as songs like "I Still Haven't Found What I'm Looking For" and "With or Without You" led fans to join in with Bono.
"Sing your heart out!" he said during the latter, which convinced you that 30 years ago U2 had composed the tune envisioning precisely such an experience.
What Bono couldn't have known back then was how "Red Hill Mining Town," about coal miners on the edge of obsolescence, would still resonate. Or that "Running to Stand Still," U2's snapshot of two heroin addicts living "under a black belly of cloud in the rain," would stick around to see a surge in opioid abuse.
Yet here we are. After "Red Hill Mining Town," Bono said the band had been happy to pull the song from the vault — "blowing a little fluff of the needle," as he put it, invoking an old-fashioned record player — at a moment when "the concept of labor is so confused." And he dedicated "Running to Stand Still" to "the lion that was Chris Cornell," the Soundgarden frontman who spoke openly about his struggles with drugs before he died unexpectedly last week.
Not everything was so heavy — or so clear in meaning. For a lusty rendition of "Trip Through Your Wires," the screens showed a woman dressed in a bikini top as she slowly painted an American-flag design on a worn-down desert shack. And for "Exit," Bono donned a wide-brimmed black hat that made him look like a demented minister; given the video clip that preceded it, he seemed to be suggesting something about Donald Trump's mental state, but really it was anyone's guess.
The same went for the final portion of the show, after "The Joshua Tree," in which U2 played hits from more recent years, such as "Beautiful Day," "Elevation" and "One." The songs arrived in a rush of do-gooder messaging about gender equality and the Syrian refugee crisis — not a new tactic for U2, which has viewed activism as a responsibility of rock stardom since the mid '80s.
Here, though, the explicitly political stuff felt jumbled, almost incoherent as the band zipped from vague slogan to vague slogan, never pausing to unpack any of the complicated ideas it was attempting to pull into a pop concert.
"If we don't organize, then we agonize," Bono said at one point — a catchy rallying cry with a woeful lack of specificity for the band's liberal core (not to mention any out-of-work coal miners who might've shown up).
U2 also seemed to blink at the end of the concert, when instead of playing a brand-new song, "The Little Things That Give You Away," as it did at earlier shows on this tour, the group reached back for another oldie, "Bad." The song sounded great, as did the closer: a blistering rendition of "I Will Follow," the first track on U2's first album.
But if Saturday's gig made 1987 come alive, it also made you wonder: What will U2 be reviving in 2047?
Twitter: @mikaelwood
ALSO
'Wanna do one more?': Harry Styles jams with Stevie Nicks at the Troubadour
Chris Stapleton on drinking, hobnobbing and letting his songs 'get some age on 'em'
After years of silence, activists are forcing music festivals to take sexual assault seriously
The Beatles' best album is really its worst. 'Sgt. Pepper,' we need to talk
Chris Cornell, who helped reignite hard rock in the 1990s with Soundgarden, dies at 52
---
Your essential guide to the arts in L.A.
Get Carolina A. Miranda's weekly newsletter for what's happening, plus openings, critics' picks and more.
You may occasionally receive promotional content from the Los Angeles Times.