The Eagles call on family — and Vince Gill — to carry on without Glenn Frey for Classic West-East shows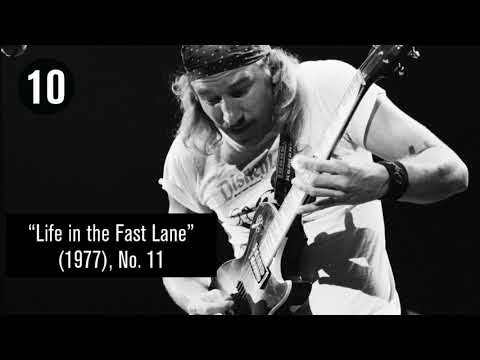 The Eagles will replace Frey with his 24-year-old son, Deacon Frey, and country music star Vince Gill. (June 1, 2017) (Sign up for our free video newsletter here)
Can an iconic rock band that's lost a key member continue? Or should it?
Founding members of the Who — Pete Townshend and Roger Daltrey — have kept that band alive despite the deaths of drummer Keith Moon in 1978 and of bassist John Entwistle in 2002. The Grateful Dead essentially retired that band's name after lead guitarist Jerry Garcia died in 1995.
Queen has found new life and new fans touring with "American Idol" alum Adam Lambert singing the parts originally voiced by Freddie Mercury, who died in 1991.
And now the Eagles are about to fly again without a musician widely viewed as its leader and chief musical architect.
See the most-read stories in Entertainment this hour »
Surviving members have turned to one family member and one longtime friend to help it through this transition: Deacon Frey, the 24-year-old son of Eagles co-founder Glenn Frey, who died last year, and country music star Vince Gill.
The quintessential Southern California country rock ensemble formed in the early 1970s in Los Angeles and is set to headline a two-pronged, bicoastal festival: Classic West and Classic East, alongside Fleetwood Mac, Steely Dan, Earth Wind & Fire, the Doobie Brothers and Journey.
Deacon Frey and Gill will divvy up lead vocals on the songs Glenn Frey sang with the Eagles.
"While I was still in shock during some interviews after Glenn passed away, I did say that I thought that was the end of the band," Don Henley, 69, said recently after rehearsals for the upcoming festivals, set for July 15 and 16 at Dodger Stadium and July 29 and 30 at Citi Field in New York.
"But I reserve the right to change my mind. Ralph Waldo Emerson said, 'A foolish consistency is the hobgoblin of little minds.'"
To hear Henley — and Gill — tell it, it's the prospect of keeping Frey's songs alive that has motivated the decision to move forward.
"In my mind, I always thought I'd have made a good Eagle," said a smiling Gill, whose 21 Grammy Awards make him the most awarded male country artist in Grammy history.
Sitting in the same backstage dressing room next to Henley and Deacon Frey, he continued, "But in a million years, I never would have seen this coming. It's pretty surreal. I turned 60 recently, and to get to be a part of this amazing legacy of songs, that's the greatest part of all this for me"
Deacon Frey performed some of his father's songs at a private memorial service held not long after Glenn died Jan. 18, 2016, at age 67 from a combination of rheumatoid arthritis, acute ulcerative colitis and pneumonia.
"After he saw Deacon at that service, Don always said that 'If there's ever going to be a gig for all of us, I would want Deacon to be part of it,' " Irving Azoff, the Eagles' longtime manager, said in a separate interview. "It was the natural thing."
The idea of Gill came up when he was at the Kennedy Center Honors program in December saluting the Eagles.
"I think with Glenn's passing, there was also a natural legion of Eagles fans out there who weren't ready to let go," Azoff said. "To me, the fans and the legacy and everything was saying, 'It doesn't have to be over.'"
Henley said he's heard more positive than negative response since word first surfaced earlier this year about the Azoff-designed Classic West and East festivals.
"Bringing Deacon in was my idea," Henley said. "I think of the guild system, which in both Eastern and Western cultures is a centuries-old tradition of the father passing down the trade to his son, and to me, that makes perfect moral and ethical sense. The primary thing is I think Glenn would be good with it — with both of these guys. I think he'd go, 'That's the perfect way to do this.' "
The strong family factor is impossible to miss. "They came to me with the idea, and it's been really great," Deacon Frey said. "You guys are like my uncles. It's another family we would have been missing [if the band did not continue]."
Deacon said he grew up singing the songs of his father. "The first songs I learned on guitar were 'Take It Easy' and 'Peaceful Easy Feeling.' He was always very supportive and very encouraging of my music and my love for music. He got me a guitar when I was 7—a baby Taylor."
His mother, Cindy Frey, was beaming after seeing her son emerge from his first major interview following the rehearsal. Not surprisingly, given what a sports hound Glenn Frey was throughout his life, she turned to a baseball metaphor to capture the moment.
"Every day you show up and they give you a new ball," she said.
Added Henley, "He doesn't have to do this forever. Someday, if he decides to write his own songs and have his own band, we'll be the first to support him. But this is a good way to break in."
Much about the Eagles version 2017 still hasn't been finalized. Henley described the upcoming festival appearances as "experiments."
"We're just going to see how it goes," he said. "We have every reason to believe it'll go just fine. Then it's Irving's ball."
Likewise, Henley said no decisions had been made to record, broadcast or stream any of the July shows for immediate or future artistic or commercial gain.
"There's a lot of pressure on us right now," he said. "We're not too keen on adding to that pressure. I'm sure Irving is going to bring it up at some point… I'm not saying that's not going to happen. I'm just saying nobody's brought it up yet."
More tickets are being released for the shows now that the stage designs have been finished. Azoff said they're also making available single-day tickets after initially having sold only weekend passes. Those will go on sale June 5.
Many have cited Goldenvoice's 2016 Desert Trip festival, which featured Bob Dylan, the Rolling Stones, Paul McCartney and more as setting the template for the Classic West and East shows.
"The Eagles and I have been having conversations about doing something with Fleetwood Mac and Steely Dan and others at some point in a festival situation long before Desert Trip," Azoff said. "But I can't say that Desert Trip didn't validate the idea."
For now, no one has committed yet to a Classic Eastern Seaboard version, Classic Northwest or Classic Upper Midwest counterpart.
All that hinges on how all parties feel about reviving the Eagles without the man who helped the group first take flight.
"People want to hear these songs played live, by the band that recorded them — and not by a tribute band," Henley said. "God knows, there are enough of those. And even though it's not exactly the same band, they want to hear the songs.
"I think we're doing it in a highly ethical manner that I think Glenn would approve of. That's important to me, it's important to Glenn's family. If there are some detractors, then there are some detractors. I'm not going to spend a lot of time defending this, because I don't see anything wrong with it. I think we're carrying on a family tradition in a very family type way."
Follow @RandyLewis2 on Twitter.com
For Classic Rock coverage, join us on Facebook
MORE FROM ENTERTAINMENT
Quentin Tarantino's New Beverly Cinema is like 'Cheers' for L.A.'s movie lovers
75 years of world-saving: Everything you need to know about 'Wonder Woman'
California Sounds: New L.A.-area music from Syrian-born songwriter Bedouine, punk bands Wavves and Family Pet and singer-songwriter Chris Price
Get our L.A. Goes Out newsletter, with the week's best events, to help you explore and experience our city.
You may occasionally receive promotional content from the Los Angeles Times.