Cardi B closed Rolling Loud with a celebratory set, until Offset committed a made-for-social-media moment gone wrong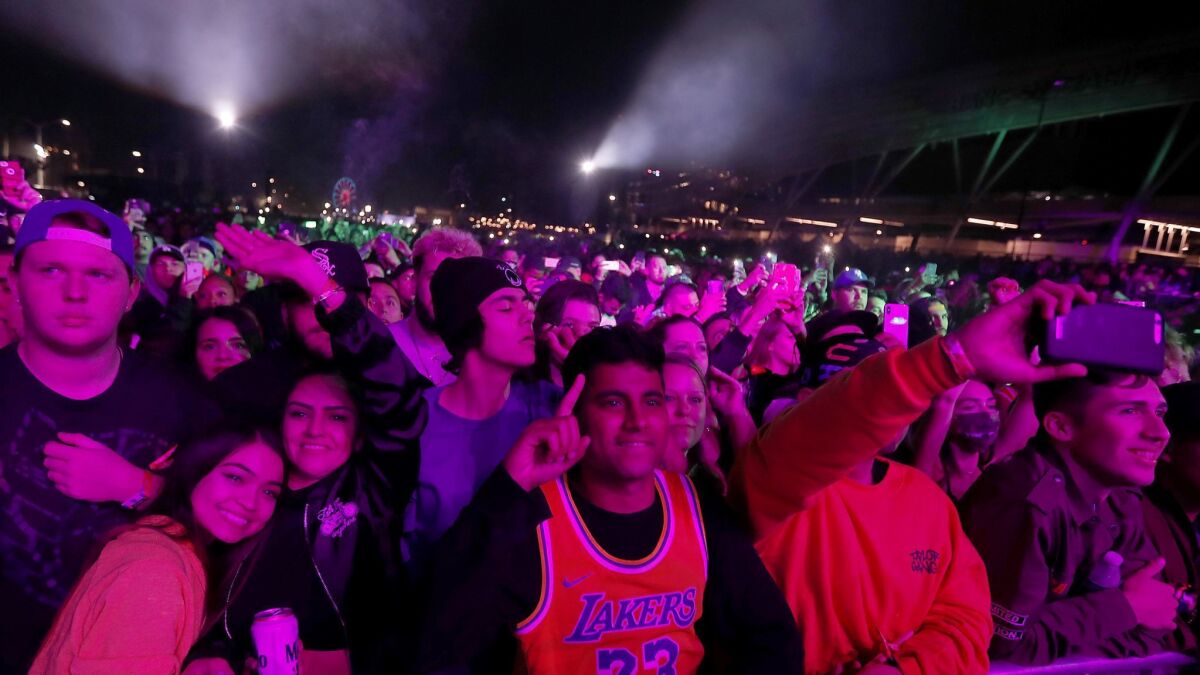 Cardi B must have known something unusual was happening during her Rolling Loud headlining set Saturday when men in black rolled giant road cases onto her stage between songs. The cases were decked out in red and white flowers, spelling out "TAKE ME BACK CARDI."
The stage lights went up, and out walked a familiar man: the rapper Offset, Cardi's now-estranged husband.
"I just want to tell you I'm sorry, bruh," he said, as the Grammy-nominated rapper's face appeared to turn from confused to angry to embarrassed. The crowd gasped: the two had separated just a few weeks earlier. Now Offset, the father of her child, had walked onto her stage and taken her own festival spotlight to try to change her mind.
It was hard to hear what she said to him, but it didn't look pleasant. The lights dimmed, and all the apology props were wheeled offstage. Then she walked back out and played the rest of her boisterous, powerful show.
The stunt was certainly memorable, but also fueled questions. Was it an attempt at a sweet gesture, or an undermining and manipulative stunt? How much did Cardi, or her team, or the Rolling Loud festival know about it? Was Offset's apparently surprise gesture especially ill-conceived in today's tenser, post-Las Vegas concert environment?
This was the second L.A. edition of the Miami-based festival, held this year on the grounds in and around Exposition Park, and it has quickly become a dominant player in U.S. and global hip-hop events. Up until that point, the show had featured excellent sets from rising acts like Lil Baby, Shoreline Mafia and Juice Wrld, edgy stars like Young Thug and mainstream acts like Post Malone and Lil Wayne.
Fans enjoy hip-hop scenery during Rolling Loud at Exposition Park in Los Angeles.
(Luis Sinco / Los Angeles Times)
Post Malone performs during Rolling Loud at Exposition Park in Los Angeles on Dec. 14, 2018.
(Luis Sinco / Los Angeles Times)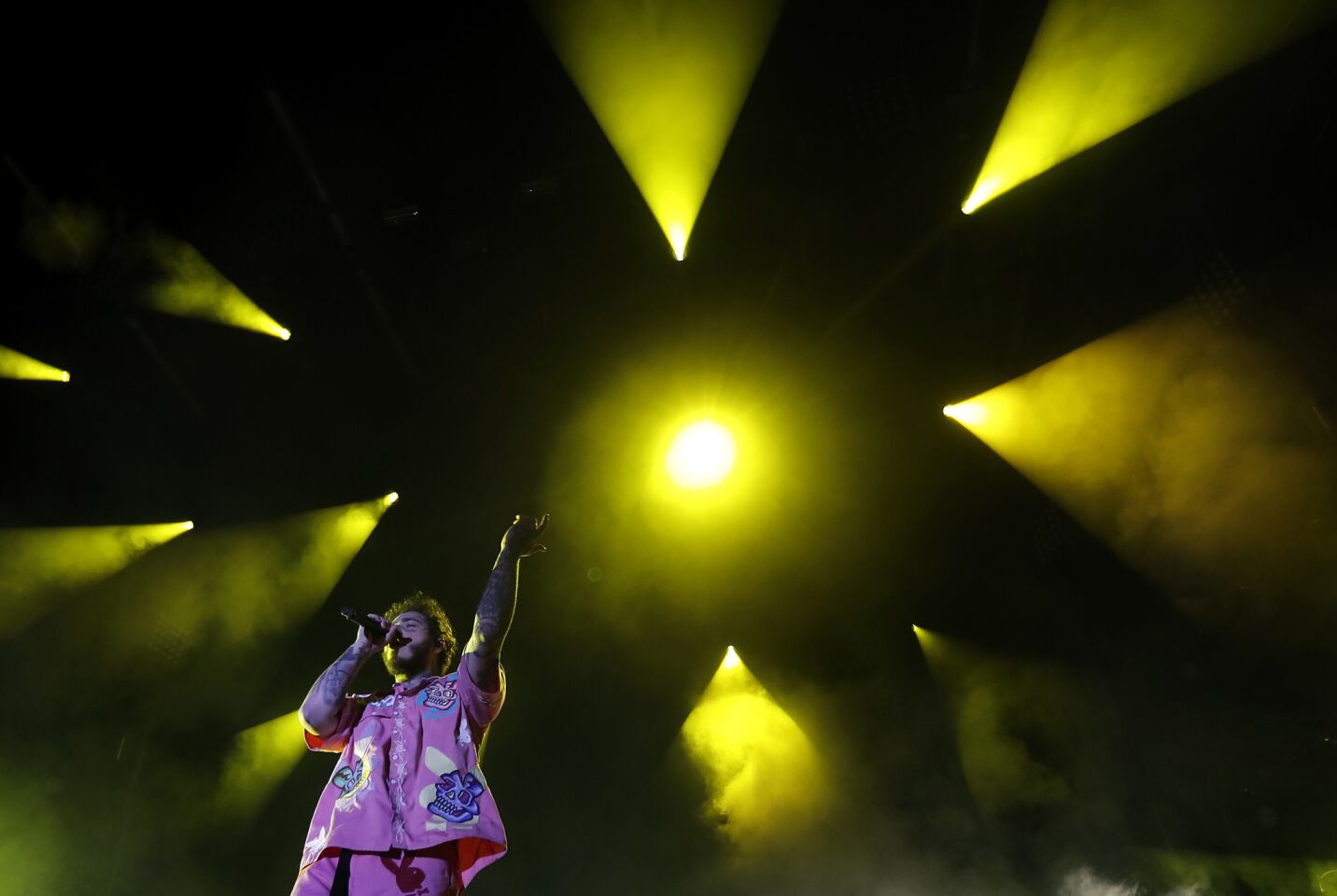 Post Malone performs in front of a light show.
(Luis Sinco / Los Angeles Times)
Nipsey Hussle performs.
(Luis Sinco / Los Angeles Times)
Ty Dolla $ign acknowledges the crowd.
(Luis Sinco / Los Angeles Times)
Ty Dolla $ign strums on the guitar.
(Luis Sinco / Los Angeles Times)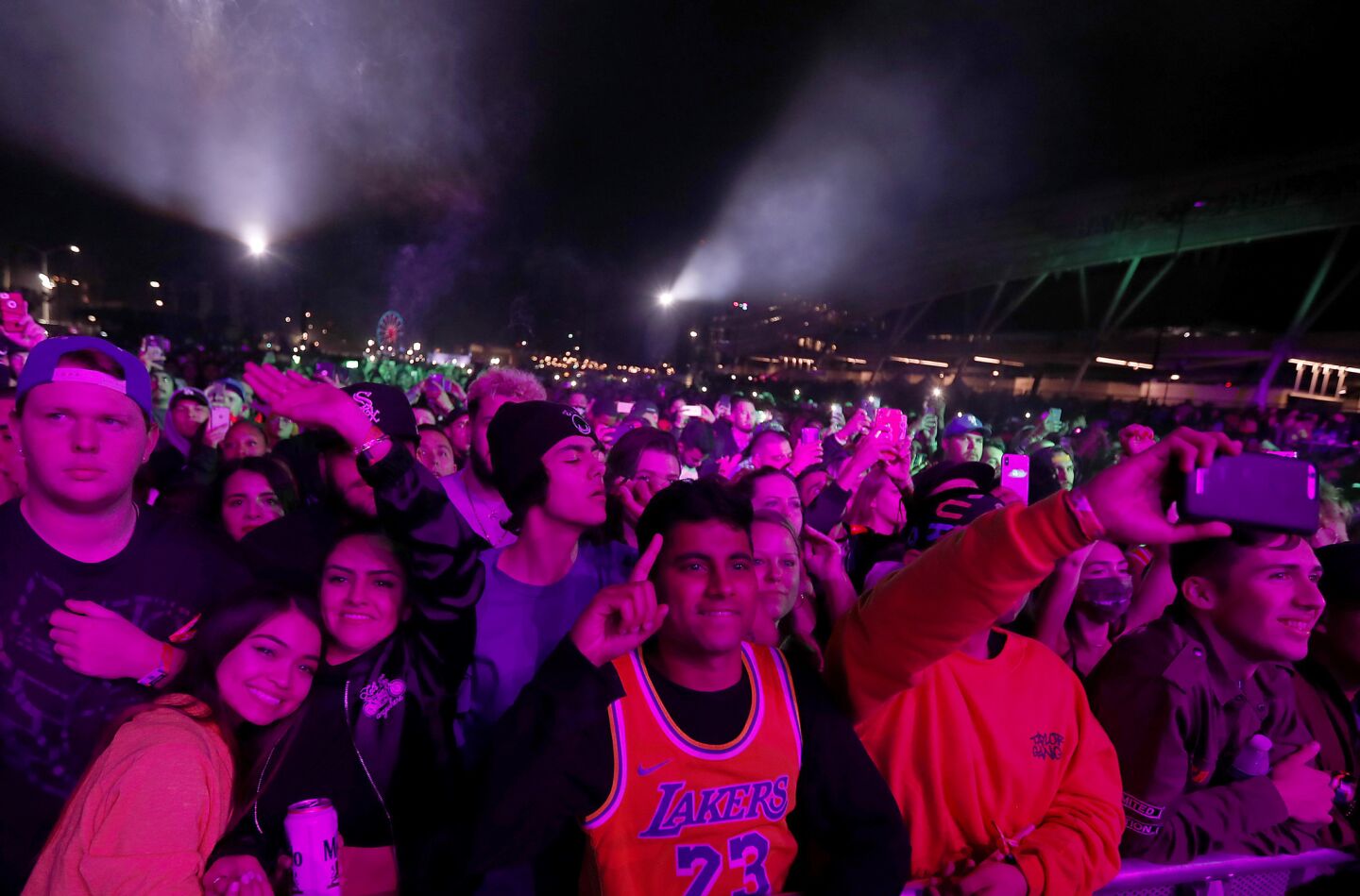 Fans enjoy the hip-hop happenings.
(Luis Sinco / Los Angeles Times)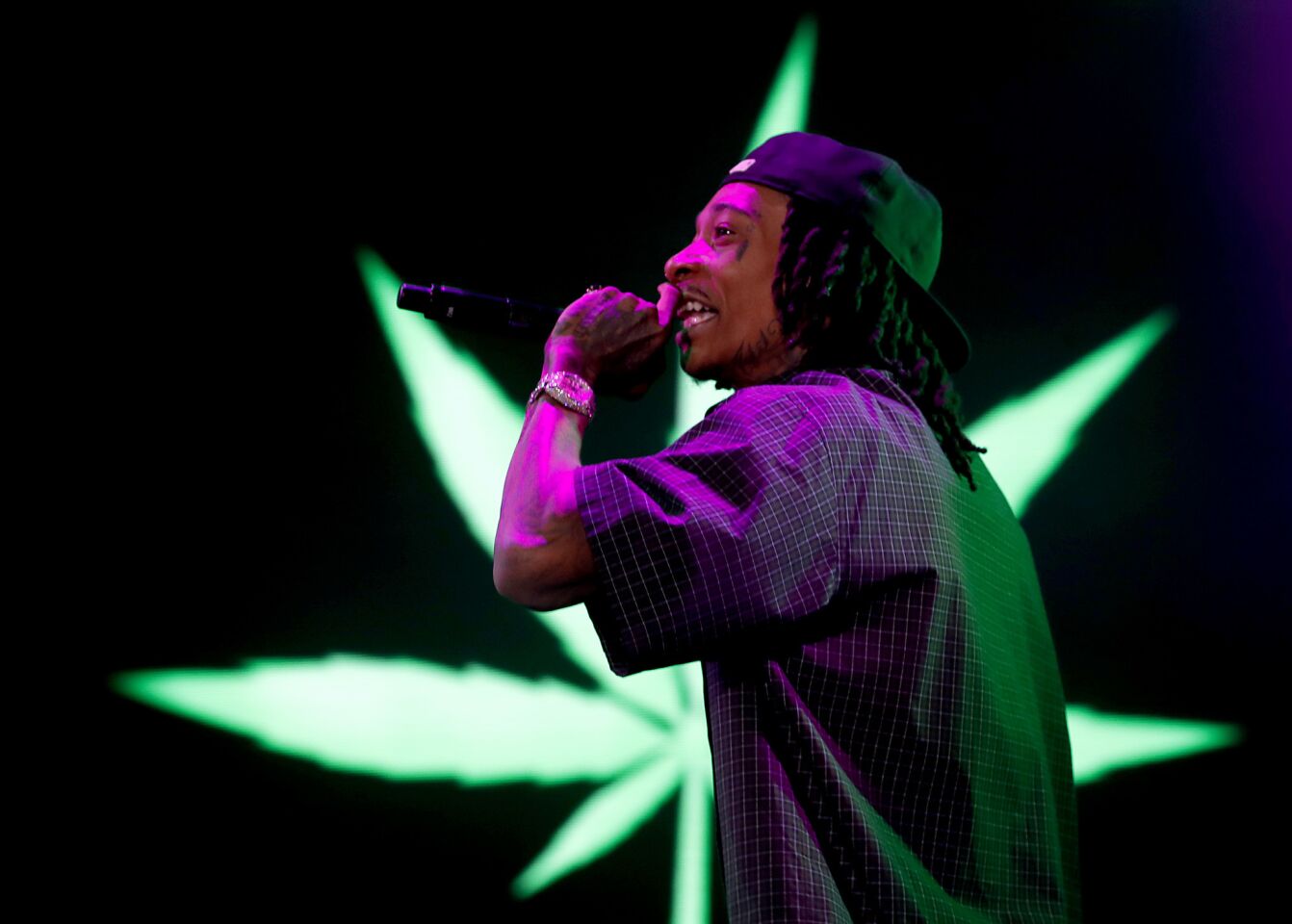 Wiz Khalifa performs.
(Luis Sinco / Los Angeles Times)
But the social-media-ready moment dominated conversation at the end of Rolling Loud. And unless the artists, each adept at managing their careers and brands on social networks, are playing a multi-dimensional chess game of publicity, which is not an impossibility, it didn't go quite like Offset had hoped for.
Representatives for both Cardi and Offset did not immediately respond to requests for comment.
Rolling Loud organizers denied responsibility or prior knowledge of Offset's plans.
"We were told she was going to have a guest star during her set, that it was going to be [Offset's full group] Migos, but we didn't know anything about that stunt" said Rolling Loud's co-founder Tariq Cherif, the day after the festival. "We're getting blamed as if we conspired to do this, and I just want to make it clear that we did not. Cardi's management was in on it, it had nothing to do with the festival. The artist is in full control of the stage and they determine who gets on and off."
Cherif said he "share[d] the sentiment" of many fans that Offset's actions took oxygen away from what should have been a significant moment for the rapper and the many other artists at the young festival.
"We sent her a [direct message] on Instagram saying we loved her, and that if she didn't know, that we're sorry it happened," Cherif said. "It was a stellar performance and we want to align ourselves with her for years to come."
Reactions to the stunt flooded social media within seconds, much of it criticizing Offset for commandeering what should have been a high point of Cardi's career — the first woman to headline one of the most influential festivals in U.S. hip-hop.
"I just want us to make sure we don't continuously romanticize manipulative, entitled behavior," wrote activist and commentator Brittany Packnett online. "Impressionable young folks will miss important red flags."
"A bouquet of flowers on your desk is one thing. Walking into a conference room while you're in the middle of your biggest presentation and commandeering the room with emotions and personal business is quite another," added April Reign on Twitter, the founder of the #OscarsSoWhite campaign.
But while the optics quickly went haywire for Offset, it's still uncertain who knew in advance what he was up to, and what it means for a headlining set to go so dramatically sideways.
Even if Cardi was completely surprised by Offset's plea, there probably was no point where anyone was in any danger, said Steven A. Adelman, an attorney focused on event security and the VP of Event Safety Alliance, an industry group encouraging best practices at concerts and similar gatherings.
He said that while he hadn't heard of many comparable festival surprises , he believed Cardi's own team was likely aware as to what was happening.
"It was planned, but the question is, planned by whom?" Adelman said. "One path is that this is all staged, which means the risk was zero. Or Cardi's tour security completely screwed up... because it would be a viral moment at festival."
Even if it were the latter, he said, "to say he crashed the stage wasn't what happened. But imagine if it were some fan who got up onstage with a bouquet. In that instance, we'd have something to talk about.
"The more I think about it, the more I think it was staged," he added.
Cardi is as skilled a public figure as any in popular culture, and in two Instagram videos posted just hours after the set, Cardi defended Offset from his legion of online critics.
"Violating my baby father is not gonna make me feel any better, because at the end of the day that's still family," she said. "I see a lot of people bashing me because they think that [if] I'm defending my baby's father I'm getting back together with him. I'm not saying that I'm getting back together with him. I just don't like that bashing online thing."
But any deviation from often carefully planned festivals could cause unnecessary fears or jostle performers.
And as the online rumor mill churns about who knew what and when, let this be a reminder that showing up at an exes' place of employment with a dramatic plan to win them back rarely ends the way one hopes.
"Someone in her tour or production [staff] thought this was a good idea even if she didn't," Adelman said. Or at least, "Offset must have thought it was a good idea. Cardi didn't look too happy about it."
For breaking music news, follow @augustbrown on Twitter.
---
Get our L.A. Goes Out newsletter, with the week's best events, to help you explore and experience our city.
You may occasionally receive promotional content from the Los Angeles Times.