Maroon 5's Super Bowl halftime show tasted like fear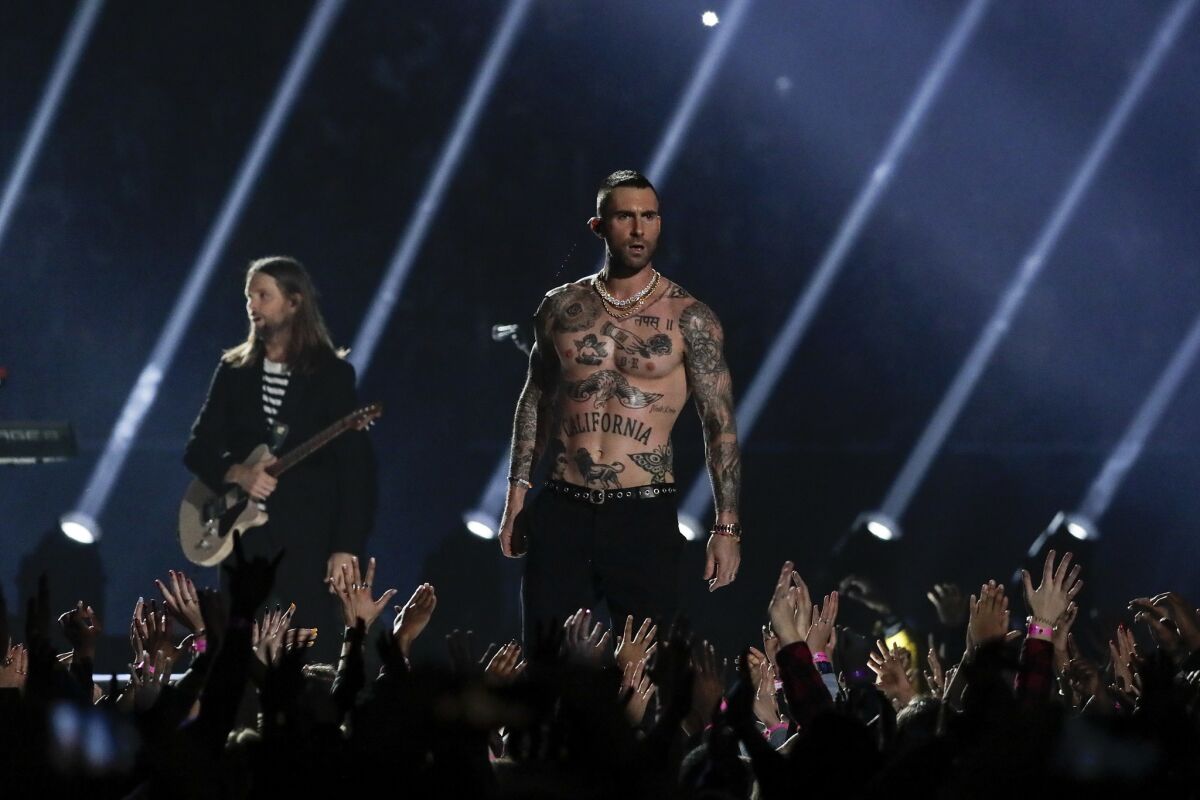 Pop Music Critic
Adam Levine actually did it: He took a knee during his controversial halftime performance at Super Bowl LIII.
Onstage Sunday night at Atlanta's Mercedes-Benz Stadium, the Maroon 5 frontman — whose band accepted a gig reportedly turned down as a matter of principle by the likes of Rihanna and Cardi B — defied expectations to assume a pose that inevitably called to mind Colin Kaepernick and his signature protest of racial injustice.
Only wait: Levine wasn't throwing in his lot with a proudly outspoken NFL player whom the league has appeared eager to silence.
No, the singer was crouching down near the end of Maroon 5's show — as he sang about wanting a woman's "red velvet" — to be closer to the fans in the front row reaching hungrily toward his shirtless body.
"Sugar," the song was called, which tells you all you need to know about the appetite Levine and his bandmates demonstrated for presenting anything more than a harmless confection.
Should we be surprised by the lack of surprise?
Inoffensiveness is clearly what the NFL was looking for when it booked this friendly Los Angeles-based pop-rock group for the big game — just like last year, when Justin Timberlake did the job (after no doubt promising to play nice to atone for his and Janet Jackson's notorious wardrobe malfunction in 2004).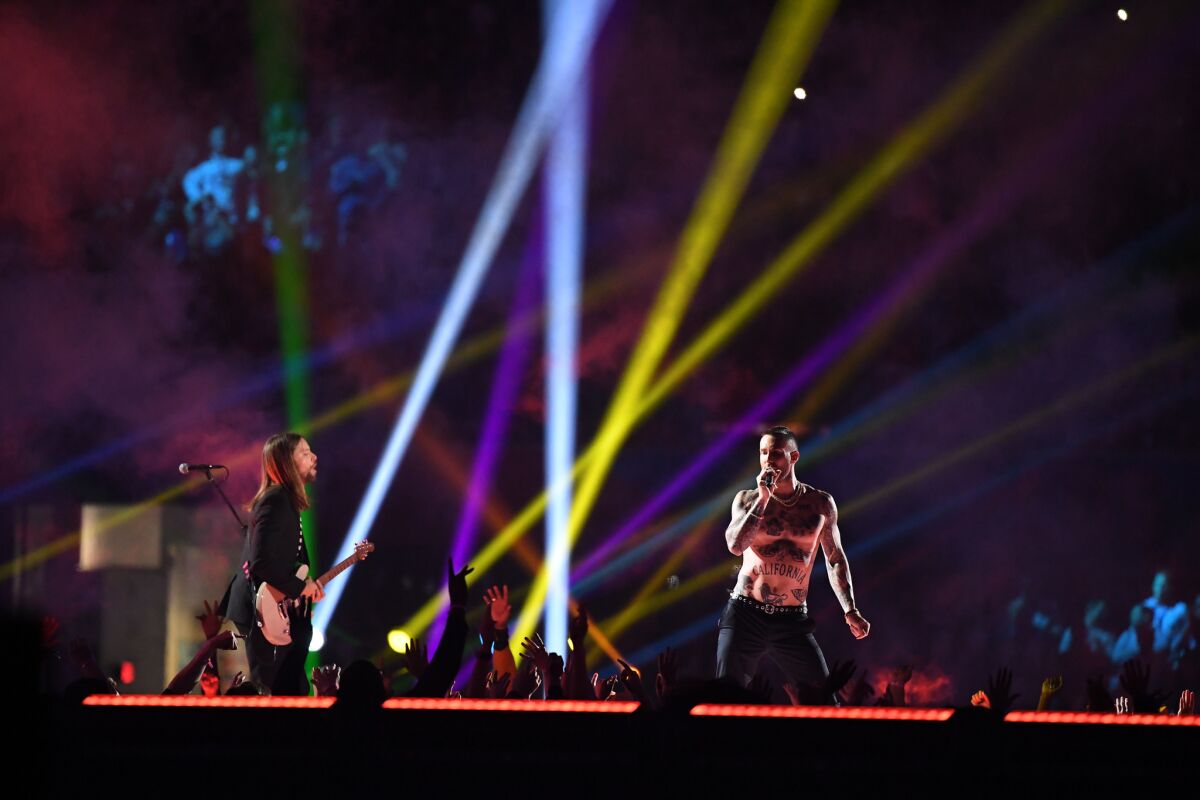 FULL COVERAGE: Super Bowl 2019 »
Yet Timberlake's deeply un-thrilling performance was so roundly criticized — for its lack of fireworks, yes, but also as a waste of a privileged superstar's cultural capital — that you assumed Maroon 5 would have the good sense to avoid a repeat.
The NFL too: Though plenty of fans (and maybe an American president) have applauded Kaepernick's ouster from the league, professional football doesn't want to be seen as out of touch; it has an obvious incentive to preserve the halftime show's needle-moving appeal to both viewers and, perhaps more importantly, potential performers.
That's why, months after word got out that Maroon 5 was set to headline Super Bowl LIII, the NFL announced that Travis Scott and Big Boi would also perform in a city widely regarded as hip-hop's capital.
And indeed both rappers were fun to watch Sunday, Scott doing his smash "Sicko Mode" after winking to the internet with a "SpongeBob SquarePants" reference and Big Boi, the proud Atlanta resident, slinking through Outkast's "The Way You Move" in aviator shades and a long fur coat.
But what either man had to do with Maroon 5 was anyone's guess; this thing was more haphazard — and more cynically devised — than that time the Red Hot Chili Peppers turned up during Bruno Mars' halftime show.
Wearing two jackets and a tank top that he'd quickly dispense with one by one, Levine began the set with pitchy renditions of "Harder to Breathe" and "This Love," guitar-heavy hits from Maroon 5's early days that the band somehow managed to make sound unrehearsed.
Then, after "Sicko Mode," it was onto "Girls Like You," which here conspicuously lacked Cardi B (whose guest verse helped propel it to No. 1), and "She Will Be Loved," accompanied by illuminated drones that spelled out "One love" in the air above Levine's head.
Which was kind of nifty, truth be told — and probably the closest thing to a political message we should expect from Maroon 5.
Except that at the end of the show, Levine — whose eyes until now seemed to glimmer with caution — suddenly experienced an uptick in energy. There was the bit on his knees during "Sugar."
Then he ripped off his shirt to act out "Moves Like Jagger" — wonder if the NFL will punish him as it did Jackson? — and that's when you realized: For all his seeming mildness, this guy will happily get in your face to advance a position, like flagrant shirtlessness, that he supports.
So why not a protest movement whose social views he's suggested are aligned with his?
The idea of Maroon 5 at the Super Bowl was intended to please fans — and corporate overlords — eager for a halftime show that put politics aside for a few sweet moments.
The reality put across something else, though, and that was the simple taste of fear.
---
Your essential guide to the arts in L.A.
Get Carolina A. Miranda's weekly newsletter for what's happening, plus openings, critics' picks and more.
You may occasionally receive promotional content from the Los Angeles Times.