Swamp Dogg says nobody bought his last album. So he took a chance with his new one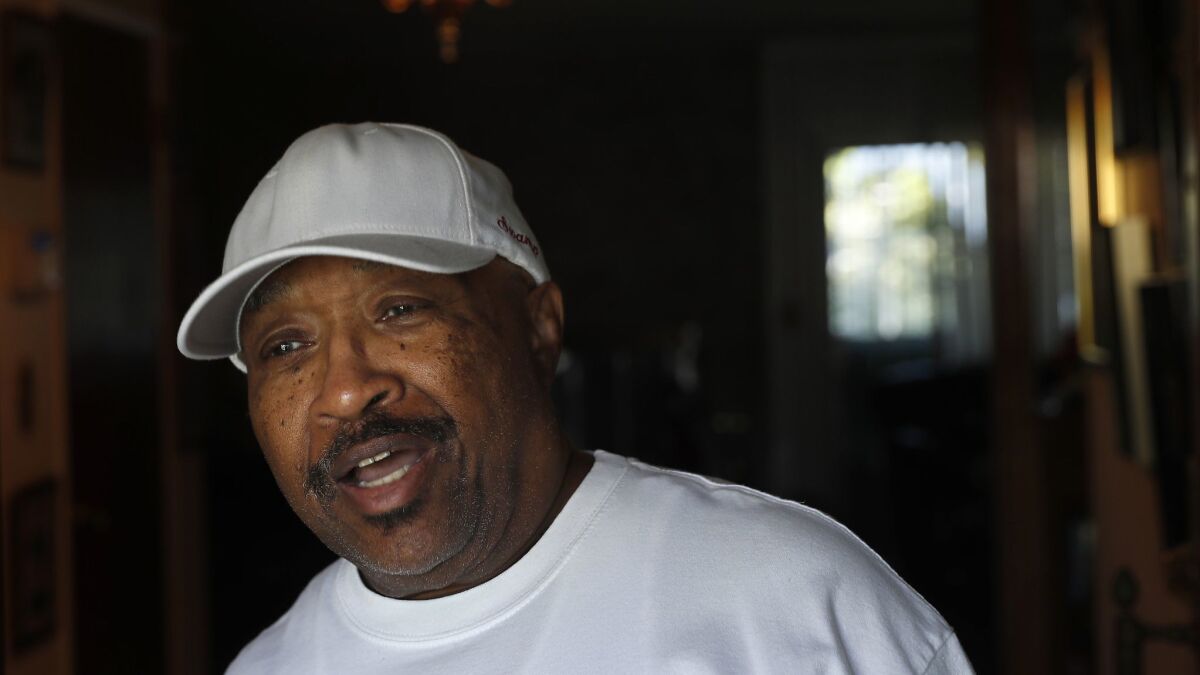 Pop Music Critic
From the outside, not much distinguishes Jerry Williams Jr.'s ranch-style home from those around it on a quiet suburban street in Northridge.
Step through the front door, though, and it's apparent that somebody unusual lives here.
There's the entryway lined with gold and platinum records. There's the cozy bedroom into which a white grand piano has been squeezed. And out back there's the swimming pool, empty of all but a few inches of murky water, with a painting on the bottom depicting Williams astride an enormous white rat.
The image will be familiar to fans of Williams' alter ego, the funk eccentric Swamp Dogg, who put it on the cover of his cult-favorite 1971 album "Rat On!" Back then, this skilled singer and pianist was looking to rebrand himself after years as a journeyman R&B act and producer for the likes of Gene Pitney ("She's a Heartbreaker") and Doris Duke ("To the Other Woman [I'm the Other Woman]").
"Total Destruction to Your Mind," which came out in 1970, announced the arrival of an outspoken sonic adventurer; "Rat On!" doubled down on Swamp Dogg's outré vision with a heartfelt provocation called "God Bless America — for What?"
Now, at age 76, Williams is taking another hard left with "Love, Loss, and Auto-Tune," a surprising new album that maintains his experimental streak even as it demonstrates his perseverance in an unforgiving business.
Due Friday, the record was produced by Ryan Olson of the Minneapolis synth-pop band Poliça and features input by Olson's frequent collaborator Justin Vernon of Bon Iver. And as its title promises, it leans heavily on the vocal-processing software made famous by T-Pain (in hits like "Buy U a Drank") and Kanye West (on his album "808s & Heartbreak").
The strangely touching result, laced with electronic bleeps and beats that make Williams sound like a bummed-out android, represents a radical reframing of the psychedelic Swamp Dogg style.
"Yeah, I suppose it does," Williams acknowledged on a recent afternoon. "I like it, though. It's the best thing I've done since the '70s."
Sitting in his blue-carpeted living room next to a vintage jukebox stocked with tunes he wrote or produced — including Johnny Paycheck's "She's All I Got" and "In Between Tears" by Irma Thomas — Williams said the album grew out of a typically wacky impulse: What would happen if, like so many veteran singers, he made an old-school crooner's album — but warped the vocal performances in the manner of Zapp and George Clinton?
"Love, Loss, and Auto-Tune" opens with a rendition of "Answer Me, My Love," the winsome ballad popularized by Nat King Cole, and closes with a take on Hoagy Carmichael's indelible "Stardust"; in between are originals about romance and loneliness and the hard luck of a man trying to make a buck.
Each is as solidly built as you'd expect from someone who estimates he's written nearly 2,000 songs. Yet the startling production takes the music far away from the land of "So-and-So Sings the Great American Songbook."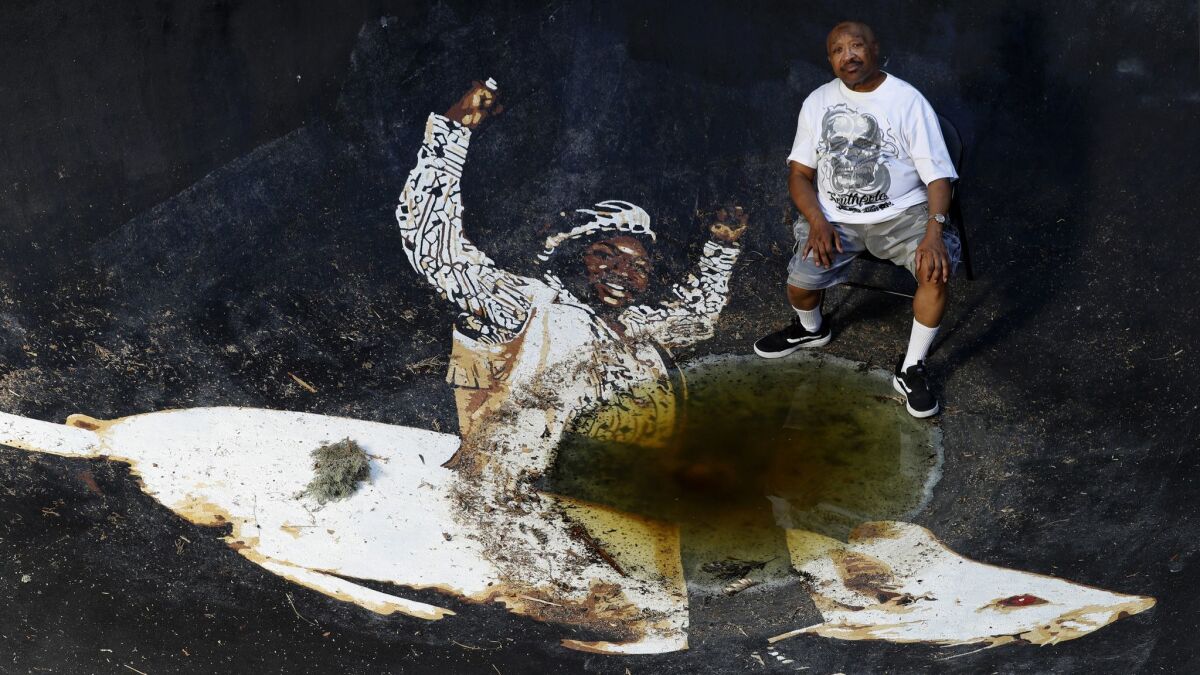 Olson said Williams encouraged him to go as wild as he wanted with his arrangements, which he created out of material Williams had originally recorded at home. (The two met when Williams approached Olson about possibly reissuing an old record through Olson's label, Totally Gross National Product.)
"I warned Swamp — I was like, 'This is kind of messed up,'" the producer said. "But I sent it back and he was all for it: 'This is insane and I love it.'"
For all the artistic daring of their collaboration, Williams was forthright about why he sought out Olson and Vernon to oversee "Love, Loss, and Auto-Tune," and that's the clear-cut commercial success the two men have enjoyed with the Grammy-winning Bon Iver.
"He sold way over a million units on his first album," Williams said of Vernon's 2007 debut under the Bon Iver name. "So I said, 'He's got something going on, and I want some of it.'"
Asked whether he worried that the new album's highly doctored sound might turn off fans accustomed to a more organic approach, Williams scoffed.
"My last album sold 4,000," he replied. "I ain't got no people to turn off."
Williams' close attention to numbers makes sense for a guy with decades' worth of stories about all the times he's been ripped off in the record industry.
Among them, in his view, is the lousy deal he got when 50 Cent sampled an old track of his a few years back: a measly $25,000 up front, he said, with no residuals. (Having learned his lesson, he claims he asked for a 10-cent royalty on each record sold when Drake's team recently tried to clear a sample — a request he's pretty sure scared off the Canadian rapper.)
Still, you have to scratch your head at some of Williams' reasoning. Setting aside its quality — and of course the fact that its back story has led to publicity like the article you're reading — "Love, Loss, and Auto-Tune" is an improbable blockbuster.
From anyone else, an album this weird would represent a passion project, not a cash grab.
In a way, though, Williams' self-belief seems key to the whole over-the-top Swamp Dogg enterprise. Without it, it's hard to imagine how he ever would've climbed on that giant white rat, which here we are still talking about nearly half a century later.
At his house, where a small dog slept at his feet — the dog's name is Lowe because Williams' granddaughter "either found him or stole him" in front of a Lowe's store — the singer grew uncharacteristically soft as he remembered how his wife and longtime manager, Yvonne, showed him the ropes of Swamp Dogg Inc. before her death in 2003.
"She was laying in the hospital, had me bring her the books saying what we owe," he recalled quietly. "She said, 'Look, you know I'm-a leave you — I got to go.'" Williams said he didn't believe her. "But she was right."
Was it hard to pick back up after she died?
"Nah," he said. "She told me, 'Don't let nobody deter you — you're on the right road.'"
The phone rang; it was Williams' physical therapist, calling about an appointment to work on a back injury.
He couldn't come today, Williams said. He had some business he had to attend to.
Twitter: @mikaelwood
---
Your essential guide to the arts in L.A.
Get Carolina A. Miranda's weekly newsletter for what's happening, plus openings, critics' picks and more.
You may occasionally receive promotional content from the Los Angeles Times.